Community Spaces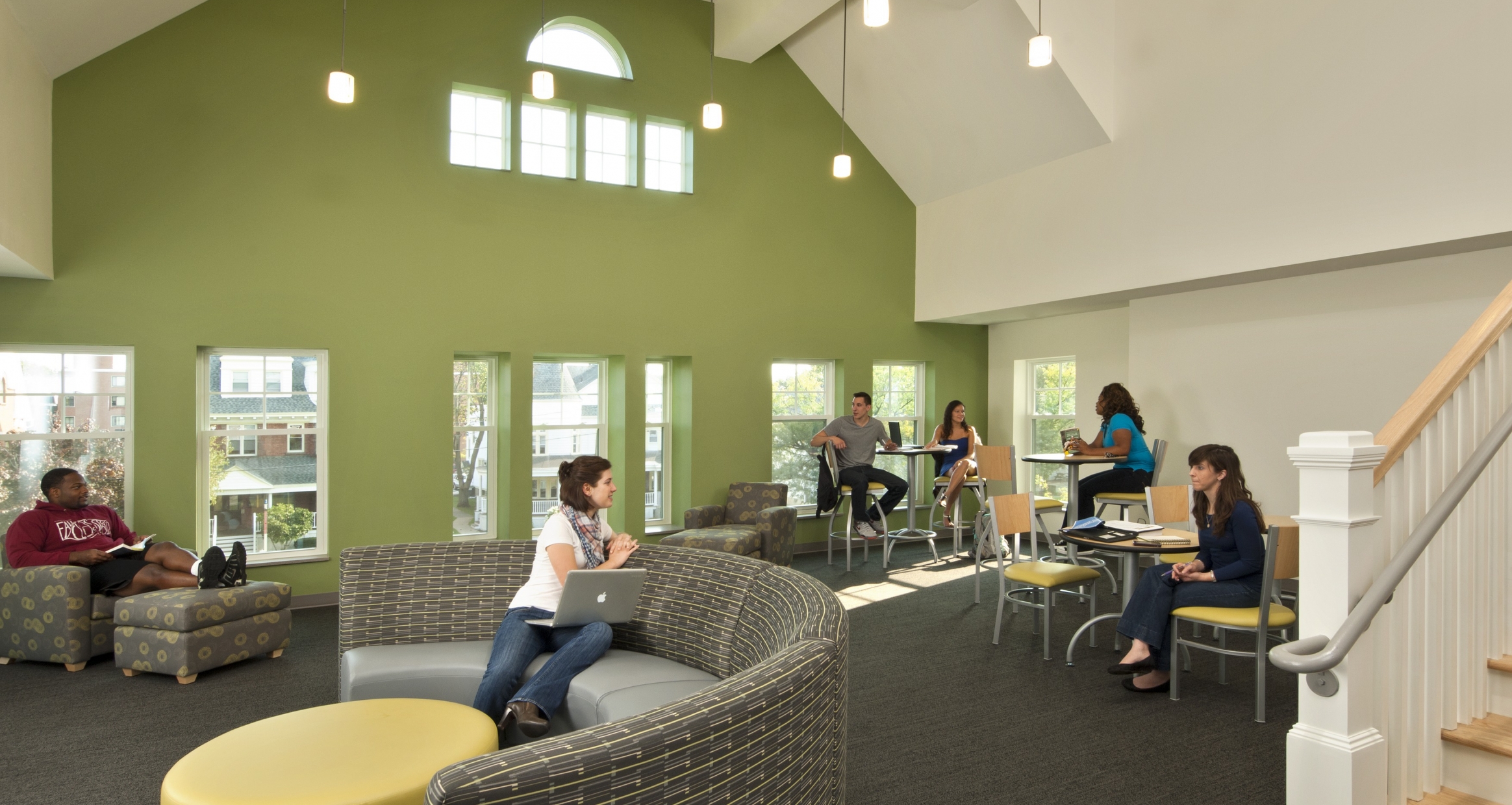 Collaboration and study lounges are strategically located throughout the building to foster community. The large lounge opening off the main entry serves as a central meeting place, with the third-floor TV lounge providing a comfortable home-like setting. On the ground floor, Provisions on Demand, a convenience store, and the Burger Studio Café also welcome the public.
Science is a Human Endeavor
University of Scranton
The most powerful scientific tool is the human mind, especially when it collaborates with others. This interdisciplinary facility is designed around non-lab learning spaces that are comfortable, inviting, and promote interaction, compelling faculty to redefine how they think of and use learning spaces, and reconceive how they educate students.
Advancing Mission
Energy Decisions
Latest Publications
The Maker experience represents a profound change in how things are being created today. The formal boundaries and divisions between people of different backgrounds and skills are not only dissolved by the Creative Class, they are informed by the interaction brought about by diversity of ideas, experience, and contribution to advancement. As designers of multidisciplinary research and teaching/learning environments of all kinds and active members of an academic faculty team running an interdisciplinary, entrepreneurial maker studio, our experience helps create more idealized and appealing environments that attract, retain, and engage the Creative Class and help those who wish to learn more about this valuable paradigm. The experience of Making offers great hope for making our world a better place through innovation, and the ultimate beneficiaries of these efforts will be all of us, together.
New treatments and technologies, managed care, and an aging population are transforming the healthcare profession. EYP has played a leading role in bringing health education facilities into the 21st century to help prepare students for the challenges of a rapidly evolving profession. Our brochure showcases representative projects that have helped clients develop skilled and compassionate practitioners, while elevating their programs' competitive edge.
EYP's Toni Loiacano shares pre- and post-occupancy data with Tradeline about Trinity University's Center for the Sciences & Innovation (CSI) in San Antonio, Texas. Studies indicate that the new CSI is attracting more students from all departments to the building, boosting integration between science and non-science majors, and increasing interest in STEM studies among incoming students at a rate of 50 percent.