The Planetree Philosophy of Design: Embrace, Care, Heal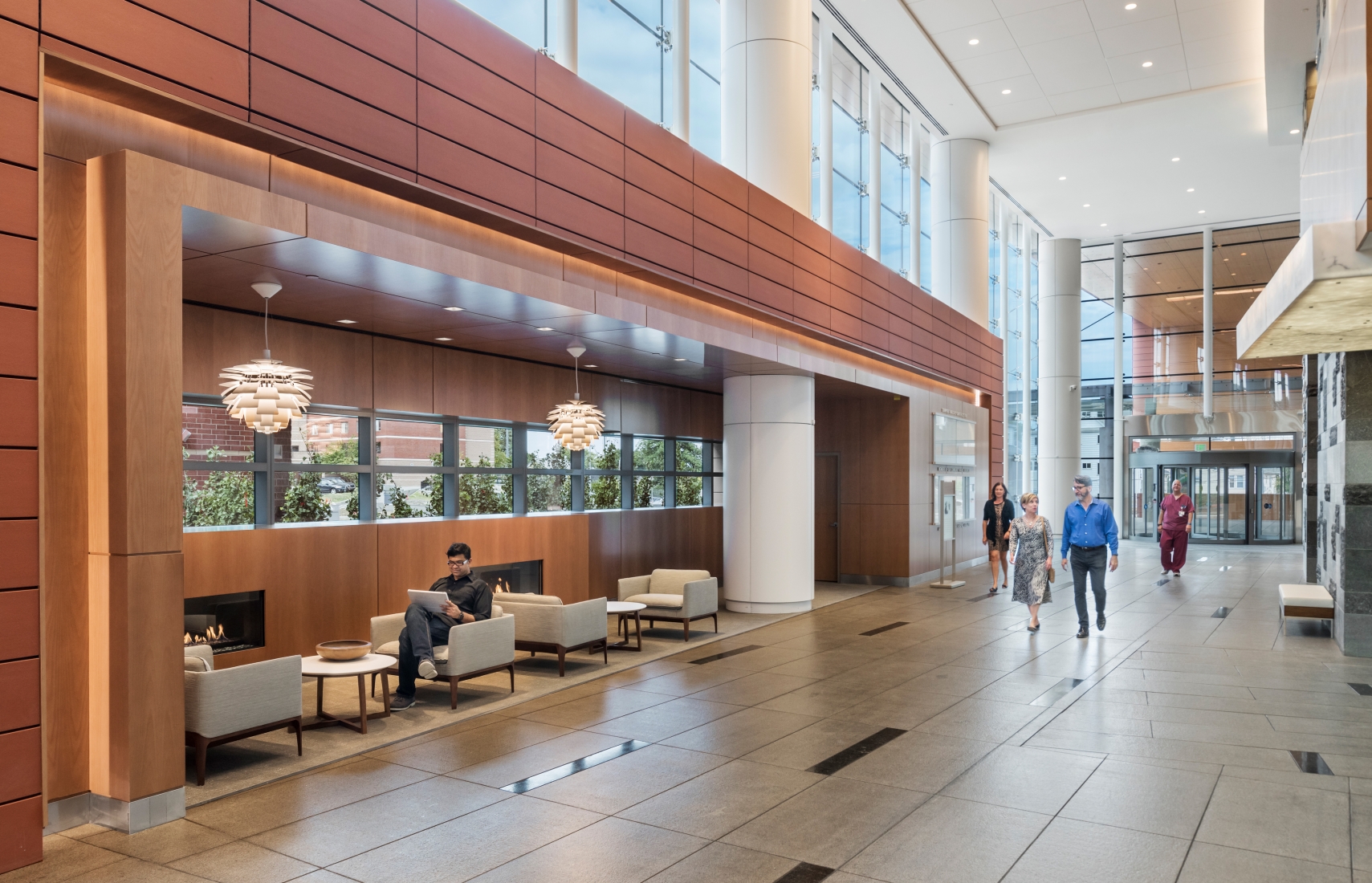 The Planetree philosophy is rooted in advancing patient-centered care through better patient and family activation, improved quality and safety, and deeper staff engagement. WHR Architects, the Healthcare practice of EYP, has long been committed to Planetree philosophy and had the good fortune to work on the Planetree Demonstration Unit at Trinity Medical Center in Moline, Illinois, two decades ago. Most recently we designed a Planetree Designated® Patient-Centered Hospital at Stamford Health that personalizes, humanizes, and demystifies the healthcare experience.
Conceived around three words, "Embrace, Care, Heal," the hospital's design evokes empathy for the patients, their families, care providers, and the community. Walking paths around the campus and a green belt connect the hospital to a neighborhood park, improving access and encouraging exercise. The building's exterior is composed of regional and earthy materials, such as stone and terracotta, articulated with a glass tower to represent both high touch and high tech. Upon entering the hospital, visitors encounter a series of welcoming, enriching experiences – from a multistory space articulated with natural wood and stone to the intimacy of comfortable seating with fireplaces, an abundance of natural daylight; and view of the courtyard with a water feature. Several amenities are located along the public concourse including:
Admitting area and patient lounge designed to respect privacy
The Resource Center/Medical library that provides patients and families access to consumer health information
A non-denominational Chapel with a nature-inspired glass art installation that offers a peaceful respite, catering to spiritual needs
Gift Shop and Pharmacy for convenience
Café specializing in fresh and nutritious meal choices
Outdoor garden and terrace suitable for alternative therapies such as Yoga and Reiki
Patients and families have access to natural light and great views from within the patient rooms, waiting areas, peace rooms, and a green roof with two outdoor terraces, while the staff has access to equally restorative staff break areas located centrally on patient units, with large windows offering views of the Long Island sound, an off-stage accessible green roof, and collaboration areas throughout the facility. A good steward of the environment, the project is designed to achieve a LEED for Healthcare certification.