Healthy by Design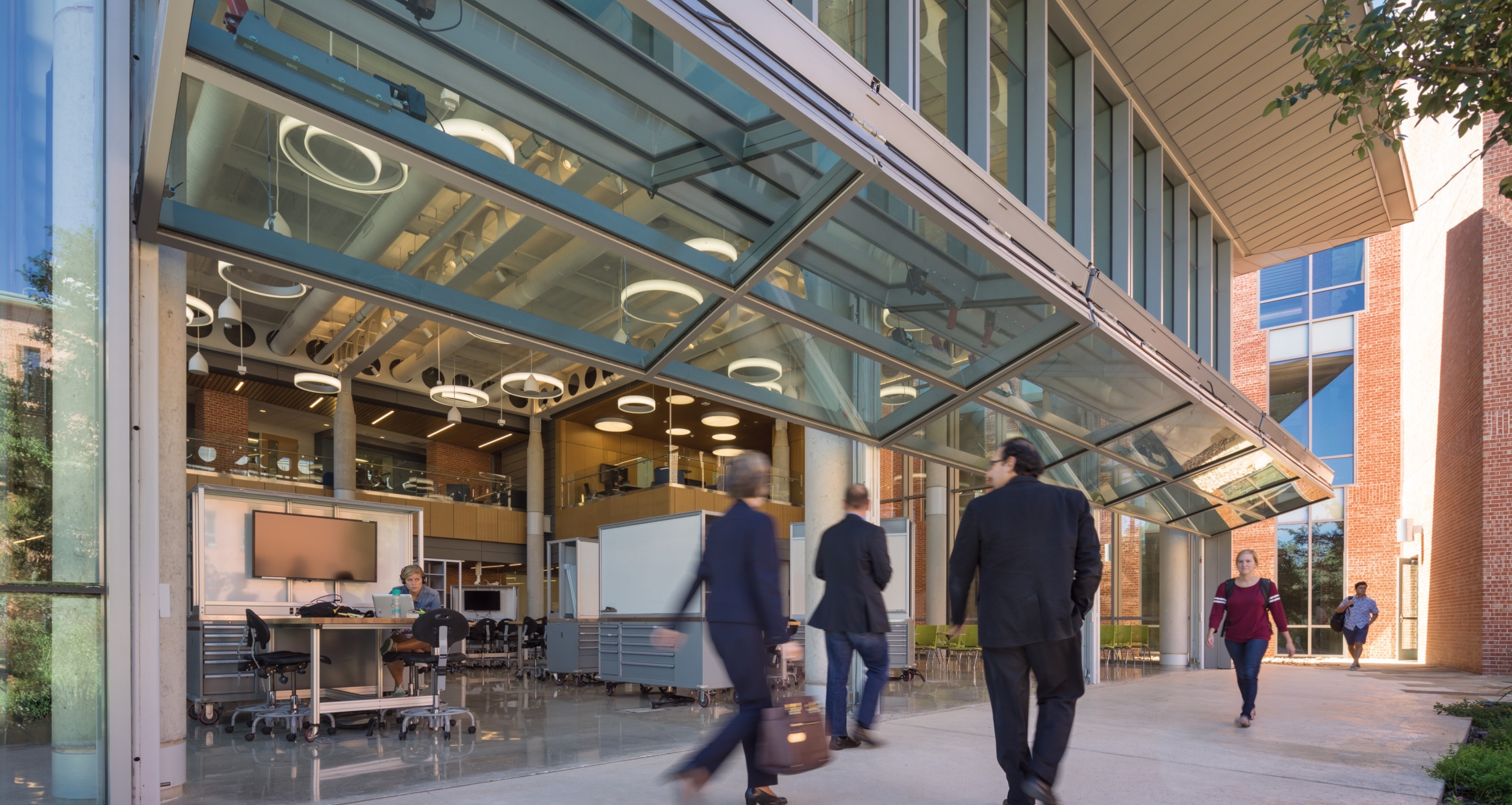 We're partnering with Fitwel - one of Fast Company's 2017 Top 10 Most Innovative Companies in Social Good - to define the new standard for design that promotes good health and good business. As a Fitwel champion, we'll apply their healthy design and operational strategies to our high-performance portfolio of projects. 
Workplace Strategy
Promoting Patient and Practitioner Health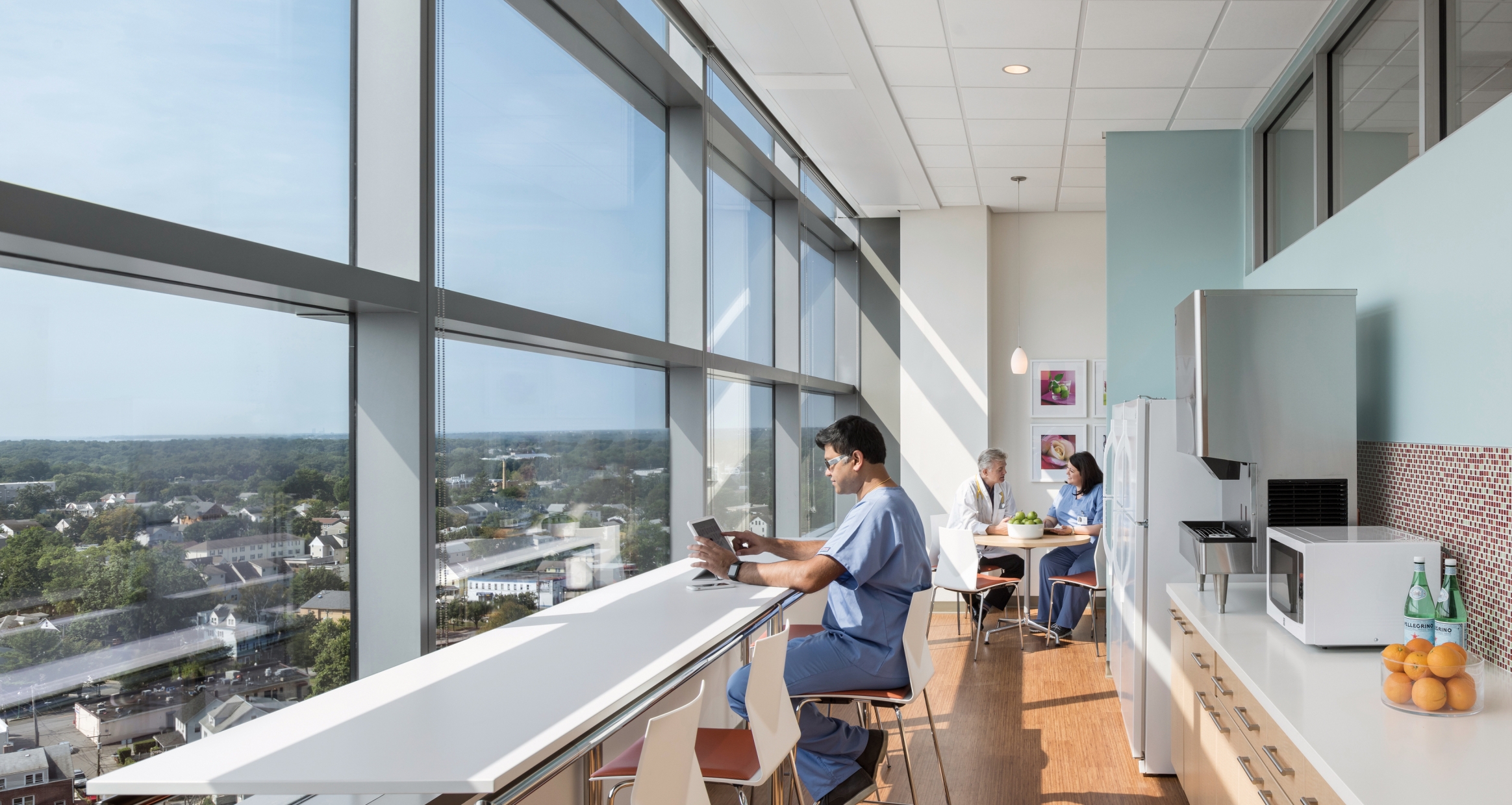 Stamford Hospital
Our evidence-based design approach, including partnerships with organizations like Planetree, had led to a growing awareness of the link between design and well-being. In this article from Medical Construction & Design, Lead Designer Tushar Gupta and Research Director Laurie Waggener provide snapshots of some recent projects and features that address these issues.
Well-Being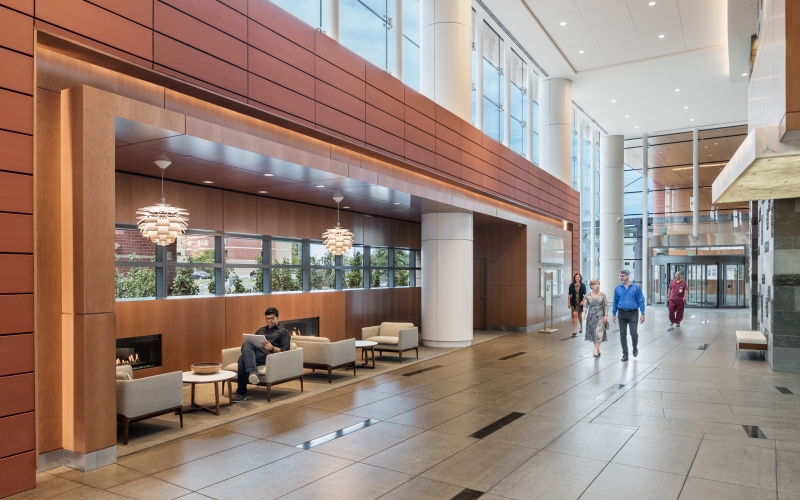 The Planetree philosophy filters all decisions through three focused lenses – Empowerment, Dignity and Compassion – with an underlying focus on safety, effectiveness, and well-being for patients and caregivers. Embracing this human-centered approach helps hospitals reimagine the healing experience and negotiate the challenges associated with the rapidly changing healthcare arena.
Interprofessional Opportunities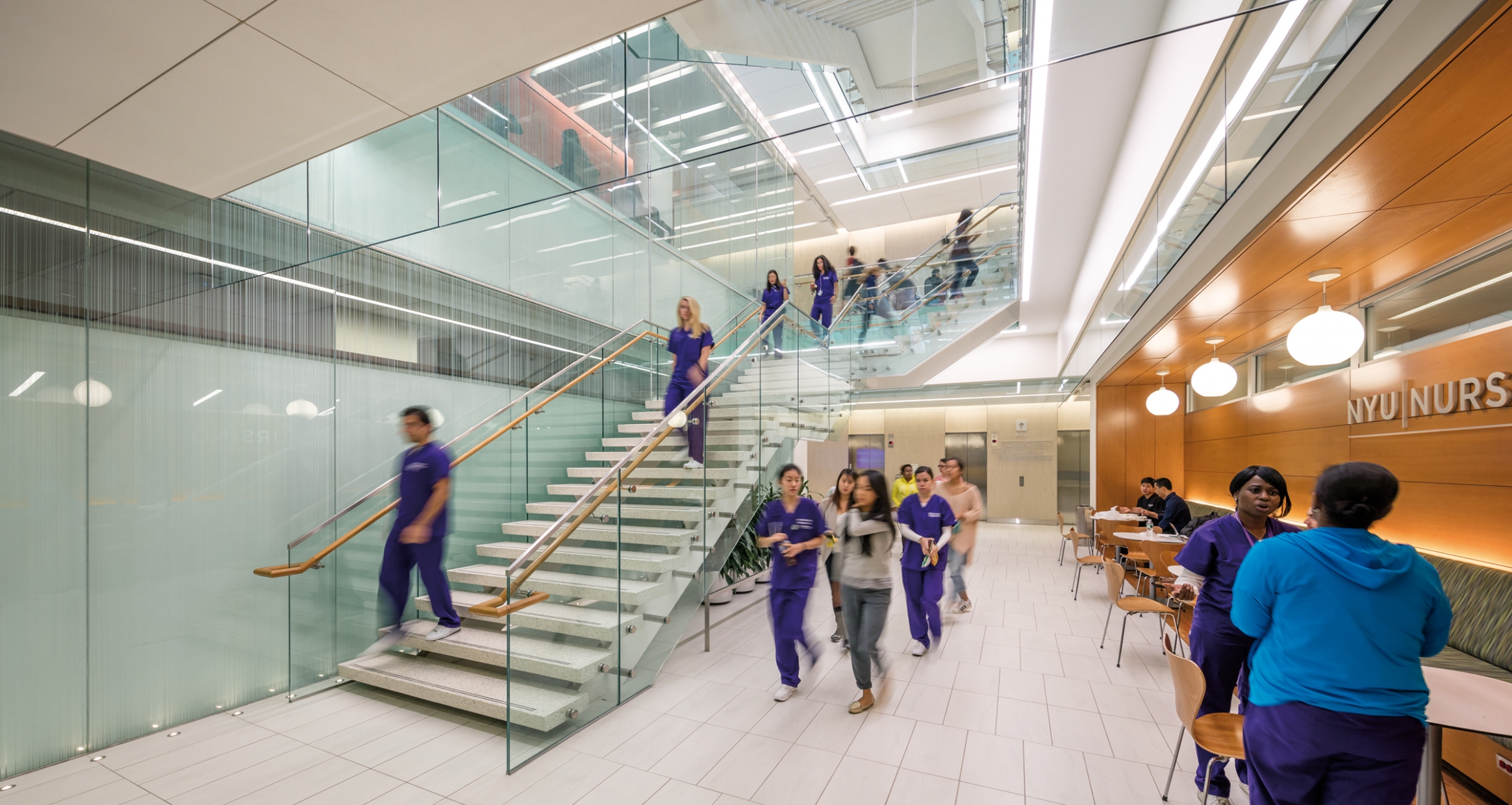 New York University
College of Nursing, College of Dentistry & Bioengineering Institute
Creative learning models bring students together across programs so they can learn to efficiently work together as a team to optimize patient care.
Collaborative Space
Advancing Mission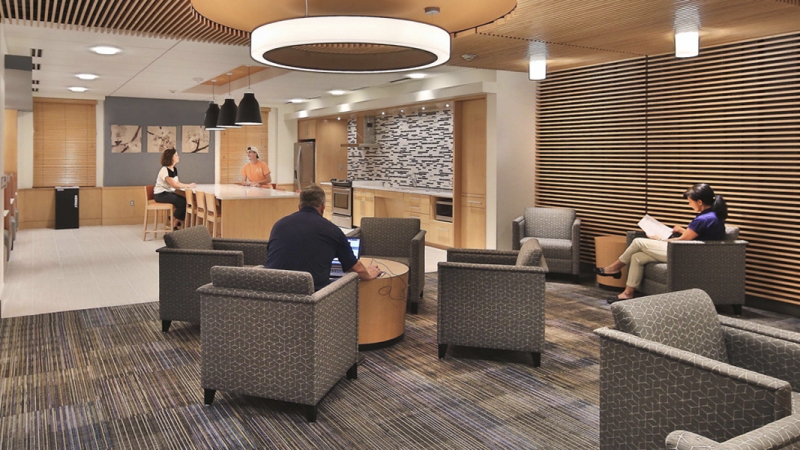 Students today live a 24/7 lifestyle, so residential life and campus dining teams are adapting to improve student services, wellness, and opportunities for community engagement. An increasing number of campuses are integrating food into the residence hall – not only in apartments and suite-style units, but also as focused community spaces that serve residents in a variety of ways. Vibrant social spaces with soft seating, flexible furniture, and a kitchen or food-prep area are popular with good reason: food has always served a cultural function – at the center of social occasions and even unifying regions. In a residence hall, integrating community kitchens and/or a food-service function can highlight the importance that food plays in wellness, education and culture. A kitchen can support residential life programming, enable students to share their culinary heritage, and logistically complement somewhat limited weekend or late-night food service elsewhere on campus. Our recent projects with Trinity College, Duke University, and Pace University integrate food service in varying ways to enhance residential life programs and enrich the student experience.
We believe that we are human beings, caring for other human beings. That simple, profound statement is at the top of the list of Planetree beliefs. Although not every hospital is a part of the Planetree organization, an international advocacy group that partners with healthcare providers to create and support patient-centered care and cultures, healthcare facilities across the country are keenly focused on caring for patients, families and, just as importantly, staff.
Informal learning spaces, also called "soft spaces," in academic science buildings have evolved from throw-away square footage tucked in alcoves and under staircases to purposefully designed hubs of activity. Experience, now backed by data, shows how important these spaces are.
Residential community spaces, including lounges and study areas, come in a variety of shapes and sizes and are crucial to the engagement of students within residence halls. In an article for StudentHousingBusiness.com, EYP student life planner Sara Stein shares our research demonstrating the value – to individuals, the campus community, and the institution – of including an adequate number of flexible community spaces.
An engaged student population builds a strong sense of community, which then directly links back to individual student satisfaction. Engaged and involved students are much more likely to stay on campus at their institution, give back to the community at large, and likely contribute back to their campus as alumni.