Transformational design reinvents an adult and pediatric facility as a family-friendly children's hospital –  the first in the region dedicated solely to pediatric care. A translucent "Spirit of the River" feature wall sets a tranquil mood as it guides patients and visitors through the building. Inspired by the therapeutic qualities of water, the design concept suggests hope in the healing process while referencing San Antonio's River Walk and the client's missionary legacy.
The parti organizes "on-stage" and "off-stage" circulation spaces to separate clinical care and public spaces from places where staff transfer patients or enjoy quiet breaks to facilitate security, enhance operational efficiencies, and reduce noise within clinical areas. To further improve security, the building now has a single public entry – a new lobby whose informal gathering and dining spaces encircle a sculpturally formed chapel.
Spacious and full of light, private patient rooms offer young patients and their parents a reassuringly home-like atmosphere. Family amenities and educational spaces include a Teaching Kitchen, where Child Life Service staff host healthy cooking classes. The Teaching Kitchen is the high-visibility arm of an interdisciplinary weight management program – a collaboration of clinicians, counselors, and researchers with dieticians and chefs. The kitchen is also the flagship for the city-wide CHEF program, which operates satellite teaching kitchens in locations including the San Antonio Botanical Gardens and local YMCA and Boys and Girls Clubs.
Phased to minimize disruptions to hospital operations, the project reimagined and relocated nearly every department.
We were Architect of Record and Project Architect in association with Overland Partners of San Antonio.
Building Facts
400,000 GSF modernization
10,000 GSF new
Environmental graphic design

195 beds

Neonatal Intensive Care

Pediatric Intensive Care

Pediatric Intermediate Care

Hematology/Oncology

Surgical Suites

Rehabilitation

Women's Services

Teaching Kitchen
Balancing Act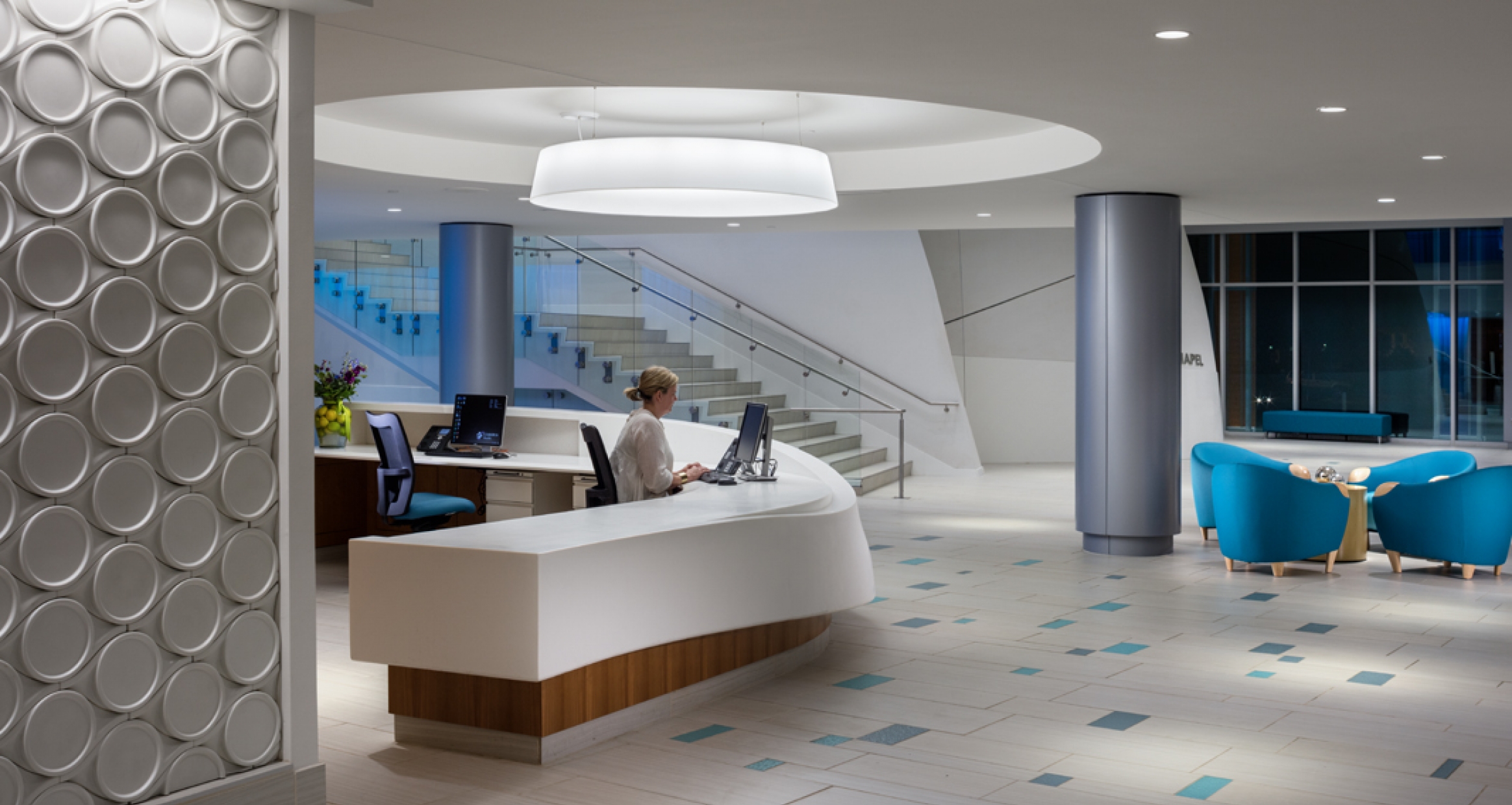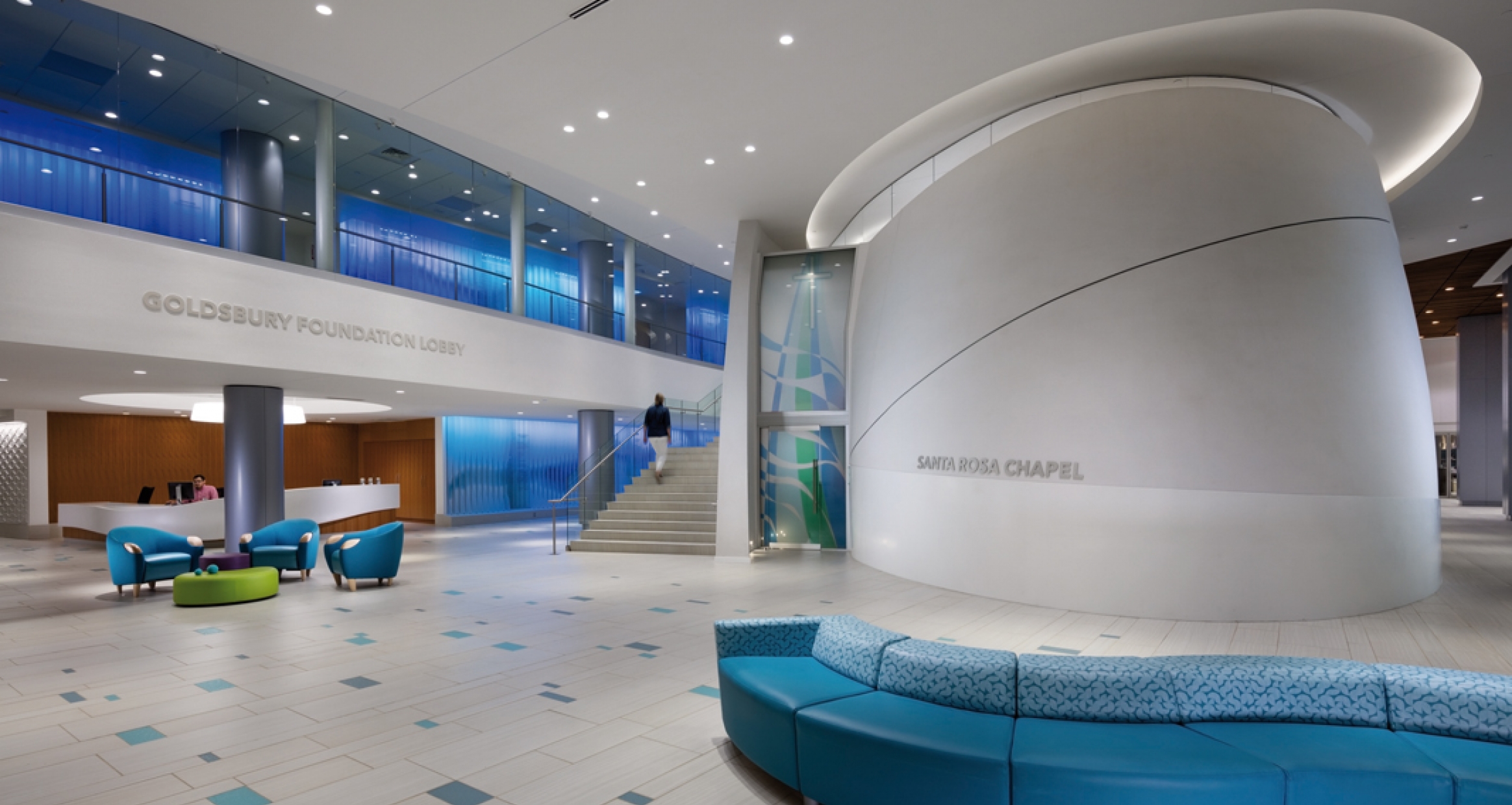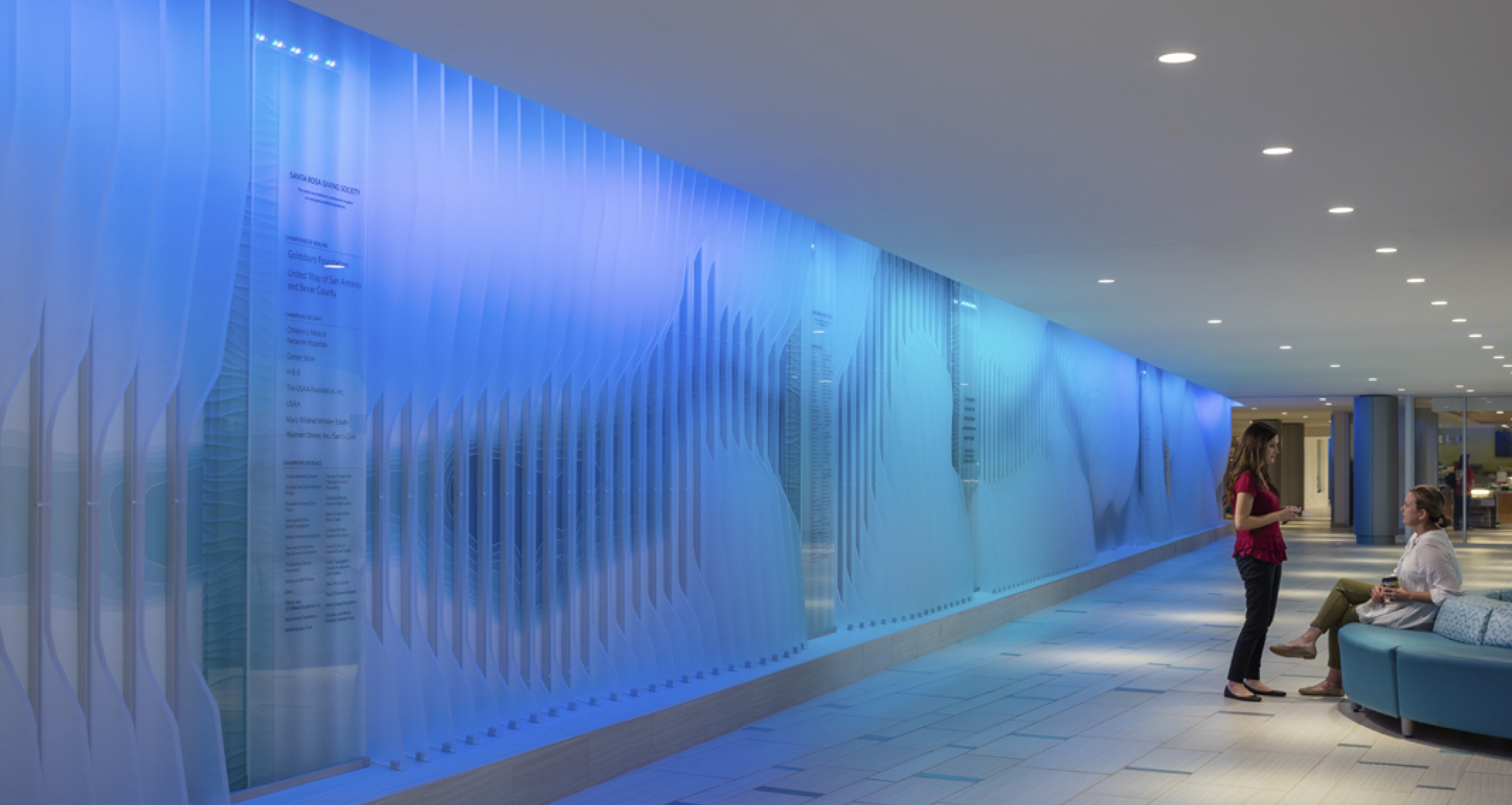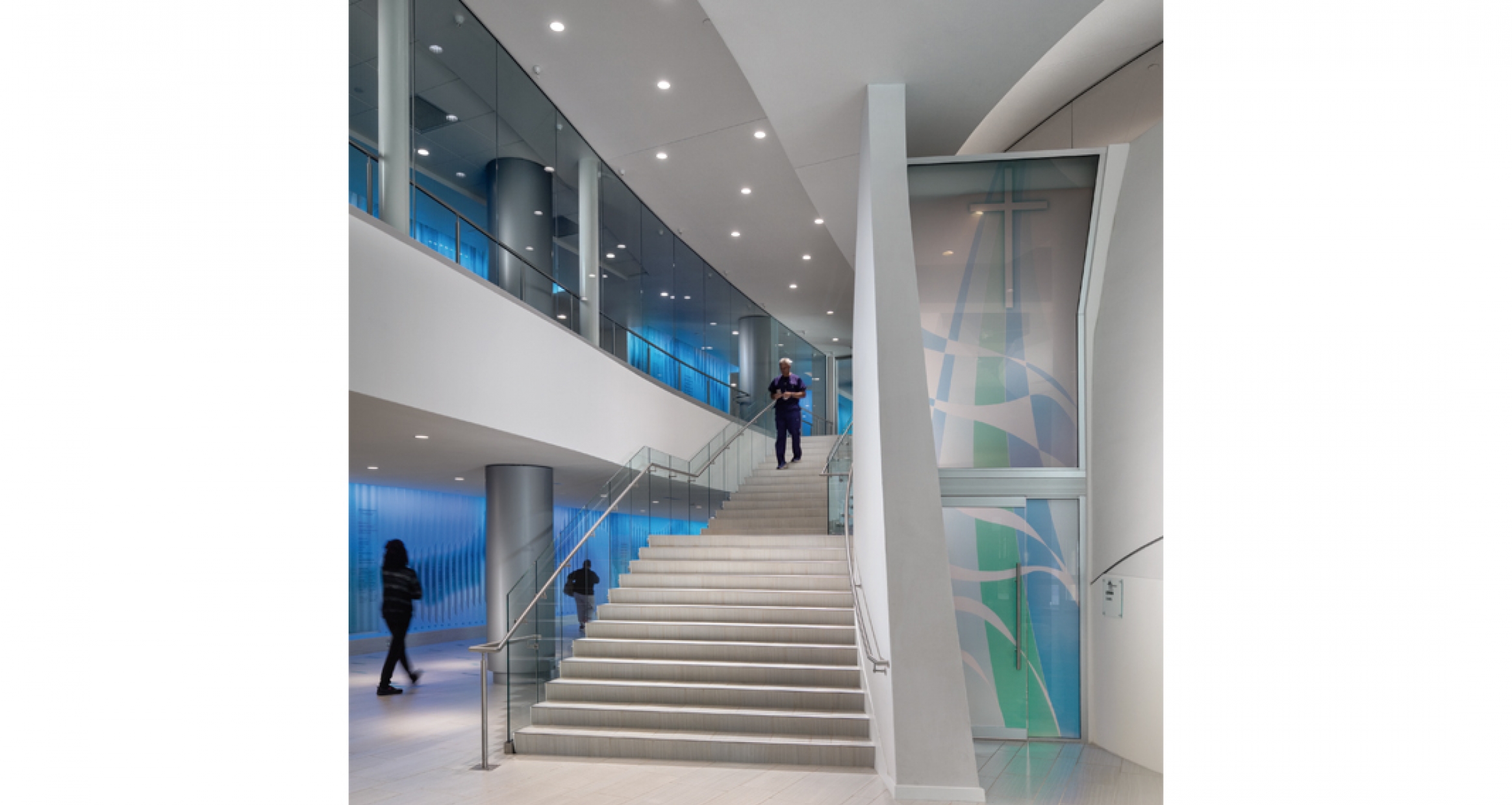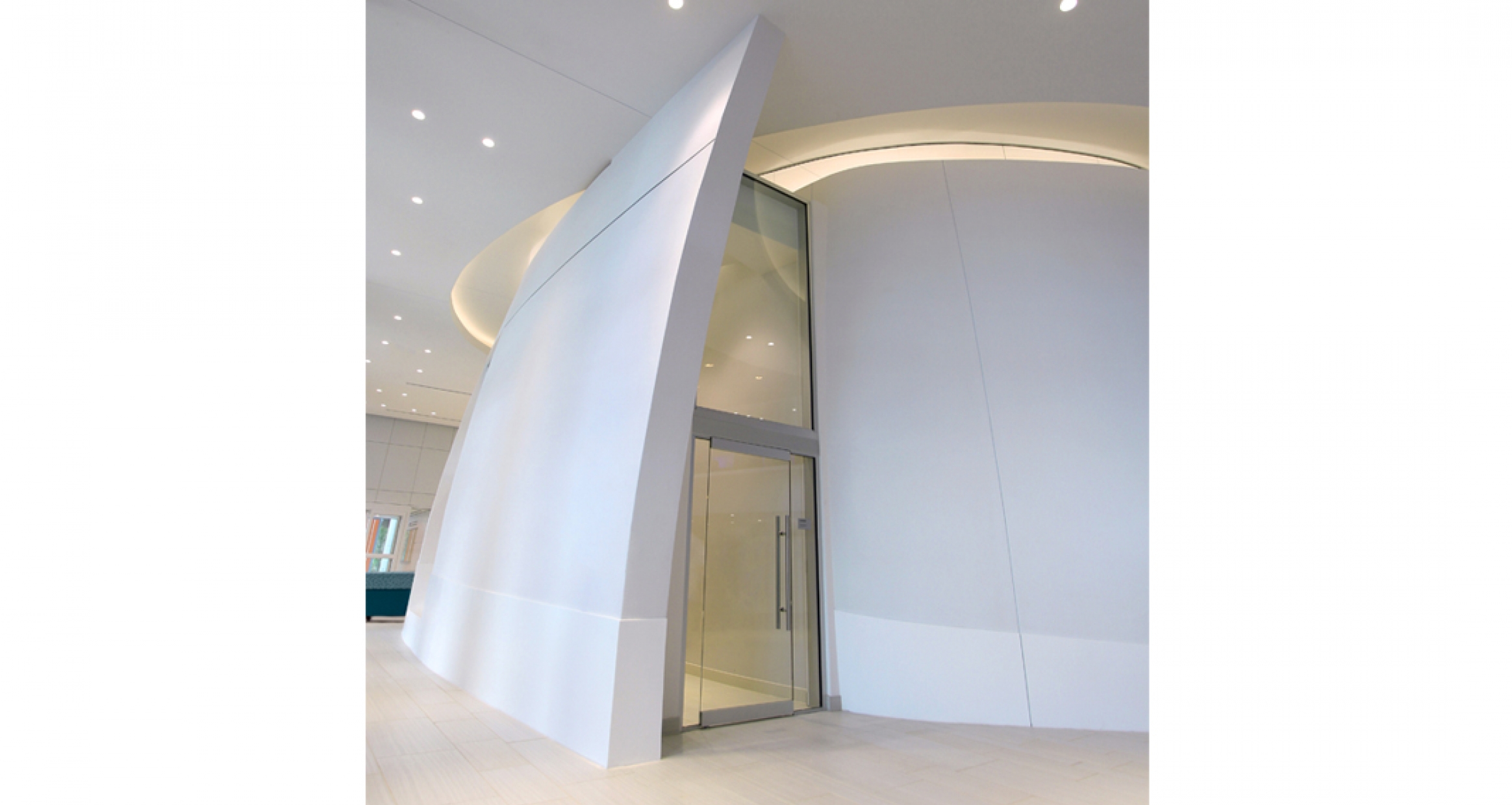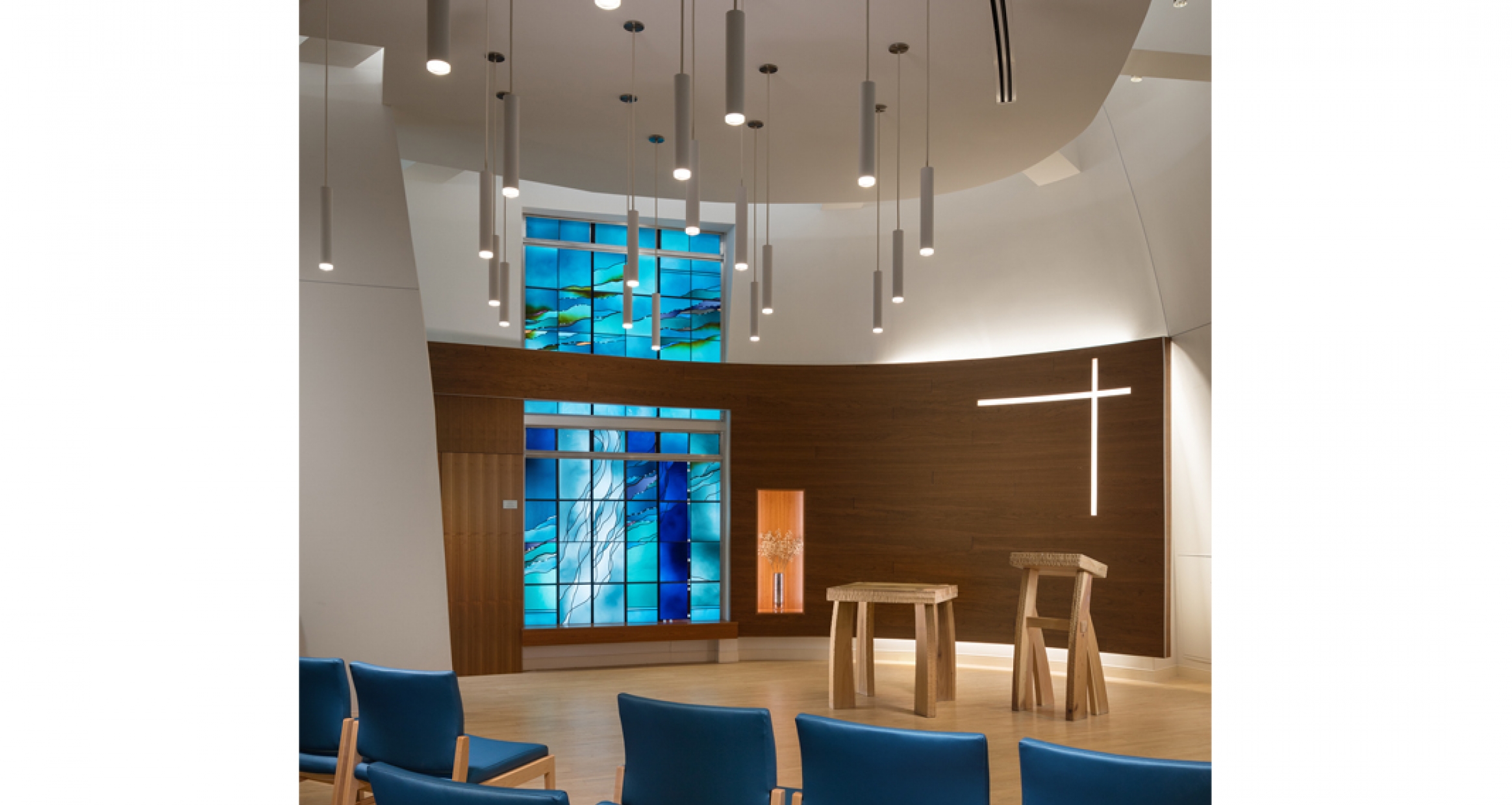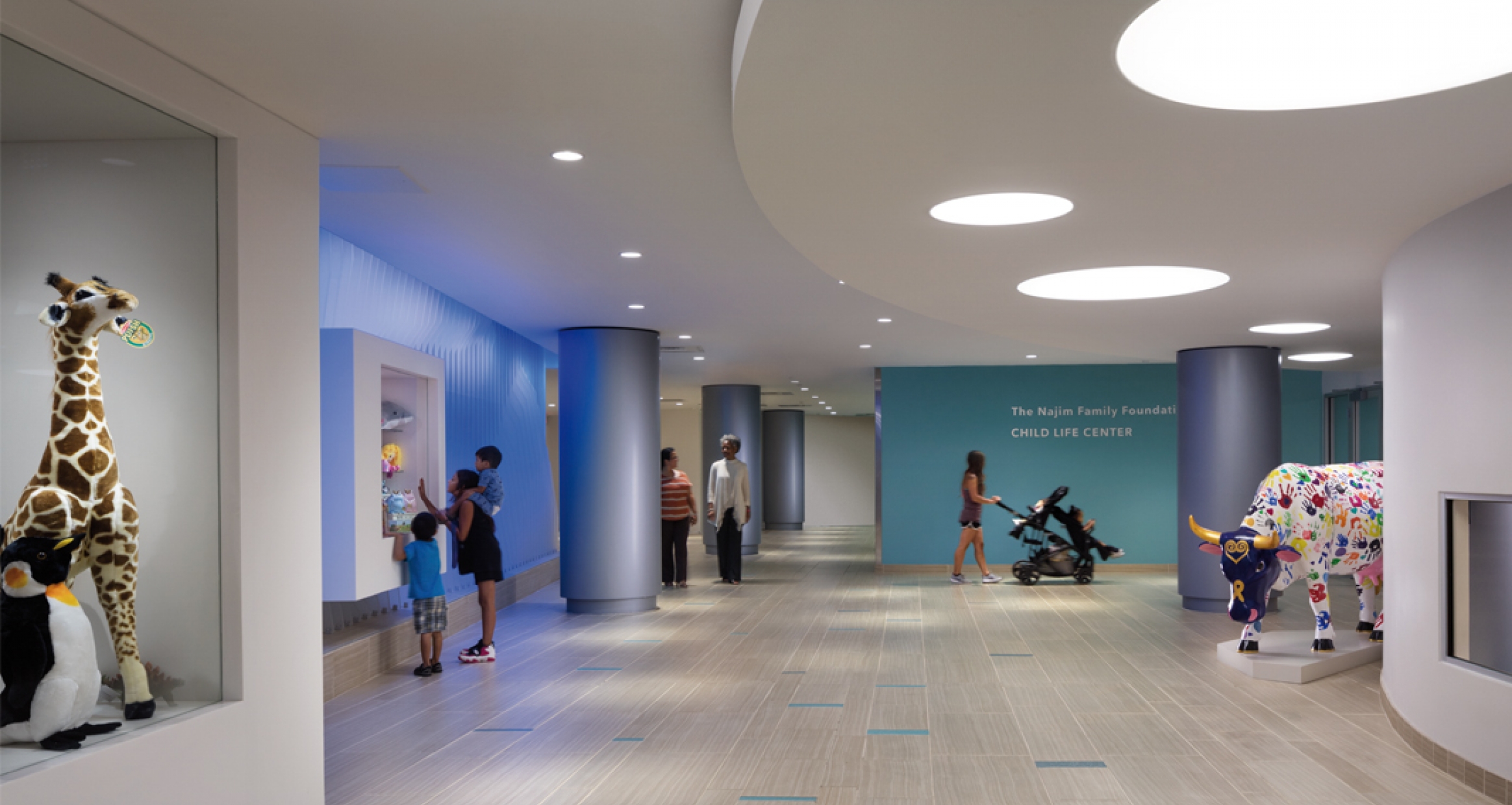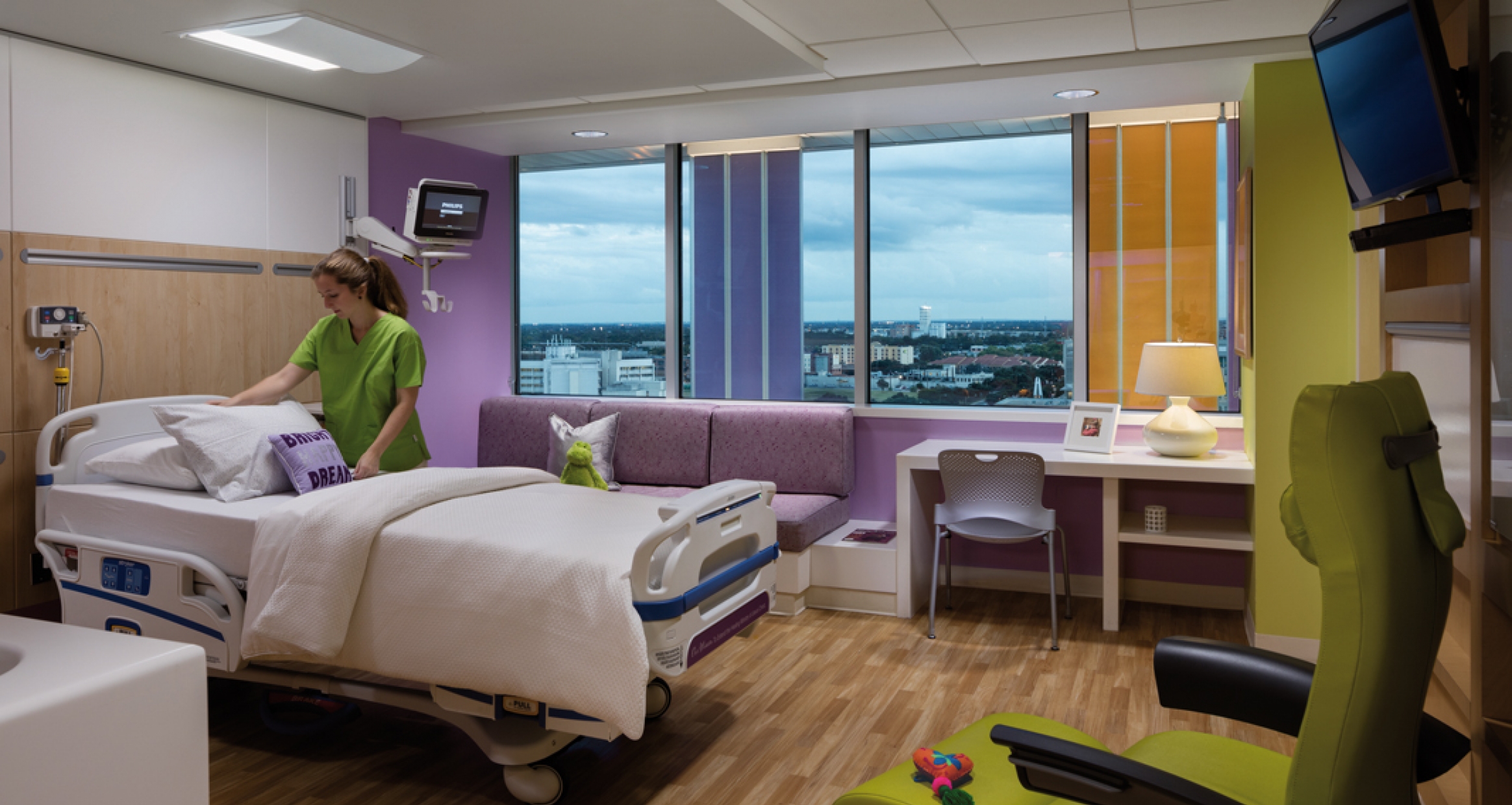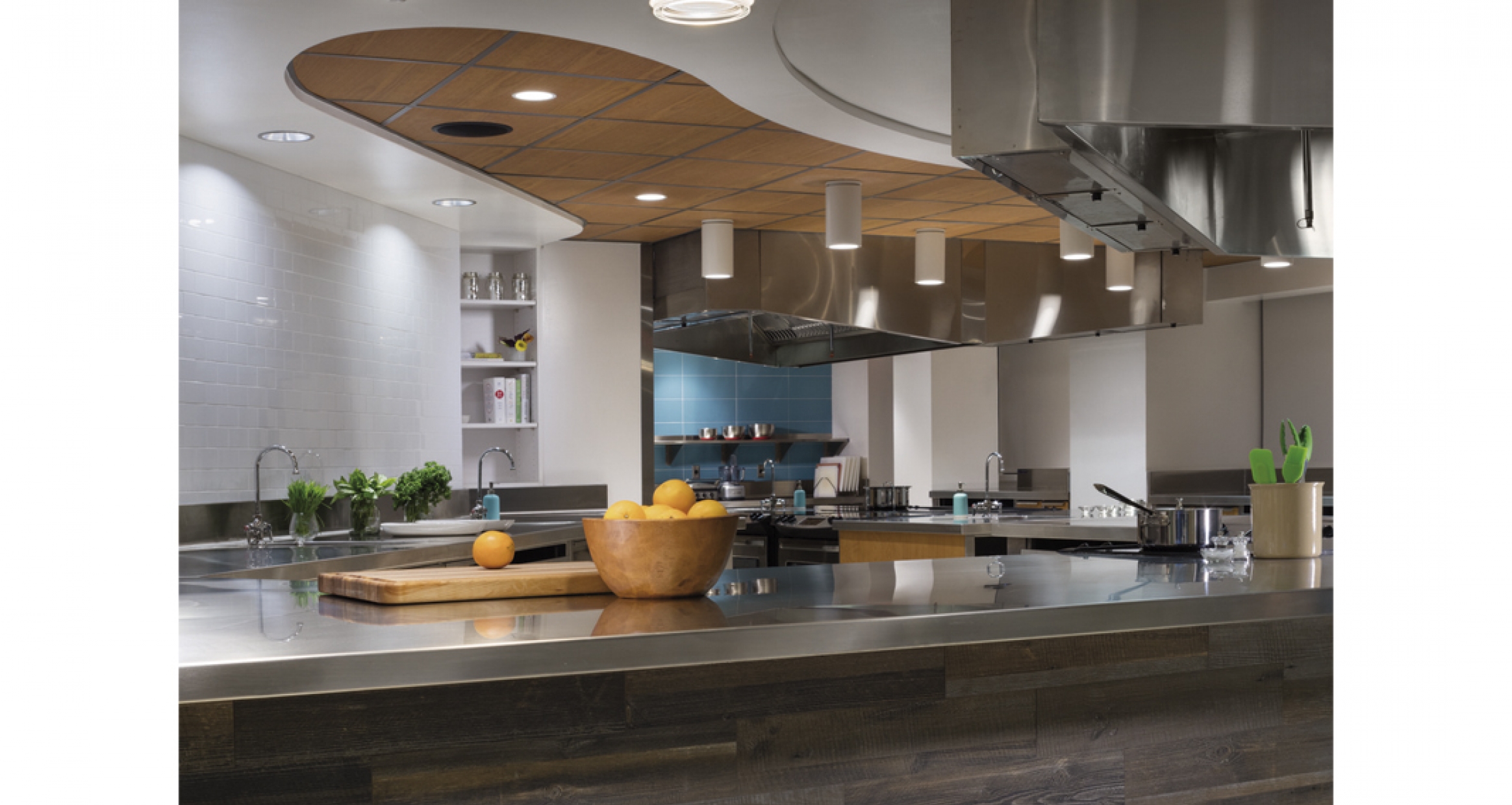 Balancing the dual and often competing design goals of providing a higher level of pediatric care that signal confidence and yet appearing playful and non-threatening is an art. Pediatric hospitals require more space than their traditional counterparts to accommodate variously sized beds, child life services for in- and out-patients, and rooms large enough for supportive families to gather.
Interiors
Modernization
Well-Being
A River Runs through It
The design team's concept, "The Spirit of the River," references San Antonio's well-known River Walk and the missionary history of the Christus Health System. The colors of water playfully flow along the blue River Wall, a feature/donor wall made of plastic resin with an image of the contours of the San Antonio River behind it. Valleys and bends are CNC routed in each resinous fin, together forming a composition of a river cutting through the landscape of the first and second floors.
Innovation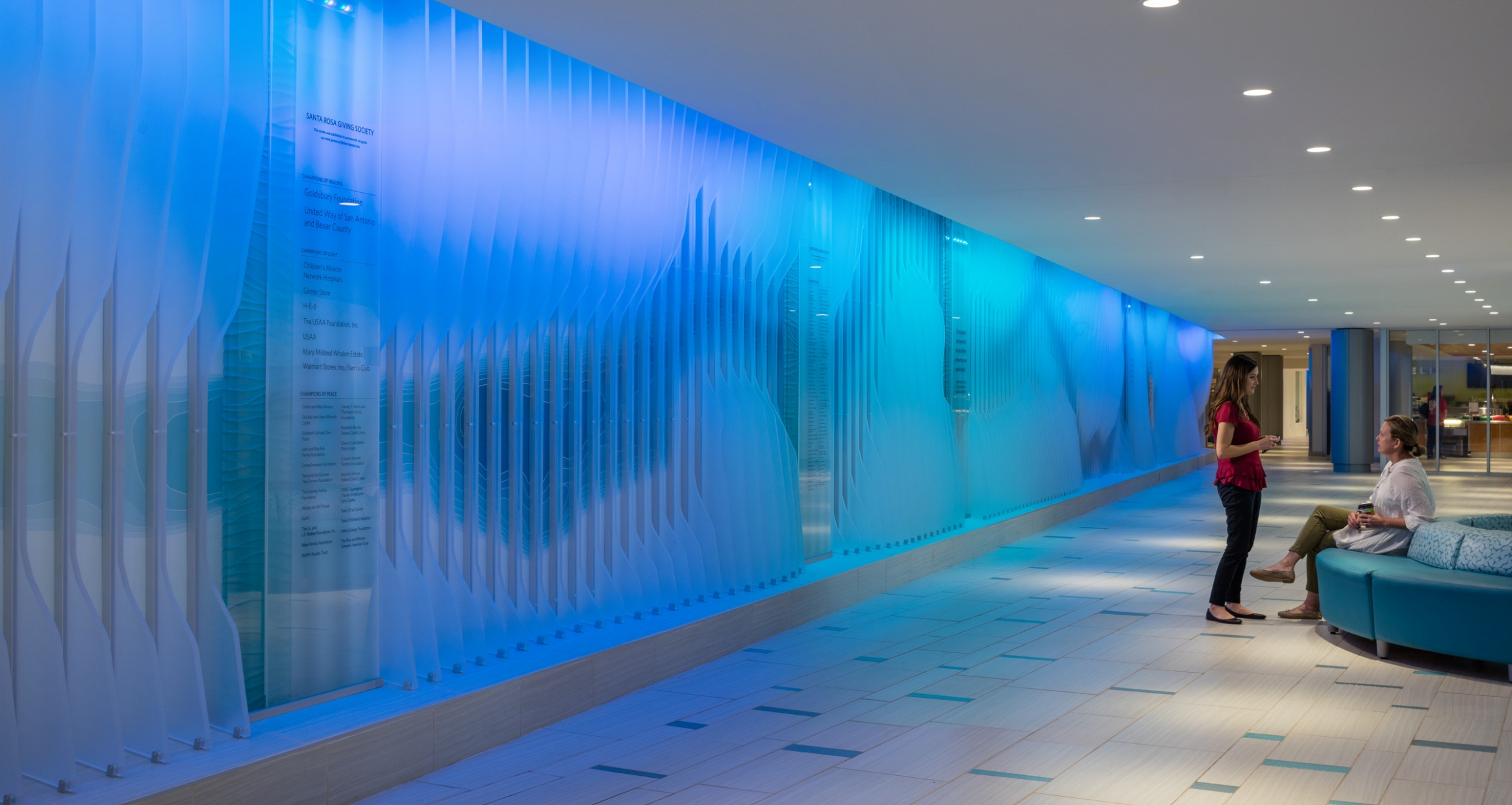 Reinvented for Children
Living in your hospital while rebuilding it is one challenge. Transforming it from adult and pediatric care to a dedicated children's hospital is another. See how we helped CHOSA accomplish both in Healthcare Design.
Modernization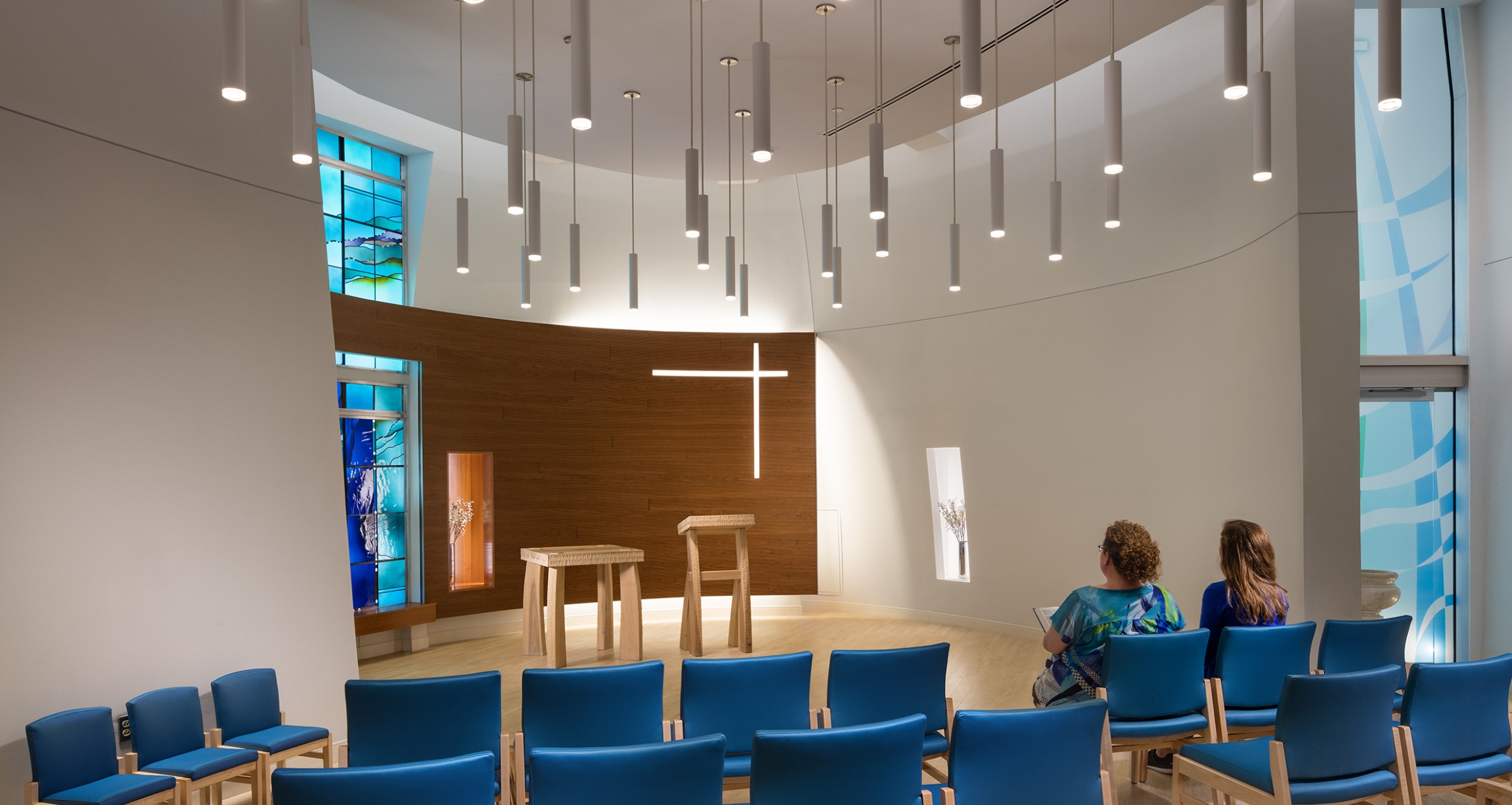 Healing Embrace
The sculptural and expressive centerpiece of the new lobby is a chapel, whose representational form leaves interpretation up to the patients: hands folded in prayer; an angel's wings; or a swirling eddy of water. The chapel's halo of light, symbolizing enlightenment and hope, is visible throughout the lobby and from the balcony edge of the second floor. 
Well-Being
Reclad to Rebrand
An inventive solution by Overland upgrades the façade, extending the interior brand experience through the addition of vertical, multi-colored glass fins – functional shades that mitigate the impact of direct sunlight on the interiors. The vibrant color palette of the fins emphasizes and is inspired by the building's iconic nine-story mural, The Spirit of Healing, by San Antonio artist Jesse Trevino. The Architects Newspaper details the material and construction of the playful design in A First for Multi-colored Ceramic Channel Fritted Glass.
Innovation
Modernization
Project Tags
Further Reading