What can design do to help prepare for a net-zero future? SUNY Polytechnic University set out to explore what's possible with its ZEN building. The flagship of SUNY Poly's College of Nanoscale Science & Engineering campus, the Zero Energy Nanotechnology Building (ZEN) is the largest zero-energy capable, mixed-use facility in the United States.
Supporting a campus of 4,000 scientists, engineers, faculty, and students, the ZEN building includes industry-partner offices and spaces for research, development, and teaching. But at 363,000 GSF, ZEN's stature hints at an even greater purpose: to prove that an integrated design process — leveraging powerful tools and affordable technologies — can lead to net-zero capable energy performance.
Working with New York State's Energy Research and Development Authority (NYSERDA), the team's integrated approach began with gathering to collaborate and using sophisticated energy modeling software to evaluate hundreds of design options, arriving at the most energy-efficient bundle of features.
These models informed the doughnut-shaped building configuration with a central, 10,000-square-foot atrium. Covered with an ultra-lightweight roof, the atrium allows natural light to flood interior offices. Most spaces don't even need additional lighting for day-to-day activities.
But if you do need a little extra illumination, efficiency is key! A radio-frequency identification card turns lights on and off as you navigate the building. The team's combination of approaches reduces lighting electricity needs by 70%, saving money and energy while promoting wellness and productivity.
The design employs other renewable energy resources. A 2.4 MW offsite photovoltaic (PV) farm and pilot-scale fuel cells are expected to reduce the building's overall energy cost by 59.4%. Reclaimed heat from an adjacent data center offsets winter heating loads, and grants are underway for fuel cell technology that could provide enough on-site power generation to achieve annual net-zero energy.
SUNY Poly's net-zero future is well underway.
Building Facts
6 Stories
10,000 GSF Community Hub
363,000 GSF New Construction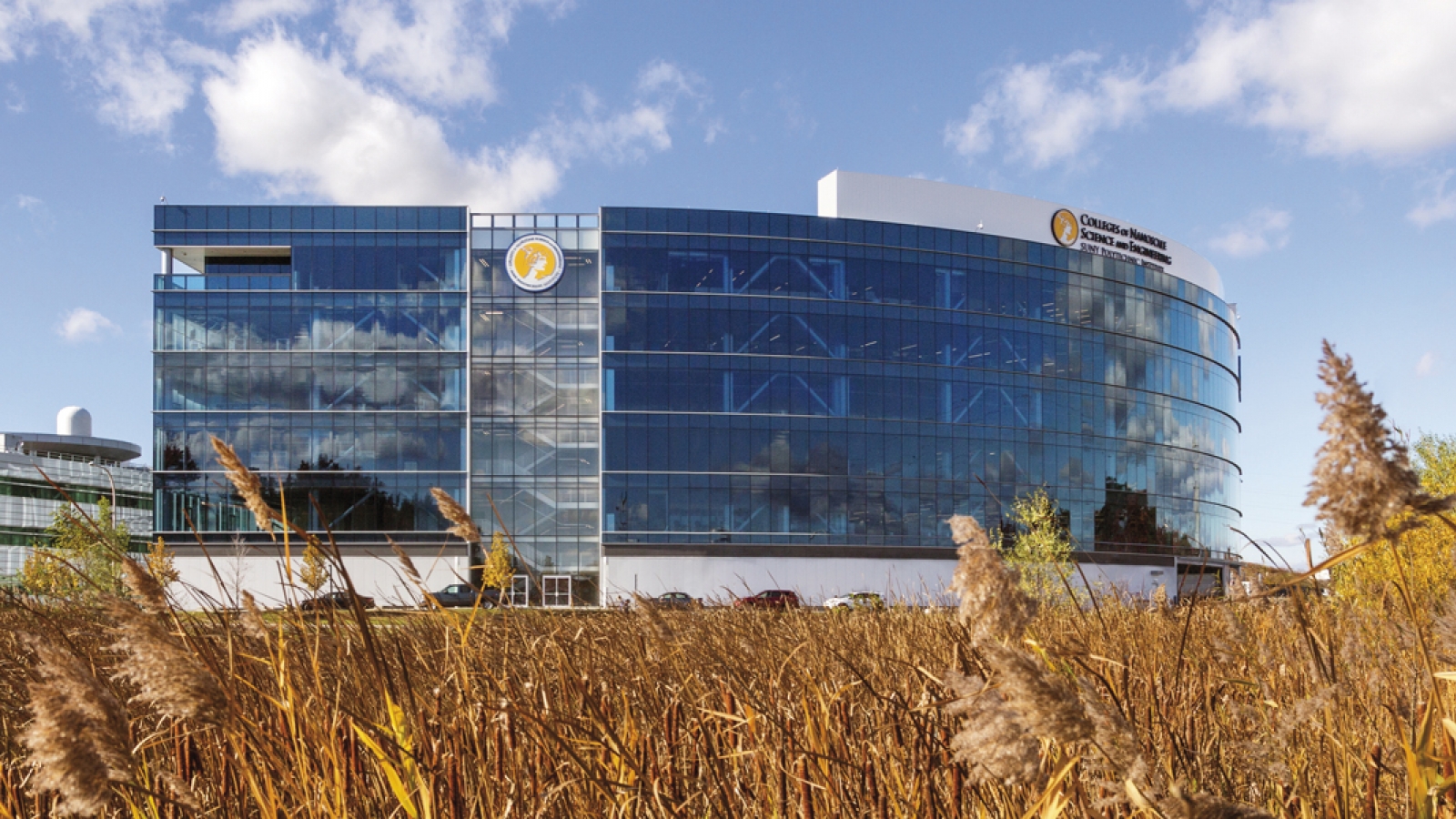 Net Zero Buildings Magazine explores how the ZEN Building, the largest zero energy-capable facility in the nation, is a test bed for emerging building technologies and shows the world what can be economically accomplished today. 
Emerging Technologies
Thanks to the client's partnership with Japan's New Energy and Industrial Development Organization (NEDO), cutting-edge tech, energy-saving technologies have been installed in ZEN. This video from SUNY Poly showcases NEDO's tour of the facility.
View the Project
We are laying the groundwork for the adoption of technologies that can transform the way we think about buildings and decrease the amount of energy they require.

Pradeep Haldar