UCHealth was ready for a new hospital to address the needs of the booming populations just beyond Longmont. Moving as quickly as the fast-growing community, UCHealth's Longs Peak Hospital met a fast-track design and construction schedule.
The new facility embraces UCHealth's brand, is flexible and expandable to meet future needs, incorporates advanced telehealth capabilities, and most important, serves as a prototype adapted for new locations across the southern Rocky Mountain region.
Longs Peak's exterior palette speaks to the Mountain West locale, where residents hold a deep connection to the outdoors. High-performance glass in the building envelope supports energy efficiency while offering breathtaking views and natural daylight for patients and staff.
Visitors enter the lobby with its high ceilings, warm finishes, cozy furnishings, and contemporary art. Many are amazed they're at a hospital and not a ski lodge. Local stone and natural woods carry into the interior, while the strategic application of accent colors eases wayfinding.
Technology for internal telehealth services allows physicians, nurses, and caregivers to communicate directly with each other without constant noise or interruption from an overhead paging system. The wireless IT platform enables the hospital to externally communicate with other doctors and facilities. Physicians gain real-time consults from specialists via video telecommunication so patients, doctors, and outside specialists can have conversations in the patient's room.
With the 24/7 retail pharmacy — the only one in Boulder County — Longs Peak is able to offer "Meds to Beds" — a service where prescribed medications are delivered to an individual's room before discharge.
At Longs Peak, patients receive exceptional care — a personalized combination of advanced treatments, extensive services, comforting environment, and brand confidence.
Energy Usage
Below the AIA 2030 Baseline
Building Facts
Designed and Constructed in 18 Months
57-Beds (Potential Expansion to 100+)
24-Hour Retail Pharmacy, Laboratory, and Imaging Services
192,834 GSF; New Construction Hospital
6,761 GSF; New Construction Central Utility Plant
19,303 GSF; New Construction Ambulatory Surgery Center
Greenfield Site – 28.8-Acre Tract of Land
Master Planning, Programming, Architecture, and Interior design
Level III Trauma
Birthing Center & Nursery
Surgery, Cardiac Care, and Orthopedics
Telemedicine
Retail Pharmacy
Labs & Imaging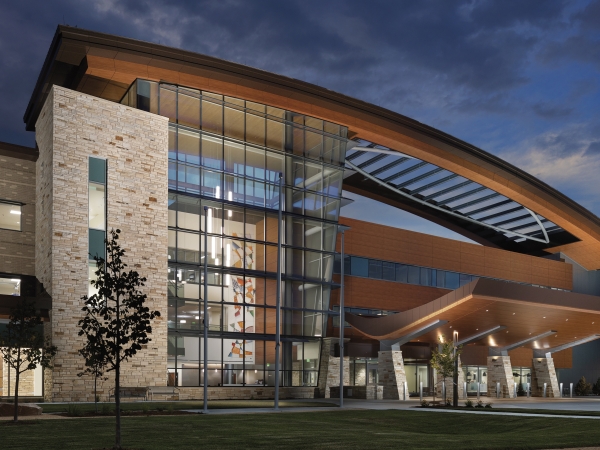 The cover feature of Healthcare Design showcases innovative design that will allow phased growth while maintaining  outstanding patient service and operational efficiency. 
To keep pace with UCHealth's ambitious goals, we collaboratively developed a prototypical hospital design that has been adapted for the specific needs of varying sites and communities yet standardizes key elements of the facility model supporting the system's growth plans.

Mark Vaughan
Annual Energy Savings Modeled