The new Consulate General in Erbil embraces the Bureau of Overseas Building Operation's (OBO) strategic priorities for secure, resilient, and sustainable places to live and work in support of the United States' diplomacy abroad. Communicating confidence and respect, the Consulate General symbolizes the global partners' relationship and shared aspirations by expressing America's democratic values within Iraq's cultural context.
The campus hosts a portion of the consulate staff on site, and residents' ability to venture beyond the campus can be limited. In the design process, the team used day-in-the-life experiences to understand how to support the project's users.
Beginning with the residential village — including apartment buildings, townhouses, and a hotel — the campus enriches the daily experiences of those living and working there with dining facilities, a fitness center, and opportunities for outdoor activities to support work/life balance in a safe, secure environment.
Located eight miles from Erbil's historic city center, the new Consulate General respects and responds to local climate and culture through design that preserves water, controls light, and reduces energy consumption. Practical choices like intentional shading devices and xeriscaping decrease the campus' effect on the environment and local utilities. In extreme heat, shading along the main campus path reduces perceived ambient temperature by 10 to 15 degrees, improves thermal comfort by at least 10%, and eliminates heat gain from solar radiation.
The design balances complex program requirements and an aggressive climate with OBO's energy-reduction goal to achieve LEED Silver, with aspirations for Net Zero Energy and Carbon Neutrality. Through the design and engineering of the campus, the U.S. Consulate General Erbil was able to achieve net-zero.
Building Facts
51 acres
484,000 GSF new construction
Workplace, residential, recreational, security, support
Sustainable Oasis
The design of the new compound embraces the guiding principles of safety, functionality, and positively representing the United States in relation to the host government and region. A residential village offers the features and amenities familiar to American citizens.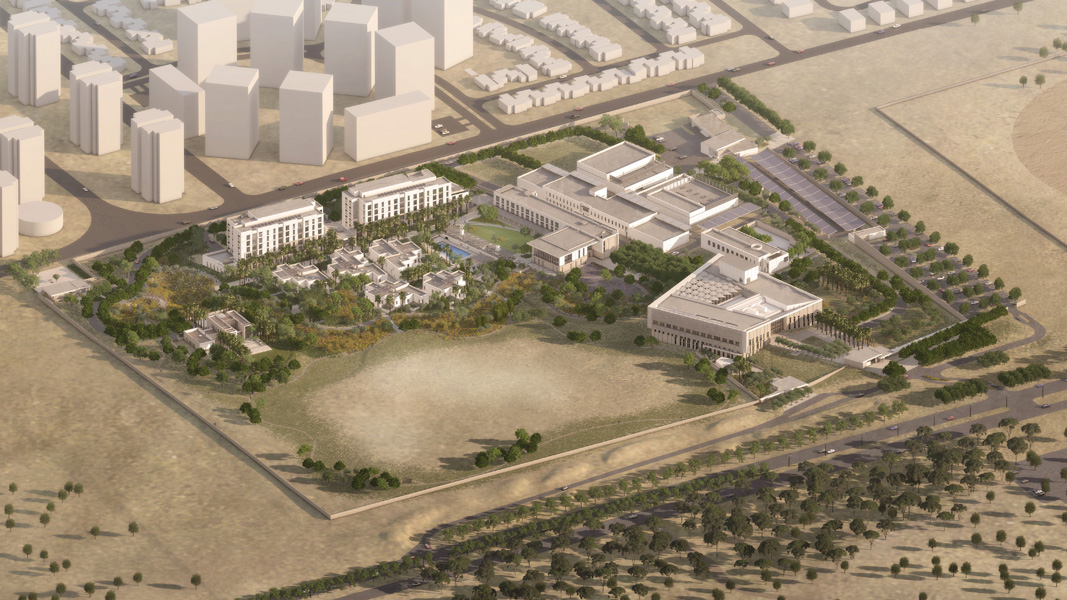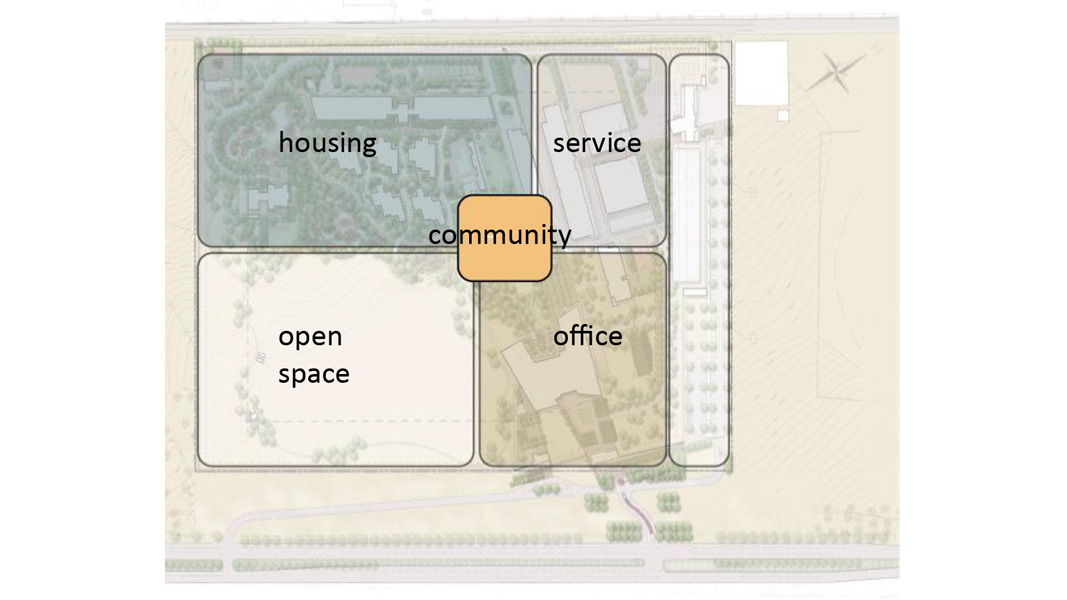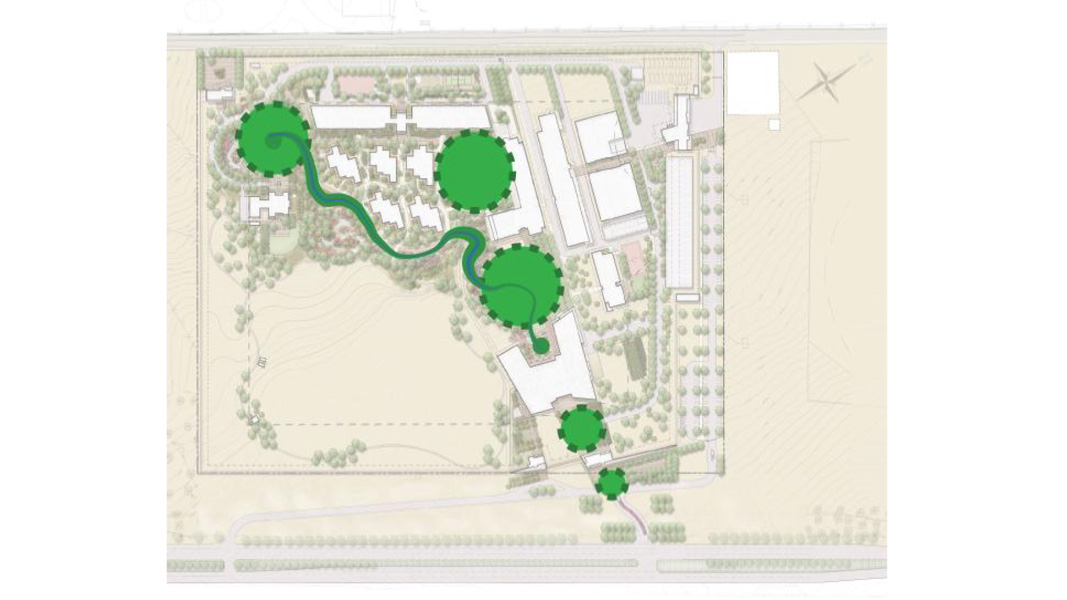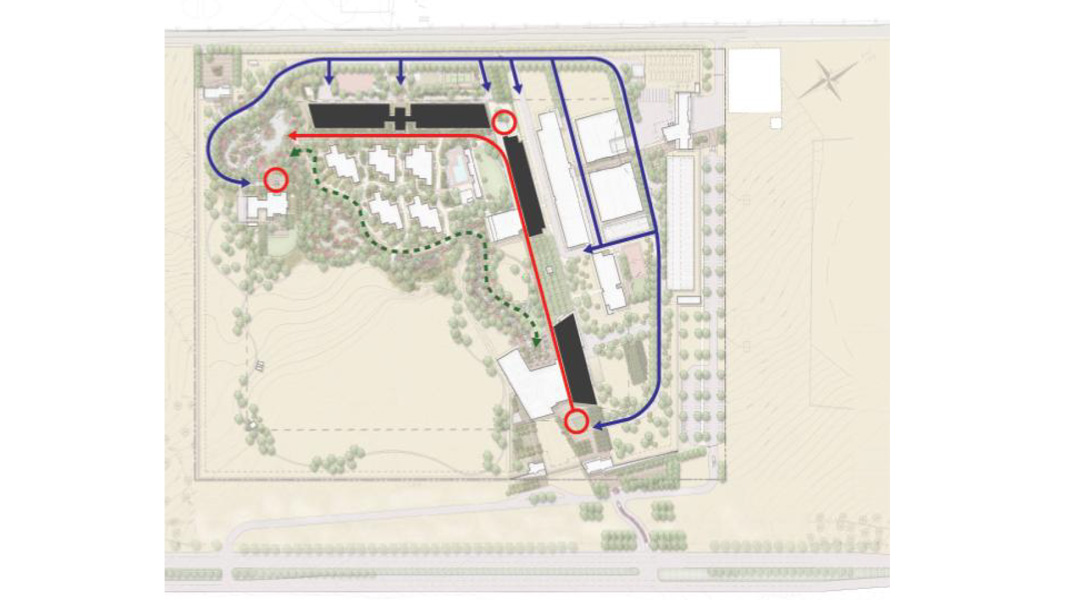 The ties between the people of the Iraqi Kurdistan Region and the United States of America have endured for decades. The new consulate building demonstrates that the United States will stand with the people of the Iraqi Kurdistan Region as they build a future that will be brighter than the past.

Douglas A. Silliman
Eco-Diplomacy
Passive and active reduction strategies – including mechanical system selection, LED lighting, building envelope optimization, domestic hot water, and photovoltaics – enabled us to exceed the US Department of State's ambitious target for energy savings.