When the US mission outgrew its space at Henrik Ibsens Gate, we worked closely with the Department of State and the City of Oslo Planning and Building Agency (OPBA) to realize an open, organic design sensitive to its Huseby Woods' site and neighbors. Balancing some of the world's strictest energy and sustainability codes with the stringent security requirements of a modern US Embassy required cooperation, ingenuity and design diplomacy.
The Chancery presents a welcoming public face, its design inspired by the sheltering horizontal roofs typical of traditional Norwegian longhouse.  The underground siting of the Support Annex takes advantage of the rising terrain along the site's southwestern edge to create an expansive green roof whose thickness (up to 7 feet) is capable of sustaining trees.
To preserve and restore the riparian environment, the path of a seasonal stream was altered to wrap to the south of the Chancery. The reinvigorated streambed manages stormwater runoff to conserve water. We also preserved a dense stand of mature trees along the southwestern edge of the site to serve as a natural buffer between the site and neighboring Huseby Woods.
Building Facts
10 acres
80,700 GSF
LEED Gold certified
Sustainable Design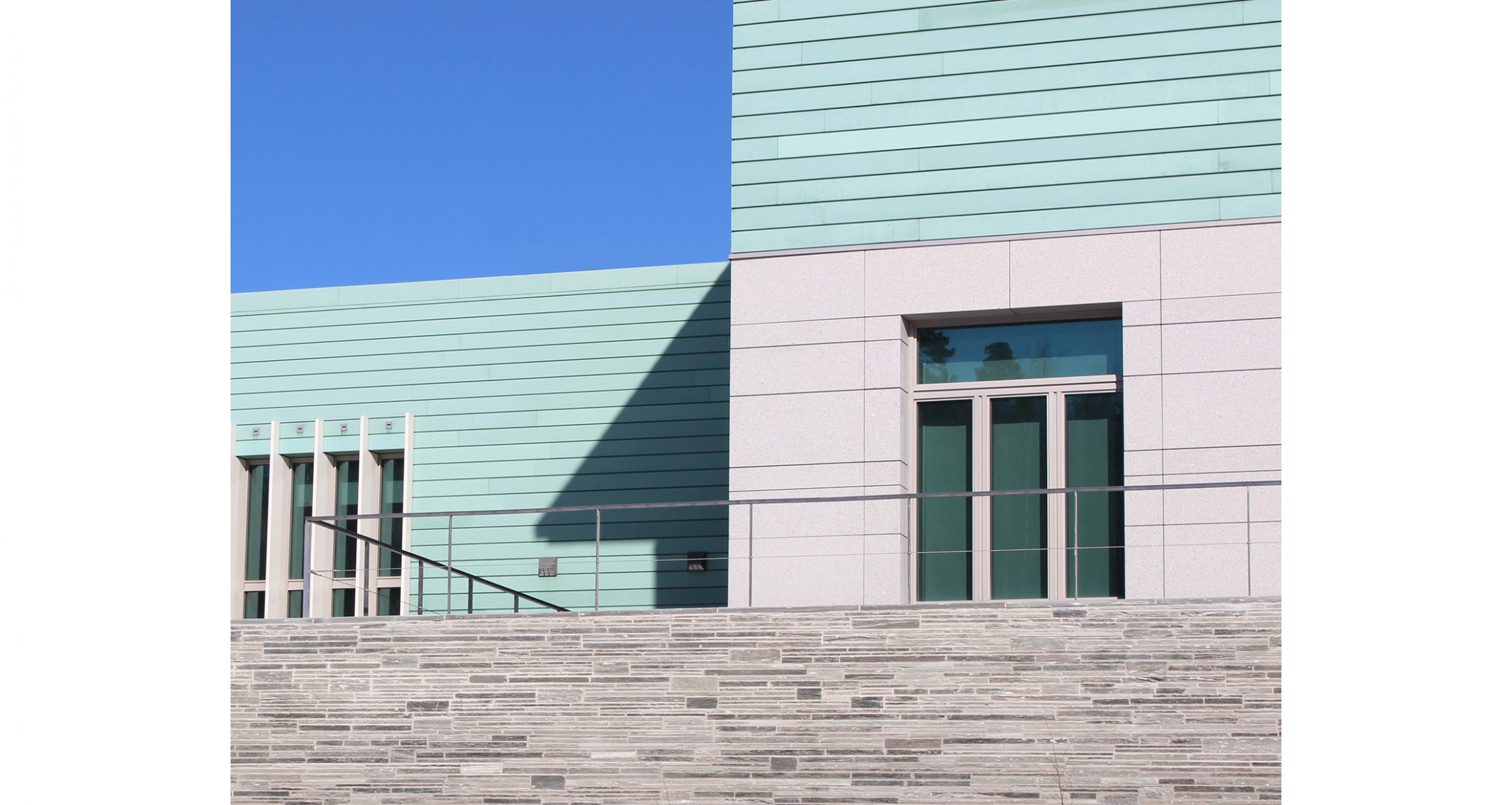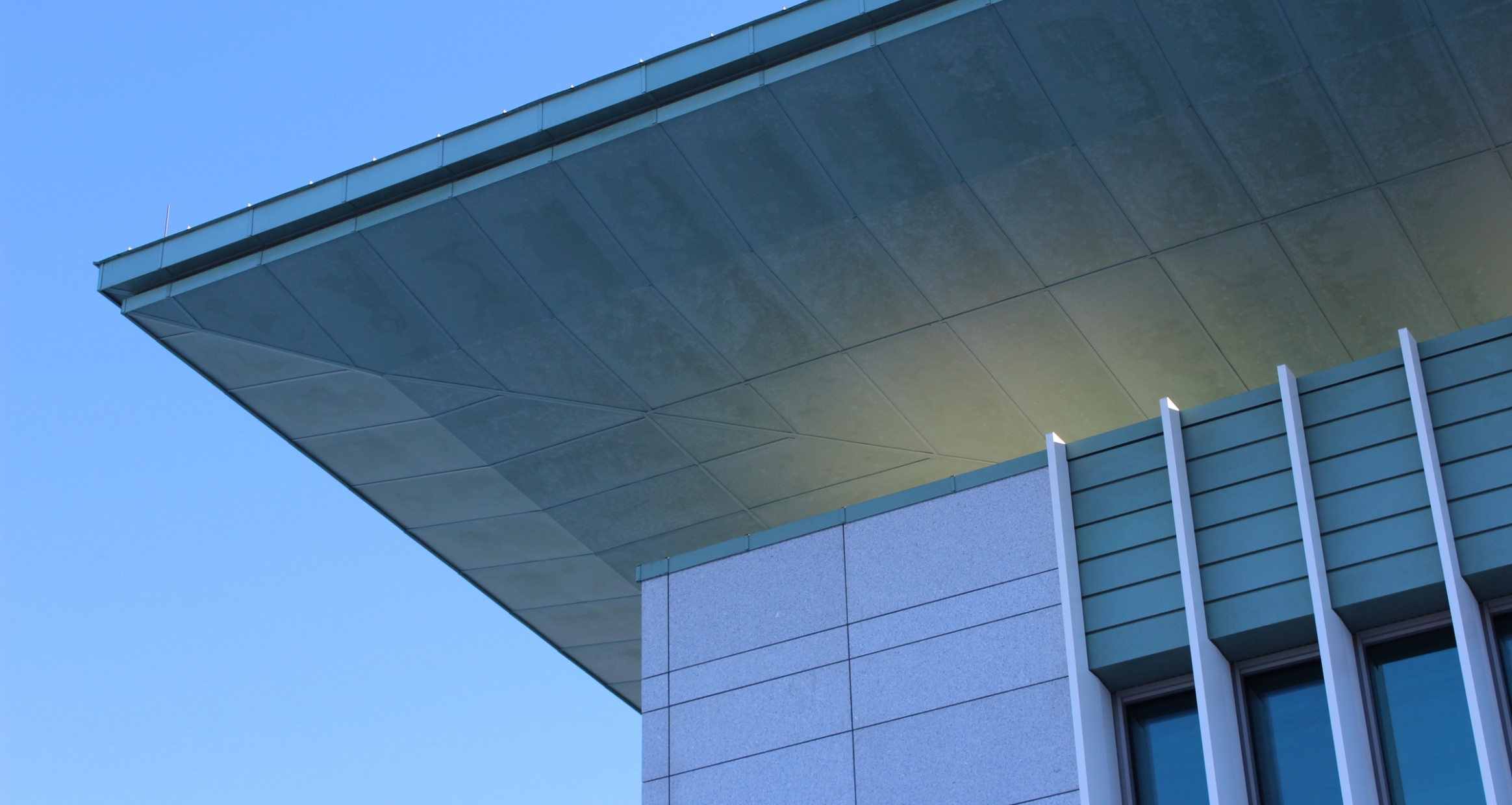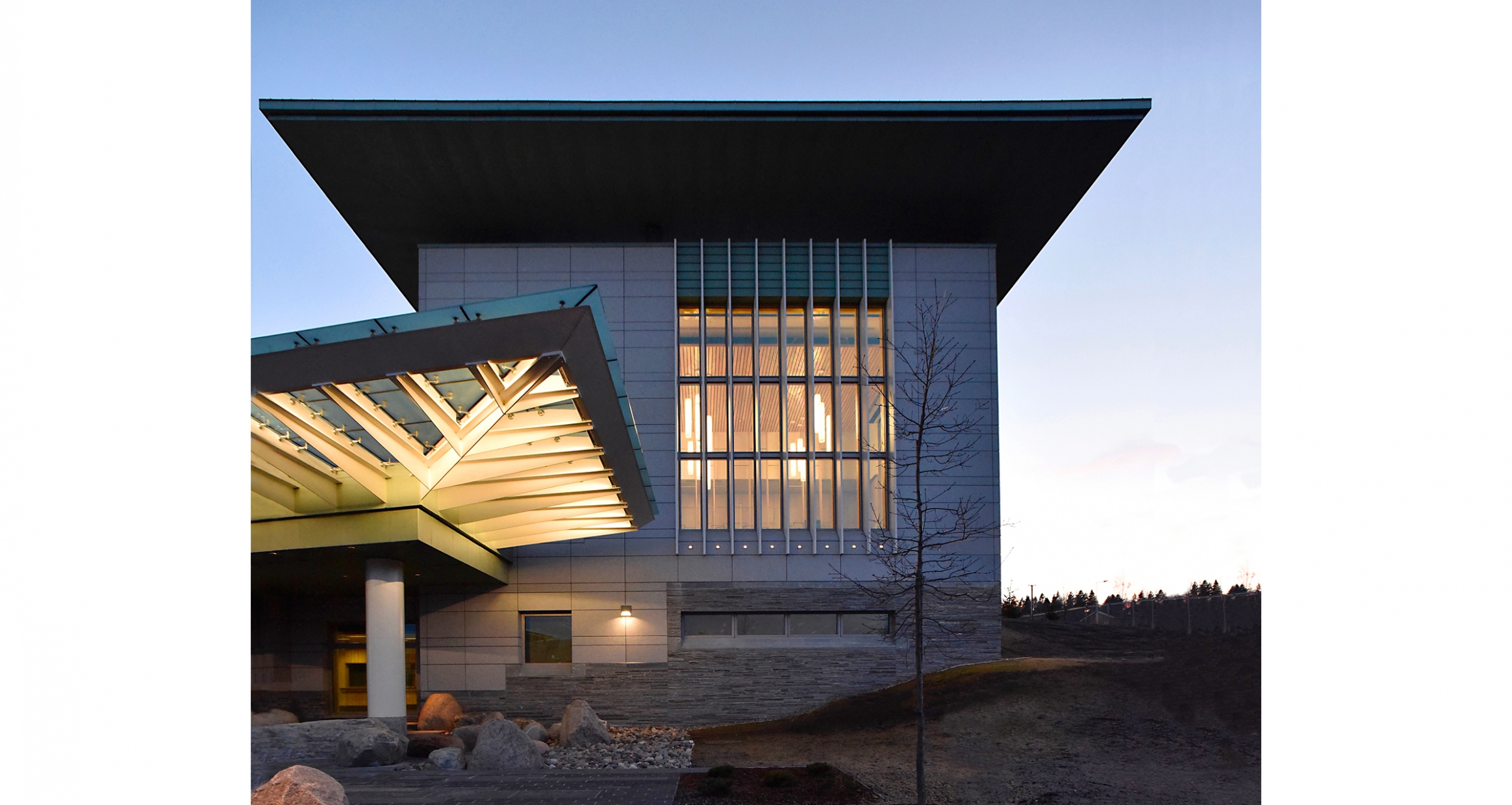 The park-like setting belies the size and security of the new embassy compound. The design presents a welcoming public face to the community and takes advantage of existing trees, the lay of the land and natural rock outcroppings to minimize the visual impact of the new construction on the suburban neighborhood and obscure perimeter security. High-efficiency glazing is part of an innovative high-performance exterior wall system that also includes solar shading to reduce summer heat gain and minimize glare from the light reflected off snow in winter, while meeting the sometimes competing requirements of mechanical codes, physical security, and blast engineering.
Advancing Mission
Energy Decisions
Resource Efficiency
Geothermal Energy
Norway prohibits the use of fossil fuels for heating, so most of the Embassy's power is derived from renewable resources.
Geothermal or ground-source heat pumps enable the complex to meet nearly all of its peak heating and cooling loads with energy stored in bedrock by the heat pump, a renewable resource. Norwegian expertise in deep-water drilling helped us sink 54 double-looped wells – with nearly 40 miles of piping – through 1,000 feet of hard bedrock.
Green Details of the New US Embassy in Oslo
The design for the new embassy far exceeds some of the strictest energy and sustainability codes in the world.
Resource Efficiency
Further Reading
The Architects Newspaper

US Embassy in Norway
More Projects Like This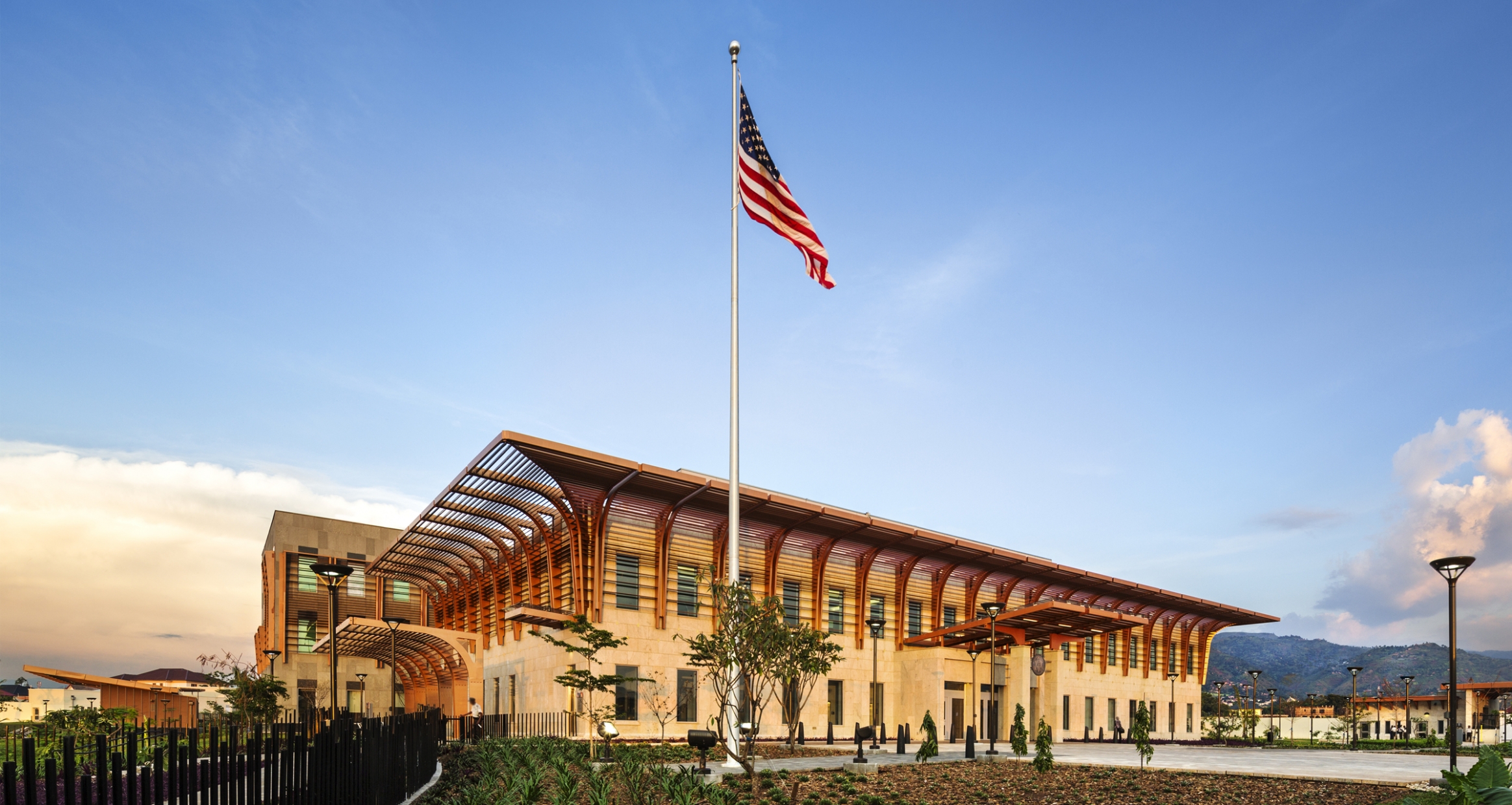 US Department of State
Diplomatic
Executing design/build projects in remote areas requires complex coordination.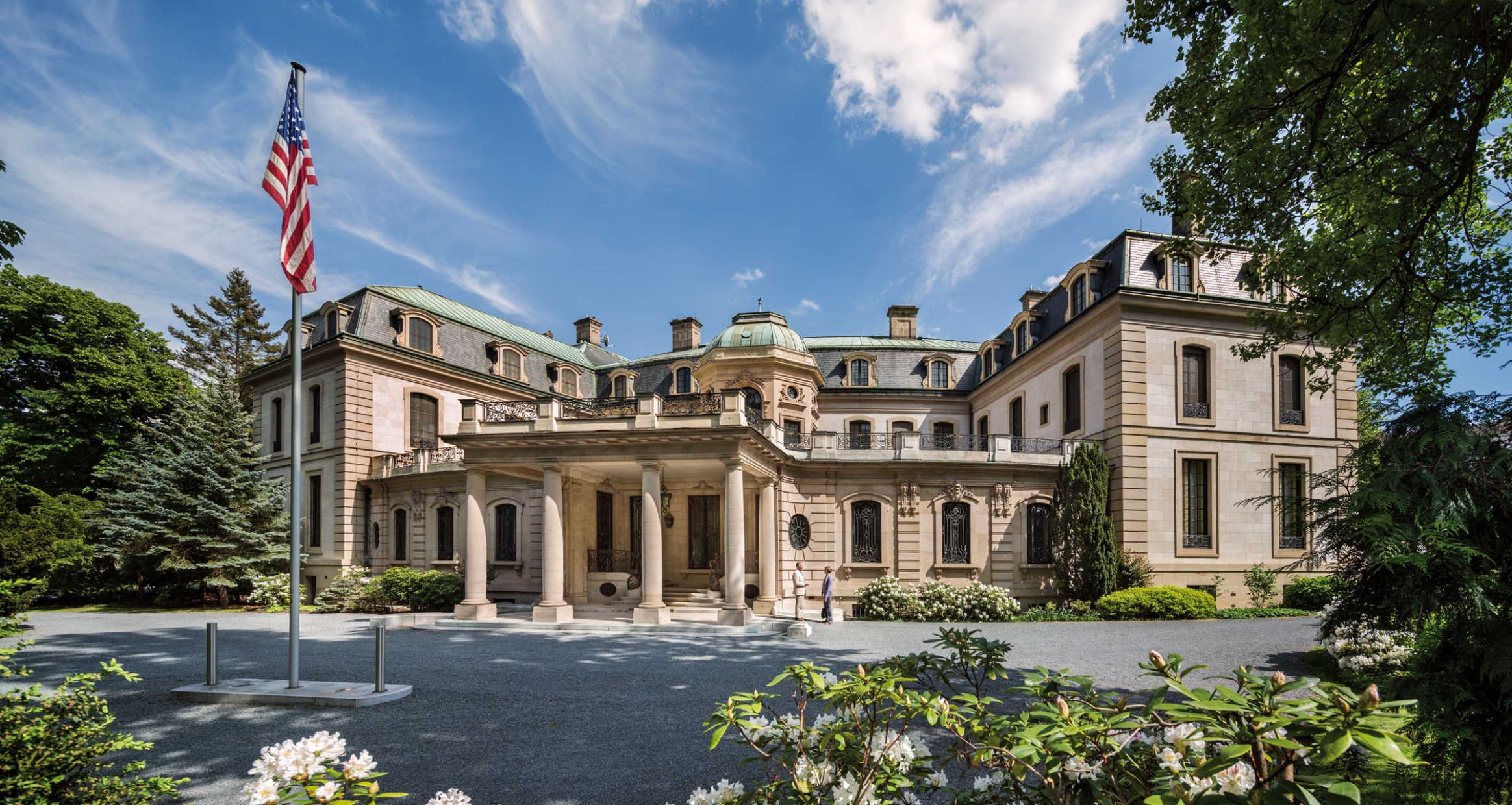 US Department of State
Diplomatic
Beneath its elaborate Beaux-Arts skin, the Villa Petschek is a highly secure 21st-century residence and workplace.