Taylor Science Center at Hamilton College Impact Assessment
We designed the Taylor Science Center to meet several of Hamilton College's strategic goals:
Increase the College's competitive edge in attracting students
Enhance students' interest in STEM
Advance student and faculty research
Ten years after its opening, we returned to the Clinton, NY campus to analyze how our design has impacted the College. Continue on to get the main takeaways from our findings, or you can read the full report.
Since the Taylor Science Center has opened, the number of applicants for admission increased by 10%
While despite keeping its number of student acceptances constant since 1998, Hamilton has seen applications for admission increase by more than 500 a year on average since opening its new science center in 2005. Between 2001 and 2006, applications averaged 4,412. In 2007, the number of applications jumped to 4,962; since then applications have increased to just over 5,000.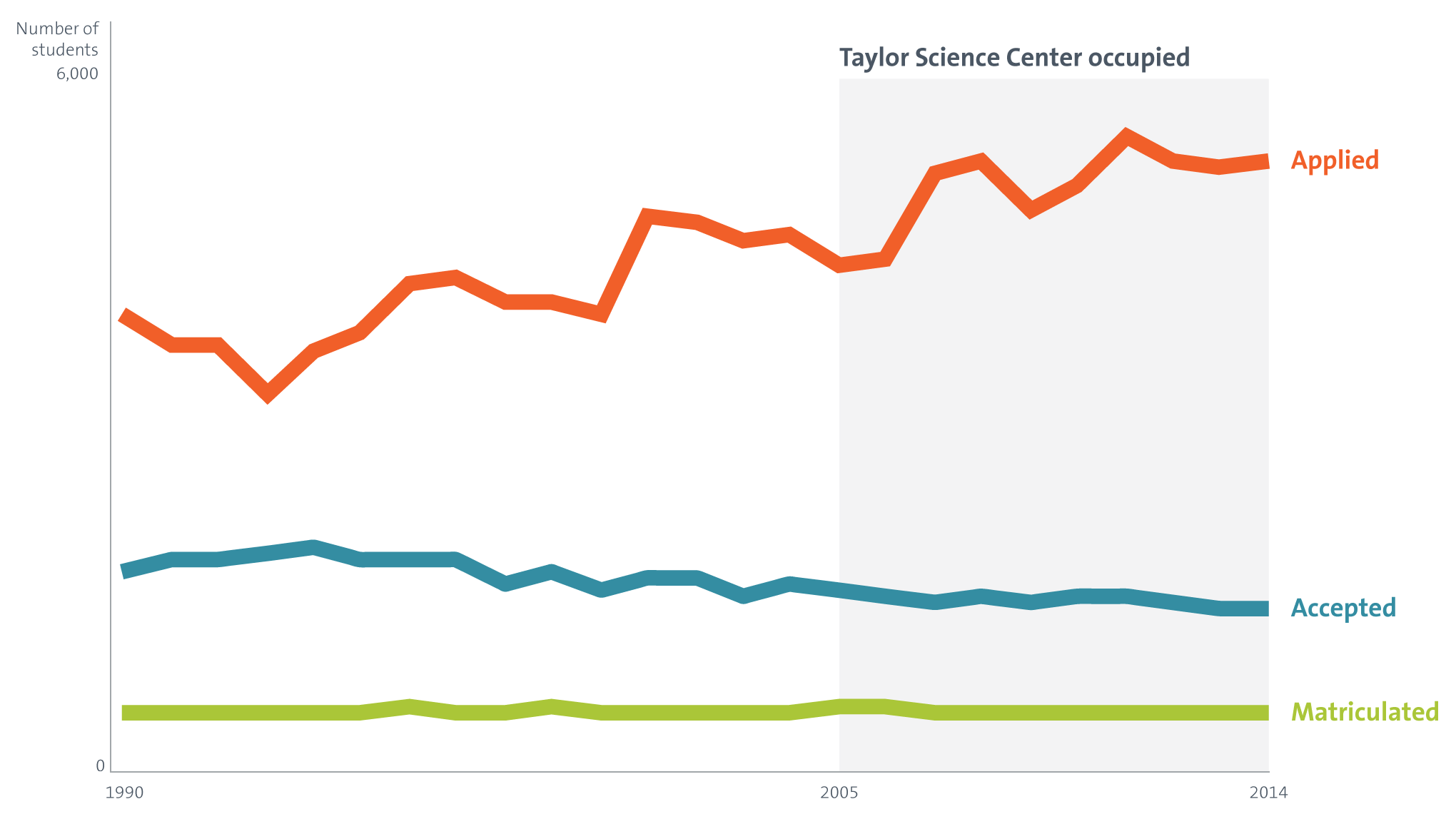 Applicants mention the science building as a factor in their decision to apply
Prior to the Taylor Science Center's opening, students rated Hamilton's academic facilities to be of lower quality than those of comparable colleges. After the new facility opened, Hamilton received more favorable comparisons. In every survey of admitted students, 50% or more of the respondents rated the quality of academic facilities as "very important". Interestingly, students' perception of an institution's reputation is tied to the quality of the facilities.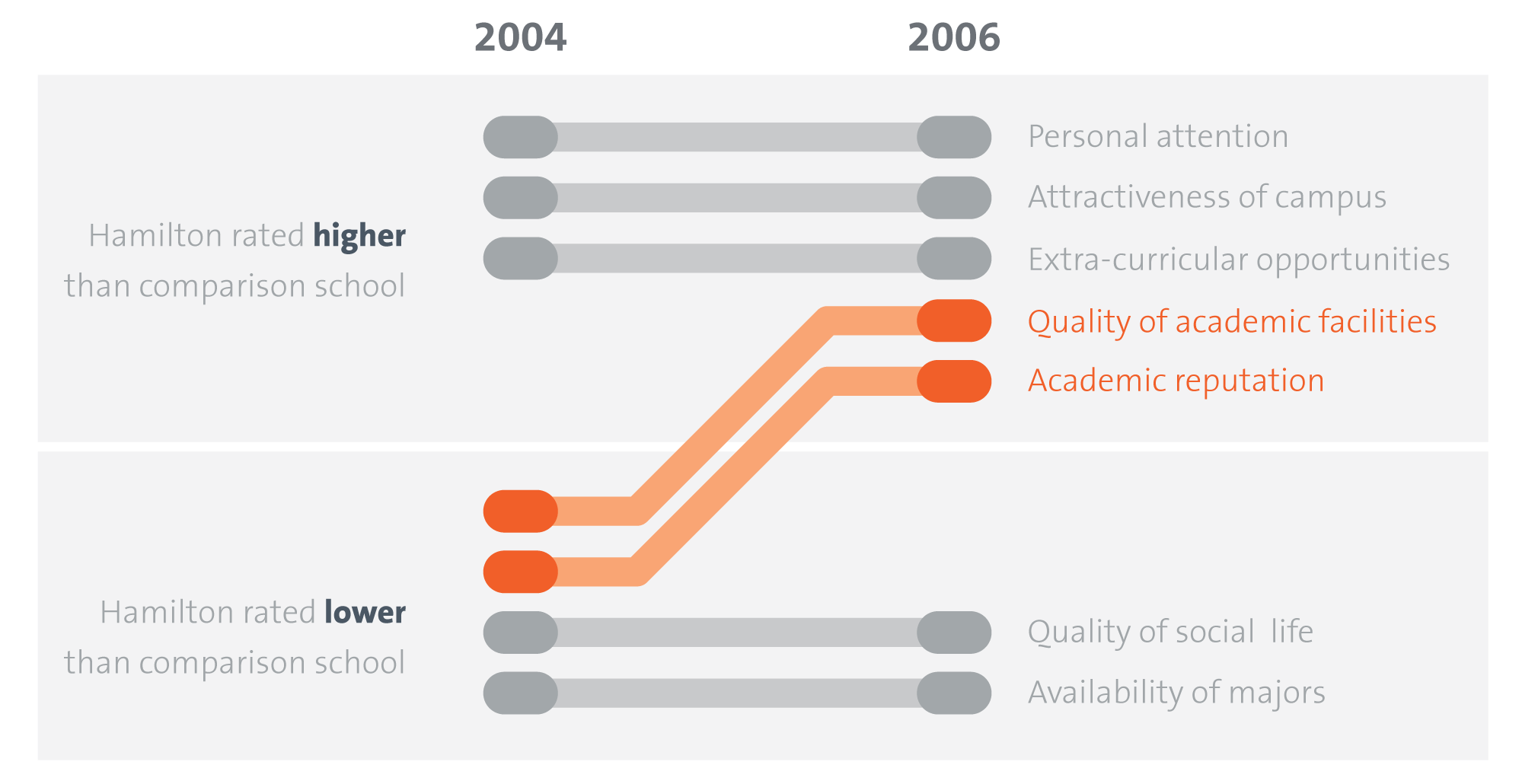 Enrollment in introductory STEM courses has increased by more than 150 students
Construction of the Taylor Science Center appears to have stimulated student interest in STEM, with enrollment in 100-level science and math courses increasing by an average of more than 150 students, a 10% increase.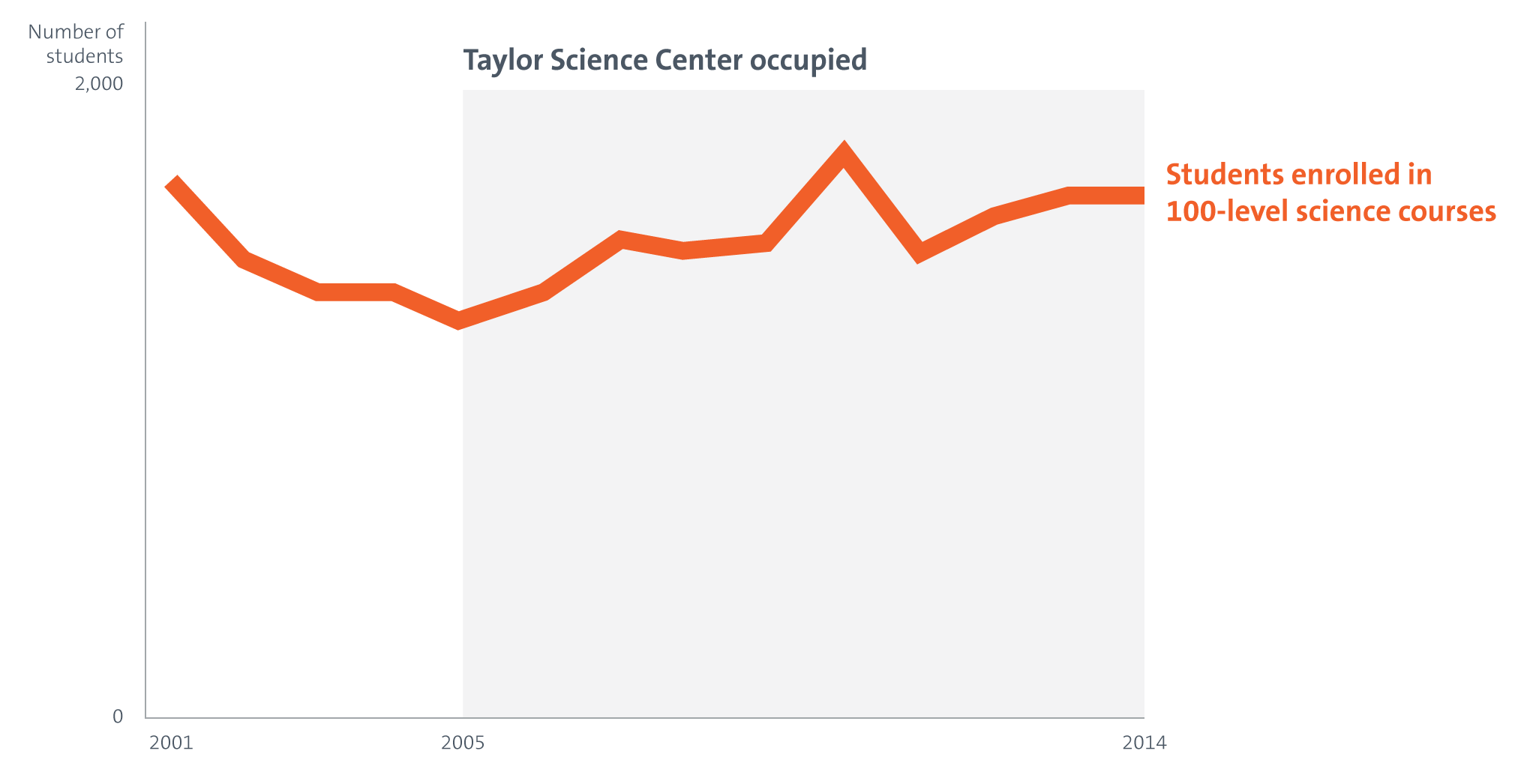 Graduates majoring in sciences increased by an average 42 students, or 40% of the graduating class
The number of graduates majoring in STEM increased by an average of nearly 42 students. Hamilton graduates majoring in STEM increased from 30% in 2006 to 40% in 2014. No other subject area saw an increase in majors during the same time period.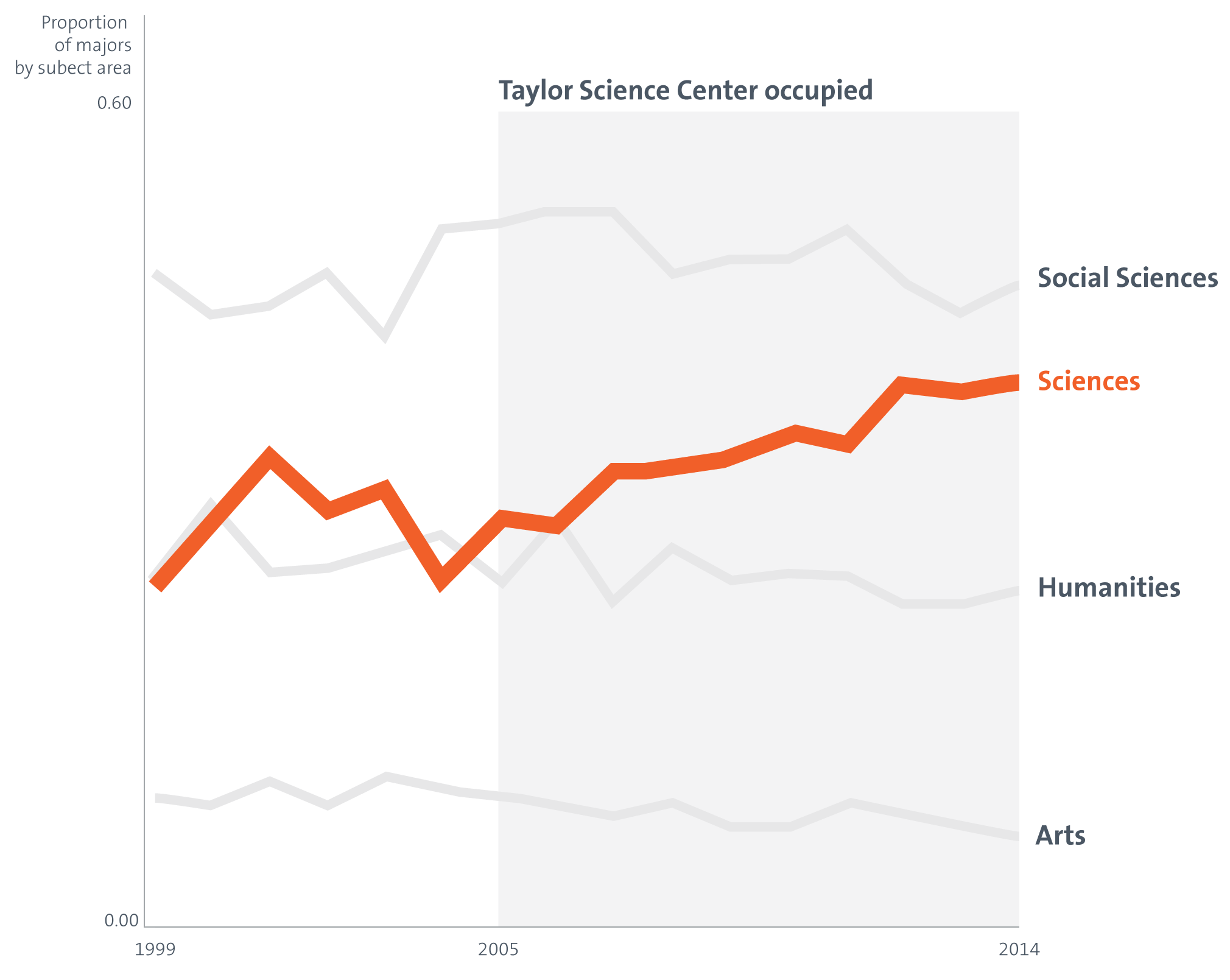 The Taylor Science Center enabled faculty to develop more and bigger student research projects
The number of students participating in the summer research program in the sciences increased in the summer after the TSC was completed and has remained at this higher level since 2006. Faculty reported that the new building has helped attract better, more science-oriented students, to Hamiliton.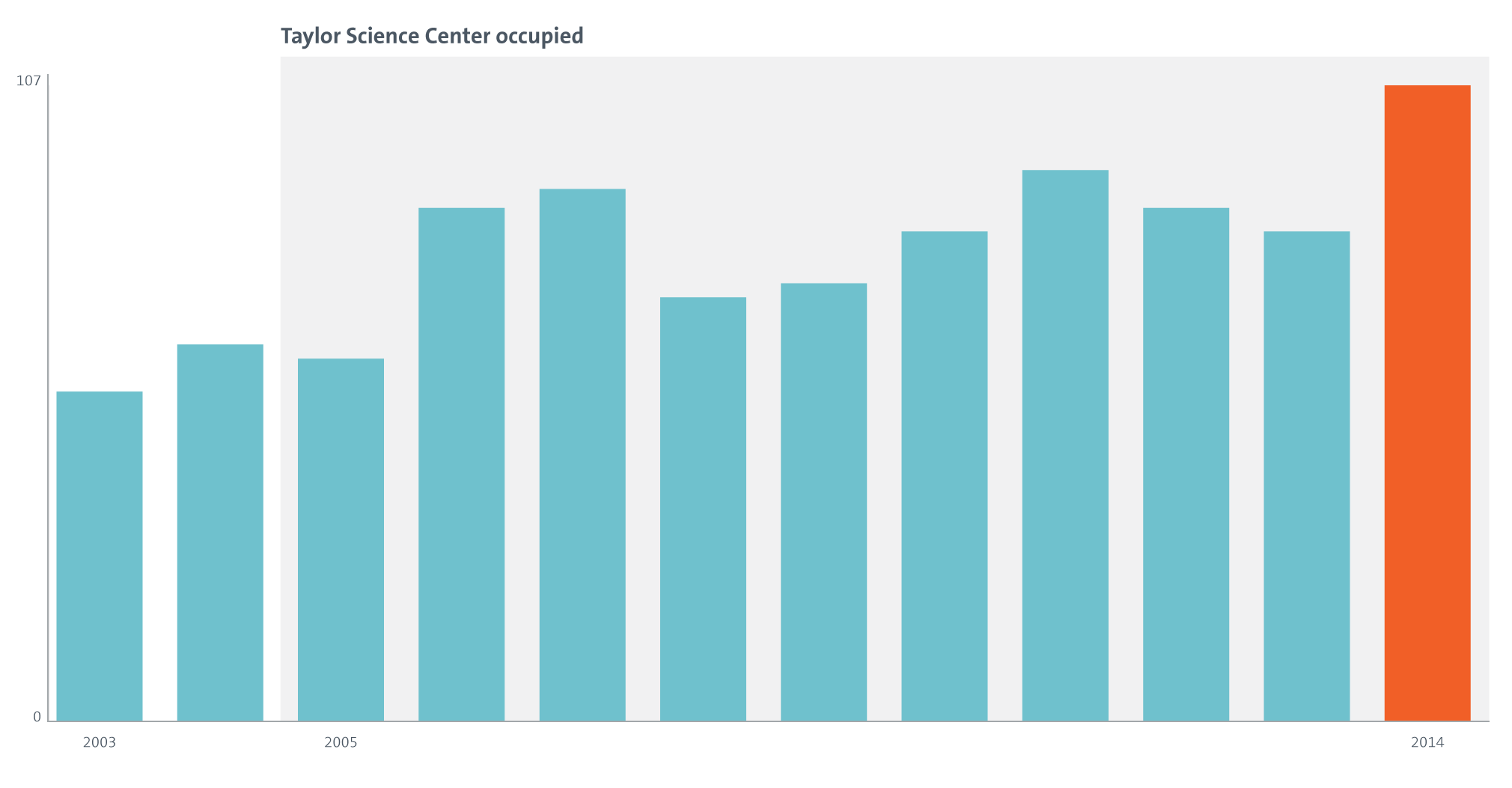 Want to know the details on these findings? Read the full report.