EYP has used BIM technology for over a decade, including campus planning, environmental analysis, and complex renovation and addition projects. EYP currently uses BIM software in all disciplines and for all new projects. A critical aspect of BIM teamwork is transferring files between team members. Our in-house technical staff produces models that include all engineering disciplines to produce a comprehensive basis for BIM and IPD projects. Of the scores of BIM projects to date, several stand out as examples of our growing commitment to, and early sophisticated use of, BIM's potential for adding value to the benefit of the project: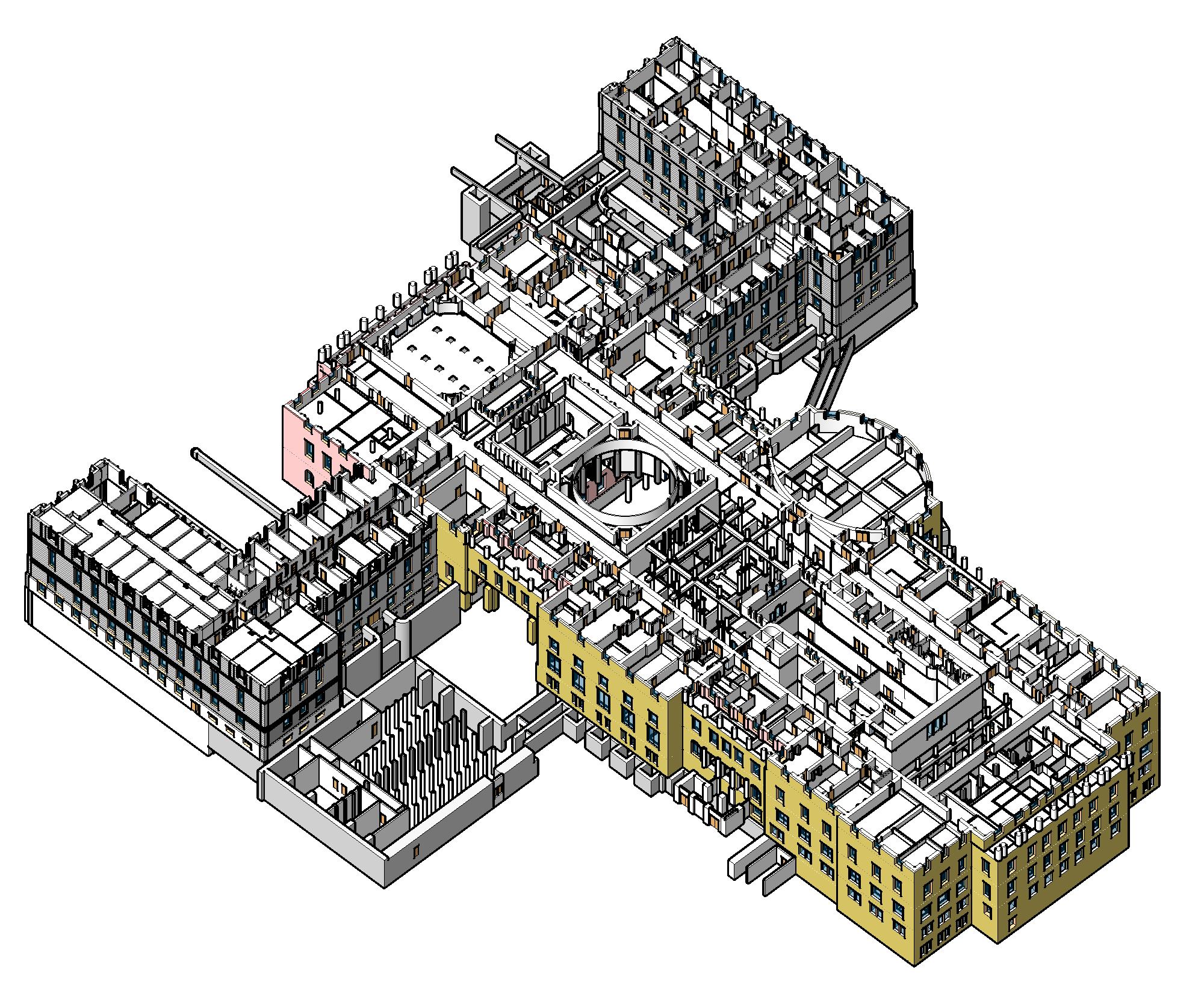 A large historic structure was specifically modeled at the owners request to track space in a complex building that had been built in several phases over three centuries. While simple in detail, the model permitted the owner to analyze the current use of its building in innovative, highly useful ways.
A BIM file for a University client was subsequently transferred to the steel contractor for its use, significantly shortening the procurement of steel orders.
A trail-blazing academic client spearheaded asset management into the BIM model. During construction, MEP equipment was RFID tagged, and that tag ID was inserted into that equipment object in the BIM model. The model then was connected to BMS via a third-party software (IBM Maximo) where facility personnel could track the equipment during the entire lifetime of its use.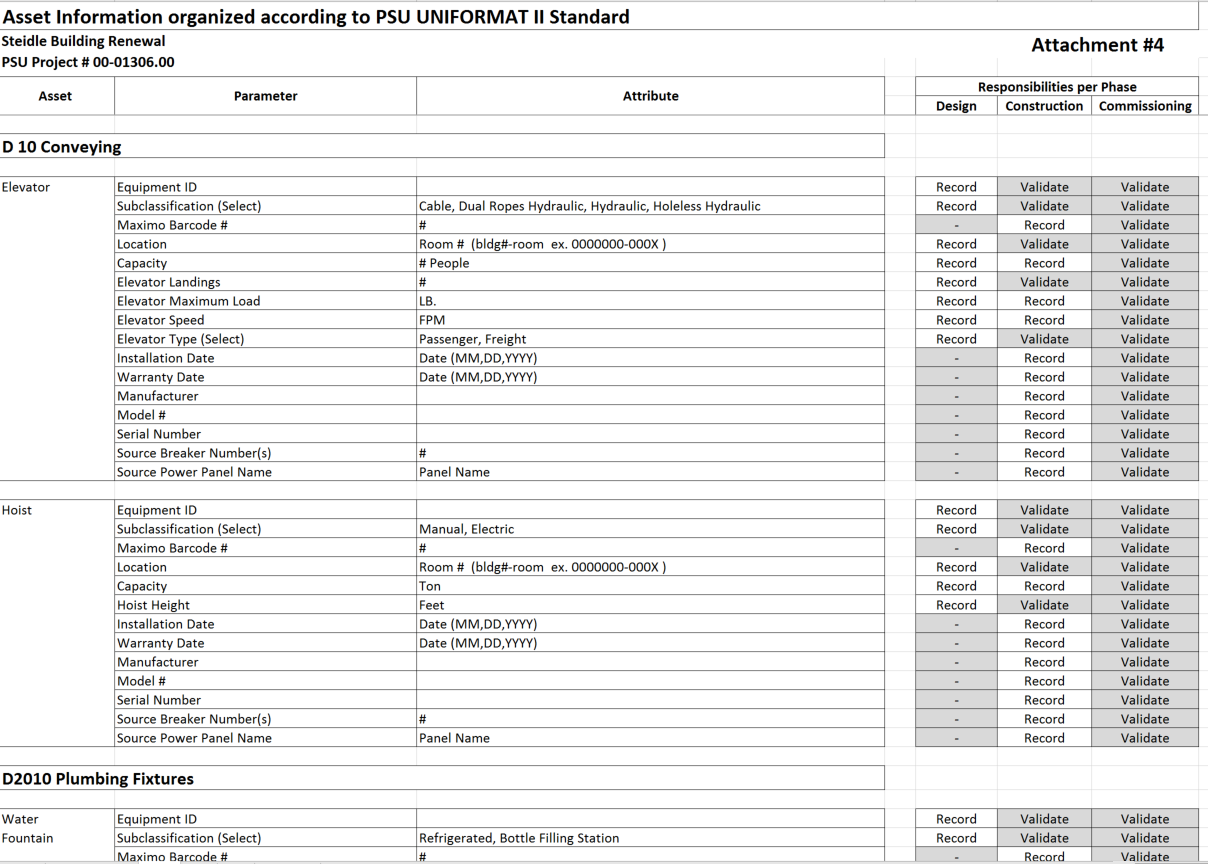 Most typically, EYP transfers BIM models to contractors for their downstream use in construction. EYP's sophisticated government clients have mandated full BIM models as deliverables for several years. An added benefit of developing integrated 3D building model is its future use for managing ongoing operations and maintenance of the building, adding lasting value beyond the initial design and construction phases of the project.
Generally, an A/E BIM model serves as a beginning framework for further development in construction. EYP has worked on several frameworks for model turnover. Either the designer or the contractor agrees to model in more detail (often with input from subcontractor BIM models which are issued as shop drawings/models), or a federated model is created to facilitate construction efforts. These efficient processes are guided by the BIM Execution Plan (BEP), which highlights the practical value of the shared use of BIM, now enshrined in the AIA Doc G202's BIM Modeling Matrix.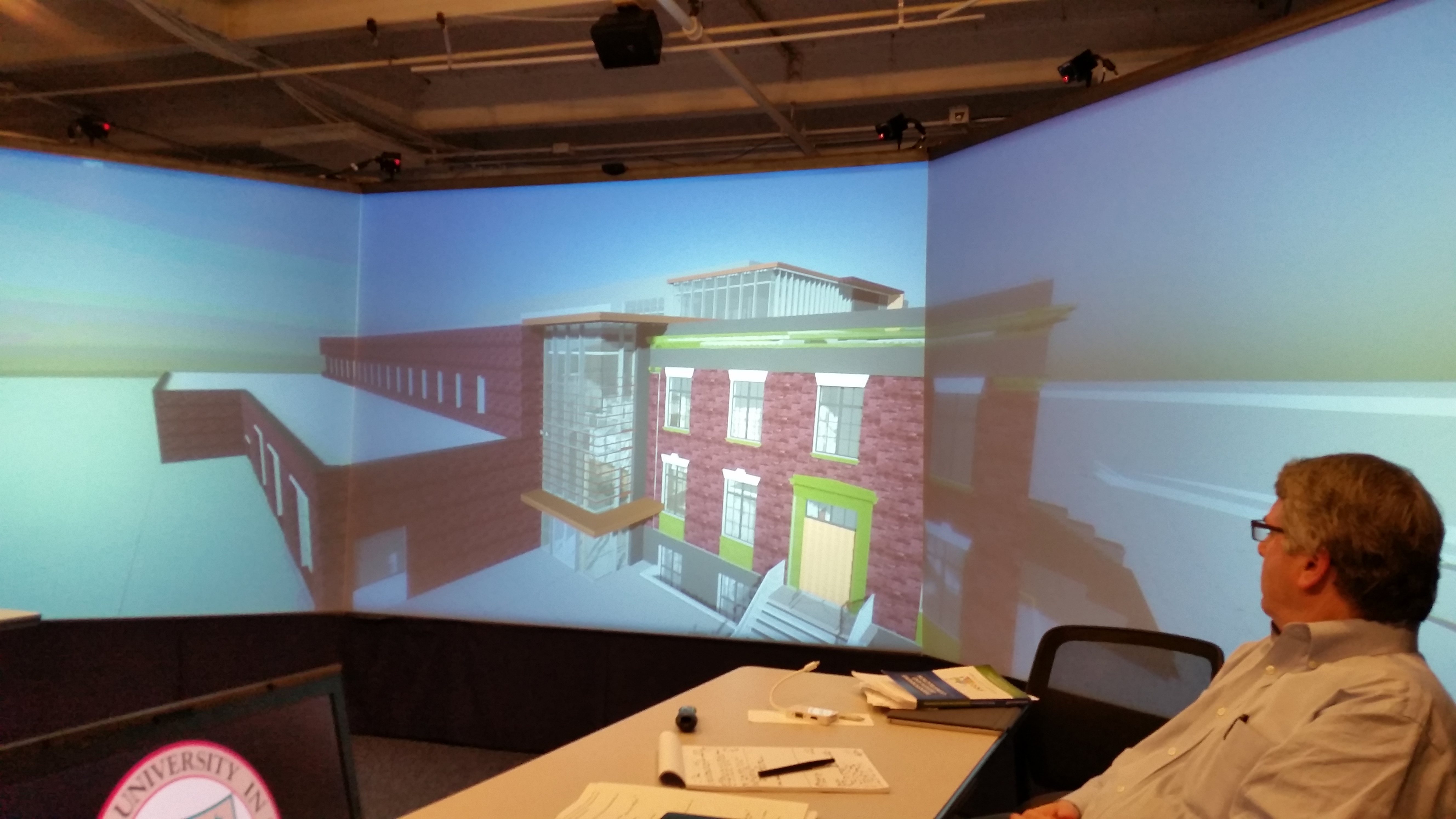 Integrated "Big Room"
Recent projects, such as our ZEN project and Penn State's Agricultural Engineering Building, pivot on the use of BIM in an integrated "Big Room" setting where owner, contractors, and design teams all use BIM as the locus of discussion. Increasingly this "Big Room" approach is considered the future of BIM use by collaborative teams.

EYP continues to explore emerging BIM tools for clash detection, facility management, energy simulation, direct fabrication, and quantity takeoffs. COBie, another valuable recent BIM initiative mentioned earlier, is driving the use of BIM data for downstream operations use. Its emergence aligns with EYP's stated goal of providing downstream data use.
Our Team & Expertise
EYP's team includes key professionals who have worked for Autodesk and maintain strong ties to emerging developments within that company. In turn, Autodesk considers EYP a firm that "gets it" and has approached us to evaluate and test groundbreaking developments in BIM solutions. This relationship with a leading BIM provider gives EYP extra insight into how evolving solutions are being developed, enabling us to leverage ever more powerful BIM capabilities for our clients.

EYP also has several leaders in BIM adoption, such as Technical Director of Advanced Delivery Ervin Kulenica, who frequently write and lecture on all aspects of BIM and IPD, including future practice leadership, BIM for facility management, structural engineering, contractor collaborations, and historic preservation. Several of our outreach articles and presentations have dealt with the transformative nature of BIM technology, the quantum shifts in digital process, how to "do BIM" to enable various levels of IPD, and how to re-train both older and newer staff to harness the new technology.
BIM Execution Plans
Before the design team commences the creation of federated BIM datasets, we identify the goals for the BIM data, and establish protocols for its creation, contributions, maintenance, transfer, and uses. Specific planning sessions of the integrated project team are a means of finding consensus and documenting the data expectations, such as the Level of Development (LOD) of BIM components.

Development of the BIM Execution Plan, or BIM Protocol Manual, is initiated at project startup, and includes input from key BIM leaders of each firm involved regarding both individual and collective BIM responsibilities. The BIM Execution Plan serves as a reference throughout all phases of the project, and is continually evaluated by the team for any improvements to the collaborative process.

On each project, a project BIM coordinator is designated as the team member who, in addition to other project responsibilities, performs internal BIM coordination, BIM data sharing and file transfer, external team collaboration, and other project-specific BIM administrative tasks.
EYP uses several in-house tools, templates and guidelines to facilitate BIM execution for project implementation. Here are some of them: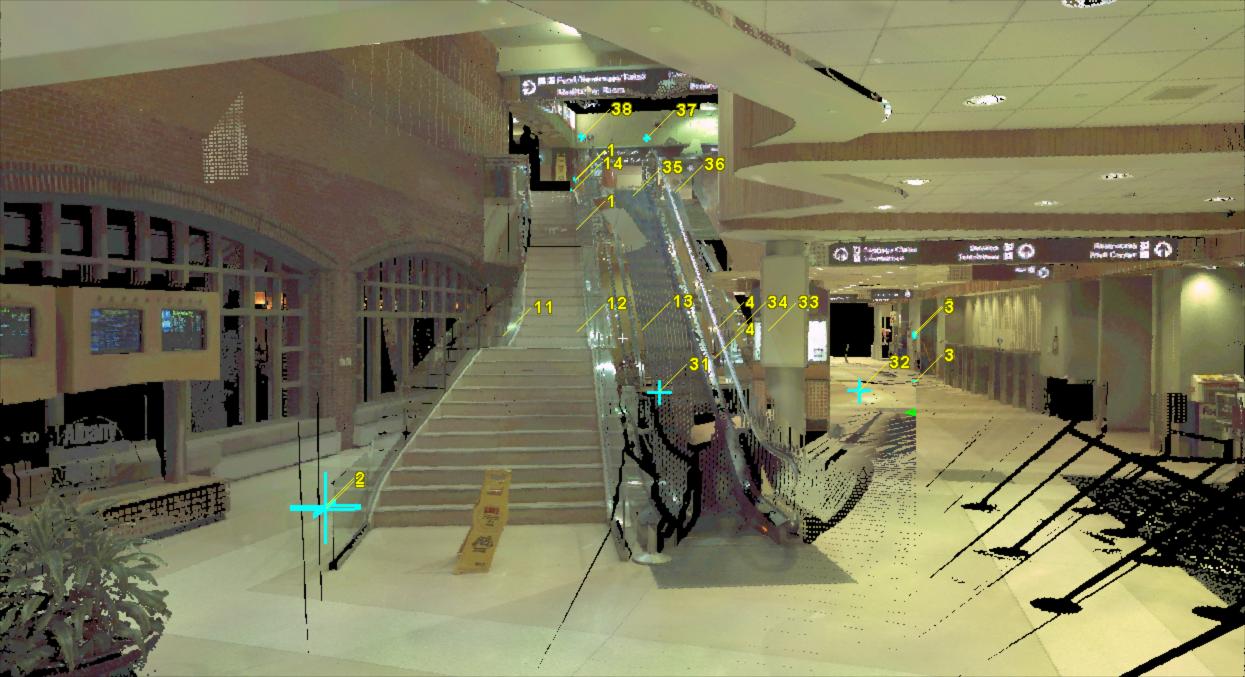 Existing Conditions Modeling
Understanding existing conditions provides teams with a framework for evaluating an existing facility and its systems, such as mechanical, electrical, plumbing, structural, life safety, and circulation of materials and people. When BIM or similar digital documents of the existing conditions are not available, the team may need to utilize other means of modeling these conditions.

Techniques employed for documenting existing conditions may include laser scanning to point clouds, photogrammetry, exterior UAV photography, laser measuring, space utilization data collection, coordination of existing facility analog documentation, and manual field verifications.

Laser scanning saves countless hours of error-prone field measurement and often captures far more information than traditional methods.

The extents to which the various existing conditions (utilities, structures, interface points, architectural elements, etc.) need to be modeled are determined collaboratively by the design team and referenced by BIM Execution Plan.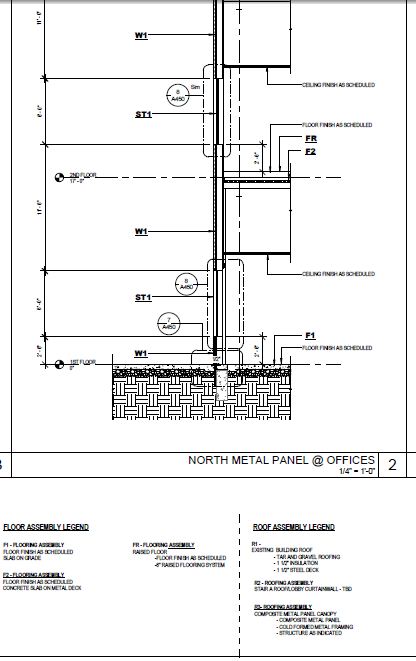 Lean Documentation
Lean Documentation is another aspect of our work which leverages the BIM file's power. Because the model is created from standard assemblies with properties assigned, lean documentation uses BIM assemblies to simplifying and coordinate documents. Specifications provide detailed information by referencing a keynote file linked to specifications terminology.
Design Review
Tools that utilize the BIM data allow the project team to validate design decisions, through both quantitative and qualitative analysis, as well as collaborative review. The design data will also be shared in meetings with the facility users and stakeholders, encouraging feedback on important aesthetic and functional elements of the design.
Drawing Generation
Using BIM enables a more coordinated approach to creation of traditional construction drawings (such as automatic generation of interior and exterior elevations, details, and sections). In addition, BIM allows the team to generate enhanced documentation that more realistically represents some of the more complex details of a design. Examples include 3D detailing of important elements such as continuous exterior expansion joints, waterproofing components, and custom interior cabinetwork.
Phase Planning (4D Modeling)
Because BIM can capture phased information throughout a facility's lifespan, it is ideally suited for communicating long term how a project may be constructed, occupied, maintained, and eventually renovated for reuse.

Using BIM allows us to graphically communicate the sequence of renovations in both time and required moves, so that everyone has an understanding of how various people and departments will be impacted during each phase.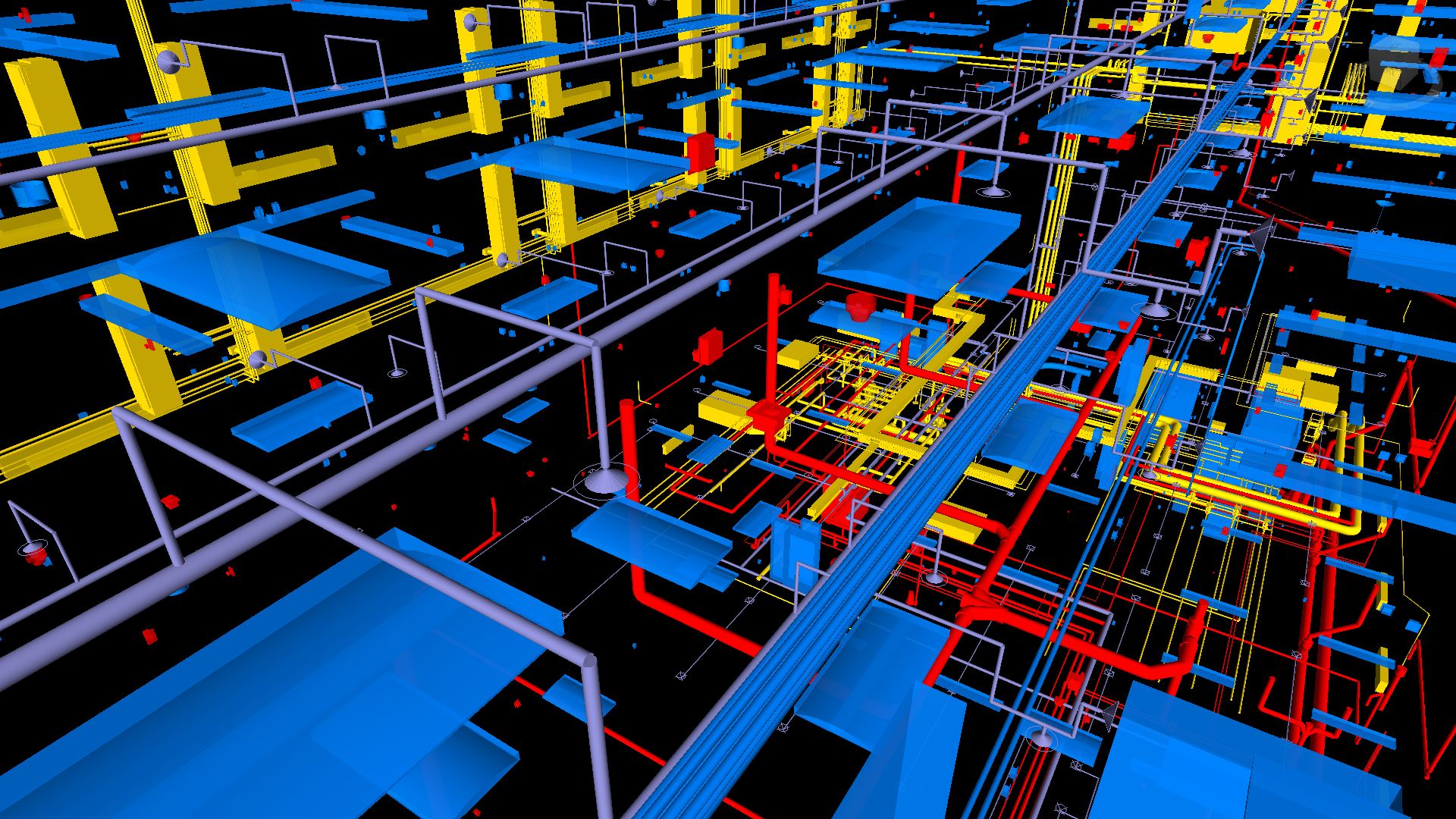 3D Coordination & Clash Detection
Unlike traditional 2D drawings, use of BIM can allow the design team to employ a managed approach to advanced collaborative reviews, including automated element collision detection using software such as Autodesk Navisworks. By coordinating BIM data during the design phases, this can reduce the number of potential major conflicts that might arise during the construction phase.

This approach is not meant to replace the traditional quality control process, or the early airspace zone MEP strategy approach used by the project team and participating consultants, but should enhance the ability of the project team to visualize the design and detect interferences between discipline components.
Asset Management
When approached by clients with appropriate Building Management Systems (BMS), we have developed design practices for assisting the coordination of assets such as fixtures, MEP equipment, furniture, equipment using custom BIM components and data from external sources. We have built models with special parameters designed to connect to a college's asset management framework for ongoing work order management.

In a simpler example, using appropriate data from a Medical Equipment Planning consultant, we can identify and track individual equipment pieces in the BIM model using elements that contain relevant design and connection data, from the early planning phase through installation, and even into facilities management.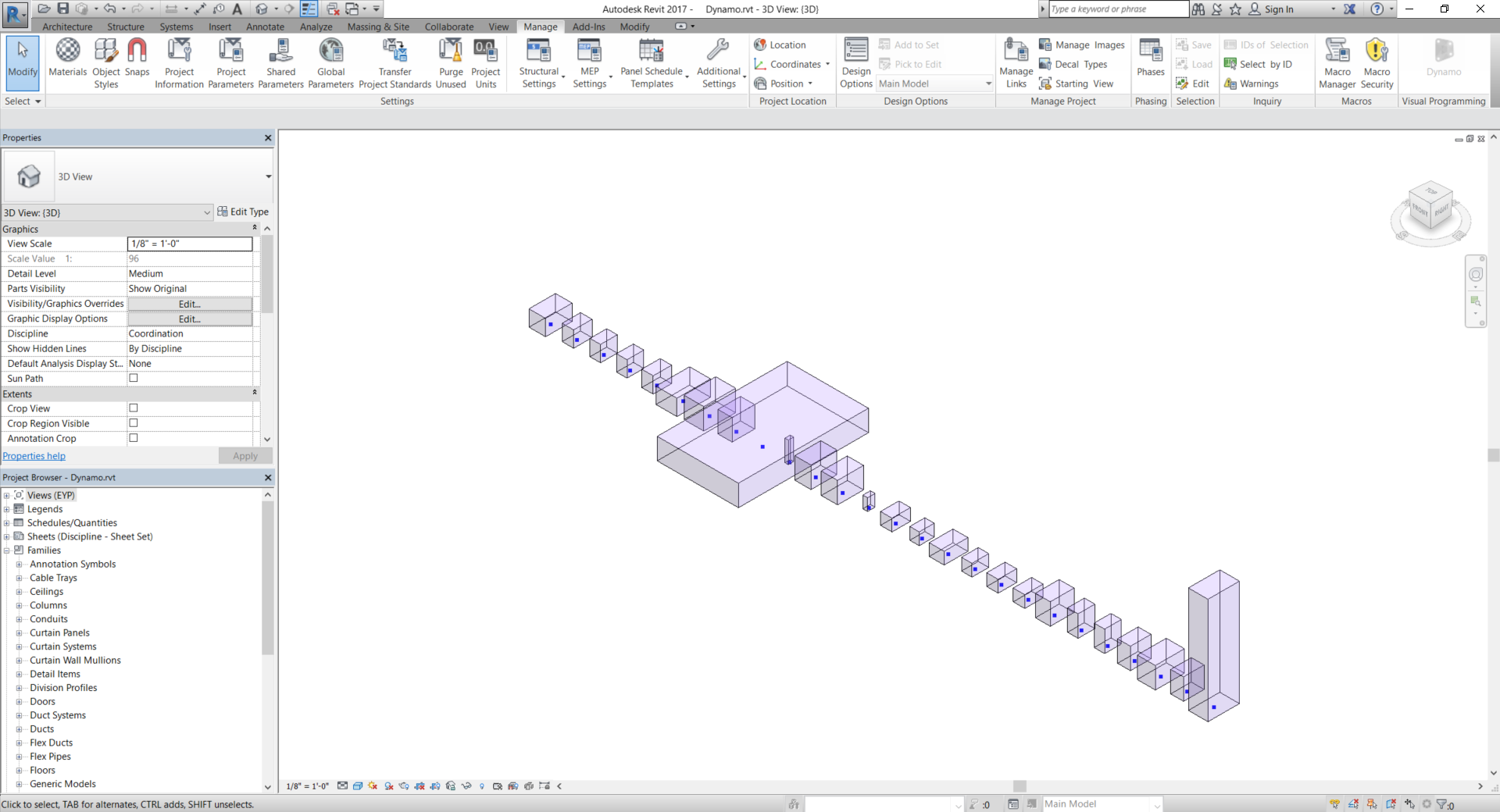 Programming /Space Management and Tracking
Similar to asset management, we collaborate with owners to begin leveraging BIM during the early planning and pre-design phases. Using custom "Smart Blocks" we develop to represent individual types of spaces, we can embed in the BIM an almost limitless amount of relevant data directly from the architectural space program. This spatially specific information is then available for tracking throughout the life of the design.

Within a BIM model, "Smart Blocks" can be arranged and stacked to suggest possible design concepts. For some client types, an interactive activity called "gaming," allows users to provide input and shape spaces that will best support operations at an overall departmental blocking level, as well as at the room-by-room level within individual departments.

At the conclusion of the construction document phase, we are able to export the spatial data from BIM and furnish the information to the owner for use in occupancy planning, future capital planning, renovations, reassignments, to monitor utilization and efficiency, or to apply for federal research grants, among other uses.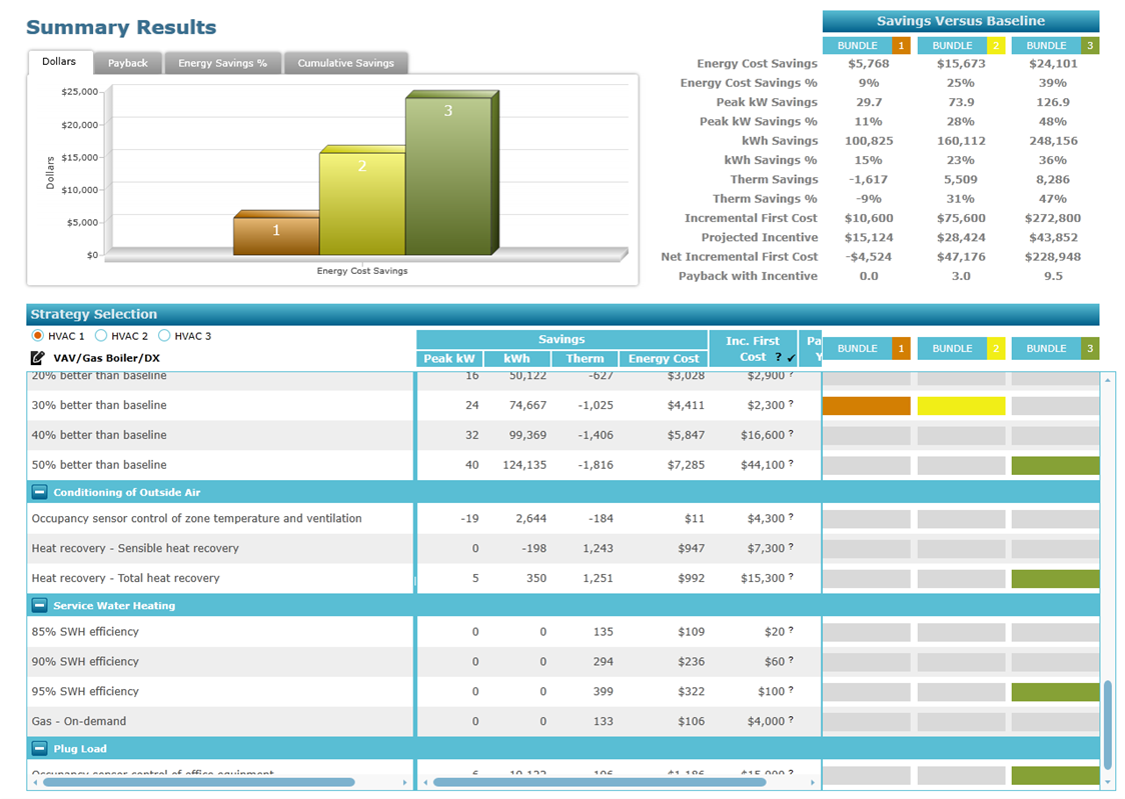 Engineering Analysis
Several MEP disciplines use BIM information to run engineering analysis, most of them within the model itself. Energy analysis is run separately with our property software "Neo" with input from the BIM model. Structural consulting engineers utilize BIM data in performing analysis of the existing structure, as well as for designing any new structure required by the design.

Areas for potential assessment may include opening of additional vertical penetrations for new or modified building utilities and services.
Lighting Analysis
Utilizing the BIM data in sophisticated analysis applications allows the design team to forecast the amount of artificial or natural light expected on surfaces at specific locations in a facility. BIM can also improve design exploration and comparison of different methods of lighting optimization, such as the use of shading devices or light shelves.
Cost Estimation
BIM can allow the design team to assist with validation of certain portions of the owner's preliminary estimates of probable construction costs, especially with respect to quantities. While some quantity extraction from a BIM model may require additional modeling or specific data insertion efforts beyond the usual design-intent modeling, other more generic data is readily accessible.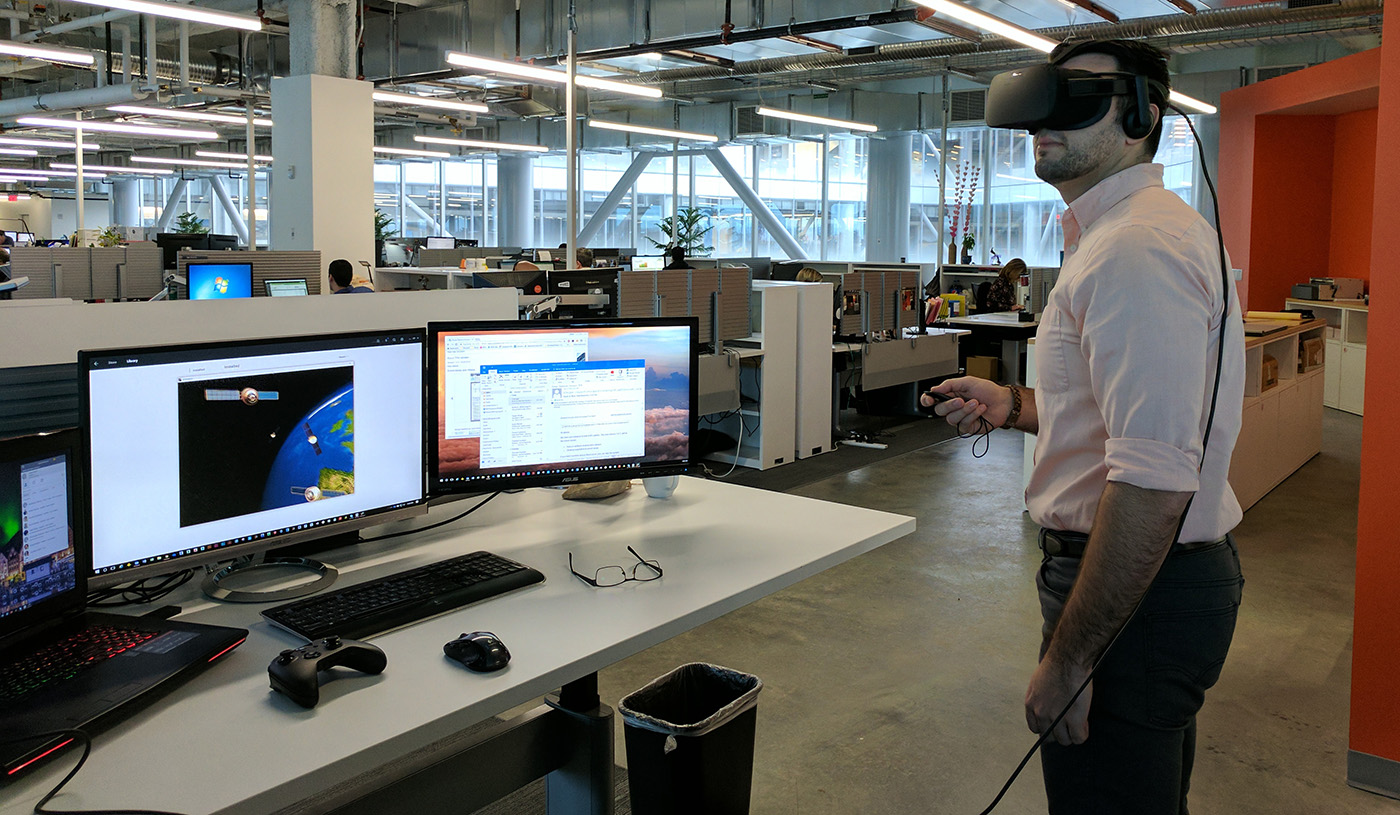 Other benefits BIM can provide
Projects can also often benefit from using BIM data to provide enhanced design services, which can be offered as "optional additional services". Physical presentation models may be generated using traditional craftsman methods, or using digital fabrication methods such as 3D printing or laser cutting/etching. And the use of Virtual Reality (VR) models may be used in presentations to explain design concepts at certain areas of design importance, such as patient care spaces, operating or procedure rooms, public entrance and focus areas, or other similar spaces.

When software is not available to perform certain tasks, we can use Dynamo scripting and other programming approaches to automate and enhance some design and documentation processes.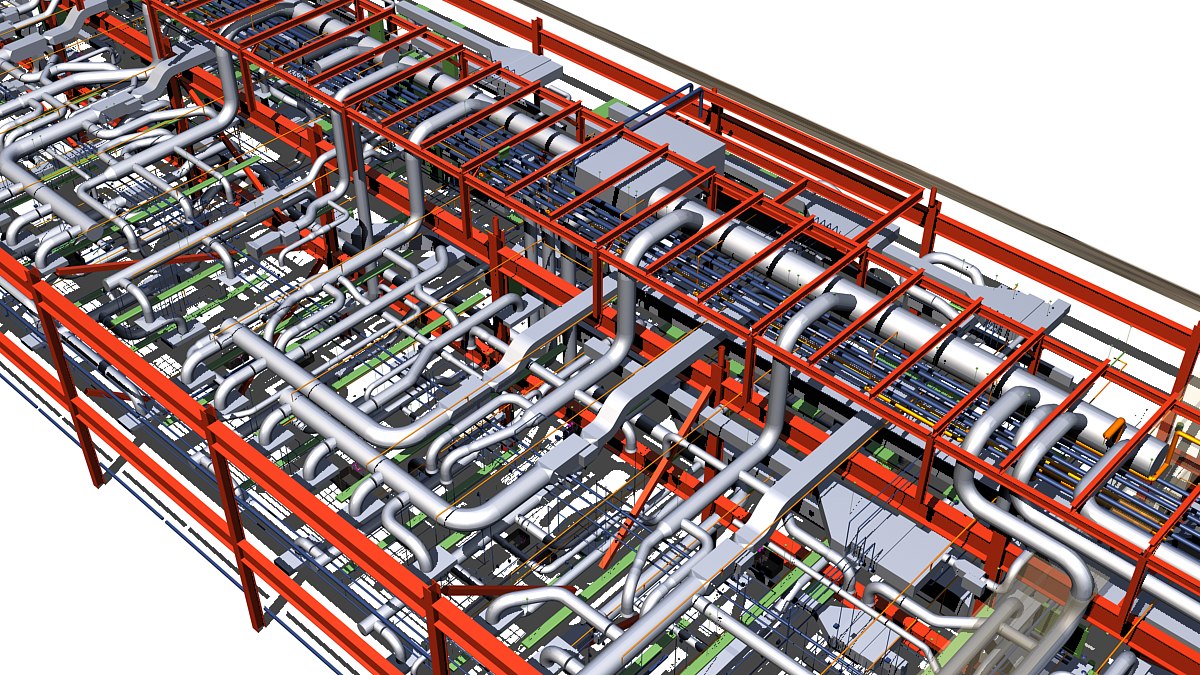 In summary, although BIM has transformed the core design process in many ways, its essential value continues to be simple and straightforward: to provide better information during design to the entire team and into the operations phase for the owner. Best practices and sophisticated technologies that enhance communication and collaboration enable BIM to be leveraged to its fullest potential.