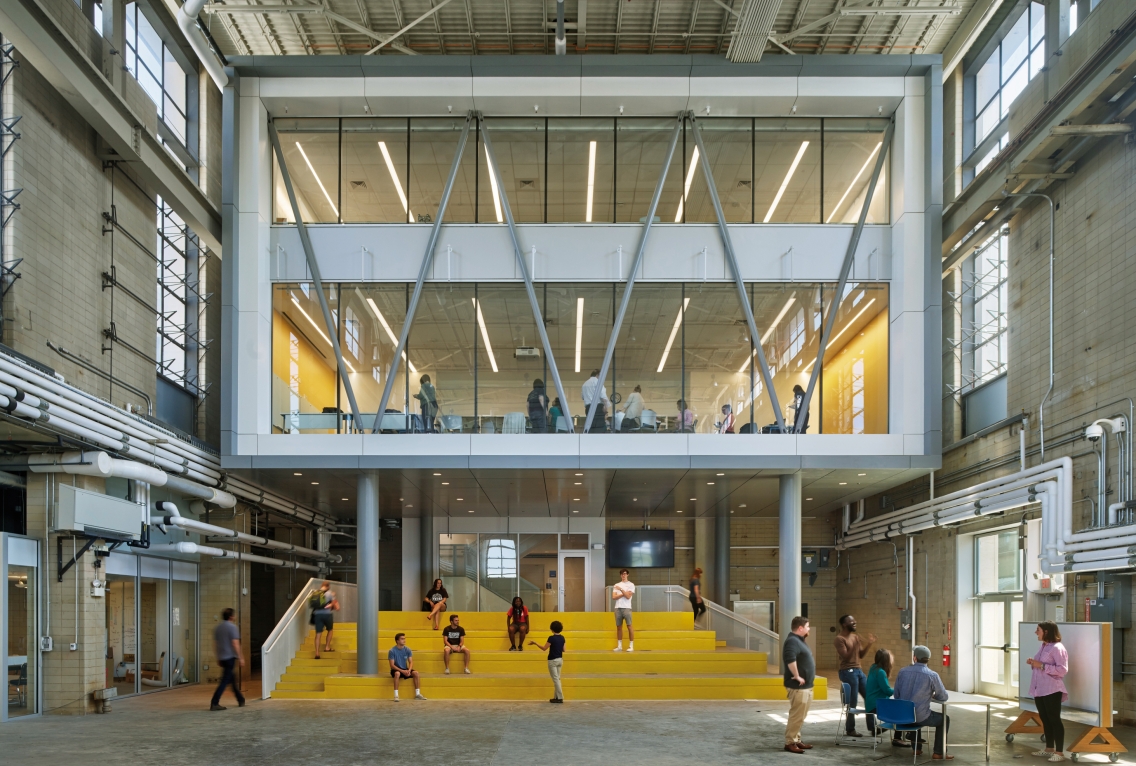 Leaders of most colleges and universities across North America are acutely aware that their institutions need to foster innovative learning. Some two-thirds of 109 deans surveyed last year said this was already happening. However, more than a third believe the pace of change is too slow, according to a 2017 survey of 109 college and university deans. It's easy to understand. Competition for the best students, faculty, research dollars and support from contributors, already heated, is getting more intense. Technological and societal changes of the type that drive people to their smartphones for immediate answers to questions also have a major influence. They use teaching methods that force students to memorize outdated facts.
It's not enough anymore for universities to hold classes in large lecture halls with professors engaging in predominantly one-way conversations. Similarly, in college research labs, students are no longer well served by lab spaces designed years ago that inhibit collaboration by isolating smart minds.
Today's best academic institutions are catalysts for innovation. They host environments in which their people make things. They foster learning experiences that open up both students and professors to creative thinkers from a variety of fields, from the academy to the business world. They teach their students to be life-long learners.
Each institution must determine its own vision for academic innovation and how to deliver it on campus. This is not easily (or quickly) done, as university leaders, professors and building designers can have quite disparate opinions about what leads to better learning. In our work with schools like Bryant University, the University of New Mexico, Penn State and Virginia Tech, we have seen institutions get educational leaders, designers and architects to collaborate successfully and create new learning environments that accelerate academic innovation.
From our experience, these leaders take four common approaches that make their academic innovation initiatives successful. Each requires leaders to commit to being open—about their own educational experiences that generated new ideas (and those that did not) – and to new ways of using space, in both new and existing buildings, or a combination of them.
Developing new environments for academic innovation also requires academic leaders and designers to collaborate through an iterative process. Step by step, the process will lead to incremental improvements in design concepts as the educator-designer team tests them. With each test, the team can improve on previous concepts or come up with better alternatives. Ultimately, the process should result in the optimal solution for the institution, its students, faculty and surrounding community.
1. Define Academic Innovation
First, academic leaders and designers need to define what "academic innovation" means to the institution. Academic leaders should start off by articulating a vision. A designer should then facilitate an ideation process and make the initial ideas more specific and applicable to the institution's educational experience.
In this discussion, the team must adopt a spirit of inquiry. Rather than bringing preconceived ideas about what an academic institution needs for a "center of innovation," they need to:
Get specific and concrete. It's not enough to say that "we need more classrooms" and "we need to make great spaces for groups of 20." That won't likely allow the group to reach the potential of what an innovative learning environment can offer.
Delve into the institution's needs. This includes discussing what an innovative learning environment would accomplish. Exactly how would it help students learn better? How would it help faculty teach better? How would it help the institution overall become a better environment for learning and teaching? What does the institution's leaders want to see happen?
Ask what is working well and not working well today. When a course or program won praise from students for its quality, what happened? What doesn't work well? How do leaders know this?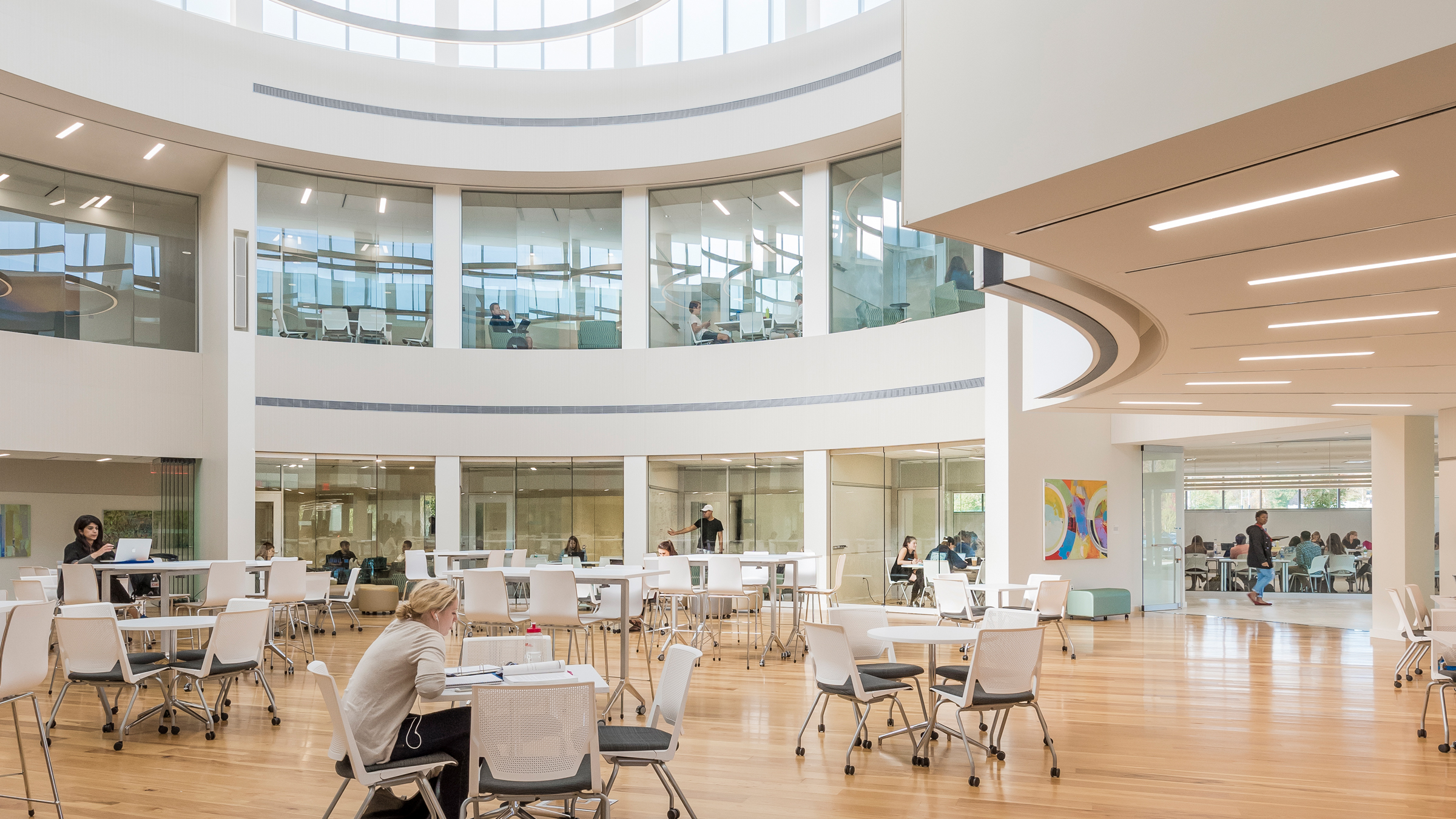 By conducting these discussions, leaders and designers can then synthesize ideas and build a narrative for what academic innovation means to the institution, and begin the process of developing designs for spaces that will achieve their vision.
This approach leads to spaces like Bryant University's Academic Innovation Center (AIC). The AIC resulted from a collaborative process of discovery – listening to Bryant leaders and learning from the best in the field – and iterative designs.
When we worked with the university president and his team at Bryant, a private university with 3,400 students located 12 miles from Providence, R.I., known for integrating business and liberal arts with a global perspective, we started with questions rather than answers: How can academic leadership create a culture of innovation? How can faculty better convey their knowledge? How can students learn the skills, traits and process to become innovators?
Bryant's leaders collected two examples on campus of what academic innovation could be. The university had spaces in which faculty and students could test a very different learning environment, using movable furniture and information technology. Leaders also visited top universities and innovative companies in Silicon Valley to see collaborative spaces in action. From these visits they saw the profound impact of information technology and furnishings on collaboration. One learning was that technologies such as shared displays were not as popular as white boards and other writing surfaces. The reason: The ability to brainstorm hypotheses and map out strategies requires readily accessible surfaces for writing or drawing, especially for group activities. Whiteboards on casters were an integral part of communal spaces. They not only fostered ideation, they enabled teams to quickly cluster in larger spaces without being tied to tables or chairs. 
The design of Bryant's AIC incorporated these concepts. The center's design process was, in fact, an example of the application of design thinking from start to finish. Opened in 2016, the AIC has flexible, interactive learning environments. It has become a campus centerpiece that has attracted new students to the university.
Many campus tours now start at the AIC, and in space dedicated to recruiting students. It immediately gives them a flavor of an immersive and innovative educational experience where they can see students working on projects and entrepreneurial activities.
In addition, Bryant faculty apply to teach courses at the AIC. Business people from across the nation who come to the center to share their work experiences also get a taste of how academic innovation is playing out at the university and can use those experiences to their own benefit.  Their participation has given students much more exposure to new ideas from outside the campus. The center has also made it far easier for students to collaborate and participate in more enduring educational experiences. 
2. Specify Design Constraints to Know What's Possible (and Not Possible)
By articulating their design constraints, academic leaders and designers can focus on what is actually possible to change. Every design project has parameters and limitations including constraints about locations, space and budget. Openly discussing them may appear to be a damper on new ideas. In fact, getting the constraints on the table is a catalyst for creative designs. The reason is that it makes the potential dimensions, both physical and conceptual, visible.
Take, for example, the University of New Mexico. When the university created an integrated plan for physics and astronomy in 2008-2009, its leaders realized the school's building for these departments (Regener Hall) no longer suited its needs. In fact, they agreed it hurt the university's ability to attract new faculty. The building, which opened in 1951 and was expanded in 1972, had spaces for researchers to work in isolation, as was the fashion at the time. Windowless rooms dominated the structure's interior.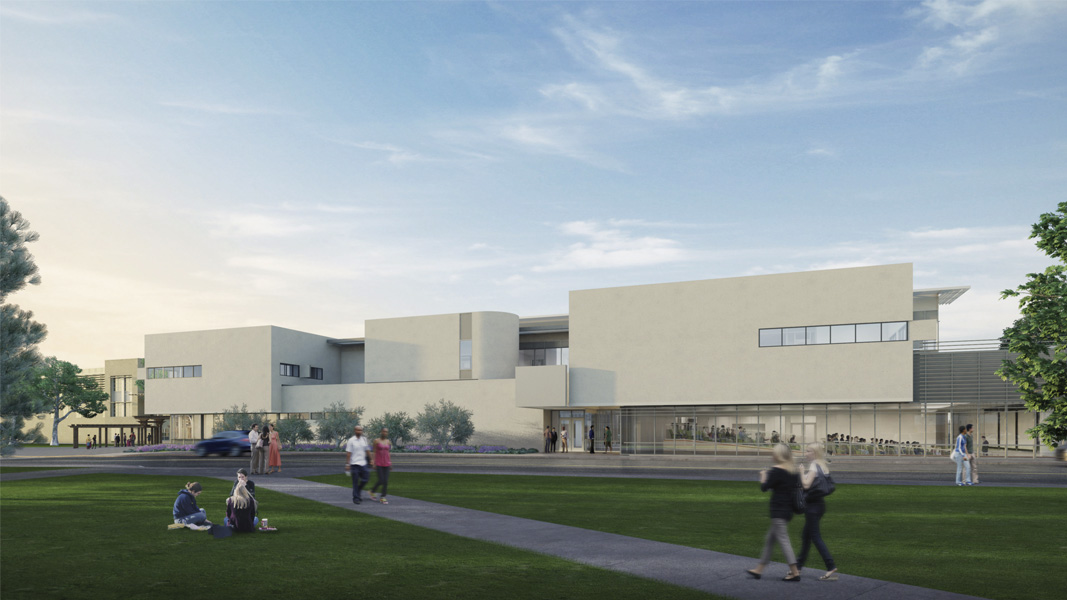 Academic leaders understood this environment was not suited to the interdisciplinary, light-filled settings that attract top students and faculty today. But while the university sought to create a new space that would encourage innovation, it also needed to meet other requirements of a research facility. For example, to enable advanced scientific research, a new structure would have to control for vibrations, electromagnetic interference and other conditions. The space also had to uphold rigorous security and confidentiality requirements.
Discussions with UNM leaders resulted in designs for a new center for Physics & Astronomy Interdisciplinary Science (PAIS), set to open in 2019. The center's design meets the university's quality, safety and security needs, while also maximizing exposure to natural light. Academically, the PAIS will be home to a diverse range of scientists: physics and astronomy, the university's Center for Stable Isotopes, facilities for electron microscopy and X-ray diffraction, a geospatial data analysis center, a human and primate studies center, and a bioinformatics and genomics center.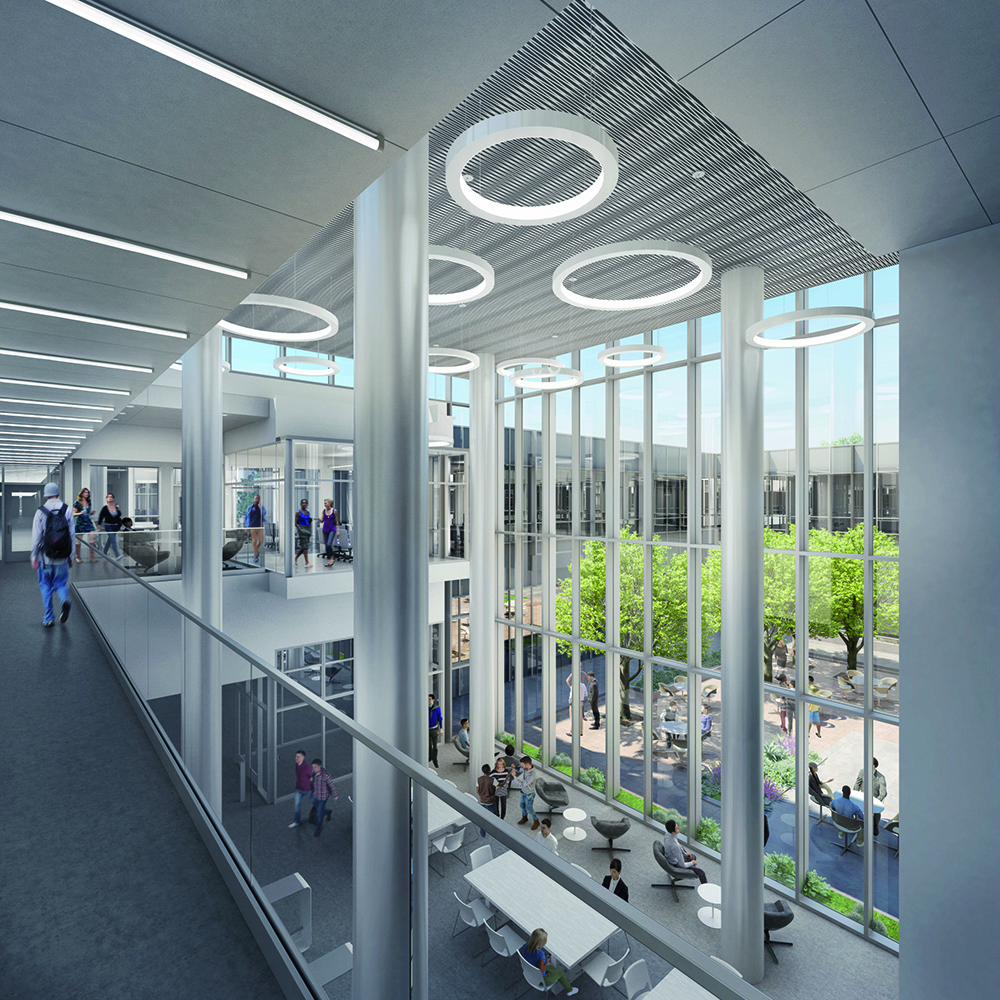 But the design of PAIS is about more than fostering scientific innovation. It is about creating spaces where people can meet, develop new connections, and collaborate in ways that were infeasible in the old structure.
How will the PAIS accomplish this? The building has layers starting with the most open spaces available to all, and moving to more secluded spaces for researchers, which require safe and secure environments. The areas that are highly visible are enclosed in glass to provide a sense of transparency. Meeting spaces offer flexibility and can be open or closed depending on participants' needs. This means students and faculty can move from spaces where their work requires privacy into spaces designed to encourage mingling, interaction, creativity and innovation.
This fluidity speaks to the era in which academic leaders find themselves today. The ubiquitous accessibility of information means teachers and students no longer have to be tied to specific spaces or experiences. Their mobility means they can create their own new experiences in different settings. And it means UNM's leaders can offer superior spaces to students and faculty in the future.
3. Tell a Clear, Innovative Story  
Every building tells a story to all who enter. When the structure tells more than one story, it can create confusion.
At Penn State's main campus in University Park, the Steidle Building told two stories. One was a story of history. This place spoke to the school's tradition as a site of innovation for materials sciences engineers who have developed polymers, ceramics and metals since the 1920s. The second story was one of obsolescence. By the twenty-first century, the building was known for offering only limited spaces for interdisciplinary collaboration at a time when faculty and students must collaborate strongly on joint projects using electronic materials, 3-D printing, and computational designs.

Our work with Penn State leaders resulted in a design that completely renovated the Steidle Building and created a new narrative. It preserved the structure's iconic status on the university's large campus while opening new spaces that invite collaboration and innovation. The first floor is dedicated to undergraduates and includes seven new labs for sample processing and analysis. It features three student lounges, a "genius bar" and additional gathering spaces. The new design includes a 48-seat computer lab and a plethora of white board walls to encourage group study.
At the same time, Steidle retains its existing façade while incorporating new offices and workspaces clustered around glass-enclosed spaces. The story Steidle now tells is one that connects historical innovation to what is happening today. A visitor enters the building's 1920s façade and steps into the future. It communicates action and excitement, with materials science labs and other research activities visible to visitors. The building beckons them to join the action.
4. Embrace Change
Designing spaces that spur academic innovation requires academic leaders and designers to deeply define what academic innovation means to their institution, determine what is possible and how best to bring it to life. Leaders must be willing to iterate ideas – not only to discuss initial concepts but also to examine prototype design elements with the knowledge that these discussions likely will lead to more prototypes. Some ideas will work while others will fail.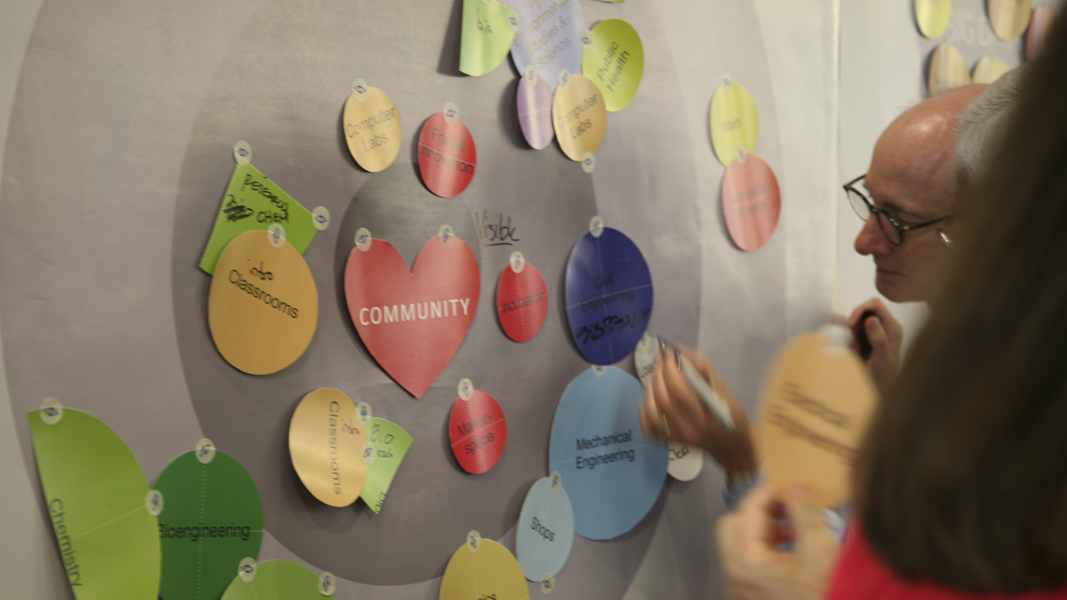 Leaders must also be willing to think differently about what academic environments can look like because the result may not appear like anything they had expected or seen before. They must embrace the fact that innovative spaces must be designed for change when future demands call for it.
They also must be willing to consider designs that depart from traditional hierarchical cultures, ones that placed professors in authoritative roles and their students as inferiors. Instead, these innovative environments embrace the idea that multiple people can contribute to learning. Such places de-emphasize seats of authority and cede them to places that foster mentoring. They invite all to participate in learning.
This means accepting a certain level of risk in the design process. The risk is that creating a unique and highly effective design may require greater-than-expected effort on the part of institutional and academic leaders. The process is less linear than traditional architectural design projects.
This approach is not right for all institutions of higher education. But it has been a key element of numerous successful academic innovation projects that we've been part of. We have seen people with scientific backgrounds and those with law degrees, politicians, administrators and management theorists all embrace this process, and the change in learning environments that follows it.
Leaders at Virginia Tech are among them. The university is developing a new Global System Science Destination Area with a vision that could have many design paths to achieve it. The area will foster transdisciplinary study between natural and social systems. The goal: getting faculty and students to work tightly together to identify solutions to critical social problems. These range from food production safety and health to fresh water supplies – all of which stem from global population growth, urbanization and environmental change.
Discussions of this project led to our proposal for creating zones within a building, in which each zone hosts different problem-identification and -solving activities. Hypothetical examples include a zone devoted to address problems like drinking water supplies; a zone to analyze data from researchers and create visualizations from them; a zone for analysis of samples from the field; and a zone for analyzing the food production and consumption behaviors of certain populations under study.
For many academic leaders, this is a new way to frame a design discussion. Instead of asking "What makes a good chemistry building?" we can wonder, "How can we develop a vision for creating innovative solutions to urgent problems?"
An environment with zones can house a variety of activities suited to the vision. While the design is still in process, Virginia Tech's leaders and our designers will continue to test how a building with multiple zones for different groups can best work together to address urgent societal issues.
Academic Innovation Is Unique to the Institution
Academic innovation is not a building typology. It is an experiential environment that creates multi-dimensional impact for those who use it – students and faculty as well as visiting business leaders, scholars, researchers and other collaborators.
By embarking on a mission of discovery and ongoing ideation, academic leaders and designers can create learning environments that spawn creative thinking, life-long learning and innovations that will benefit us all.