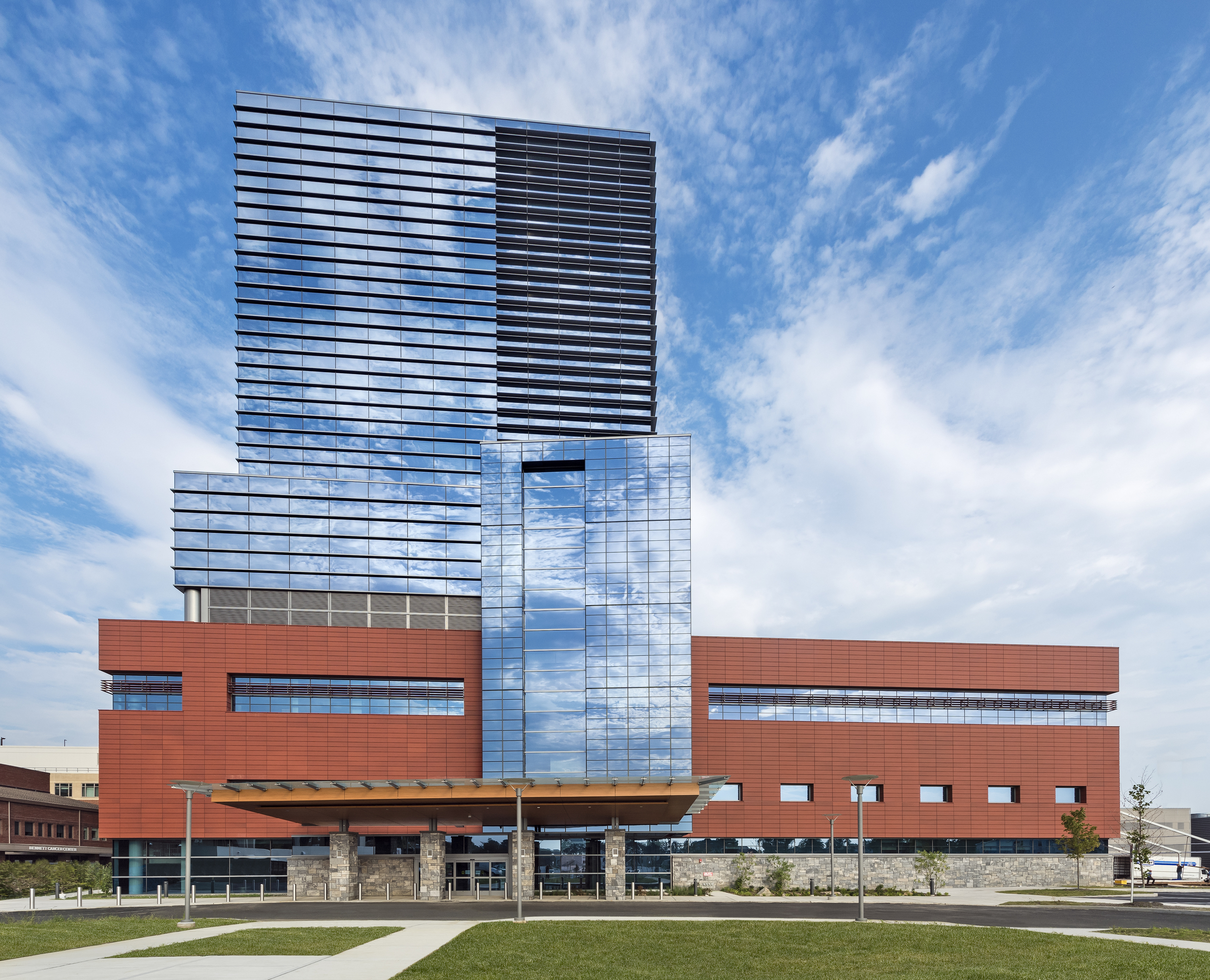 The New Stamford Hospital looks like a place you'd want to visit. That may sound strange to say about a hospital, but it's actually a byproduct of EYP healthcare practice group's thoughtful design, which embodies the Planetree philosophy of putting people first. The 12-floor, 180 private-patient room hospital focuses on empowerment, dignity, and compassion, with a core of stellar patient care. 
Sunlight pours through huge windows. Stunning modern sculptures catch your eye as you walk through the foyer. Illuminated ceilings light the way to the elevators. Stone and wood features are prominent, bringing the outside in. A café offers fresh, healthy, seasonal foods.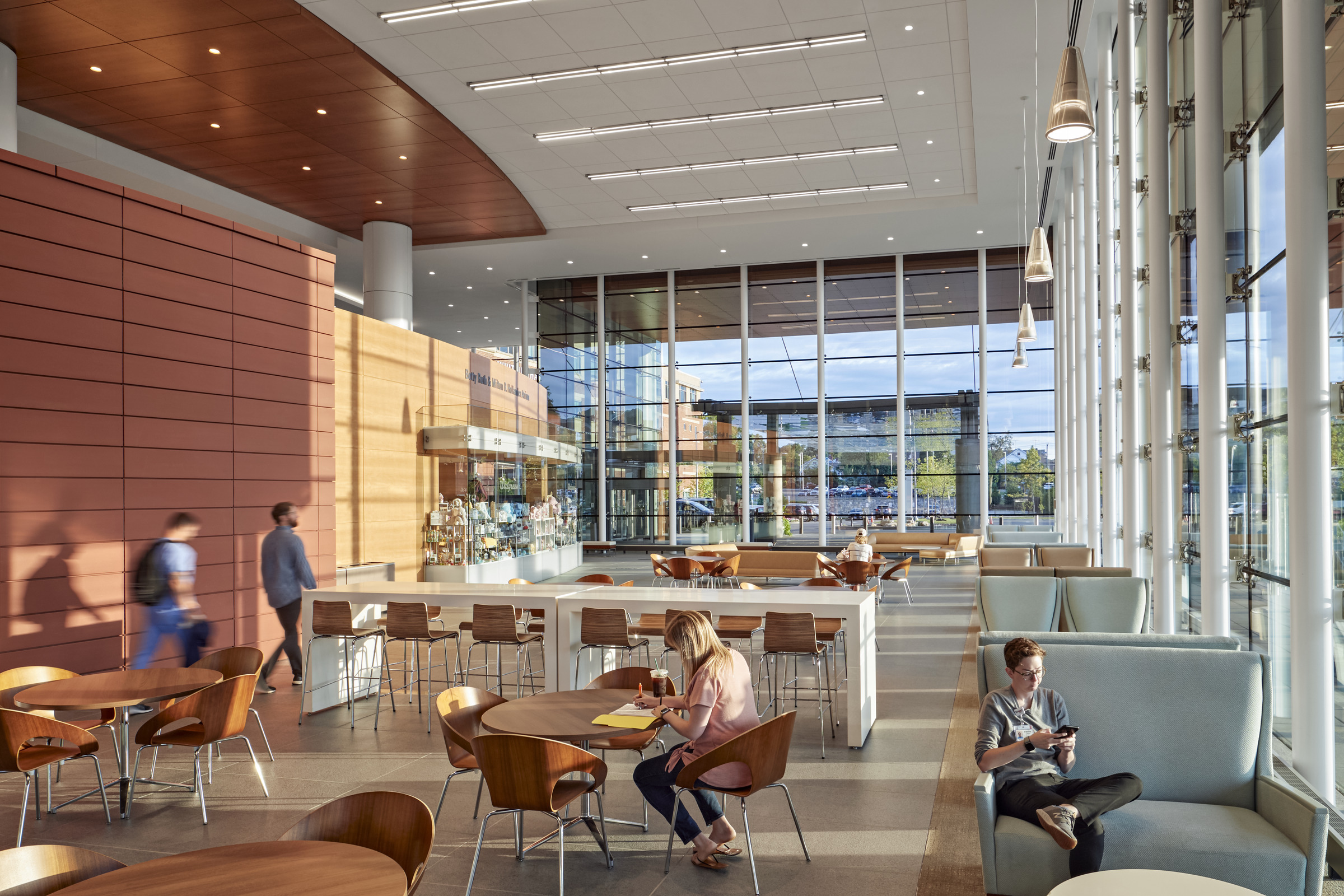 Respite spaces for patients and families—waiting rooms by fireplaces, an intimate sanctuary, and outside gardens with fountains—are plentiful.
Private patient rooms have comfy pull-out couches, accessible computers, and tranquil bathrooms to give a home-like feel. Huge colorful fish tanks entertain children in the pediatric unit.
And staff respite areas, small and private as well as larger and more communal, are organically included on every floor and unit. A favorite break room opens onto a green roof with breathtaking views—all part of caring for the caregivers.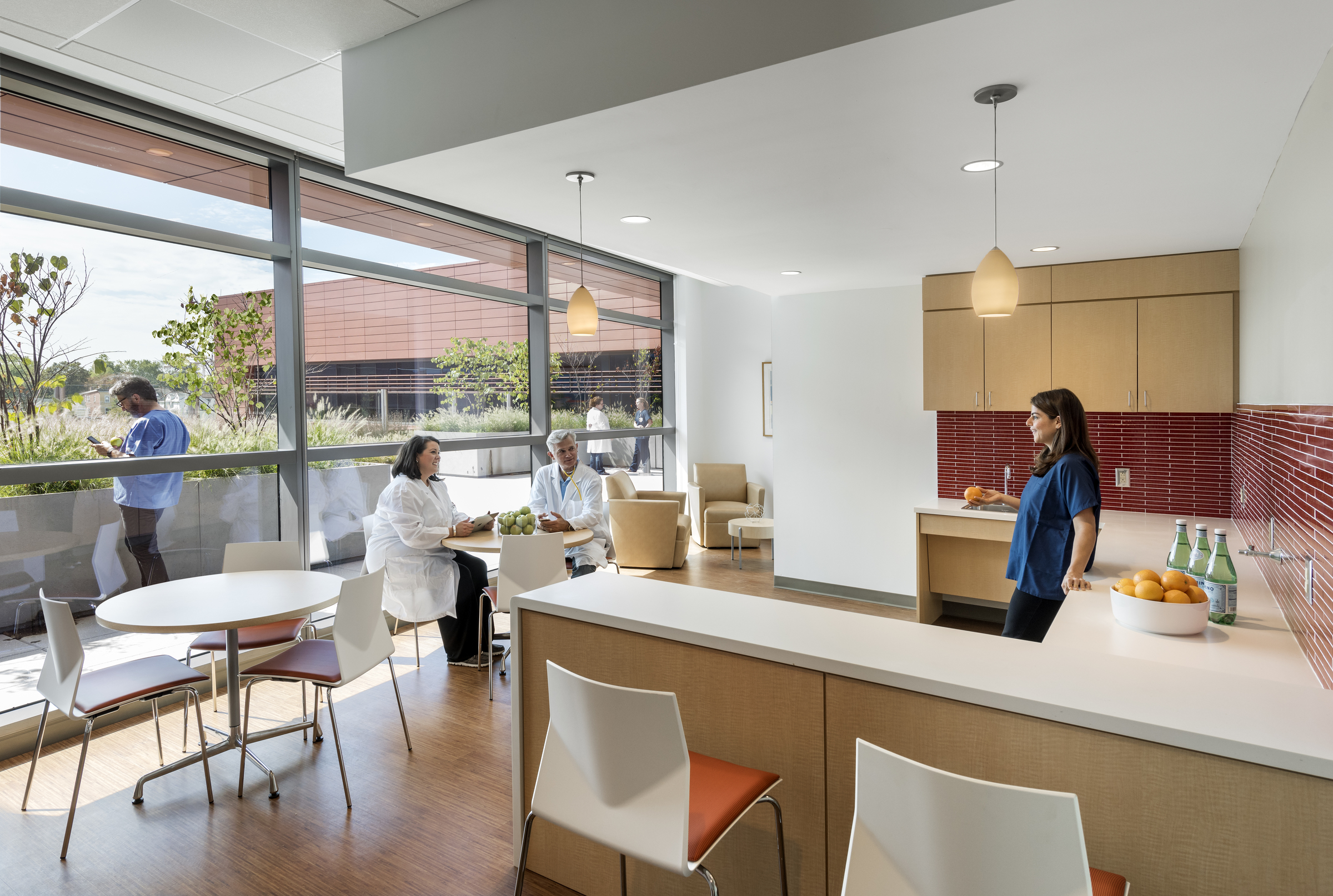 Evidence-based empathetic design
These details and more are meant to give visitors, patients, and staff a feeling of warmth and reassurance as they enter and make their way through the building. It's all part of Stamford Health embracing Planetree's holistic philosophy of health care: We are human beings caring for other human beings with kindness and compassion in a welcoming, safe environment.
To understand the Planetree philosophy, it helps to know the origin story. How did Planetree begin? With a young woman hospitalized with a mysterious virus.
"I went from being a regular citizen of the world to a completely alien and inhumane environment. No one seemed to care about me. There was so little human warmth and healing energy," says Angie Thieriot, of San Francisco, who founded Planetree in 1978 to demystify and humanize hospitals.
Now, Planetree partner offices and Planetree Designated Hospitals exist around the world, and the philosophy has been expanded to behavioral health centers, long-term care centers, and VA medical centers, among other health care facilities. Planetree hospitals show higher patient satisfaction and better patient outcomes.     
But happier, healthier patients aren't the only positives. Facilities that put Planetree principles into practice also show higher staff retainment and satisfaction and more engagement with their surrounding communities.
The New Stamford Hospital, a Designated Planetree Leader and Innovator in Person-Centered Care, was the result of a collaboration among clinicians, administrators, and the EYP design team, who were charged to "reimagine healing." 
"What does that mean in terms of design?" asks Tushar Gupta, managing principal, EYP Houston. "First, you have to think in the context of a building, and every person involved with that building. A Planetree hospital isn't just about patient or staff. It connects patients, caregivers, families, and the community."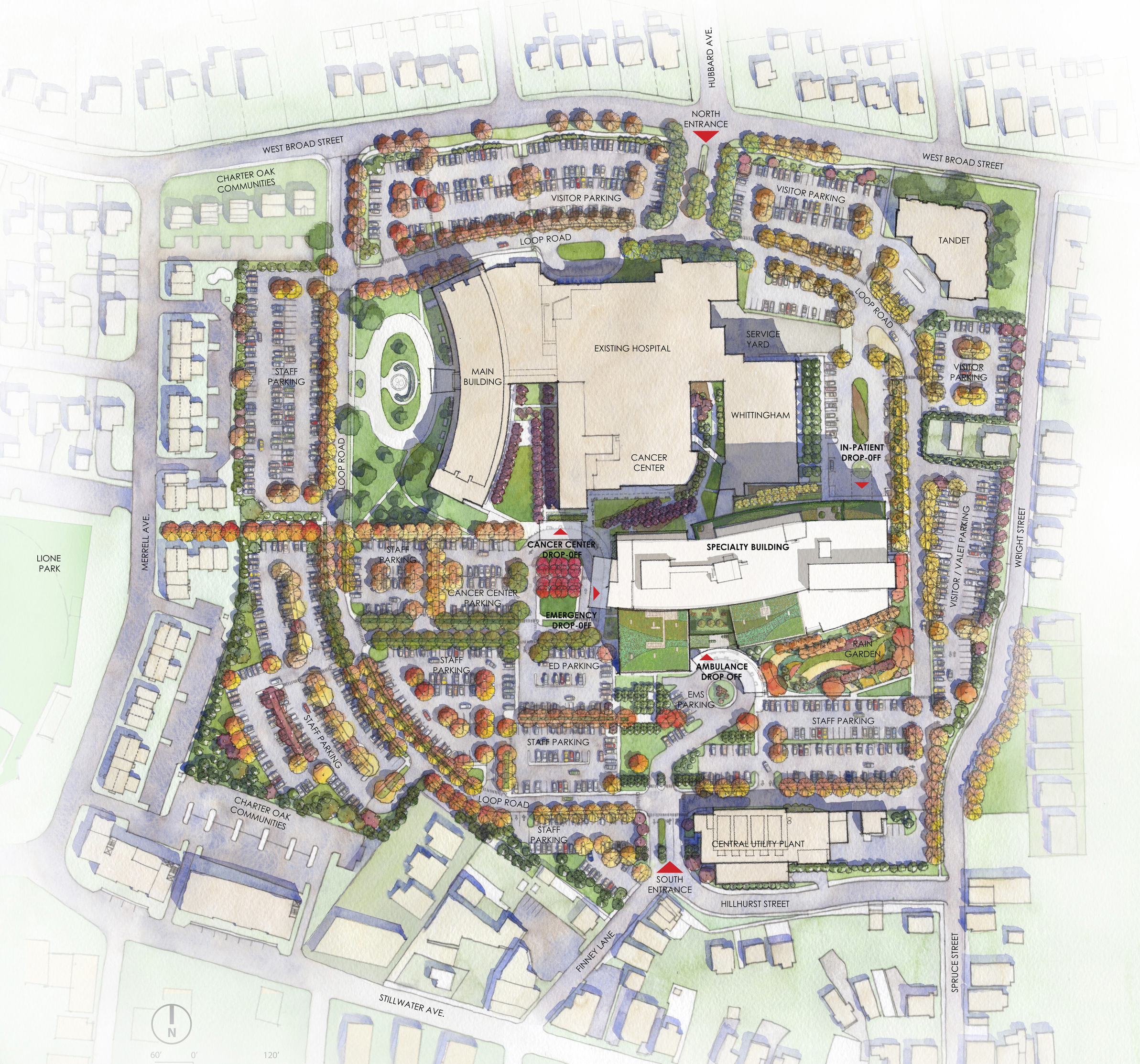 At the heart of that experience, Gupta says, is empathy. "Empathy is the guiding principle that informs all our work. We begin a project by taking the pulse of the community. Who and what surround the hospital and how can we support the local neighborhoods?"
For example, Stamford Hospital was adjacent to a struggling urban neighborhood. By embracing Planetree philosophy, the hospital became a catalyst of change. "Now," Gupta says, "walking paths connect the hospital to the neighborhood park. The hospital engages the community by revitalizing housing and creating wellness. There is even an urban farm."
Indeed, engaging all stakeholders is a vital part of Planetree hospital planning and design.
"Stamford Hospital empowered its staff by facilitating plan reviews and extensive multiphase mock-ups," says Roseann Pisklak, principal, healthcare interior design, EYP Houston. "Engaging all groups from administration to nursing to support services allowed staff to play a critical role in informing and improving their future work environment.  Every comment was collected and carefully reviewed in building their state-of-the-art facility, truly demonstrating Stamford Hospital's commitment to their staff, operational goals, and alignment with the Planetree philosophy."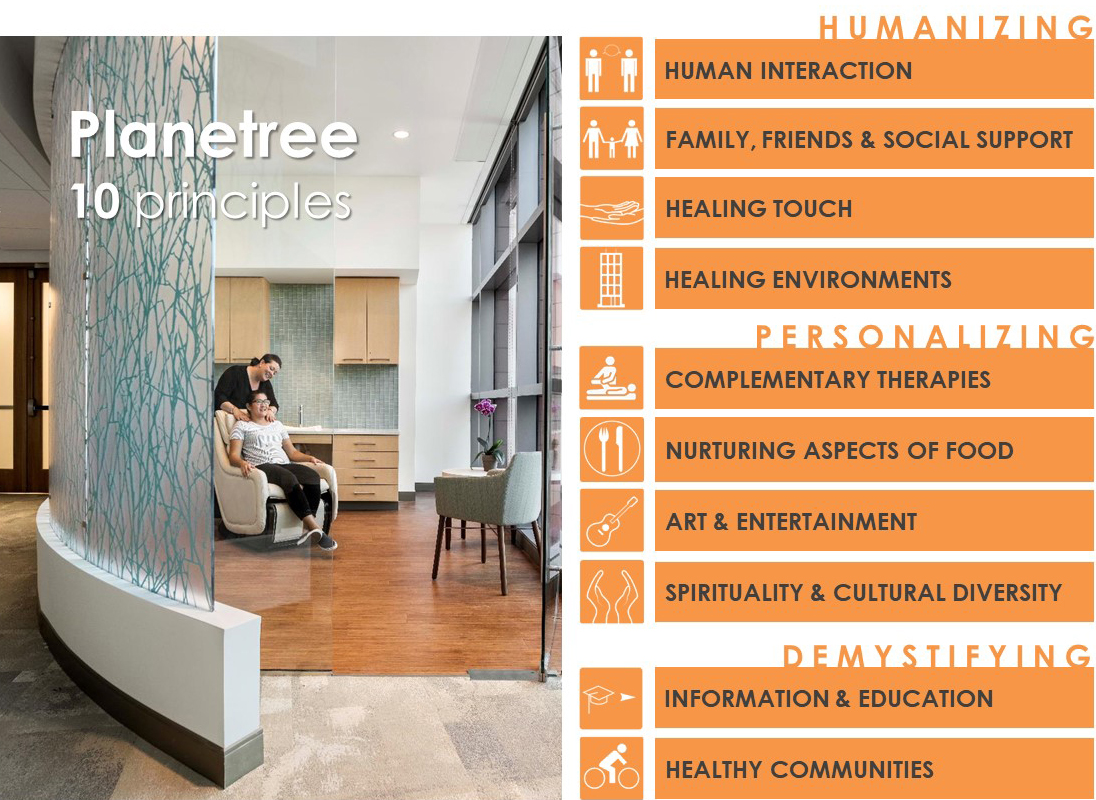 Precise, personalized care
Hospitals, of course, are places of employment, community points of pride, and partners with academic institutions and industry. But patient care is their reason for being. The Planetree philosophy and its 10 principles and best practices emphasize that person-centered care is more than hospitality, more than amenities and inviting surroundings. Person-centered care improves lives.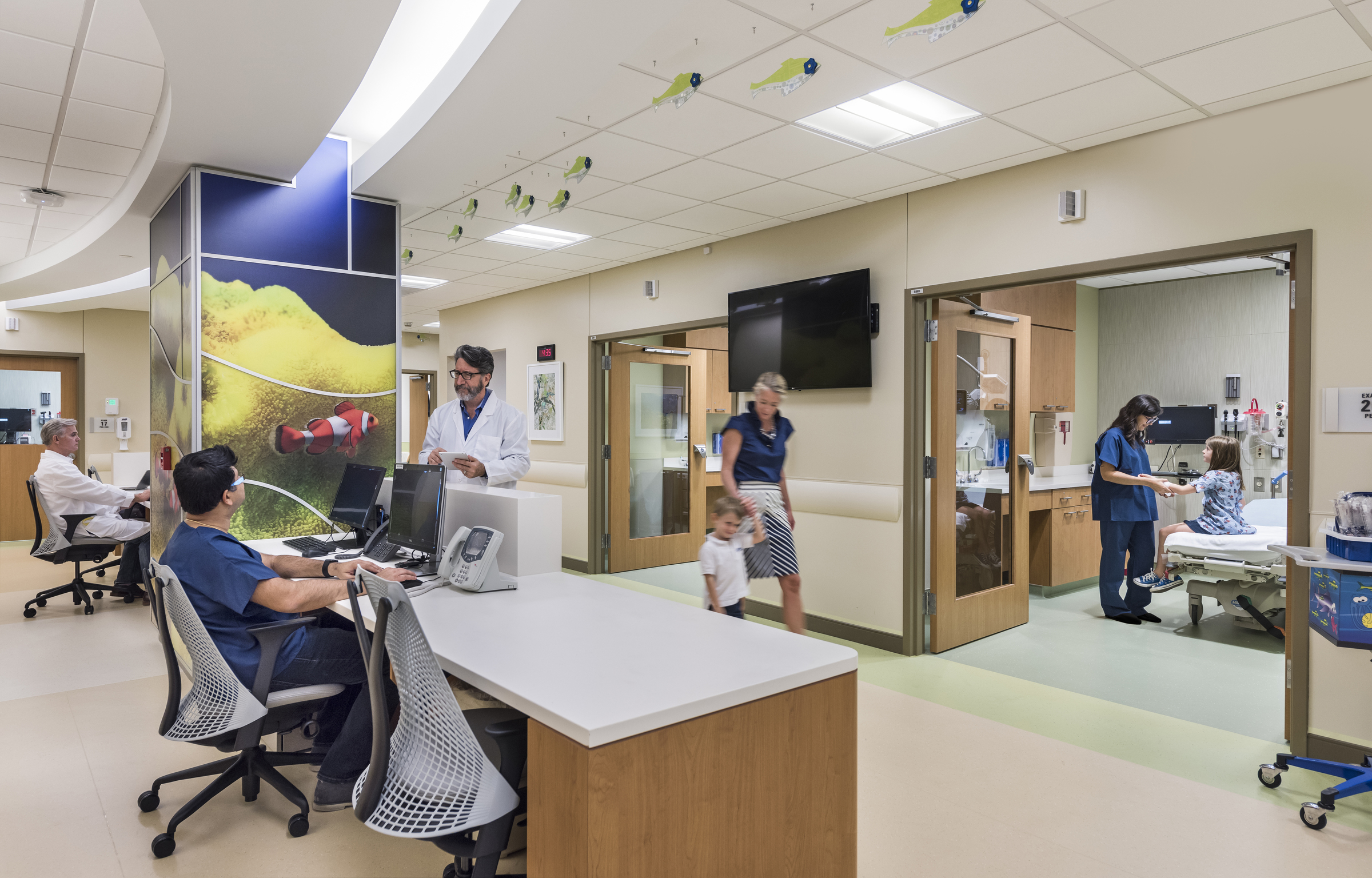 When a patient comes to Stamford's ED, they are immediately triaged, assigned a "track" (designated by color, such as red for someone in need of emergent care.) "Planetree emphasizes continuity of care, familiar faces, and family involvement as healing elements that help personalize the patient experience," says Pisklak. "The patient rooms are even larger than normal, so that medical teams and specialists can come to the patient instead of the other way around."
Ready access to medical information, including a patient's own medical charts and information about their diagnosis, is paramount. At Stamford Hospital, patients and families can visit the Resource Center/Medical Library, which has a wealth of information on specific illnesses, medicines, and treatments. This allows patients and families to be their own advocates and demystifies what can be an intimidating process.
This personalized care pays off through improved health outcomes, lower readmission rates, and shorter stays. More than 9 million patients and providers have been touched by the Planetree philosophy in practice, which provides a strong base from which to draw evidence-based feedback on what works and what doesn't.
The Planetree philosophy continues to evolve, as do the healthcare facilities who embrace it. The unwavering constant, however, is that each person who comes through the doors—patient, family member, staff, or visitor—is treated with respect, dignity, and compassion.
"And that," says Gupta, "is by design."