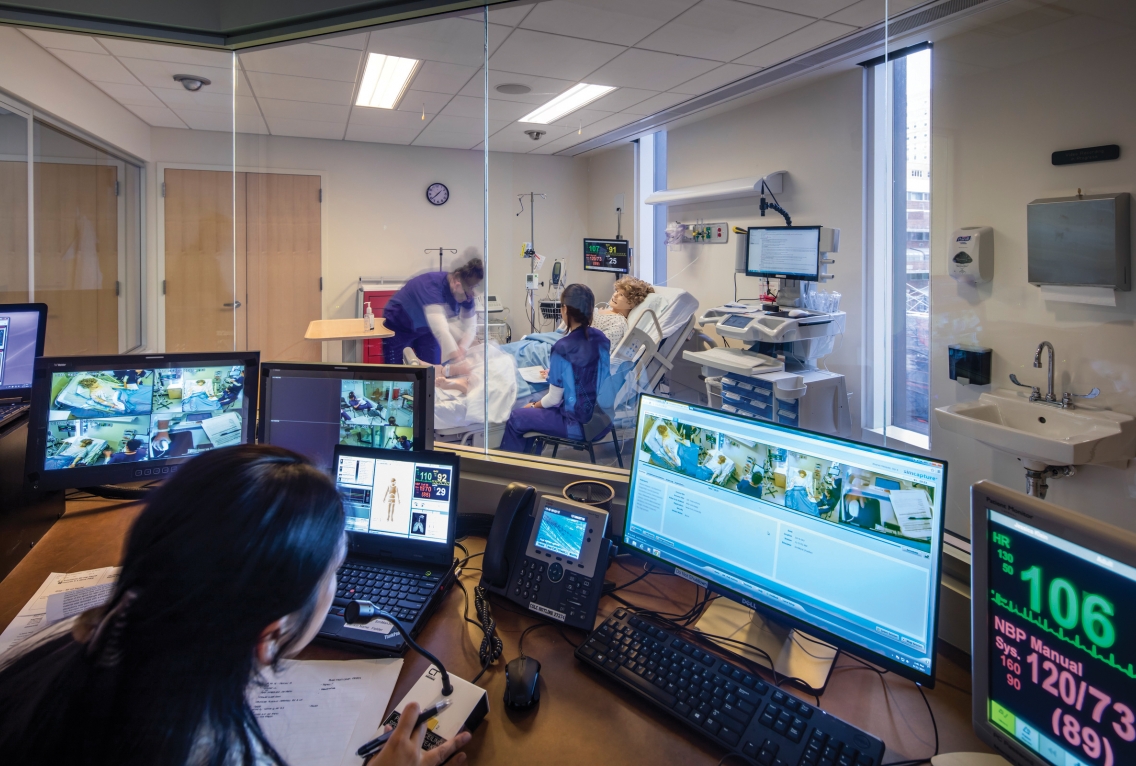 The convergence of science, engineering, and technology is dramatically transforming healthcare delivery. Increased emphasis on patient-centered care relies on the combined strength of multiple disciplines, requiring a workforce that can leverage a variety of skills for healing and discovery while working effectively as a team. To that end, many academic institutions are rethinking how they educate future healthcare providers by shifting the focus from lecture-based learning to providing opportunities to practice skills in realistic settings and scenarios, utilizing hands-on applications and sophisticated simulation technology. This bridge from theory to application is a rapidly developing pedagogy which yields many benefits. For instance, a recent study of the employer's viewpoint on clinical education featured in The Journal of Allied Health noted that inconsistent student preparation impacted their success when they arrived at clinical sites.  
The National Council of State Boards of Nursing also recognizes this trend and published a 2011 study recommending that up to half of traditional clinical hours for prelicensure nursing education could safely be replaced by replicating scenarios with high-quality patient simulations. In the same year, the Association of American Medical Colleges conducted a comprehensive simulation survey of medical schools, showing that simulation-based education is used by more than 90% of medical schools to introduce concepts in clinical medicine and physical diagnosis.
To meet growing demand as health education program enrollment rises, colleges and universities across the country are incorporating simulation-based learning into health education buildings to improve technical skills; foster collaboration, innovation, engagement, and confidence; reinforce identity; and attract students to high-demand healthcare fields. This requires strategic planning and design of experiential learning space in the form of both dedicated simulation rooms and flexible facilities that support program growth, accommodate next-generation equipment, and allow hands-on practicing of new treatments.
The Impact of Simulation in Learning
Simulation-based learning is extremely effective, enhancing learning by making connections between knowledge and skills.  Students are able to put all the information they've learned together in real world scenarios – combining their haptic experience and technical skills with prioritization, critical thinking, and problem-solving. Controlled simulation, in contrast to clinical rotation, also provides a consistent and uniform experience for all learners. 
Simulation is an ideal methodology for informal "naturalistic learning" in a social context, to reinforce more formally acquired knowledge. A group studying the use of mannequins to teach physiological principles in high school, college and graduate school curricula concluded that the urgency, authenticity and excitement of making translational connections to traditional classroom sessions increased students' engagement.
Four key aspects of simulation make it powerful for health education in particular:
The activity encourages an emotional response that makes the learning experience meaningful and stimulating.

Students gain confidence through successful simulation, and this personal satisfaction engages them to identify as a future health professional.

Participants develop skills in teamwork for problem-solving, leveraging collective knowledge, and listening.

Students can make mistakes in a safe environment. As a teaching tool, the debrief thus becomes as important as the scenario itself, where instructors help participants learn from their mistakes.
In addition to affecting student engagement, we discovered that our clients want to use their simulation spaces as an incubator for improved teamwork between different disciplines. Their primary objective is training students in a setting that will promote improved collaborative behavior in their approach to clinical care – a cooperative attitude and inclination toward team-based problem solving.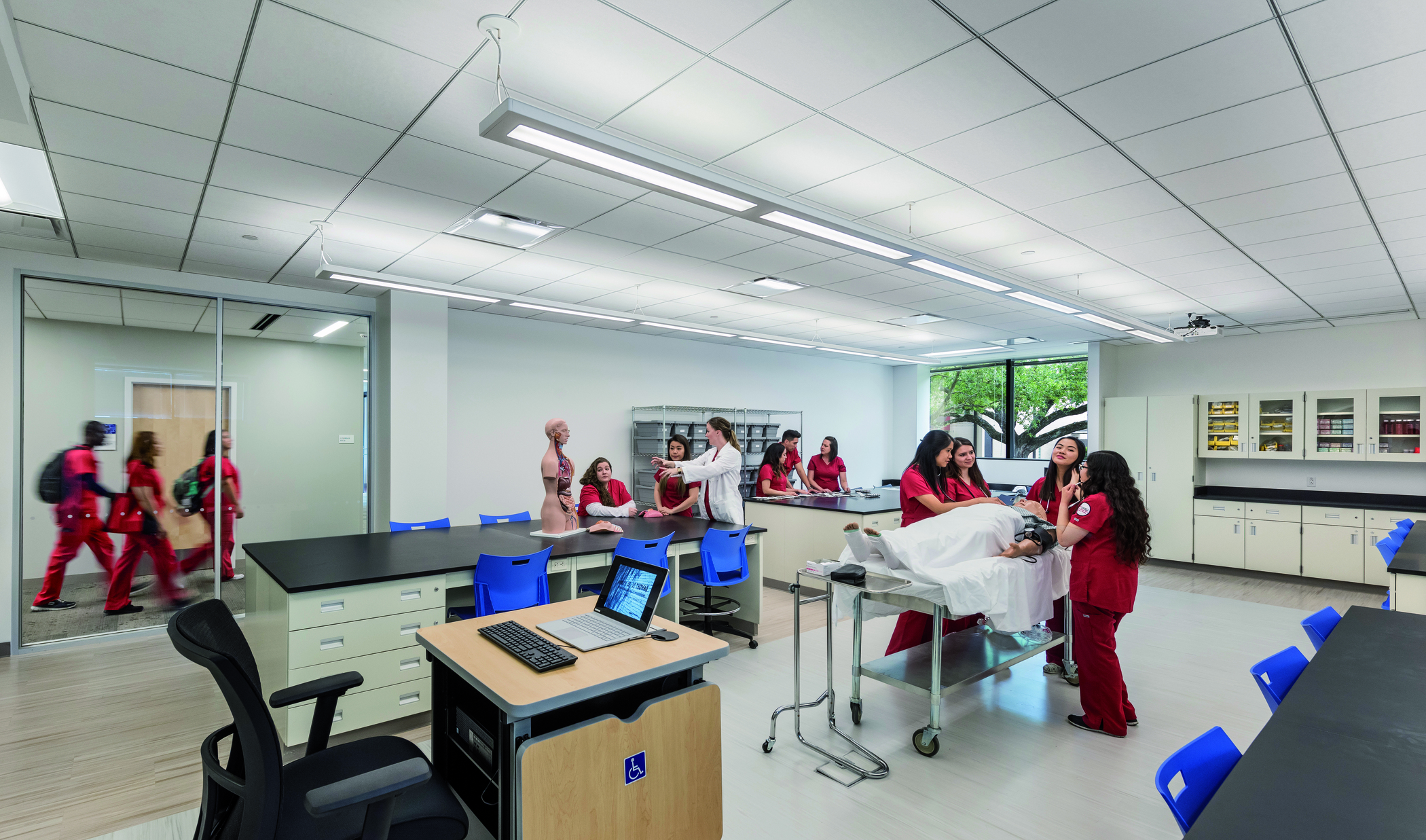 Experiential learning through simulation is not limited to traditional health education. At the University of St. Thomas Center for Science and Health Professions, the co-location of STEM and Health faculty has already paid educational dividends through shared use of the facilities spaces for both Nursing and Biology teaching. For instance, the Anatomy & Physiology curriculum now includes a "scavenger hunt" in the Assessment Skills Lab, and the Nursing department chair reports that the science students' time in the simulation space helps the proverbial light bulb go on. Additionally, combining health education with traditional science – such as examining how osmosis really works in a healthcare application such as kidney dialysis - helps the students with retention of concepts. As a result of this type of co-location, more nursing students now enter the program with foundational science understanding and familiarity with the lab.
Planning Effectively for Simulation
As EYP works with educational teams on new or renovated facilities, we examine the spectrum of potential simulation spaces through the lens of two constructs: the degree of simulation fidelity and the level of student experience.  Our clients typically wrestle with the following types of questions:
Simulation spaces are effective ways to attract new students and interest in a program.  When are very transparent, less realistic environments suitable?


 

How much high-fidelity, very realistic simulation space is needed? These technologies require a significant investment of resources. Furthermore, direct observation windows reduce the realism of the simulation rooms, but are preferred by some programs for an immediate connection to provide timely feedback between observers and learners.


 
Research shows that there is a strong relationship between learners' experience and the fidelity of the simulation space. For example, an inexperienced student will learn more from a low-fidelity environment that is teaching generic skills but a more expert learner needs a more realistic, simulation for task refinement. 
Starting with the earliest phases of planning new simulation spaces, designers and clients must have thoughtful conversations about the ultimate goals and the intended scope of experience, both of which will help guide the optimal layouts, access, and need for immersive realism. Strategically designing these spaces will create the most value for this expensive resource, while providing future healthcare leaders a transformative learning experience that mirrors real-world environments.