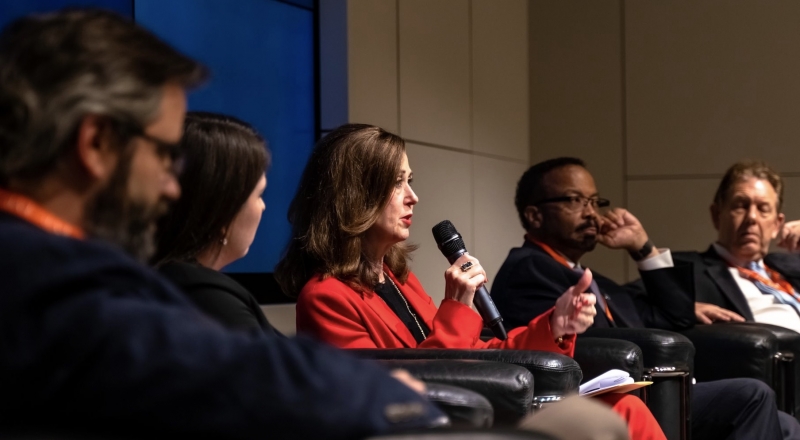 This year marked the 40th anniversary of EYP's Houston office. To commemorate this milestone, we launched the IMPACT 40 initiative - a commitment throughout the year to connect with clients and consultants, share our projects, serve the community, offer thought leadership, support organizations and recognize our talented staff. Our 40 PAST / 40 FORWARD symposium was the culmination of these efforts, including a celebration of the past 40 years and a glance into the future.
Festivities for the past included celebrating our Tradewell Fellowship. It is offered to both recent graduates and career-change candidates who specialize in healing environments for healthcare design, fostering the next generation of healthcare planners. This program is in its third decade, and current and former Tradewell recipients held a reunion and a conference prior to the symposium. These exceptional individuals now include a community of experts and leaders and have become a family. Of the 27 Fellows, 11, including Founder Kirk Hamilton, joined to exchange ideas and imagine the future of healthcare. Many of the Tradewell fellows are still part of the EYP team and others have gone on to lead in other organizations. The legacy of this fellowship has been incredibly impactful to the individuals who participate, and to the profession.
Members of our staff, clients and consultants then gathered for the symposium and engaged in a conversation about the trending landscape of Houston, the sectors we specialize in and how those markets will continue to make a global impact. The highlight of the evening was the expert panel that inspired us all.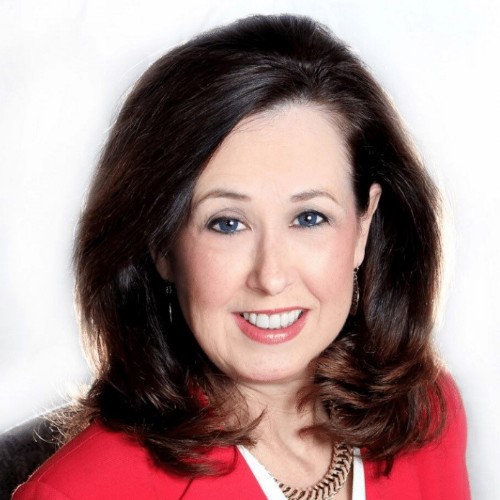 The panel was moderated by Susan Davenport, Senior Vice President of Economic Development for the Greater Houston Partnership. She led a discussion on healthcare, education, science/research, and energy — four areas that are driving the Houston marketplace and impacting advancement — and how these areas might manifest in the built environment. Davenport began the discussion by highlighting some national statistics about Houston.
Houston at a Glance
The City of Houston is diverse, thriving, and developing an innovation corridor.
Several other panelists joined the conversation, with insights covering convergence, collisions and sustainability. The panelists included:
Dr. Alan Lumsden
Chief of Cardiovascular Surgery at Houston Methodist DeBakey Heart & Vascular Center
Abbey Roberson
Vice President of Planning at Texas Medical Center
Dr. Gavin Dillingham
Program Director of Clean Energy Policy at the Houston Advanced Research Center
Dr. Roderic Pettigrew
Executive Dean for Engineering Medicine at Texas A&M Health Science Center.
Future convergence between health and science will be through education and data sharing.
According to Dr. Pettigrew, education and health must come together to improve how diseases are diagnosed and treated. The vision/ ultimate goal is for all of us to "die healthy."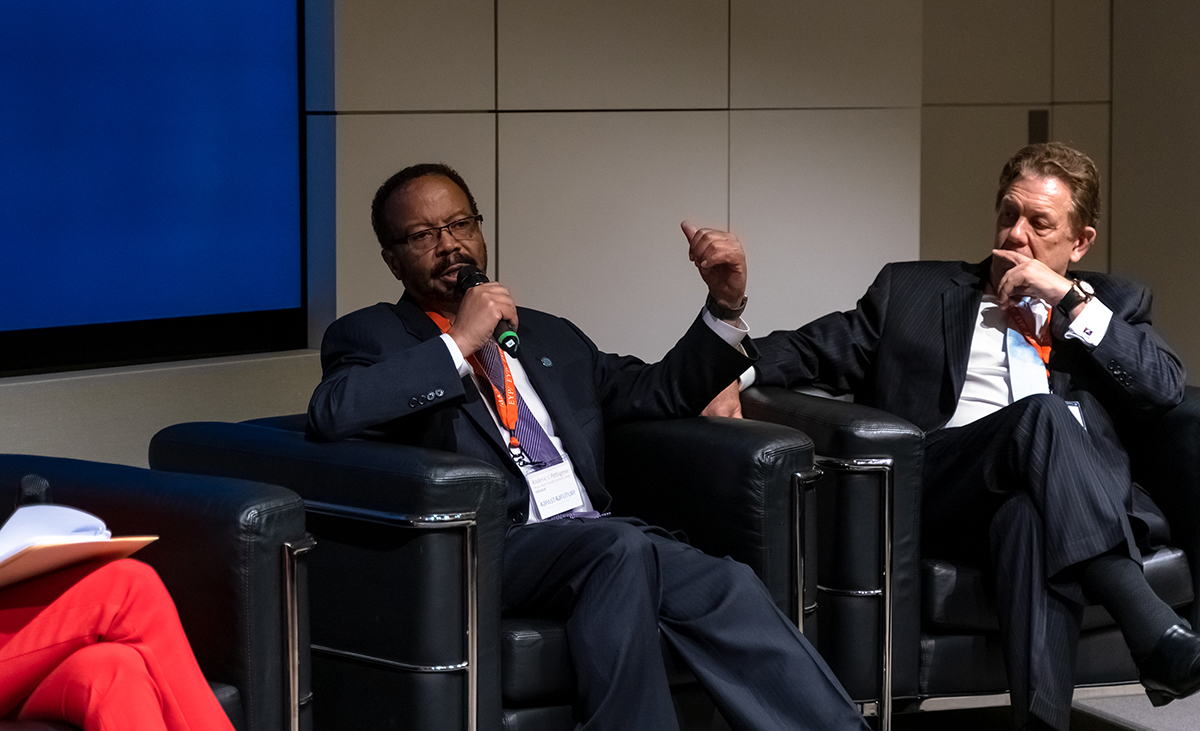 "We stand to learn the most from those with whom we have the least in common," said Pettigrew. "Convergence is a powerful approach to arriving at a solution. Inspirational open labs where a biologist can talk to a geneticist, who talks to a physicist who confers with a mathematician and a cardiovascular surgeon can lead to eureka moments."
A convergent-centered built environment should accommodate team science, interdisciplinary science, transdisciplinary science and education. Spaces should allow for knowledge sharing and evoke idea stimulation.
Dr. Lumsden chimed in about an organization he helped co-found called Pumps & Pipes. It is an association of medical, energy, aerospace, academic and community professionals and leaders. Founded in 2007, the organization's core values are education, communication and collaboration. At its heart, Pumps & Pipes is an interdisciplinary endeavor, emphasizing inclusivity across nations and disciplines, and their guiding principle to problem-solving is exploring and leveraging tools used by other disciplines to solve problems.
"Peeking into the toolbox of someone who comes from a completely different background is where quantum leaps are born."
– Dr. Alan Lumsden
"Peeking into the toolbox of someone who comes from a completely different background is where quantum leaps are born," Lumsden added. "Years ago, a cardiovascular surgeon by the name of Lazar Greenfield lost a patient due to a pulmonary embolism. He shared the troubling story later at dinner with his neighbor who was an oil services engineer. Greenfield explained the difficulty because these veins lead up to the heart through one tube. The neighbor suggested that a filter should be used similarly to the way they do in oil pipes for dealing with sludge."
Over several years, the two men co-created an implantable filter for trapping blood clots before they reach a patient's lungs. Greenfield then took the idea to Garman Kimmel, a prolific inventor, making valves for oil and gas wells and pipes. The clot stopper is a simple device, borrowed from the oil industry, saving thousands of lives every year. As of 2006, more than half a million Greenfield filters had been placed in patients.1
Dr. Pettigrew asked the audience, "What do an IBM Engineer, an ophthalmologist and a Thanksgiving Day turkey have in common?" They are all about careful cutting! "IBM was making strides in etching polymers and plastics with just the right quantum light energy to break the molecular bonds without bubbling/scarring. After asking if it could work on organic tissue, he published his findings and Dr. Gholam Peyman related the technique to optical sciences. This ultimately led to the invention of Lasik surgery."
The future is bringing together disparate fields to create a better quality of life for everyone.
Spaces and institutions that facilitate collaboration and random collisions will catalyze innovation.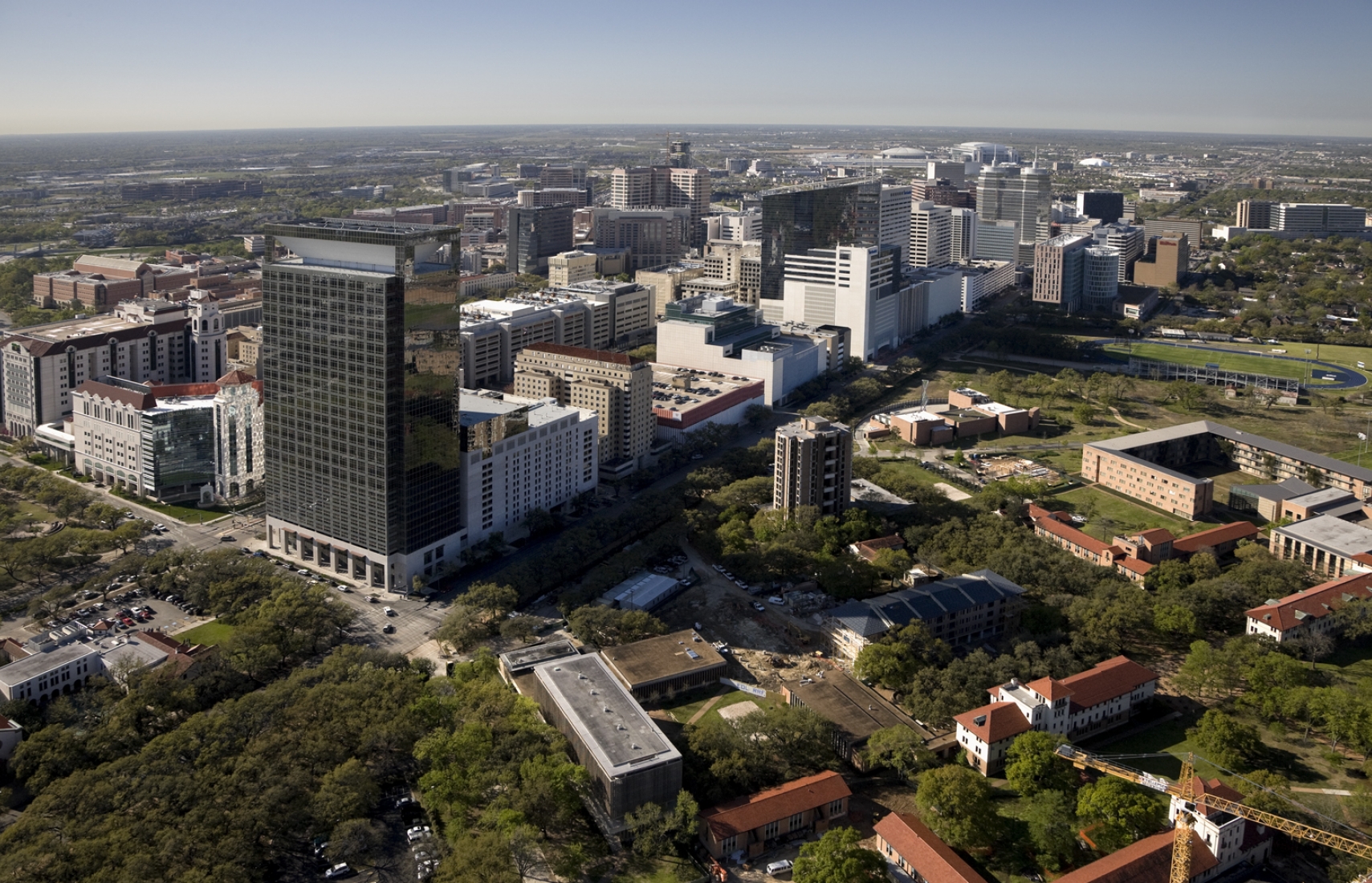 Houston is fortunate to have the world's largest medical complex – the Texas Medical Center (TMC). Home to the brightest minds in medicine, TMC nurtures cross-institutional collaboration, creativity, and innovation.
Roberson explained some of the history of the TMC. "It's an evolution of 140 acres to 1,400 acres and an exciting place where organizations are collaborating toward one purpose. Collisions are taking place between buildings in interstitial spaces. On any given day, you can sit for lunch and overhear incredible conversations about technological possibilities, medical device inventions or a collaboration opportunity."
"The amazing thing about this project is that it will be open to the public. Anybody can use it as a resource for collaboration."
– Abbey Roberson
She went on to discuss the highly anticipated TMC3 project – which will put Houston on the map as the third largest location in the nation for life sciences (after Boston and Silicon Valley). This 37-acre research campus will allow for integration of member institutions globally by facilitating the translation of fundamental discoveries into commercial solutions that advance human health. "The amazing thing about this project is that it will be open to the public. Anybody can use it as a resource for collaboration."
Lumsden suggested that, "Collisions are important. Sometimes individuals meet through serendipity, but space should be designed to help facilitate interindustry collaboration. People will come together here out of sheer curiosity with no pre-conceived notions of what can be done. That is the future."
"Environments where people can share their ideas are important," Dr. Pettigrew said. "Young people have unbridled creativity and imagination and need the tools and the opportunity to harness their ideas. Education is evolving and classrooms are changing to accommodate team-based, digitally immersed, inventive/experimentative learning."
"EnMed is a converged word and represents the bringing together of two disciplines to create something new that can greatly benefit the planet. Houston will lead in this effort by being home to the new EnMed school. Three partners cutting across three entities including Texas A&M University's colleges of Engineering and Medicine with Houston Methodist will collaborate. This is a bold new initiative whose fundamental purpose is to train an innovative kind of medical mind – a pioneering way of thinking about medicine and approaches to problem solving from convergence."
EnMed will produce Physicianeers – those trained to be top physicians as well as engineers – earning a dual degree in 4 years' time. The blended degree will allow Physicianeers to diagnose and treat disease from an engineering mindset. Students of the program are required to invent a solution to a healthcare problem by the time they graduate.
"These specialists are in a sense bi-lingual – thinking in multiple languages seamlessly – that is the goal," commented Pettigrew.
In the next few years, EYP will have several projects open that celebrate the idea of convergence, collaboration and collision. The EnMed building for Texas A& M University and the UT Southwest Brain Institute and Cancer Center are just two examples of projects adopting this trend of academic, clinical, and research space in one.
EYP has an opportunity to lead the way in sustainable energy.
The future is renewable energy, and our panelists believe this transition will happen in Houston. Dr. Dillingham explained how a clean tech infrastructure is developing in the city. "We are looking for ways to capture Co2 from our industrial partners and use it for other beneficial purposes. Regulations around natural gas and petroleum are changing. Texas has solar wind which creates a diversity of resources. Coastal wind and off-shore wind engineering will mean the ability to create off-shore wind farms. The built environment is trending toward power resiliency. There is a growing need for institutions and military facilities to island themselves and be independently resilient for days. Combined heat and power (CHP) systems, natural gas generators coupled with solar advancements are providing us less dependency on the grid."
One of the big takeaways from this symposium is how well positioned we are at EYP to take advantage of our expertise in education, health, science and technology sectors as well as our sustainability savvy in Texas. Through our relationships and projects in this community, we have incredible opportunities to make a significant positive difference in people's lives around the world.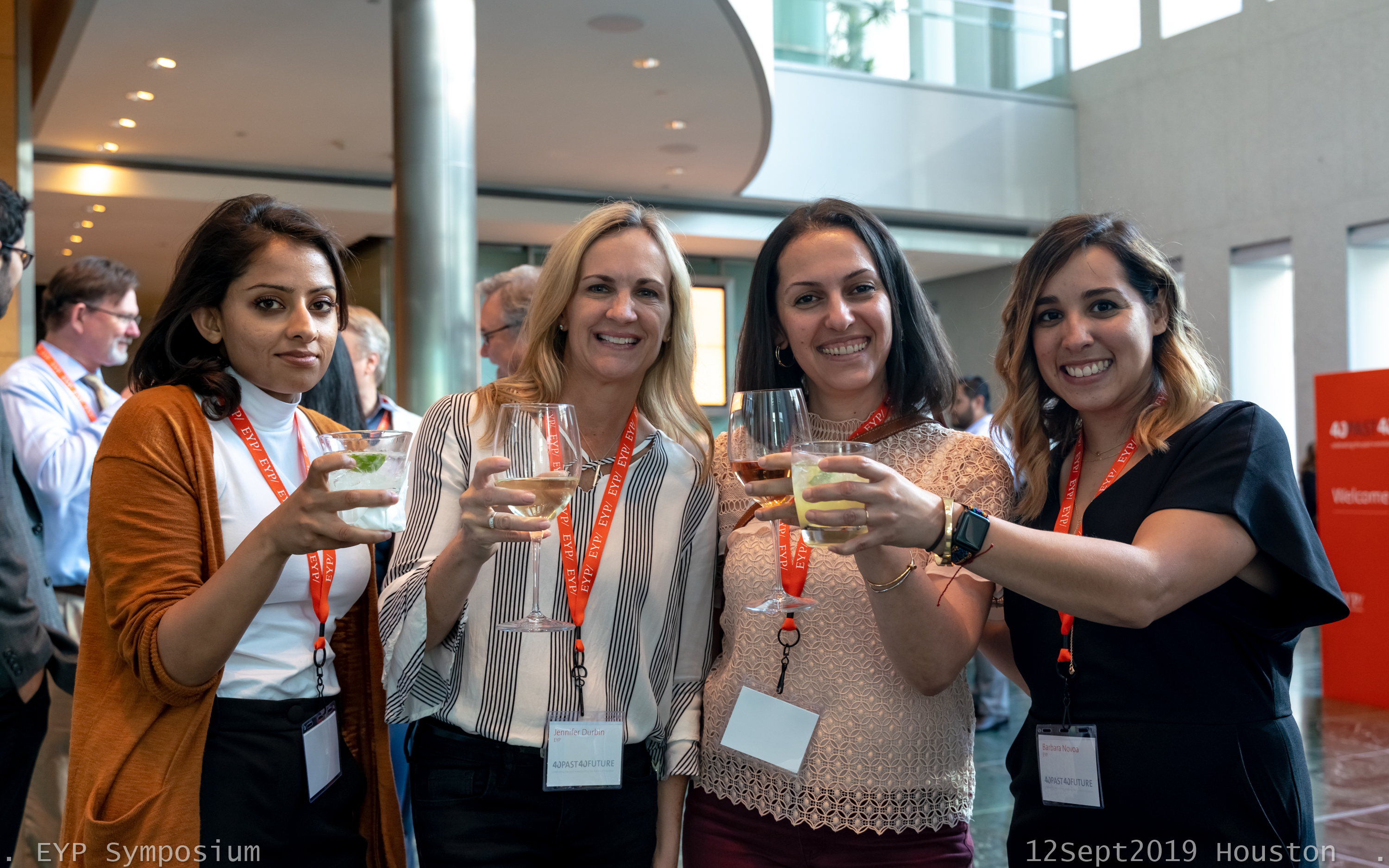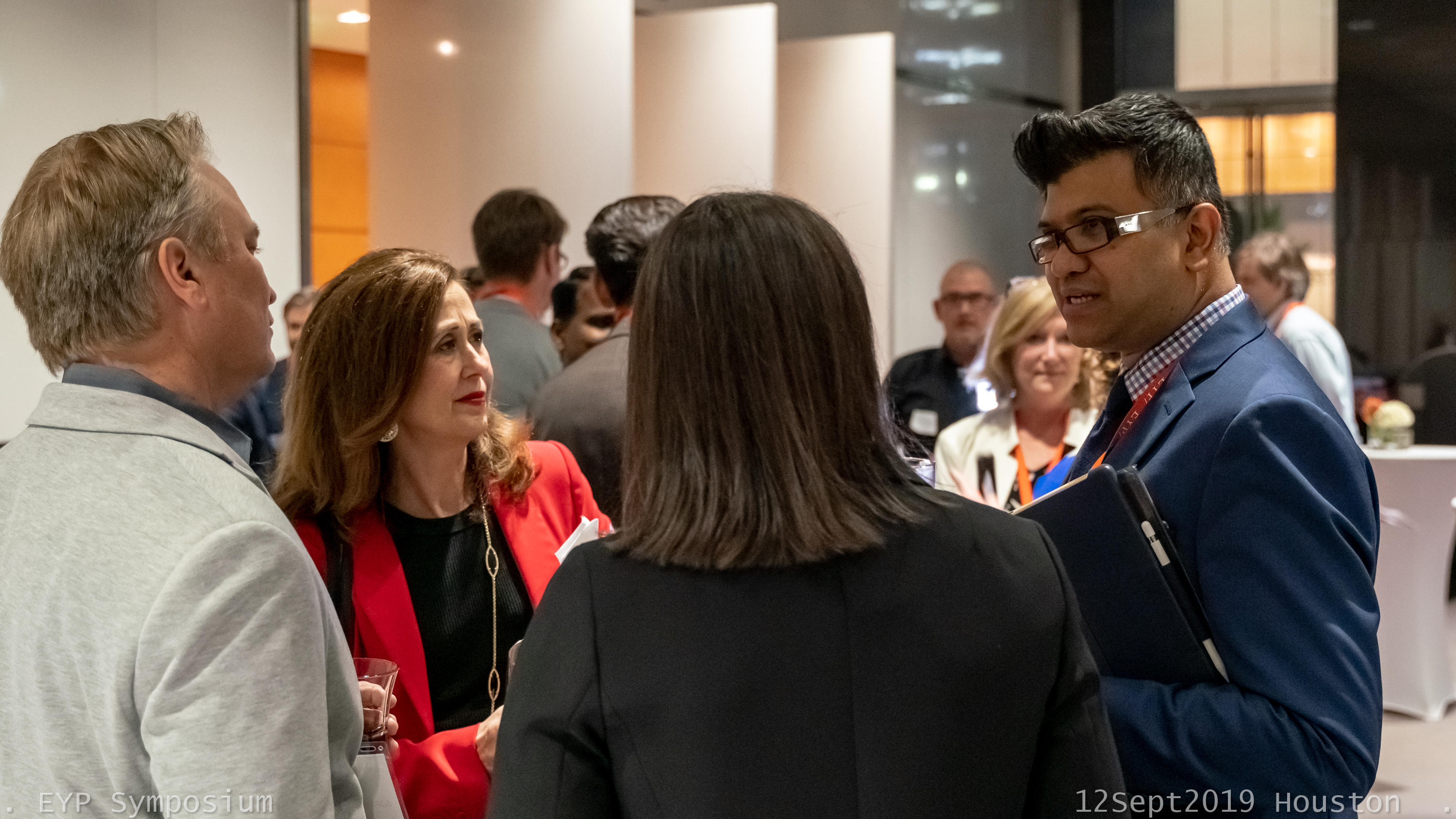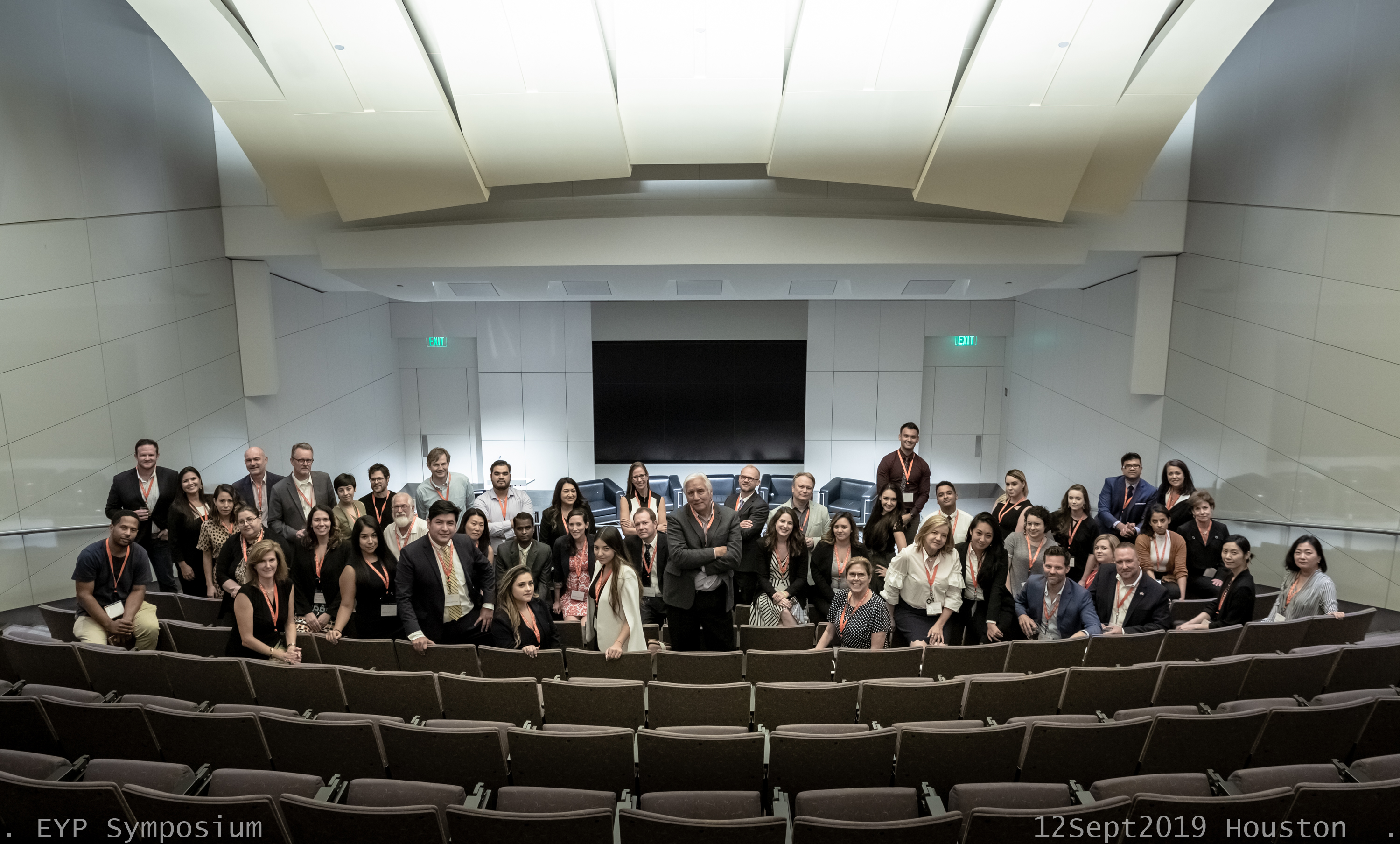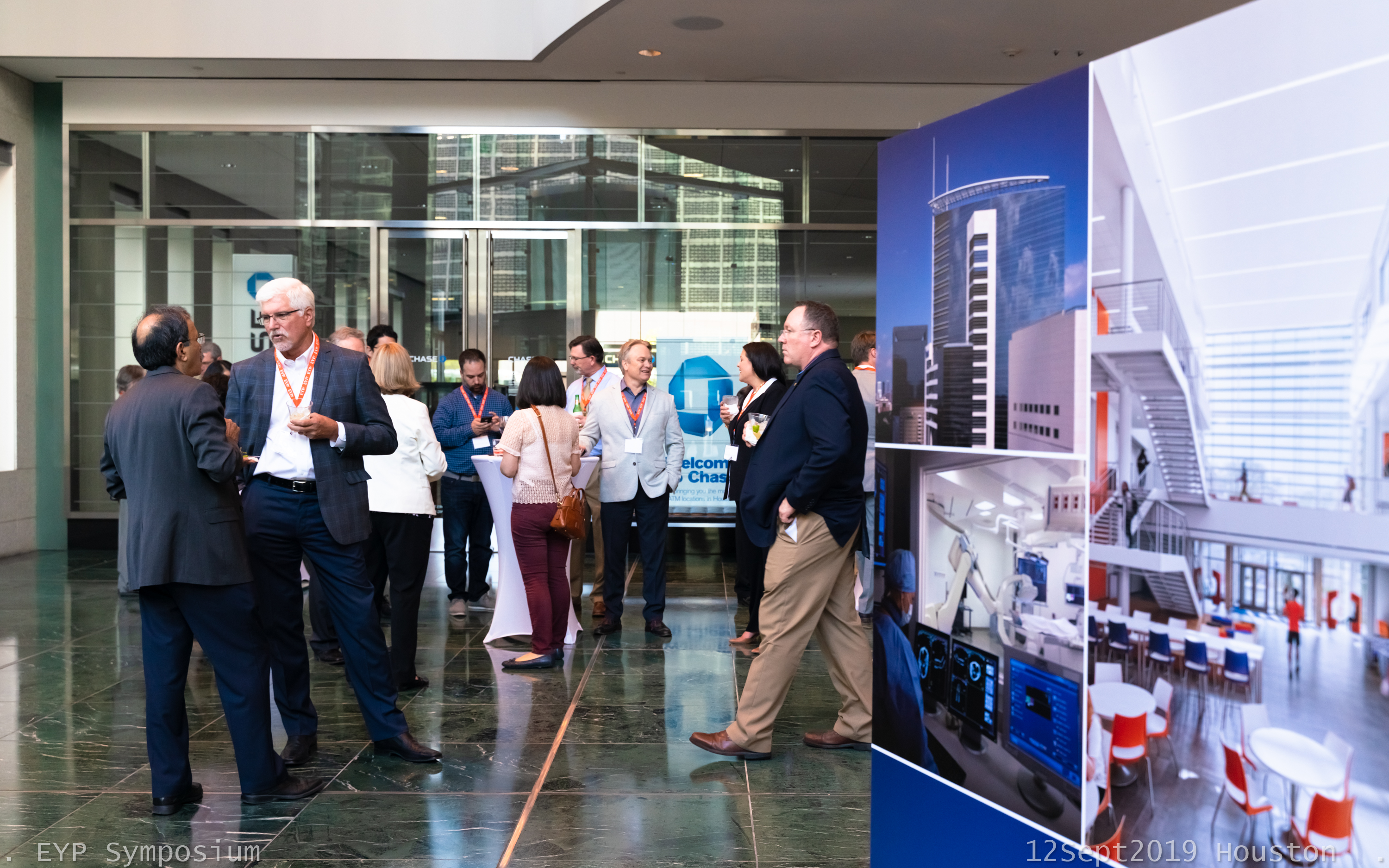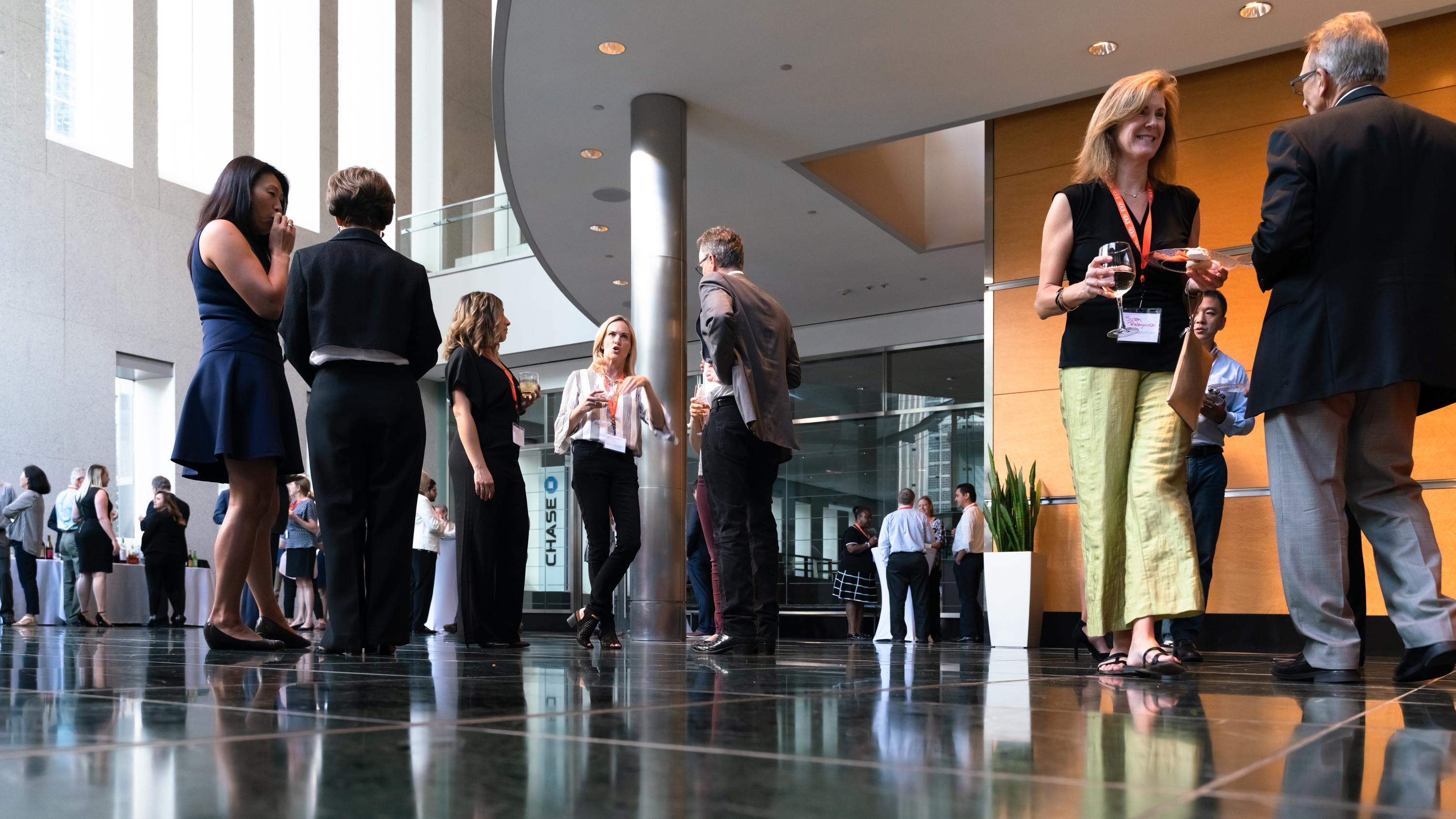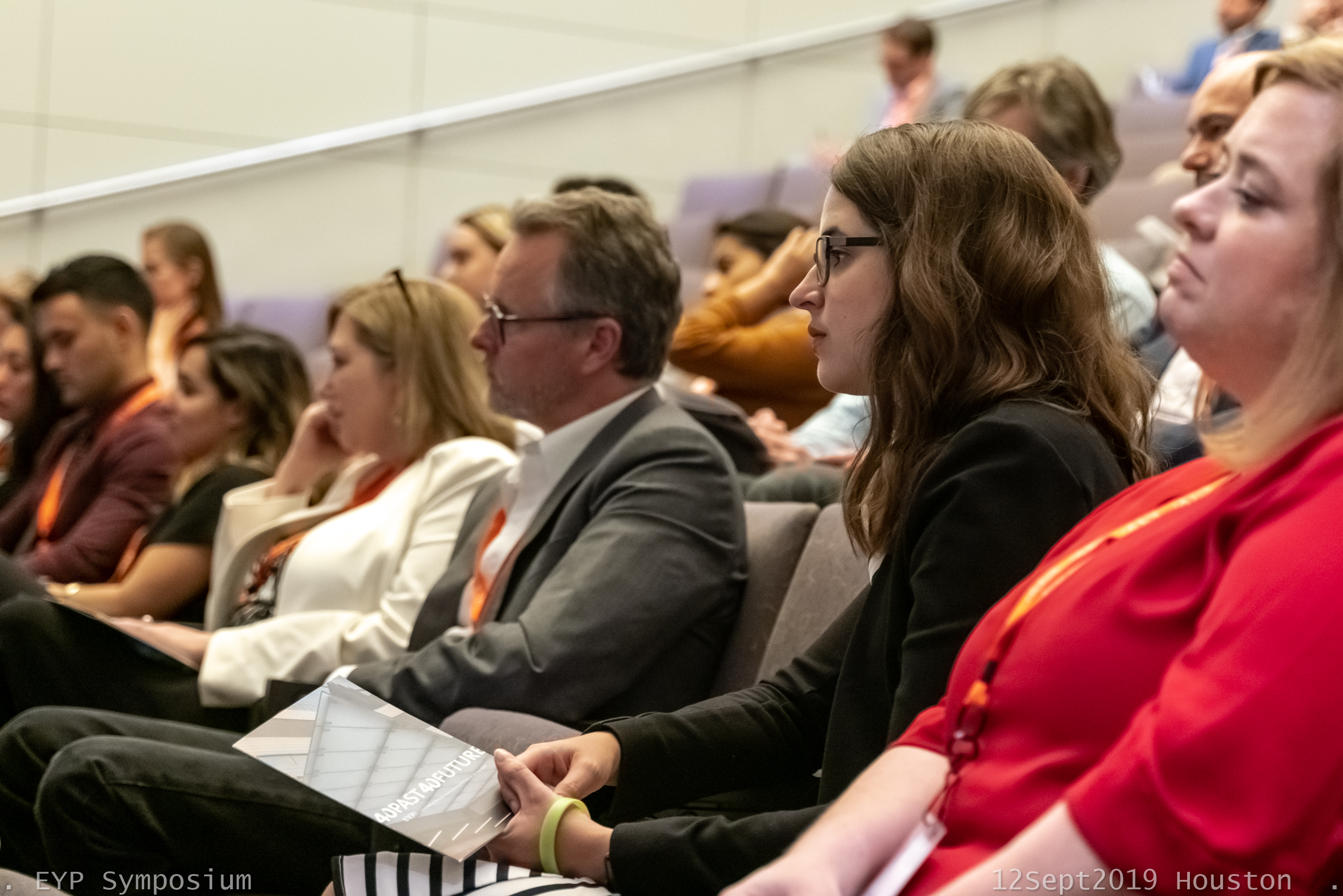 The panel was inspiring and interesting. The ideas of collision and convergence should be critical drivers as we plan for new facilities at our institutions. I am really struck by the idea of collaborative space for the meetings of the curious to spur innovation.

Gaurav Khadse, AIA, MBA