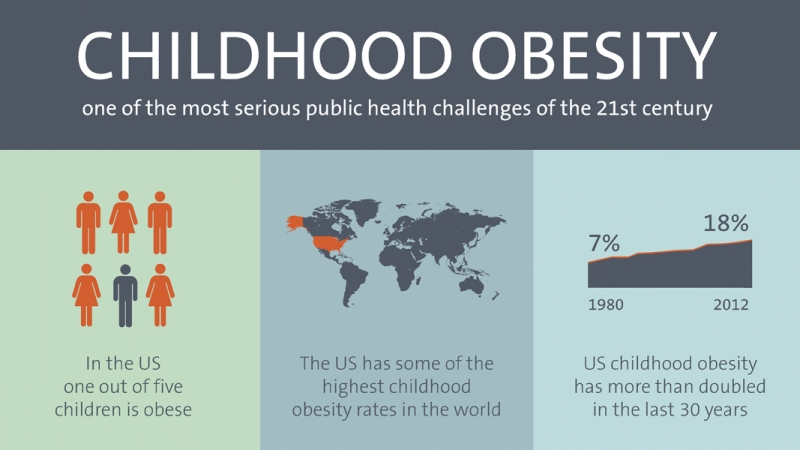 Childhood obesity is one of the most serious public health challenges of the 21st century.  To help address this complex epidemic at its roots – from genetics and poor diet to reduced physical activity – three notable children's hospitals have dedicated space to features not usually found in healthcare facilities: Teaching Kitchens
Hospital-based teaching kitchens function as the literal and metaphorical heart of diverse weight management programs at Children's Healthcare of Atlanta's Center for Advanced Pediatrics, Nemours Children's Hospital in Orlando, Florida; and The Children's Hospital of San Antonio. These dedicated spaces offer young patients and their families hands-on practice in preparing healthy meals, as well as lessons in nutrition and a positive peer experience – all strategically adjacent to their caregiving team. 
Nemours Children's Hospital: A Multimodal Approach to Sustainable Lifestyle Change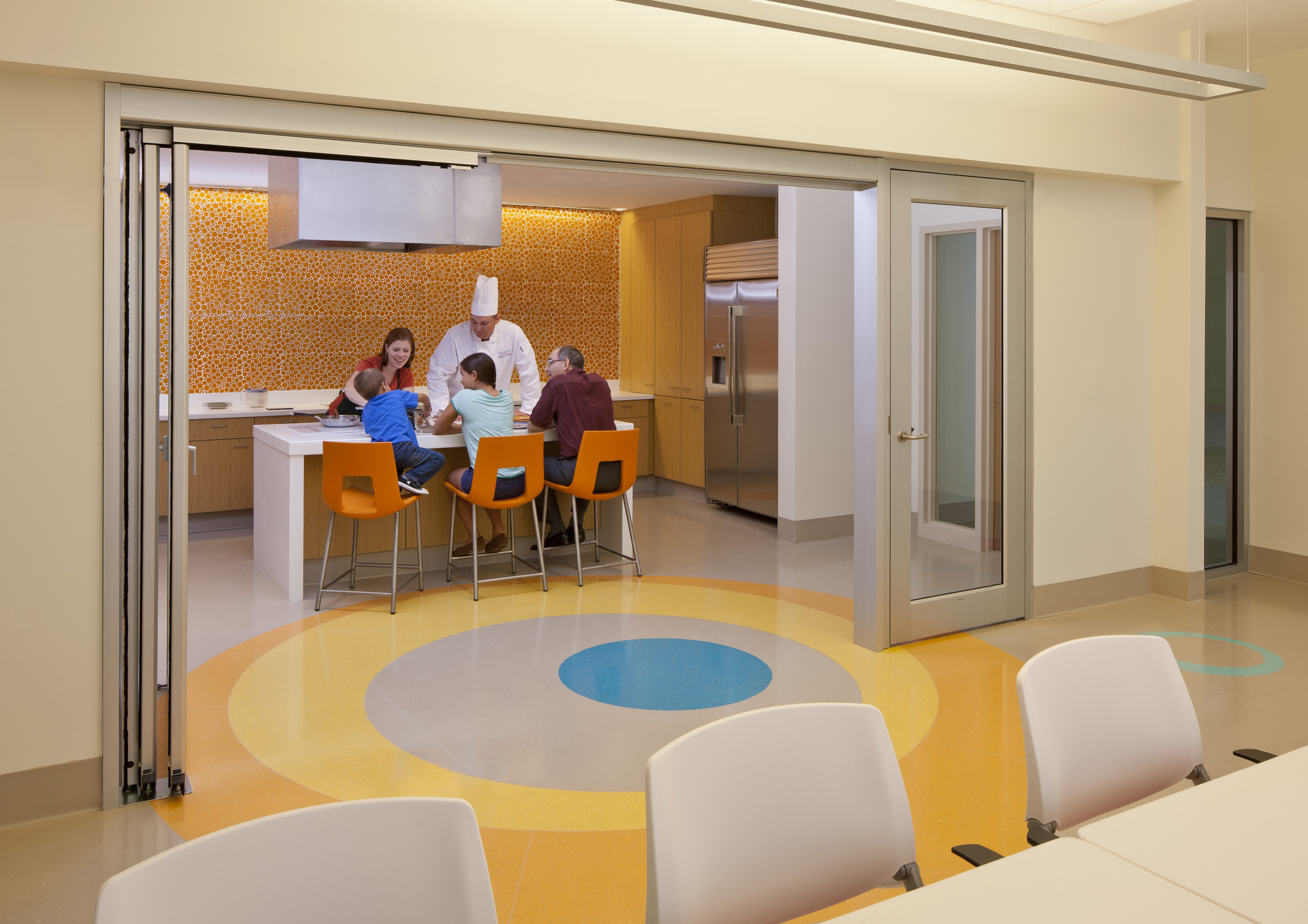 Nationally recognized Nemours Children's Hospital serves six counties in Central Florida, with many families traveling more than 50 miles for treatment and consultation. Nemours' multidisciplinary weight management team sees about 500 morbidly obese children and teens each year. The 12-month, multimodal program includes office visits every 4-6 weeks, biweekly telehealth coaching sessions, and hands-on group nutrition and cooking classes in a demonstration kitchen with its own vegetable garden right outside the door. 
Children take the lead in learning how to cook recipes that are not only healthy but also tasty, affordable, and simple to prepare. "Kids feel a sense of accomplishment as they learn how to cook and what different vegetables are," notes Mandy Layman, RD. "There's also a positive peer pressure as picky eaters – including adults – discover how good unfamiliar foods can taste."
"We designed multiple touchpoints and ways of communicating – from clinical appointments to group classes to personal online coaching sessions – to help patients develop sustainable behaviors," explains Dr. Lloyd N. Werk, Division Chief for Pediatrics. To this end, Nemours also offers yoga classes in a prominent suite off the main lobby adjacent to the kitchen.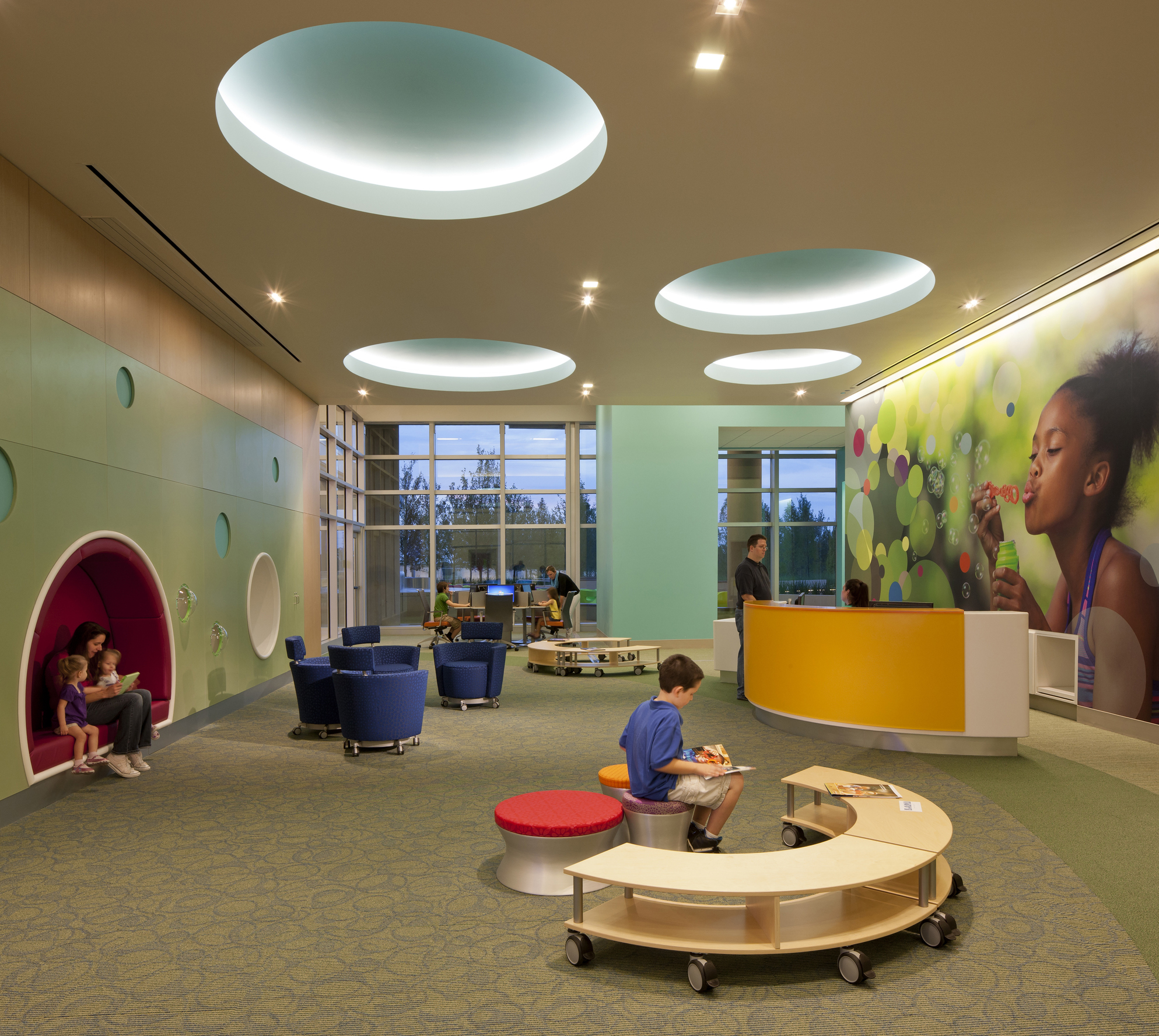 The Nemours Kitchen is making an impact well beyond the lives of those enrolled in its healthy cooking classes. The space is also an educational resource for the community, supporting public events like the American Heart Association's Heart Health Day and providing educational outreach on living with chronic diseases like diabetes. In addition, a new partnership with the University of Central Florida Medical School has created a rotation in Culinary Medicine for doctors in the Pediatric Residency program. 
The Children's Hospital of San Antonio: Spreading the Culinary Medicine culture across San Antonio
The Children's Hospital of San Antonio spent two years developing the CHEF (Culinary Health Education for Families) program and a proprietary curriculum of recipes, and educating staff about how the program could support clinical efforts. Since opening in 2017, the CHEF kitchen has gone from serving 147 patients to over 360 in 2018. Program Director Maria Palma, a graduate of the Culinary Institute of America, vetted recipes within San Antonio's large Latino community. "It's gratifying to see families bonding in the kitchen as everyone learns, cooks, and shares meals together throughout the series of healthy cooking classes. Parents often share that they had not thought they would enjoy cooking together (or that it was even possible) and that their children try and ask for more vegetables after completing the program."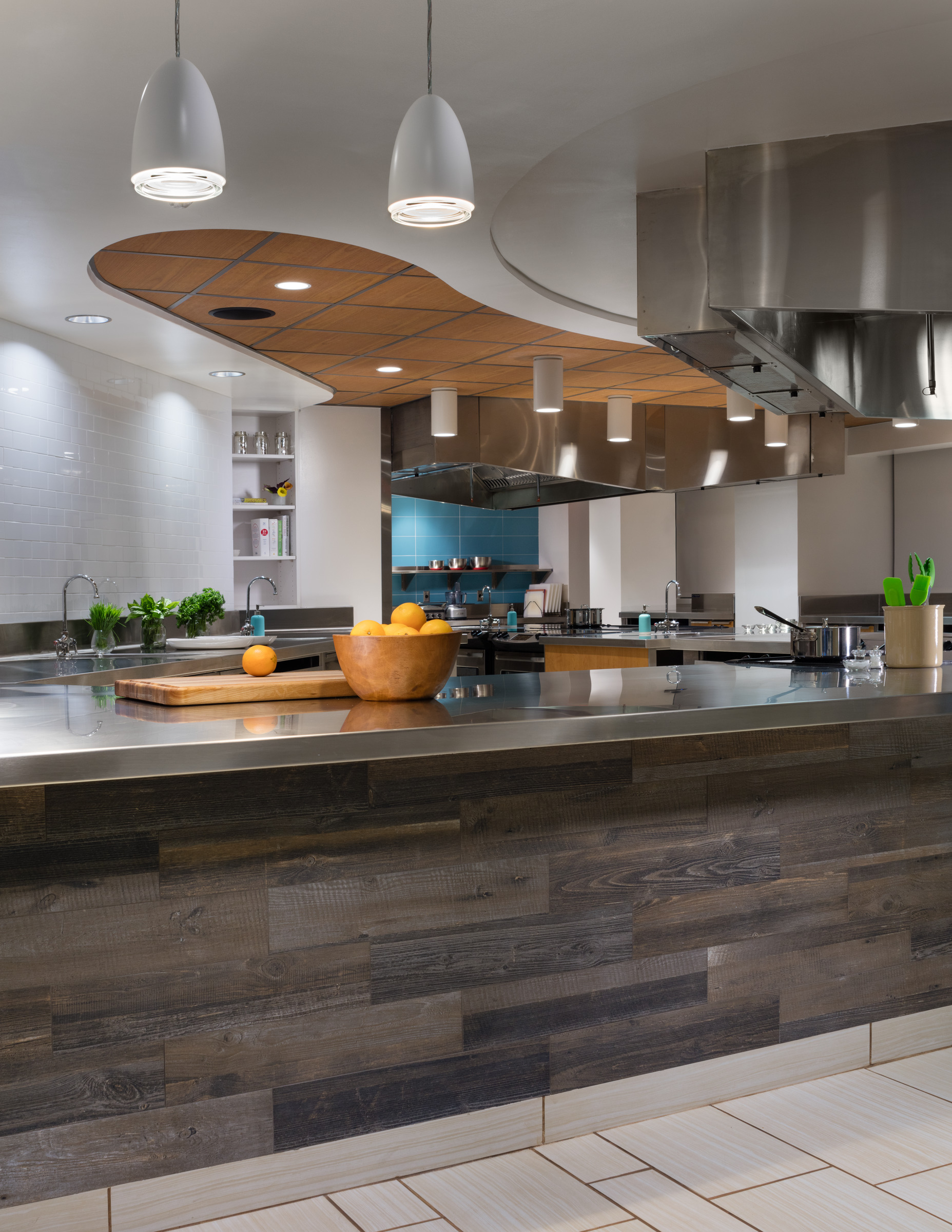 "Culinary medicine is a new evidence-based field in medicine that blends the art of food and cooking with the science of medicine. The objective of culinary medicine is to attempt to empower the patient to care for herself or himself safely, effectively, and happily…" John La Puma, MD, FACP, Clinical Director, Chef Clinic, Santa Barbara, CA
Like its counterpart at Nemours, The Children's Hospital of San Antonio teaching kitchen is the high-visibility arm of an interdisciplinary nutrition and healthy cooking program – a collaboration of clinicians, counselors, and researchers with dieticians and chefs. The kitchen is also the flagship for the city-wide CHEF program, which operates satellite teaching kitchens in locations including the San Antonio Botanical Gardens and local YMCA and Boys and Girls Clubs. CHEF's online resources and classes (offered at no cost thanks to the generosity of the Goldsbury Foundation) translate clinical and research knowledge into practical "bites."  
The Children's Hospital of San Antonio's CHEF team and its teaching kitchen have an impact beyond the local community through two clinical research programs. The Maternal and Fetal Medicine program is collaborating with CHEF to counsel Latinas with gestational diabetes. A collaboration with the Department of Oncology and Hematology is investigating psychosocial measures to help patients and families transition from treatment to long-term healthy eating habits. And reflecting the reality that obesity is both a public health and an equity issue, the CHEF program examines what keeps families from eating well, offering practical solutions to obstacles as basic as having no kitchen. 
Designing for Impact
Teaching kitchens can play an important role in fighting obesity and improving community health, but dedicated spaces of this kind are not yet the norm in hospital programs. While the kitchens at Nemours and The Children's Hospital of San Antonio share many features of demonstration kitchens, these active learning environments present designers with some distinctive challenges:
Child safety
Scaled for children as well as adults
Multiple work areas for hands-on learning
Family-friendly space
Architects from EYP collaborated with clinicians and staff at both Nemours and The Children's Hospital of San Antonio on unique, family-friendly designs to support clinical weight management programs as well as a variety of research and community outreach activities. 
The use of these teaching kitchens is evolving over time to meet changing programmatic needs. Both hospitals have developed rules and protocols to govern these non-traditional program elements, and both have shared lessons learned with peer institutions. For example, when Children's Healthcare of Atlanta was thinking about a teaching kitchen for the Center for Advanced Pediatrics, they turned to The Children's Hospital of San Antonio for insights.
Kitchen as Hub and Heart
Hospital-based teaching kitchens can function as the metaphorical heart of Culinary Medicine and clinical weight management programs. By empowering children and their parents to cook more healthfully, these spaces help bridge the gap between theory and practice, translating clinical expertise and research into actionable, sustainable lifestyle practices. As architects, we find the anecdotal evidence for the value of these non-traditional spaces compelling. We are committed to helping  healthcare professionals measure the impact of teaching kitchens and related program elements to inform future designs for the health and well-being of the next generation.