According to the Bureau of Labor Statistics, over half of the 20 fastest growing career tracks in the United States are health-related occupations. To meet this demand, Colleges and Universities have been responding to a need for additional space to support Health Education. The focus of training is also changing to reflect the trend in healthcare practice toward patient-centered care that is delivered by a multi-disciplinary team. This approach improves safety by reducing errors, and improves health outcomes via collaborative care. The associated term IPE, or interprofessional education, is pervasive in the dialog on the future of Health Education. Program growth, coupled with rapidly evolving pedagogies focusing on collaborative and experiential learning, demands sophisticated new facilities that promote team-based competencies and mirror real-world healthcare environments.
Designing for Interprofessional Education
designers must implement a specialized planning approach to develop a common vision that translates into effective learning environments and building design
More than ever before, Health Education facility planners are challenged to bring a variety of stakeholders together toward a unified team-based model of patient care, while maintaining and celebrating individual professional identities. They also need to meet a broad range of instructional requirements, support unique departmental missions and visions, overcome concerns about change, and plan for undefined future curricula. Ultimately, the IPE trend requires institutions to adjust their pedagogies to allow more engaged active learning methods, expand simulation opportunities, and to think about their spaces differently. To that end, designers must implement a specialized planning approach to develop a common vision that translates into effective learning environments and building design.
EYP's approach is to engage educators, practitioners, and administrators in a very transparent design process that breaks down silos and promotes a shared set of guiding principles for the project. These then become the inspiration for design, the basis for project decisions, and sometimes the priorities for facilitating compromise. Two recent projects, at James Madison University and Virginia Commonwealth University, brought together a variety of health professions into a unified building and offer contrasting examples of design solutions that were derived from this process to activate the spaces with interprofessional activity.
Maximizing space for the College of Health and Behavioral Sciences at JMU 
The building for the recently established College of Health and Behavioral Sciences at James Madison University allowed the consolidation of several remote departments in Health Sciences and Kinesiology along with expanded simulation spaces for the School of Nursing and more research space for Communications Sciences and Disorders. Faced with a limited budget, the new facility's design team was challenged to find opportunities for sharing to maximize program space and meet strict institutional standards for efficiency and utilization. The College's leadership helped foster change by actively embracing disruption of the status quo for each department's current operations.  Early meetings focused on promoting dialog between the departments to craft a shared list of objectives, which would become a touchpoint for decisions throughout the design process.  

The primary theme for the stakeholder group was to "showcase" interprofessional collaboration through transparency and visibility of key program spaces in the building. In addition, it was agreed that at least two departments would occupy every floor to promote more unplanned intersections between faculty and students from different disciplines. This mixing was balanced by assuring that each department also had distinct destinations throughout the facility that could be branded for identity and to increase students' and visitors' exposure to, and understanding of, varying specialty care areas. The resulting building organization is a carefully orchestrated mixture of program spaces that brings student traffic to classrooms and study lounge spaces in all corners of the building.  The circulation spaces are all highly activated; they terminate in dedicated teaming spaces and feature smaller nooks throughout to allow the conversation to continue outside of the instructional spaces.  Feedback the College gathered in the initial year of occupancy revealed that students were actually attracted to new courses and interests by being able to see the lecture content or simulation activities through view windows into the teaching spaces from the corridors.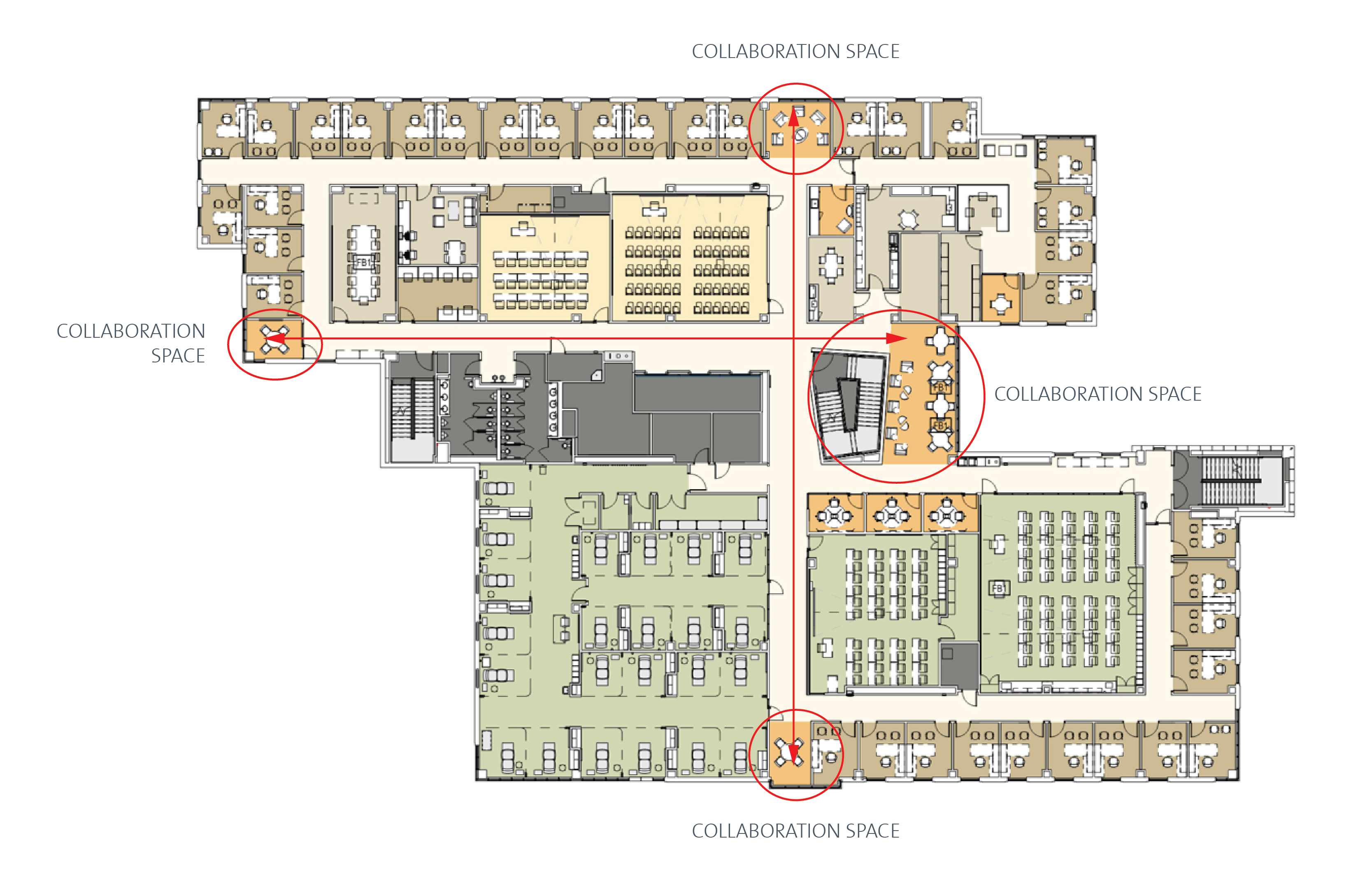 VCU's Allied Health Building: promoting cross-discipline flow
The College of Health Professions at Virginia Commonwealth University is a leading example of state-of-the-art interdisciplinary Health Education. The recently opened 154,000-square foot facility centralizes all 11 of the school's specialized academic units under one roof, uniting departments and facilitating student preparation for interprofessional practice. Featuring cutting-edge learning labs for human simulation, diagnostic technology, rehabilitation, therapy, and counseling education, the building enables students and faculty to collaborate in ways that were not previously possible. Designed in an engaged, transparent partnership with multiple stakeholders, the building's organization of space promotes cross-discipline flow throughout the building, and promotes the shared identity of the College, whose goal is to balance knowledge and skills acquisition with compassion, at the "heart of healthcare."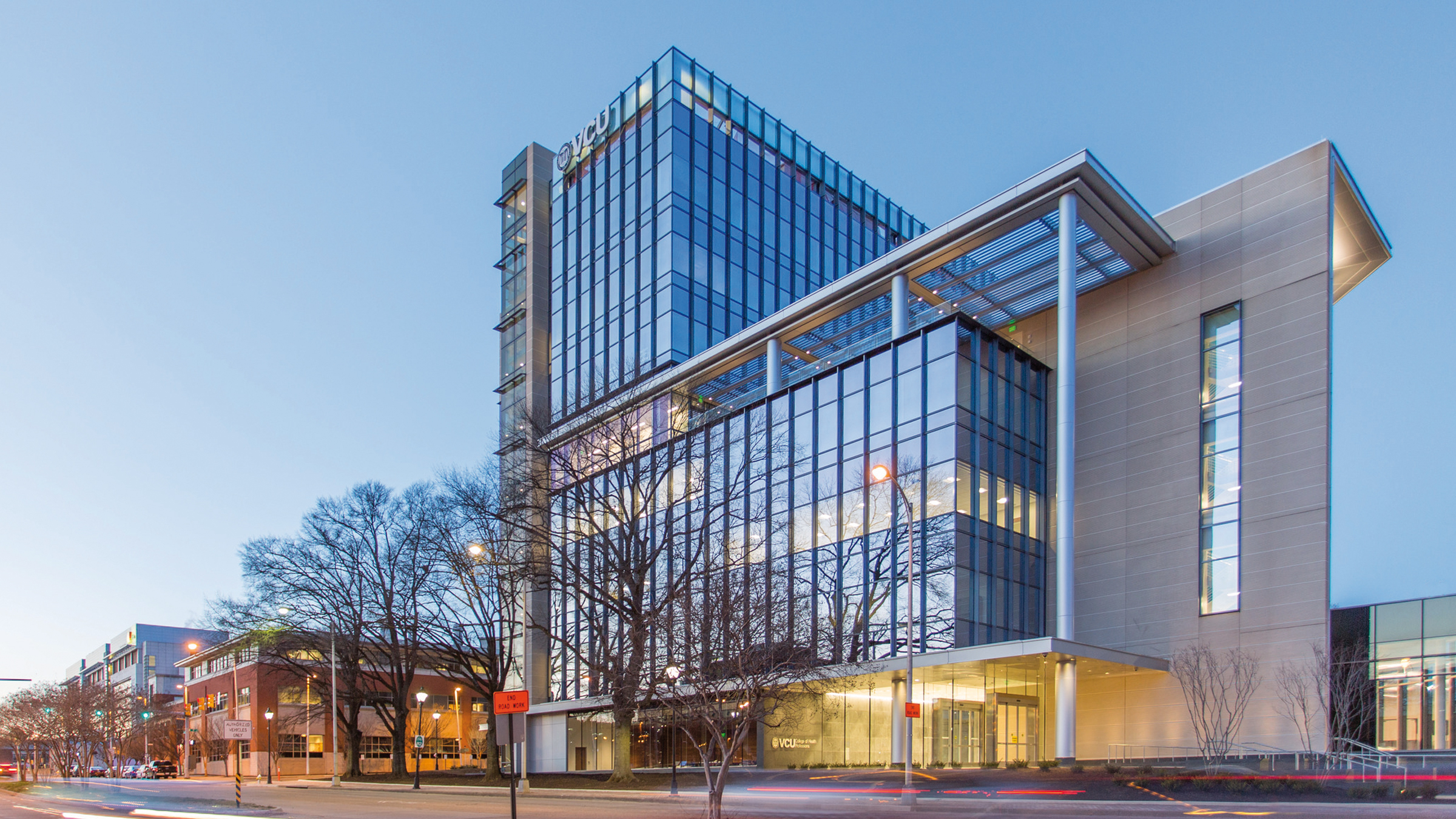 Alternative to the JMU project, where the departments were intentionally mixed on multiple floors, the VCU building design had to respond to the context of small site in a dense urban environment.  This high-rise solution organized each department's teaching, research, and office spaces together on an individual floor. This helped meet the College's priority of having faculty quickly accessible to their students working in the teaching laboratories. The first two stories formed the base of the building, providing the opportunity to expose the collective power of the departments' work together with shared spaces for interprofessional simulation, community outreach and advanced distance-technology classrooms. The Dean's office was intentionally located in this portion, to lead visitors past these areas to see and understand the combined strength of the Health Professions working together. In addition to a shared programmatic foundation, the remainder of the building features shared double-height informal learning spaces that connect the students and faculty from different disciplines. This organization is a stark contrast to the previous condition of the College, where each department was in a different building in downtown Richmond.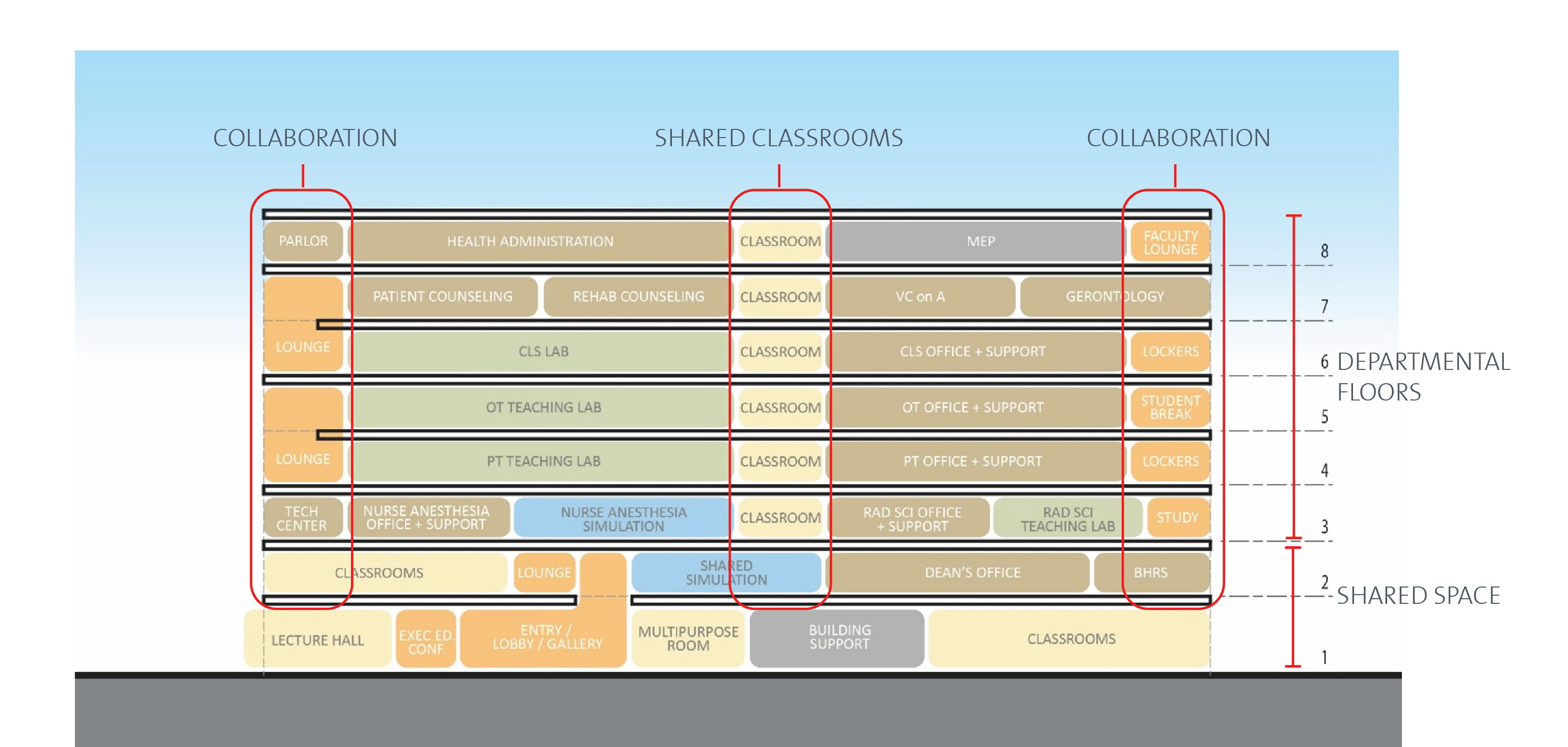 During the design process, stakeholders and designers met regularly in a dedicated "war room" on campus. Originally proposed to help meet a demanding schedule, EYP found that this strategy promoted a spirit of collaboration and innovative problem-solving in several ways. The dedicated project space, where meetings were held, allowed materials to remain in place and for a larger audience of participants to see and provide input on the progress of the work. In order to have rapid responses to ideas posed in the meetings, additional design team members worked in adjacent spaces on new materials that could be tested with immediacy.  The energetic nature of the space promoted additional brainstorming outside of the formal meetings; the designers and departmental liaisons often ate meals together and continued the discussion of project issues.
The Therapy Terrace is an example of an idea that grew out of a lunchtime conversation.  This rooftop space could not be very large due to code requirements for egress, but the University wanted to take advantage of the opportunity to provide an outdoor amenity. The group arrived at a solution where much of the larger roof could be covered with a raised planting bed that could be used by the adjacent occupational therapy classroom for training, as well as for the entire building community to come enjoy the frequently temperate climate and views of the surrounding city.
Interprofessional learning and bringing students together to learn in innovative ways is the future of Health Education. In many cases, there is an extra layer of balancing an academic institution's collective vision with the identities of individual departments. With strategic planning and a deep understanding of cultural and curricular drivers that impact teaching and research spaces, designers have the exciting opportunity to elevate interprofessional learning in creative new directions on college and university campuses.