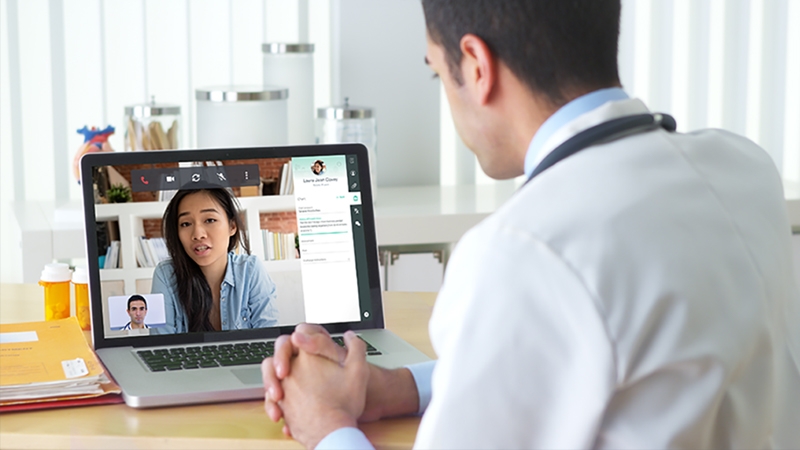 During the pandemic, telehealth visits nationwide have skyrocketed, especially among patients 50 to 80.
The percentage of older adults who had participated in a telehealth visit rose from 4% in May 2019 to 30% in June 2020, and rates now are even higher.
Reluctance to participate in telehealth visits has decreased. In 2020, far fewer people—24%—said they had concerns about privacy during a telehealth visit than in 2019, when nearly half expressed concerns.
Access is increasing, with 62% of respondents now saying that at least one of their health providers offer telehealth visits, up from 14% in 2019.
Correspondingly, healthcare facilities are requesting "telehealth spaces" as add-ons or newly designated areas. 
"We are assisting our client in creating telehealth spaces that can be used for remote care, but also on-site," says Miranda Morgan, senior medical planner, EYP Dallas. "For example, the clinician may be on level 8 while the patient and family are on level 6, but this segregation reduces the number of people in the room for a consult."
For many healthcare clients, expanding telehealth space is not about providing less space for face-to-face interactions. Indeed, in-office visits to doctors and specialists are bouncing back as hospitals and clinics reopen to elective surgeries, screenings, annual physicals, and routine check-ups and follow-ups.
Dedicated Telehealth Space
But there is a desire to create additional dedicated spaces for telehealth visits, which if done properly can be as effective as in-person visits in many cases, especially for routine check-ins (such as medication refills).
"I think the idea is, a physician, PA, or nurse in a clinical area may be fitting in a few telehealth appointments between normal appointments and they need a space where they can jump in and do follow-ups," says Cody Cartusciello, managing principal, EYP Dallas. "On this specific project the patients are all cancer patients, so we are talking about interactions where they don't need to do an exam but to talk about next steps, symptoms, and medication adjustments or refills."
One of the challenges, says Cartusciello, is that having a camera or screen in an exam space where patients are undressing, undergoing private examinations, and answering personal questions can be intimidating. Different solutions are being explored for this, such as a physical barrier that the medical staff takes off the camera or screen during use only.   
The facility requested that its telehealth rooms be as minimal as possible, about 80 square feet, with a table and two chairs, basic furnishings, and no branding in the room. "They can use digital branding depending on the physician, which allows for their affiliates to use the rooms as well," Morgan says.
This generic set up also gives them future flexibility, says Cartusciello: "We didn't want this to be a space they couldn't use for something else later, such as traditional offices."
Collaboration Alive and Well
As a teaching facility, Morgan adds, "our client does want these spaces to be large enough for two, since a telehealth appointment can serve as a consult or a teaching opportunity for a resident or fellow."
Currently, the care providers are seeing up to 35% of their patients through telehealth appointments.
This eases the burden for patients who would need to travel long distances to get to the facility. "Oncology patients, for instance, might have gotten an MRI in their smaller regional facility, but they are coming in from 90, even 200, miles out to get the scan interpreted. This way, you can get the diagnosis without the drive."
Healthcare leadership is looking at other uses for their telehealth system as well.   
For example, in clinical research trials, going over the information, and signing off on the paperwork can take up to two hours. "So one of the things they're exploring, especially during COVID, is having the patient and family in a consult room, and the research staff in the telehealth space to reduce the number of people in the consult room," Morgan says. "Otherwise, there would be far too many people gathered to provide safe distancing and segregation."
Pump up the Volume
Since sound and visuals are especially vital for telehealth success, the rooms will have a sound system and appropriate lighting solutions. 
"You don't want the healthcare speakers to be backlit," Cartusciello says. "If there is the option of perimeter rooms, having natural daylight behind the camera would be an ideal solution."
They have also been testing white boards, both tangible and virtual, so doctors can write down important points or illustrate to patients exactly what they are talking about and where it is in the body. One option even has a smartboard embedded in the camera system. "Surgeons love to draw," Cartusciello says.
And medical staff see this not so much as a WFH solution but a workplace efficiency solution. "More talked about being in their offices in another building than at home," Morgan says. "It's a way to socially distance even in the same building."
Since the pandemic, patients and medical professionals are more willing to accept telehealth as a solution after having more virtual experiences across the board—from schooling to happy hours to work meetings.
In the U.S., health care providers are seeing 50 to 175 times the number of telehealth visits they saw before the pandemic, according to a recent McKinsey study, and more than half of providers now view telehealth more favorably.
"People aren't as skeptical about it now," Cartusciello says. "Society has shifted to where it feels like a genuine interaction."
Family Support
A bonus: telehealth expands options for those whose families can't attend consultations or exams, due to COVID-19 precautions or because they live in a different state from an ailing or aging relative or loved one.
Morgan and her family have recently experienced the convenience and benefits of telehealth personally.
"Over the course of the Covid-19 pandemic my 69-year-old dad has been going through surgery and treatment for prostate cancer in New Orleans," she says.  "With the new rules in place, the family was not allowed to go to the doctor with my father. But through telehealth, we were able to hear the diagnosis, ask questions, and be virtually present for my dad.
"It helped us feel included and supportive."