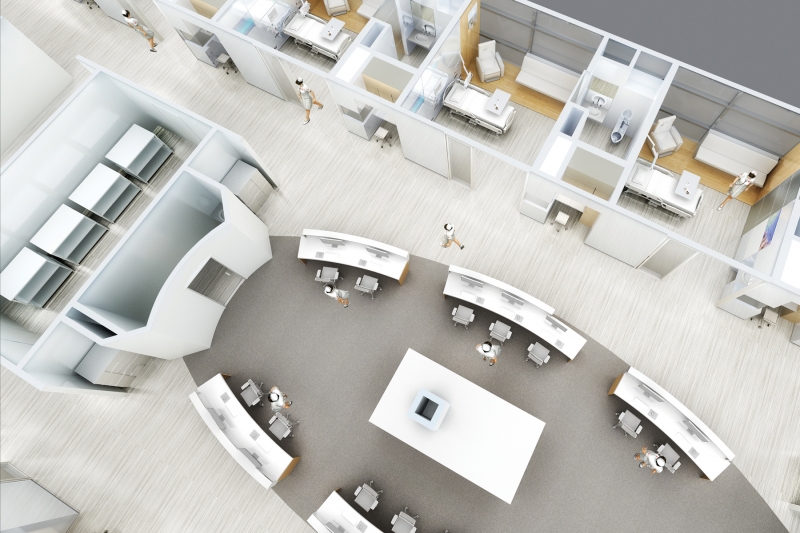 Throughout this time of uncertainty, EYP architects, designers, and planners are regularly checking in with our healthcare clients, asking how we can be of assistance.
"Our strength is in problem-solving," says Tushar Gupta, managing principal, EYP Houston. "From inception, to programmatic exploration, to the physical manifestation. This is one of those challenging moments, where there is the need for an immediate response."
Client responses have run the gamut from the need to increase bed capacity by creatively repurposing spaces, to putting up fencing around a FEMA portable morgue unit for privacy, to drafting plans for turning a hotel into a Fangcang shelter hospital.
The commonality behind all the requests, says Don Glitsis, principal and project executive, EYP Atlanta, has been a need for "agility and innovation."
"Our role, as a trusted partner, is to use our expertise to help with the specifics. Our clients are looking for guidance—how do I do this quickly and effectively while honoring the necessary guidelines?" Glitsis says. "That's where our creativity comes in, helping them understand from our perspective, here is where the latitude is, here are the guardrails. We can provide the calm, even-handed, overarching guidance that allows them to run forward with energy and vigor. After all, if you're running in the wrong direction, it doesn't help anyone."

At our peak resource use as a nation, the Institute for Health Metrics and Evaluation's COVID-19 projections estimate that we will be short more than 15,000 hospital beds and 9,000 ICU beds by mid-April. The site also gives projections for when each state will peak, with states such as Washington having peaked already and states like Florida and Texas peaking later in the month.
"Who could imagine a virus could do this to nations around the world?" says Tushar. "While it is important to deal with the here and now, it is also important to be thinking ahead, so that we are far better prepared next time. Architects have a role in leading that discussion."
Despite being in uncharted territory, which is deeply unsettling, the kind of community support and volunteerism that is revealing itself day after day is heartwarming, says Kimberly Stanley, senior principal and health care sector leader, EYP Atlanta.
"It is incumbent upon architects to become part of that volunteer story," she says, "using our knowledge of hospitals, emergency and critical care units, isolation rooms, and mechanical systems to strategize about expanding the footprint of what is needed—to be an extension of our clients' organizations and help solve problems that hospitals are facing in real time."
We will be sharing some of these special projects over the next few weeks. Serving our clients in these troubled times is especially rewarding. We honor everything they and their medical staffs are doing to serve their communities and the country at large.