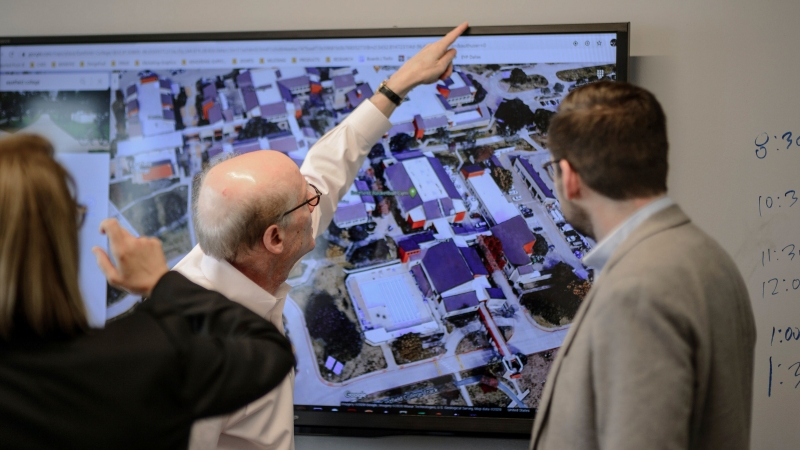 Despite the many metaphors assigned to it, SARS-CoV-2 is not an advancing army, signaling which direction it will go. It is not a tsunami, sweeping over land and dwellings before inevitably returning to sea.
No, the novel coronavirus that causes COVID-19 is invisible and unpredictable.
Preparing in the midst of uncertainty is always a daunting mandate. But that is exactly what EYP's clients and, in turn, EYP experts, have been called upon to do since mid-March, when it became clear that a COVID-19 pandemic might simultaneously spread throughout the U.S. and shut it down, as it had other countries.
Flexibility and innovation have become make or break qualities in this new environment.
On a national scale, says Tushar Gupta, managing principal, EYP Houston, the firm has been helping healthcare clients by "offering our assistance to raise-the-line and increase capacity."
Medical centers across the country were preparing for an unprecedented surge of extremely sick, infectious patients with little idea as to exactly when, and even if, they would arrive.
Consider: As everyone warily watched urban hubs such as downtown Atlanta, the small city of Albany, Georgia, three hours south of the metro area, experienced the fourth-worst outbreak of coronavirus per capita in the U.S. and saw its hospital overrun by patients in the first weeks of April.
As well as assisting clients, Gupta and others at EYP reached out to local mayors and government officials, volunteering to consult on strategies to ready their cities and towns. "This was one of those challenging moments that required an immediate response," he says. "Natural disasters, we know how to respond to. This was a paradigm shift."
Surge planning for the pandemic by EYP experts involved:
Creating new bed capacity by studying the use of large convention and conference centers and the likelihood of being able to create MASH style units
Feasibility studies to convert hotels/motels into COVID-19 "shelter hospital" spaces
Converting large parking lots into temporary testing units
Repurposing student dormitories into temporary patient rooms
Increasing ICU bed capacity by converting private ICU rooms to semi-private ICU rooms
Houston Methodist Hospital, which enlisted EYP during previous disasters such as hurricanes and flooding, asked the firm to come up with several options that would enable it to increase capacity.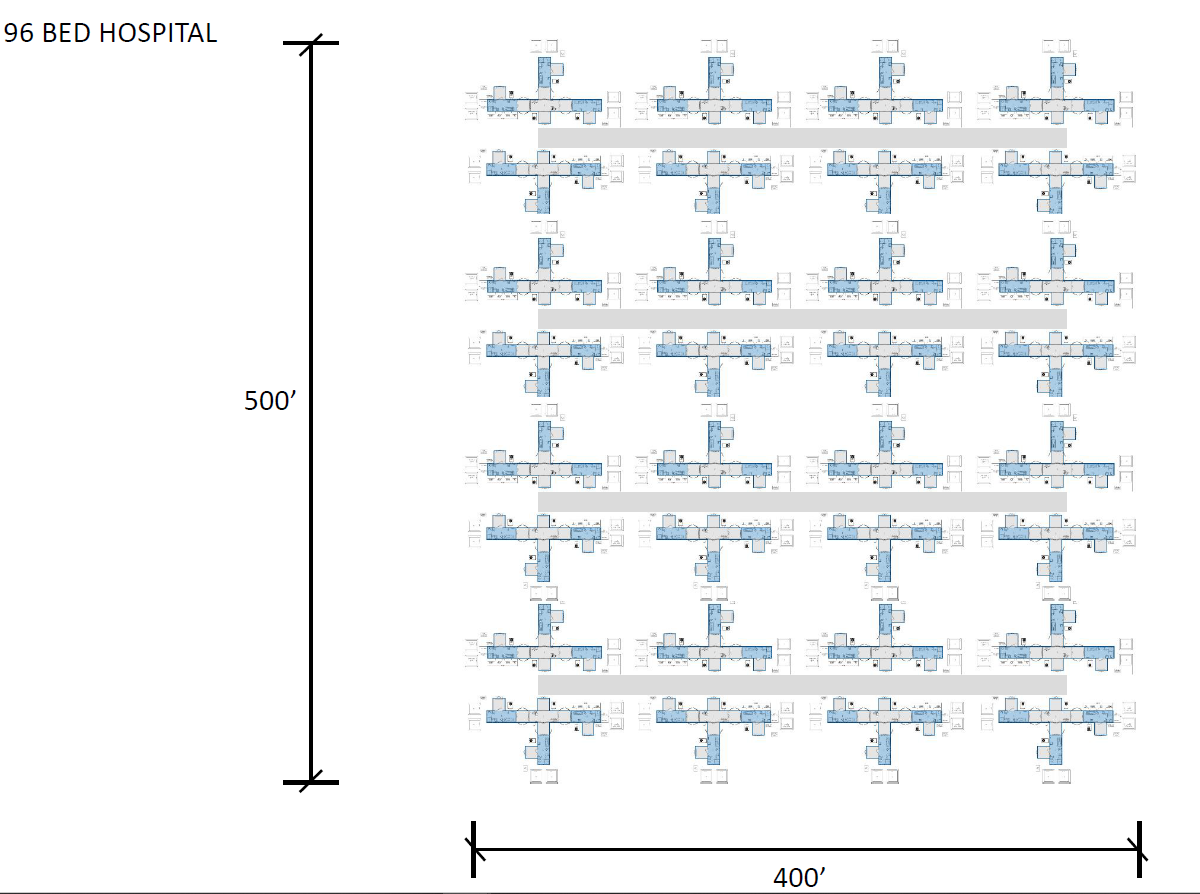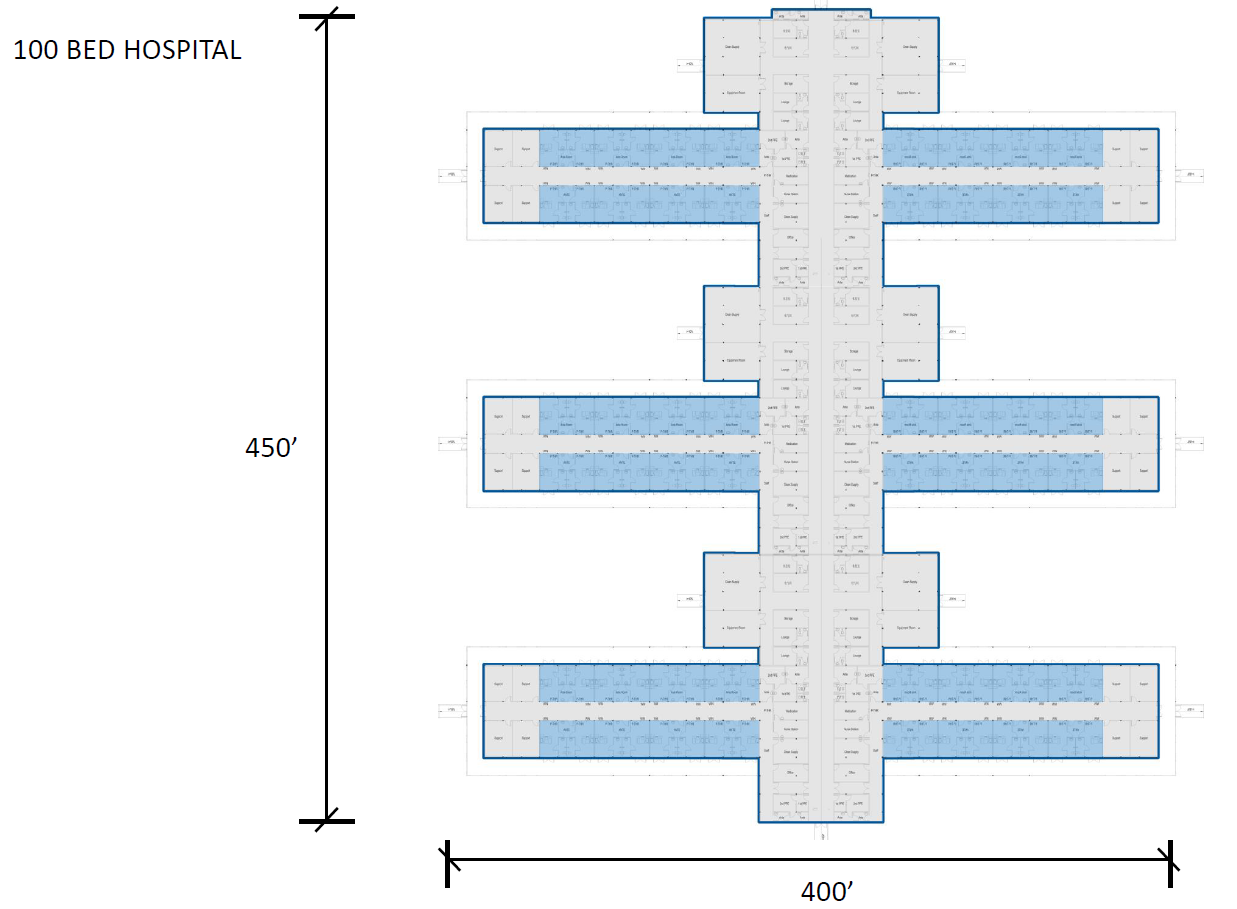 "Given the land constraints in the Texas Medical Center campus, we quickly zeroed in on one of their community hospitals on the west side of Houston with a large parking lot," Gupta says. "We explored ideas for temporary shelter with prefab units, and trailers assembled like Legos around the hospital, for around 100 additional beds to start, which could be added to quickly."
Another client, Stamford Health in Fairfield, Connecticut, built a new hospital on site replacing existing patient beds located in the Wheeler building. "They had the existing building decommissioned three years ago but had not demolished it yet," Gupta says. "On a call with the Stamford Hospital leaders, reactivating this building as an alternate care site was the first thought that came to mind. Indeed, the National Guard helped out in early April at Stamford Hospital to recommission the Wheeler building to help meet extra demand brought on by the coronavirus pandemic."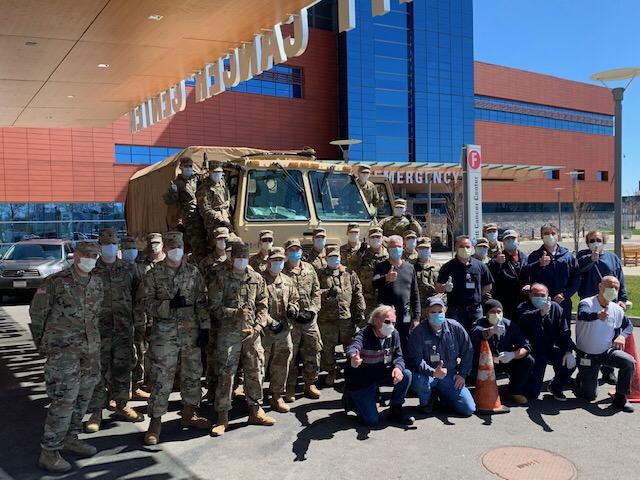 Some clients favored having the additional space adjacent to their hospitals when possible, rather than at alternate, free-standing sites. "That way, they're not duplicating support services, linen, food, pharmacy, labs," Gupta says. "The only thing we are really doing is building a backbone of patient wings. The hospital becomes the supporting mechanism. You didn't have to create all the additional infrastructure."
Healthcare clients were hoping not to see the worst-case scenarios take form, Gupta adds. "But the planning had them well-positioned. Our work gave them assurance."
It's not about being perfect, it's about saving lives
Being able to switch from methodical, cautious, and "by the books" to quick, efficient and adaptable as the COVID-19 pandemic rages can mean lives saved. "We are a trusted partner to our clients, and they are looking to us for innovative ideas. We quickly learned to have both Stage 1 and Stage 2 strategies," says Akshay Sangolli, managing principal, EYP Denver.
For instance, "we had many conversations centered around creating more beds, more ICU rooms, more space, even if it's away from the main hospital. But what we learned from New York, who was further along on the curve, was that they didn't even have the staff they needed. So it wasn't so much about creating auxiliary locations as maximizing the infrastructure they already had."
"We co-designed a $714 million expansion for a healthcare client in Hackensack that highly values patient experience," he says. "And yet, COVID-19 forced them to create 74 beds in the cafeteria to be able to treat a potential surge of patients. That was an 'aha moment' for me."
The first step for many clients, Sangolli says, was converting ICU rooms from single to double occupancy. "Our team studied the feasibility of doing this at 10 UCHealth campuses in Colorado as well as the Billings Clinic campus in Montana," he says. "We can double up many rooms, but not all. Before you start ordering beds you need to look at the physical footprint, the floor plan. Can two beds fit? We need to think beyond the FGI requirements, which prescribe five feet clearance on the transfer and foot side of the bed, but realistically consider three feet to pull equipment like a ventilator and crash cart. In the worst case you would have a bed up against a wall."
Many state departments of public health have issued guidance to permit the use of alternative acute inpatient spaces to care for patients during this public health emergency and are willing to accelerate any requests to license units in buildings that are not currently licensed for hospital services. 
During a pandemic, it isn't about what is ideal or even best practices, Sangolli says. The question is, what is possible? "We realized there is capacity in prep and recovery areas. ORs can fit two to four patients. In working closely with the engineers, we are trying to understand which rooms can be safely converted to negatively pressurized Airborne Infection Isolation rooms in addition to those already designed as negative-pressure rooms."
Any adaptation must keep larger interior air flow patterns in mind. "You have to maintain pressurization and pathways," he says. "Even if you have contaminated air in the OR, the medical team doing surgery is in PPE. But not circulating that air into the rest of the hospital is of utmost importance."
Mark Vaughan, national director of medical planning and senior principal, EYP Dallas, who worked with Sangolli on EYP's "SWAT" team responding to clients' emergency requests, says more than anything else, we want to convey empathy for what they are being called to do in this crisis, which is taking care of people, many of whom are critically ill.
"This means simply being willing to jump in to help where needed, including listening to their needs, studying potential options for consideration, and brainstorming ideas of how other non-clinical areas could be used to expand acute care areas. We all have been sharing and forwarding what other health systems have been doing that they might consider. Now is a time to share information for the common good."
Agility and innovation are key
The ways we are helping our clients on health campuses during the battle against COVID-19 are diverse, says Donald Glitsis, principal and project executive, EYP Atlanta. "But the headline is agility and innovation—whatever our clients need to get a targeted response and hit a specific goal."
For instance, increasing bed space and surge capacity isn't always as straightforward as it appears and the number of extra beds requested or even possible varies wildly per client. In a pandemic, though, even a single, additional ICU bed can be an all-important factor in saving multiple lives.
"We've been working closely with the campuses of Northwell Health, the largest healthcare provider in New York state, with 23 hospitals and more than 72,000 employees. Its CEO, Michael Dowling, has been helping New York City put together its plan for how to address this issue," Glitsis says.
"We've also partnered with Peconic Bay Medical in Riverhead, Long Island," he says. "The facility had 12 new ICU beds; the floor was designed for 16 but they couldn't get it through the Certificate of Need process and those beds were in suspended animation. Due to recent events, the government stepped up. We had been fighting to get these four additional ICU rooms for two years and suddenly, we were challenged to get them through in a week. We helped the local campus and the enterprise put together an updated package to get it approved. Those rooms are operational today: 12 to 16, increased by a third."
Glitsis shares another anecdote that speaks more to helping ease the anxiety and emotional strain of these frightening days: Staten Island University Hospital, on the north campus, was building a new central energy plant. In response to the pandemic and the ever-rising death rate, FEMA required a portable morgue be placed near the hospital. "So, one day, this gigantic trailer shows up at our loading dock with a refrigerator trailer, this strange black box," he says. "The rumors on the construction site ran rampant."
FEMA's intent was to be prepared, but it was interpreted as a bad omen, a dark harbinger smack in the middle of the work site, and it was making the construction crew uneasy. "We reviewed options with the owner and contractor, and quickly built fencing around the trailer so that the workers felt that there was at least a barrier, physical and otherwise, around this necessary but forbidding oddity," Glitsis says.
Another challenging aspect of dealing with an historic event is a continuous reordering of the schedule of events. "That puts a lot of pressure on us and our clients," he says, "because what happens is when something unexpected goes wrong, the priority for our facilitating and assisting dramatically changes overnight."
On this project, the pipefitters were set to put in HVAC piping that was "gigantic, astronomically expensive and needed scaffolding," Glitsis says. "The work was critical path. But because there had been a case of COVID-19 on another site, the subcontractor wisely wanted to regroup and adjust their policy on site protection, so they pulled everyone off the project."
There's only one thing to do in a case like that: Determine the next critical path project. 
"That tests the agility of a project team—to regroup and respond literally in a day. One project is frozen, but what we're building is an essential structure. The contractor sent a list of new priorities and we set about planning how to deal with those while the other one was parked. At that point, you just have to be grateful that we're able to work.
"Essential service work is so rewarding, but there is a latent stress associated with not really knowing exactly what's going to happen—is it going to affect our site today? We don't know."
Since FGIs are used as requirements on a lot of building sites, architects are invaluable at being able to provide guidance. "The client wants to know, how do I honor the guideline but also do what I need to do, and get it done quickly and effectively?" Glitsis says. "That's where we come in." 
On the fast track
Cody Cartusciello, managing principal, EYP Dallas, said his office reached out to all their healthcare clients, most of whom had emergency responses in place and were prepared for upscaling.
"Saint Francis Health System in Tulsa, Oklahoma, was already moving forward with construction, so they were modifying on the fly, trying to get the project done as soon as possible," Cartusciello says. "Along with the construction team, we are assisting with anything we can to facilitate fast-tracking the project, while adding further isolation features so more spaces can be converted to COVID-19 wards."
This might take the form of additional vestibules, temporary exhaust for the makeshift isolation units, converting office space or auditoriums into patient bays and setting up temporary field units for triage or milder case patient care.
At the same time, other projects have slowed due to the necessity of having less than 10 people on site at a time, taking temperatures when workers enter and leave the site, and the need for masks and other PPE. "There's a big focus, clearly, on not bringing coronavirus onto the healthcare campuses," he says.
In many states in the US, the number of COVID-19 cases is still significant.
"I was speaking with one of our groups today and we were all talking about how it feels like there's a war going on, while you're staying at home," says Cartusciello. "We work with doctors and nurses and PAs and medical teams and know what they are up against. We are all wanting to help out as much as we can. We may not have been drafted but we are eager to serve."
But first, mask up
Even before guidelines for wearing face masks emerged, EYP was 3D printing masks and shields "with the intent to have them available for our staff that are going to job sites as part of essential services," says Gupta. "We are using the Montana mask, which comes from an open source file that our Billings, Montana, client put on their website. The shield model is found here."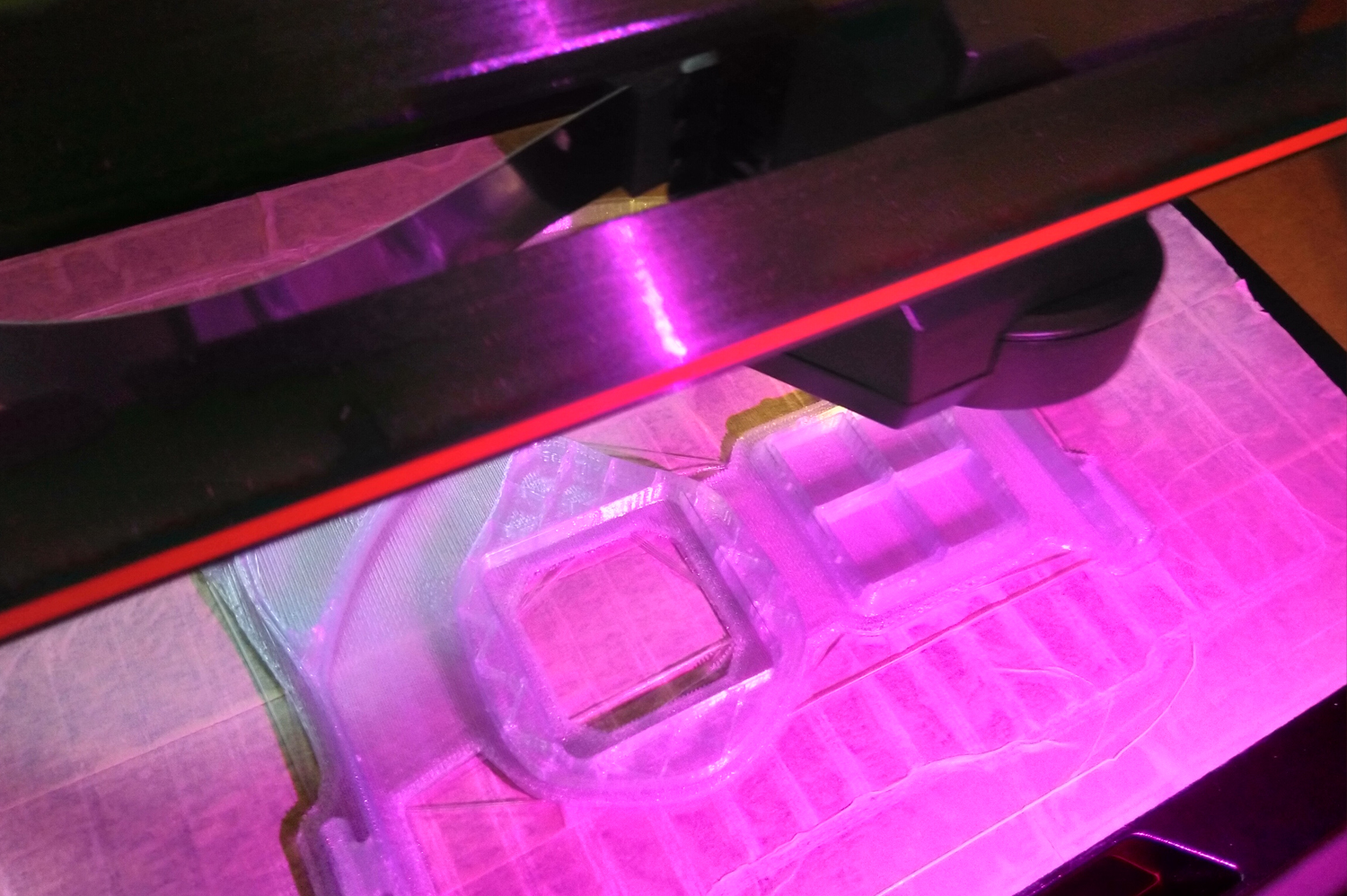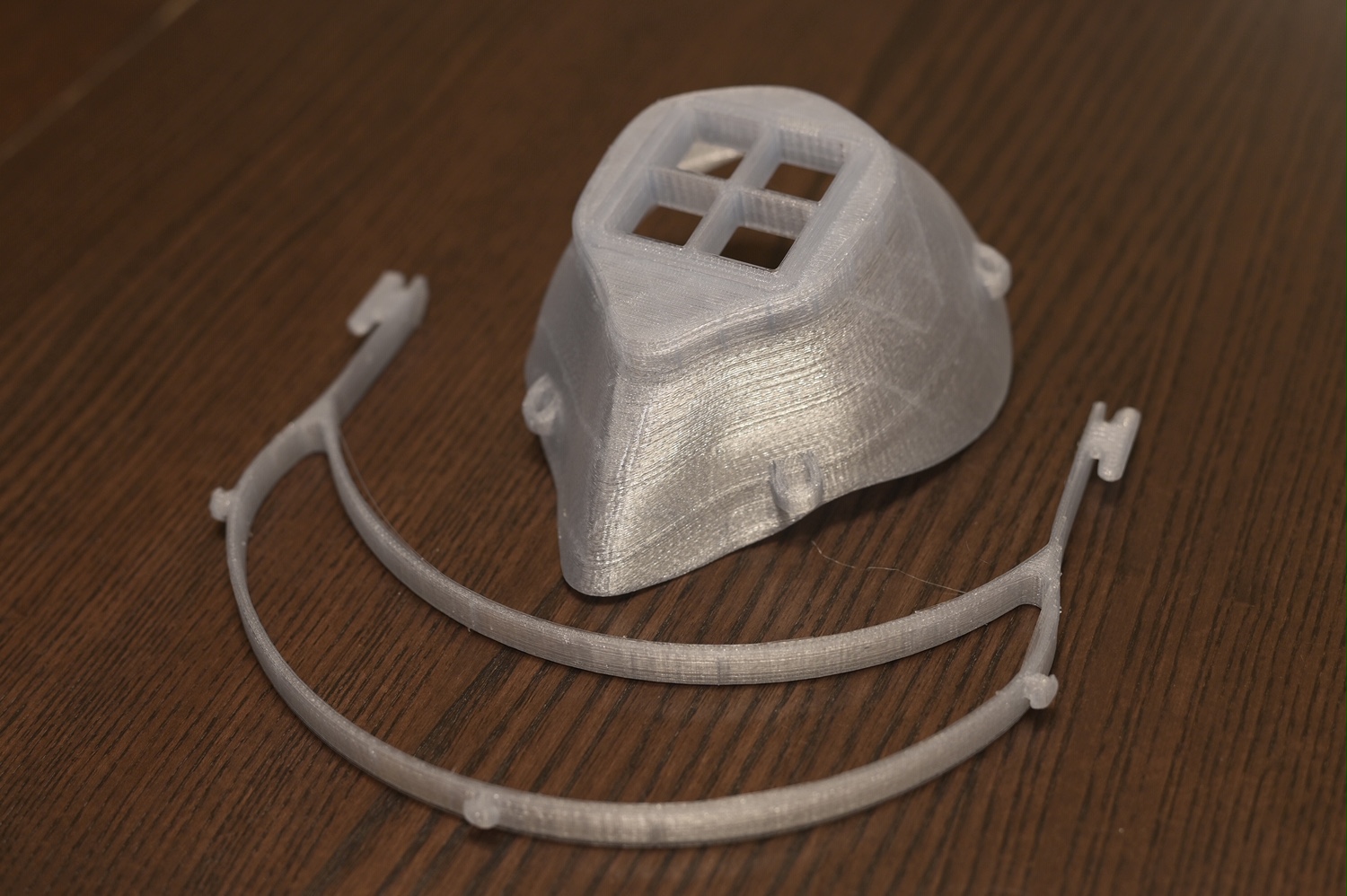 An internal task force comprised of Sangoli, Gupta, and Yin Jiang, senior designer, implemented Operation PPE across EYP's offices. The masks were made largely in EYP's Houston office.
Other useful sources:
AIA's Covid-19 task force has published the Alternate Site Preparedness Assessment Tool. 
The Covid-19 Archmap: This database encourages firms to submit COVID-19 response projects they are engaged in with their clients across the country and the globe.