We checked in with Terence to see how he's leveraging his position as Raleigh's Managing Principal and uncovered more on his business background, personality, and love for nature along the way. Continue reading to learn more about the Project Director leading the charge for our diverse and talented Raleigh project teams.
Q: What inspired you to become Raleigh's Managing Principal?
TM: I wanted to help shape our continued growth in this region. I have lived and worked in Raleigh for 17 years and, during this time, I have seen our presence grow and our office expand to support our clients' needs. It's an exciting process and, in this role, I can play an active role in our success.
Q: In what ways does the Raleigh office help support the firm as a whole?
TM: The Raleigh team is involved in each of our sectors – Healthcare, Higher Education, Government, and Science & Technology. Each of us has come to Raleigh from diverse cities around the U.S. with the common goal of helping to raise EYP's visibility in this region. Right now, our top local projects include the UNC Hospital Surgical Tower and the NCA&T Engineering Research Innovation Center.

Q: The Raleigh-Durham area is known as the Research Triangle. Many of our clients are in the area. How do we engage with and help promote this research region?
TM: Pre-pandemic, we often attended research conferences and have continued to participate virtually where possible. When pursuing new work, we try to align ourselves with mission-driven clients interested in research, technology, science, and the future of healthcare.
Q: You have both a MArch and an MBA. How do you use them both in your role?
TM: Balancing my dual roles as Managing Principal and Project Director, I find myself applying my business skills in conversations around design. I walk both sides of the line; I can talk about design and architecture and the business, strategy, and financing that informs those decisions.
Q: How would you describe your leadership style? 
TM: Collaborative. I like to involve as many people as I can in any given project, especially in the decision-making process. I believe input from multiple people sets our projects up for success.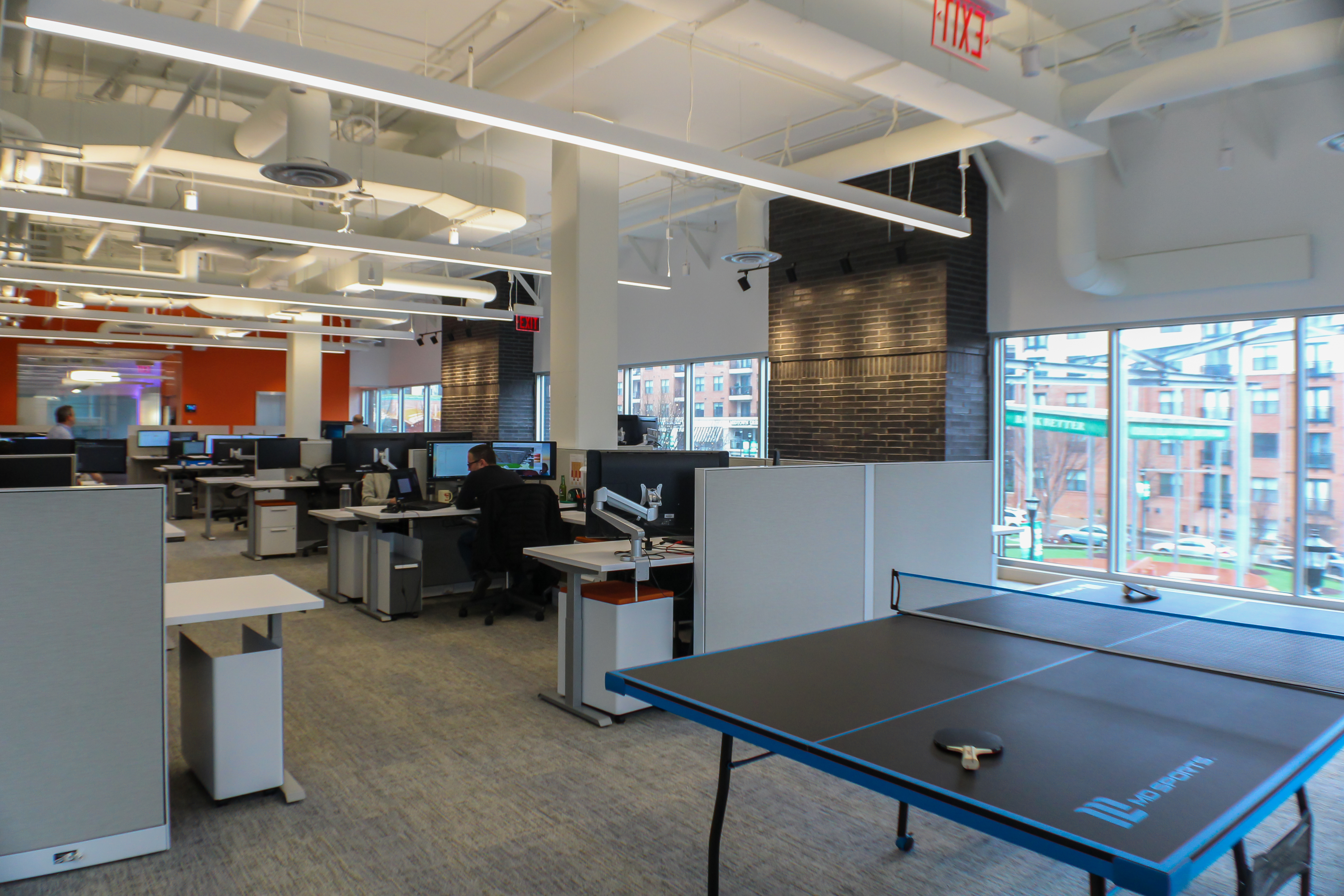 This idea is reflected in the design of our office. We decided not to have enclosed offices, which helps to create a collaborative atmosphere and boost morale across the office.
Now that we are all working from home, we've embraced Zoom as a way to stay connected. We have virtual project and staff meetings, culture club activities, and happy hour events where we get together and stay connected despite working from home.
Q: What do you enjoy about living in North Carolina?
TM: I love the energy here – it is a great sized city that is not too small or too large. There are plenty of opportunities for recreation, education, and it's equidistant to the mountains and ocean. I enjoy experiencing all four seasons, albeit fall and spring are usually short, but you get a taste of each season.
Q: When you're not in the office, where can we find you?
TM: I'm either on the road shuttling my 17-year-old son to hockey tournaments or at home working on DIY projects. Quarantine has allowed more time to finish up some home projects, like replacing the skylights in the house, renovating the basement, and designing my home office.