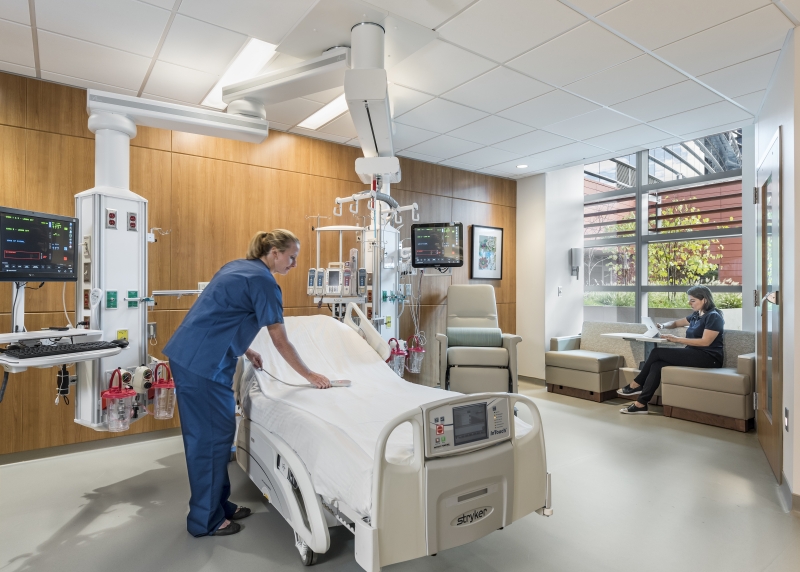 In Italy, just three weeks into COVID-19's spread there, hospitals were already overwhelmed: unused wards were turned into ICUs, a large hospital laundry room became a stretcher-filled waiting area, and medical field tents were set up outside. "If the spreading of this epidemic is not put under control, it will bring all hospitals to their knees," an intensive care doctor in Northern Italy told the Associated Press, during the tour of a new, hastily built ICU.
According to a World Bank tally, the number of hospital beds worldwide has been declining for decades. Italy has an estimated 3.4 hospital beds per 1,000 residents; the U.S. has 2.9. At any given time, more than 60 percent of hospital beds in the U.S. are occupied.
"There are about a million hospital beds in the U.S. right now and fewer than 100,000 of those are ICU beds," says Charles Griffin, senior principal, EYP Houston. "On the virus's current trajectory, those would accommodate less than half the projected number of U.S. patients who will need intensive care. Even though the U.S. has a higher number of critical care beds per capita, this pandemic crisis will overrun those beds if the growth curve is not flattened."
This dire situation has not emerged unannounced. The flurry of hospital closures, consolidations, mergers, and absorption into larger healthcare systems, the shuttering of rural hospitals, and the emphasis on efficiency and lean operation have impacted our surge capacity, adds Griffin. There are currently just over 6,000 hospitals total in the U.S.
"Obviously, there have been clear, giant red flags," Griffin says. "What have we done as a country and as a healthcare system? How many times have we heard that we aren't going to have in-patients anymore, but we're moving toward all out-patients? Now that we have this situation that we're not prepared for, what do we do?" Rapid innovation, during times such as these, is a mandate instead of a buzzword. Drive-through testing stations have emerged, nurses in PPEs are doing parking-lot triage, and regular hospital rooms are being converted to ICUs.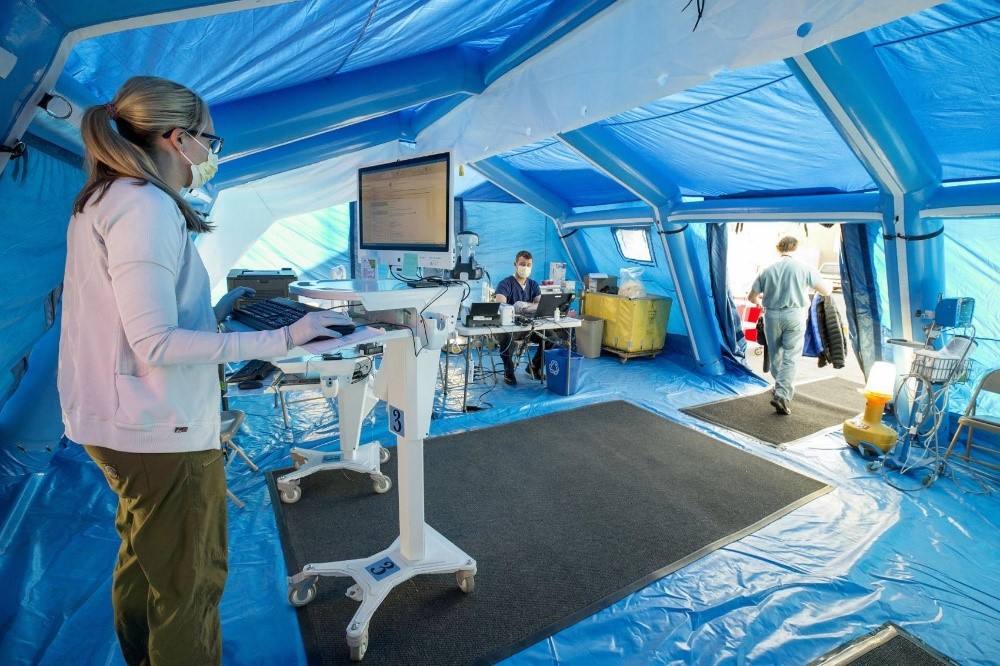 "We go through waves in this country of thinking that we have too many beds and then having way too few," says Kimberly Stanley, senior principal and health care sector leader, EYP Atlanta. "Critical care beds are expensive to build, but if we built all hospital rooms as universal rooms and deployed them as needed, what a difference that would make at this very moment."
And while there has been a movement toward hospitals being more "hospitality driven," with environments that support patient care and comfort, says Stanley, "we must be sure to place equal emphasis on environments that are easy to clean, flexible, and can quickly be converted into isolated rooms."
Decentralization is key, she says: During a viral pandemic, hospitals don't want all sick people— from those who are mildly ill to those whose conditions are life threatening—converging on their nearest ER. "There must be plans to triage patients outside of the hospital, not in a common entry or waiting area," says Stanley, "as well as advanced plans for testing and triage that keep people away from ERs."
To isolate mildly ill or potentially contagious patients, there can be industrious use of available unoccupied buildings with private beds and baths—from hotels to empty dormitories to cabins and trailers in state parks—for isolation and quarantine, she adds.
Another lesson is the leveraging of available technologies in healthcare settings, says Laurie Waggener, director of research and associate principal, EYP Houston. "We need to move beyond repeated cleaning of surfaces, as they often get re-contaminated within five minutes of surface cleaning, and toward mandating the use of no-touch technologies in the clinical workplace setting."  
Reducing the physical demands in challenging and complex workplace settings like hospitals is essential, says Waggener, who was a respiratory therapist for many years. This includes hands free door operation, which reduces the spread of germs from doorknobs and handles. "It also means considerations for voice-recognition, powered-door opening and closing for room types currently considered to be not worthy of the expense of no-touch technology," she says, "such as the clean supply and soiled holding rooms."  
Regarding no-touch cleaning practices, "we need to consider augmenting current hospital cleaning protocols with an engineered, continuous, shielded UV-C technology. This engineered solution removes airborne pathogens at the room level," Waggener says. "We already see necessary redundancies in the cleaning of hard surfaces in unoccupied rooms, now is the time to consider redundancies with the air while rooms are occupied." 
This ever-worsening pandemic "puts a spotlight on the importance of properly funding our healthcare, research, and public health institutions, which always seems to be scraping by on almost nothing," Stanley says.
It also highlights our responsibility to protect our health care providers—our "frontline warriors in the COVID-19 battle," says Griffin. With personal protective equipment (PPE) being rationed in some areas, healthcare workers self-isolating from their spouses and children, and doctors, nurses, first-responders and other team members becoming ill, "How much stress can they handle?" asks Griffin. "They are risking their lives to keep us safe, and we must in turn keep them safe."
"There are going to be other pandemics," Griffin says. "It is our responsibility to be prepared, and to help prepare our clients and communities.