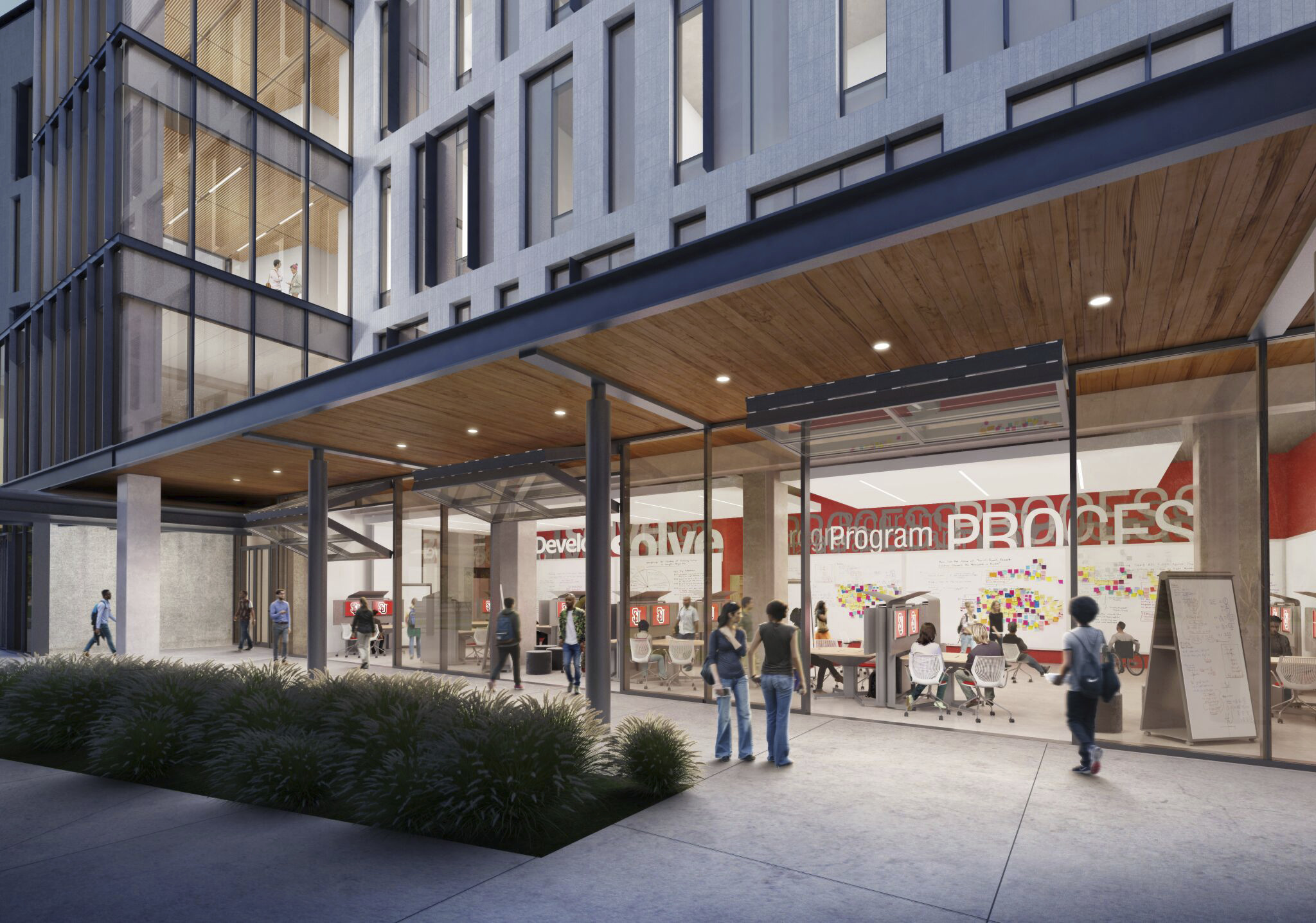 Makerspaces hum with robotics, 3D printers, and engineering projects. Students can bounce ideas off each other while waiting in line for lattes. They'll join their mentors in state-of-the-art teaching labs and meet with representatives from PACCAR or Microsoft in high-tech conference rooms. The Center for Science & Innovation (CSI) is the future of STEM for Seattle University.
Together with renovations of SU's Bannan Center for Science and Engineering, the new CSI creates a 275,000-GSF STEM complex. Designed by EYP in partnership with Mithun, the local associated architect, the CSI celebrates science and engineering and connects Seattle U's brightest with local industry and entrepreneurship.
Home to PACCAR Engineering Innovation Center, Amazon Computer Science Project Center, and the Microsoft Café, SU's STEM complex offers a gateway between university talent, resources, and the private sector — but courting these industry partners was no small task.
Seattle University's College of Science and Engineering Dean Michael J. Quinn says developing partnerships relies on strong relationships, but "it's so much more than networking." So, what were the keys to success for Seattle U and the CSI?
Align Values and Vision
Industry partners support colleges and universities for a host of reasons, but a successful relationship begins with aligning values, vision, and goals.
Seattle University is committed to achieving and engaging diversity among students, faculty, and staff in its STEM program. In 2019, the College of Science and Engineering reported that 40 percent of its full-time faculty and 43.5 percent of its students are women. For Amazon, who donated $3 million to the new CSI, representation matters. Amazon's diversity policy reinforces this position: "We track the representation of women and underrepresented racial/ethnic minorities because we know that diversity helps us build better teams that are obsessed over our global customer base."
Likewise, SU's Jesuit emphases on critical thinking and ethics align with Microsoft's values. According to Quinn, "In the case of Microsoft's President Brad Smith, he has a strong interest in ethics. That helped us because we require ethics courses as an integral part of Jesuit education." Microsoft's values of trust and integrity are reinforced by works like Dean Quinn's book, "Ethics for the Information Age."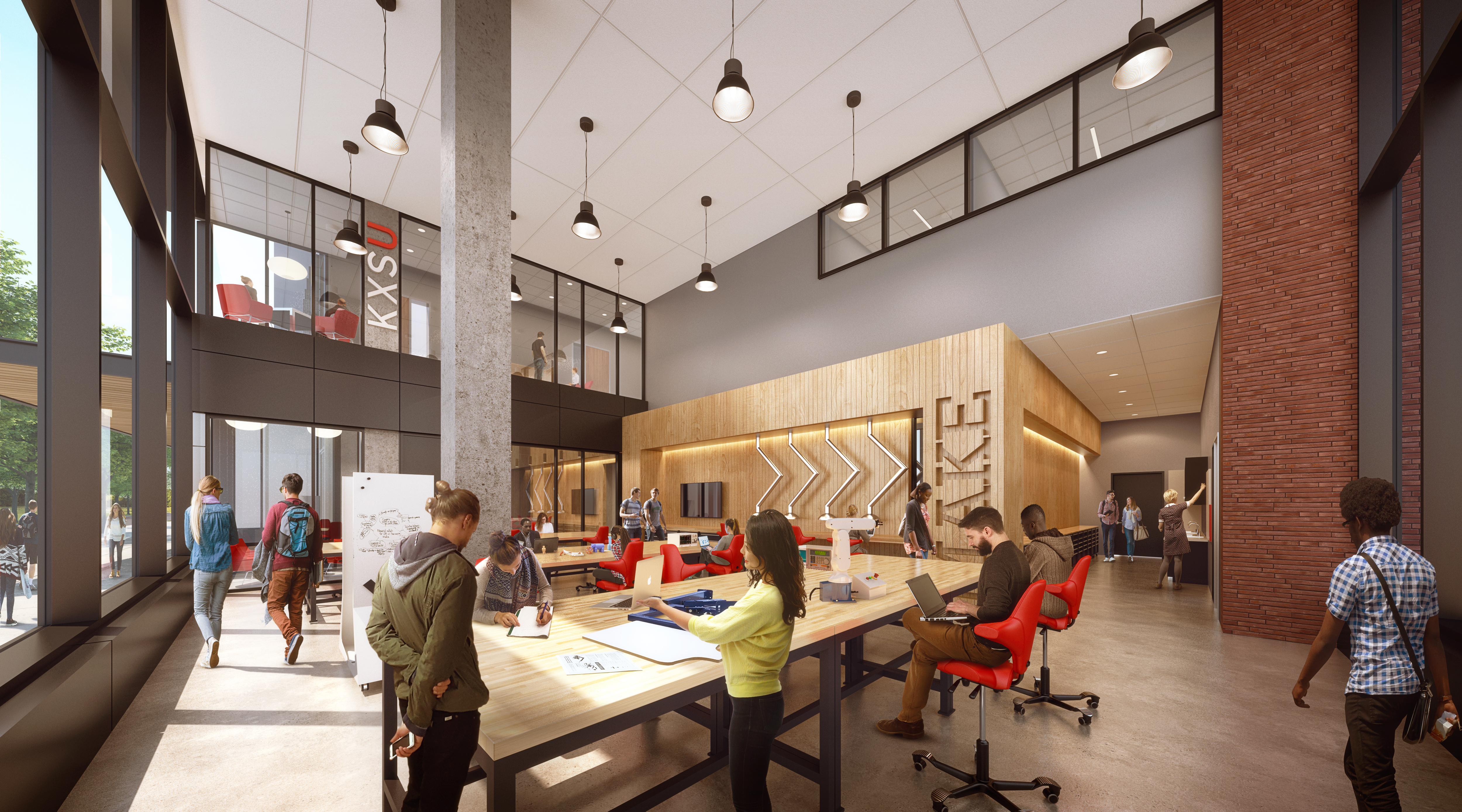 Showcase the Students' Work
Experiencing students' work firsthand creates a tangible connection between potential partners and programs. Dean Quinn finds, "An essential early step was bringing executives to campus and having them meet our faculty and students. Often students were the most compelling part of the engagement."
Until recently, the culture of undergraduate research did not exist. "Now, students are manipulating genes, which would have been science fiction 40 years ago," says Quinn, "and for a 60-year-old executive, seeing what 20-year-old students are doing with science is compelling."
Differentiate with Design
Does industry partnership impact design choices, or does design enhance your ability to attract local industry? It's a bit of a "chicken or the egg question," but Dean's Quinn's answer is "it's both."
For SU and EYP, the team wanted experience to inform design, so the stakeholders visited universities, corporate offices, and industry facilities like Microsoft's Innovation Lab. With an eye toward meeting future partners' needs, the group assessed layouts, evaluated materials, and most importantly, had meaningful conversations.
EYP's Innovation and Strategy Design Principal Robert McClure found this process invaluable in "helping faculty understand what industry is doing and helping to inform space planning."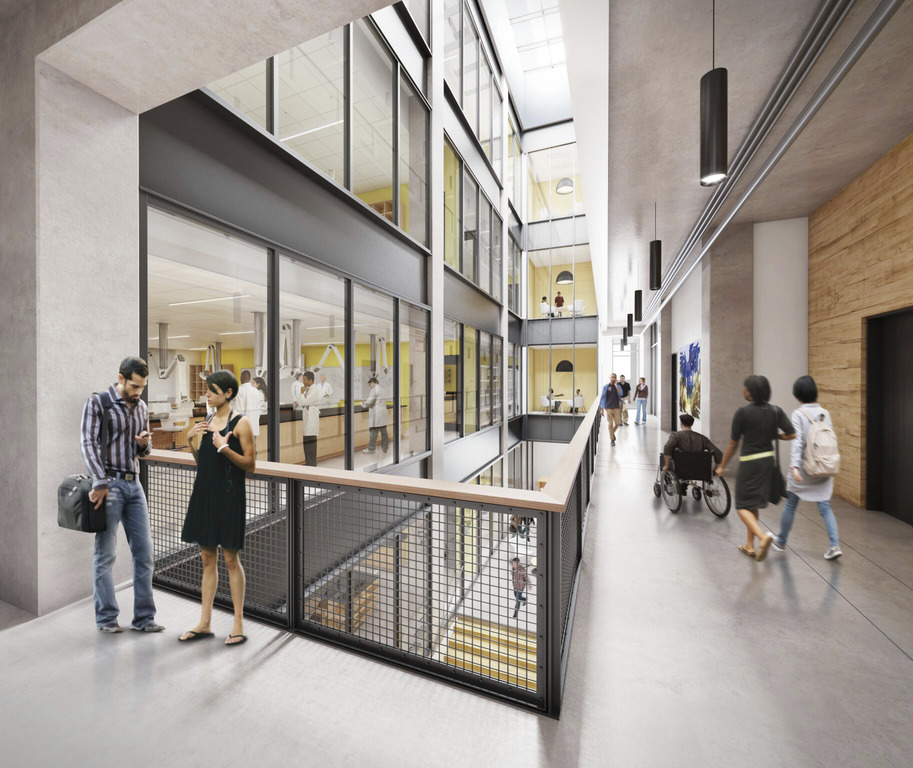 These interactions led to design elements like open spaces and windows that put science on display and illuminated study spaces jutting out on the northside of the CSI, visibly communicating a students-and- studying-first mentality. The design offers insight into the quality of students that local corporations might recruit.
For EYP's Principal of Academic Planning and Design Charles Kirby, "One of the most exciting things was to design a space that represents the intellectual strength of the students' research work."
Dean Quinn also found he could "clearly see how corporate connections would influence design. The way we are creating the computer science space on the first floor – it's one big room. That's how programming gets done in startup companies. It's a corporate-style space where teams take a hoteling approach, using available tables for workspace and lockers for storage."
Mentoring spaces also help facilitate student and corporate research. "We want it to be easy for Microsoft or Amazon executives to come into the main street, walk a few steps, and have a really nice space to engage with a computer science project team," said Quinn.
Collaboration spaces outside of the classroom encourage students to engage with each other, and amenities like the café or coffee shop promote real-world intellectual collisions. PACCAR Chief Executive Officer Ronald E. Armstrong told Dean Quinn, "You'll get so many innovative ideas out of the people engaging each other in that space."
But it's not just about attracting big industry. The CSI embraces the city through the Center for Community Engagement – the home of the Seattle University Youth Initiative that provides a pathway of support for local children and their families. The Center is located prominently on the first-floor entry terrace and connects to the building's café, creating a dynamic public concourse.
Tell a Great Story
Countless campus visits and workshops led to a focus on spaces where students make connections and ideas are turned into solutions — project space, makerspaces, meeting areas, and coffee shops — but the location of those spaces is part of a larger story. Everything about the CSI was purposed, programmed, and designed to bring the city of Seattle into the building.
"SU directed EYP to animate the connection of the University to the city. Community engagement elements are located on the city-side of the building, academic spaces face the campus, and shared areas like the café, radio station, and huddle spaces purposely blur boundaries between town and university. It's a melting pot," says Kirby.
Sharing this narrative became an essential tool when attracting potential partners and donors. According to McClure, "We developed collateral to help explain and excite people about this project — physical models, prototyping, animations, website content—but more importantly, we hosted interactive storytelling sessions to help the University share CSI's impact for potential partners."
Commit for the Long-Haul
And, Dean Quinn's best advice? Be patient. Establishing relationships with industry partners is not an overnight process. It takes time and a team. "We worked with Microsoft for years. They have to get to know you and gain confidence in you. With Amazon, over 50 people on campus had some role — communication, contributing to presentation, or meeting with Amazon personnel."
Ultimately, both industry and academia stand to benefit from reciprocal, long-term relationships and cooperation. Students gain access to real-world scenarios and mentorship; companies gain access to research and talent, while universities garner financial support and projects that can make a difference to the community. These relationships begin by getting out of the lab and in front of potential partners. Where do values and goals align, how will innovative design contribute to your success, and what story will you share that highlights the potential value of a future partnership?