Three weeks, two months, one team – that's what it took for EYP's Rapid Response Team to design and construct a new USP 797 Pharmacy to support COVID-19 patients for St. Luke's Health in Texas.
From day one, pharmacy professionals have been on the front lines of healthcare's response to the COVID-19 pandemic — particularly USP 797 pharmacies that can prepare sterile, intravenous medications to treat coronavirus. Anticipating an influx of COVID patients this fall, St. Luke's Health planned to bring 110 new beds online and needed a new satellite compounding pharmacy to support the surge as soon as possible.
On June 25, 2020, St. Luke's Health and their program manager, mStrategicPartners, reached out to EYP's Rapid Response Team, who jumped into action. The team met daily with user groups — often adjusting designs in real-time — and reached out to local vendors to align concepts and approaches with readily accessible materials. "We worked with available components to move things quickly, and we carefully coordinated to make sure supplies could arrive on time," said Principal and Senior Medical Planner Annabella Koloskov.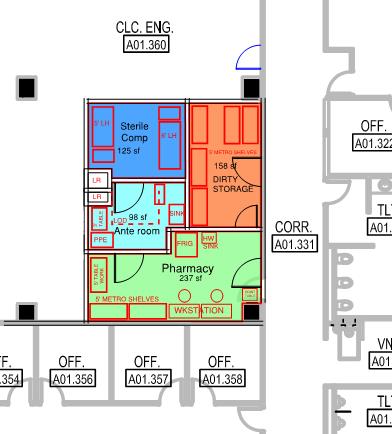 Within three weeks, the Rapid Response Team completed the design process — including programming, design, and construction documents — in a completely virtual environment. Tools like Bluebeam and Revit enabled clear communication and helped leadership make quick decisions.
Working closely with regulatory agencies for government compliance and approvals was essential to maintaining the quick timeline. Koloskov shared, "We conducted a virtual feasibility conference with the State of Texas to review the design and make sure it met requirements. Because of early feedback, we could make quick adjustments to our designs and get the project documented in a timely manner. The City of Houston and State officials also were able to advocate for us, expediting the review and permitting process."
In just two months, the Rapid Response Team — in close collaboration with mStrategicPartners, Smith Seckman Reid Engineering, Ross and Baruzzini medical equipment consultants, and Tellepsen Builders —moved the project from design to construction. By early September, the new facility was ready for pharmacists to play their essential role in patient care during COVID-19.