Amidst temperamental WiFi, scattered matchbox cars, and noisy neighbors, we've adjusted to setting-up-shop on the dining room table. Now, as states start to reopen, the nation is shifting again. We're exploring the idea of returning to the office.
With everchanging guidelines and mandates, how will back-to-work actually work? 
Rapid Response
Like you, we wanted to know, and we wanted to help. So, we created Rapid Response: a new service that offers clients real solutions, right now. The RR Team developed tools and processes to quickly assess, prioritize, and implement initiatives to get you back on track. Guided by principles of people and safety first, the Team helps with:
Developing programs and protocols
Evaluating your building's infrastructure
Analyzing furniture, fixtures, and finishes
Maximizing technology infrastructure
Creating experiential strategies with graphics and wayfinding
Get Ready…
We decided to test the Rapid Response tools and processes on ourselves. Selecting our DC office in Georgetown, we asked, "What can we do to create a safer environment so people can return to the office?"
Get Set…
The Rapid Response Team worked through EYP's Return to Office (RTO) Task Force and the EYP D.C. Office Covid-19 Coordinator. Together, they integrated the most recent mandates and guidelines from the city and from regulatory organizations such as the Center for Disease Control (CDC) and the Occupational Safety and Health Administration (OSHA), among others.
During a kick-off meeting, the Team determined goals, values, and priorities. Every project will be unique, but for our team, priorities included:
Putting the safety of staff first.
Placing a focus on space and space policies that allow individuals to come into the office but minimize their exposure.
Offering flexibility to accommodate evolving mandates and guidelines.
Minimizing the cost of short-term solutions.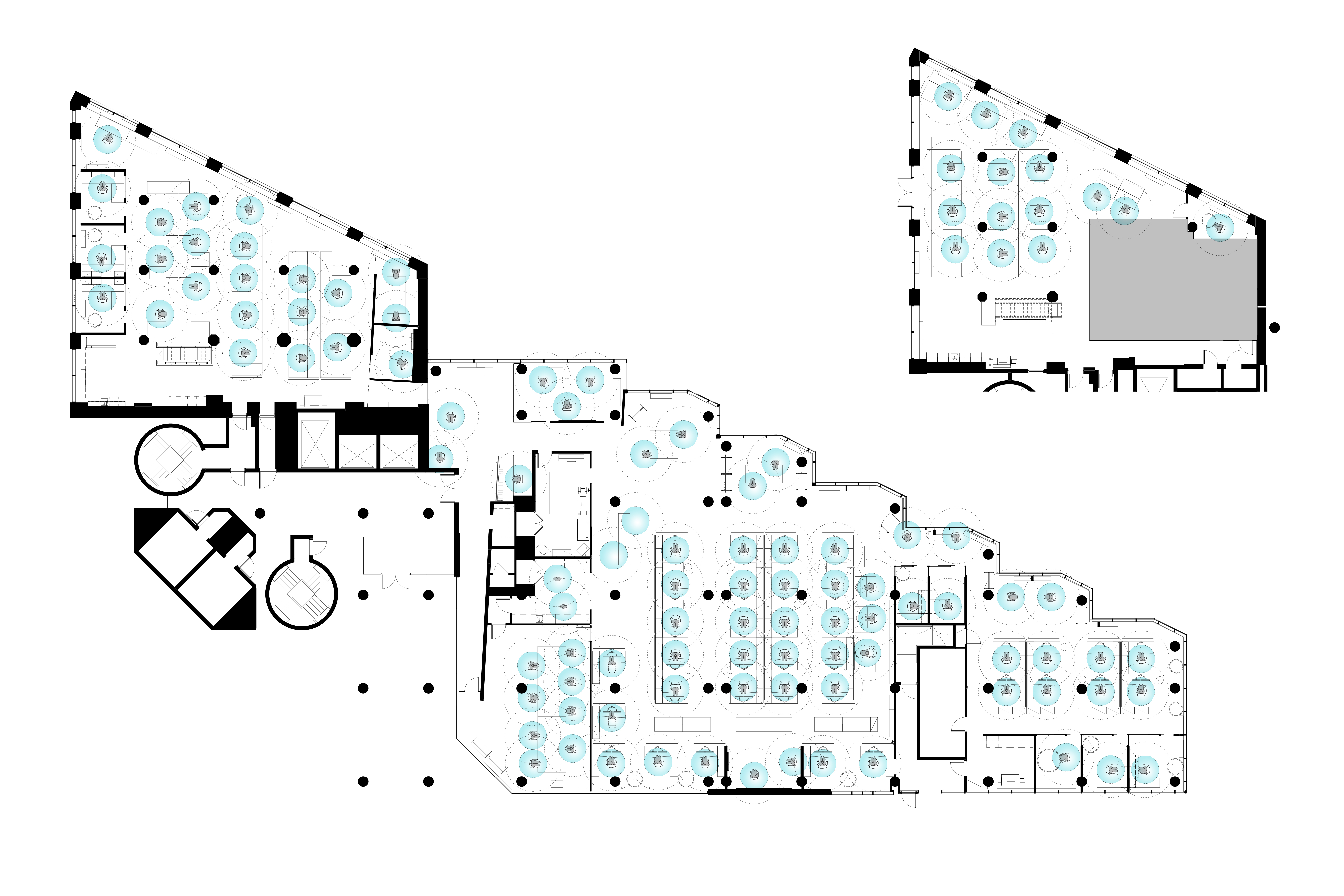 Go!
Over the course of three weeks, the Team used a variety of tools and methods to assess the current work environment and propose short- and long-term solutions in the five service line areas:
The Rapid Response Team developed specific Programs and Protocols to improve safety, health, and well-being through new density targets, circulation paths, and program areas for testing, screening, and PPE storage. They also recommended behavior change and reinforcement strategies such as meeting protocols, training and engaging staff, and developing specific roles and responsibilities of leaders and staff members.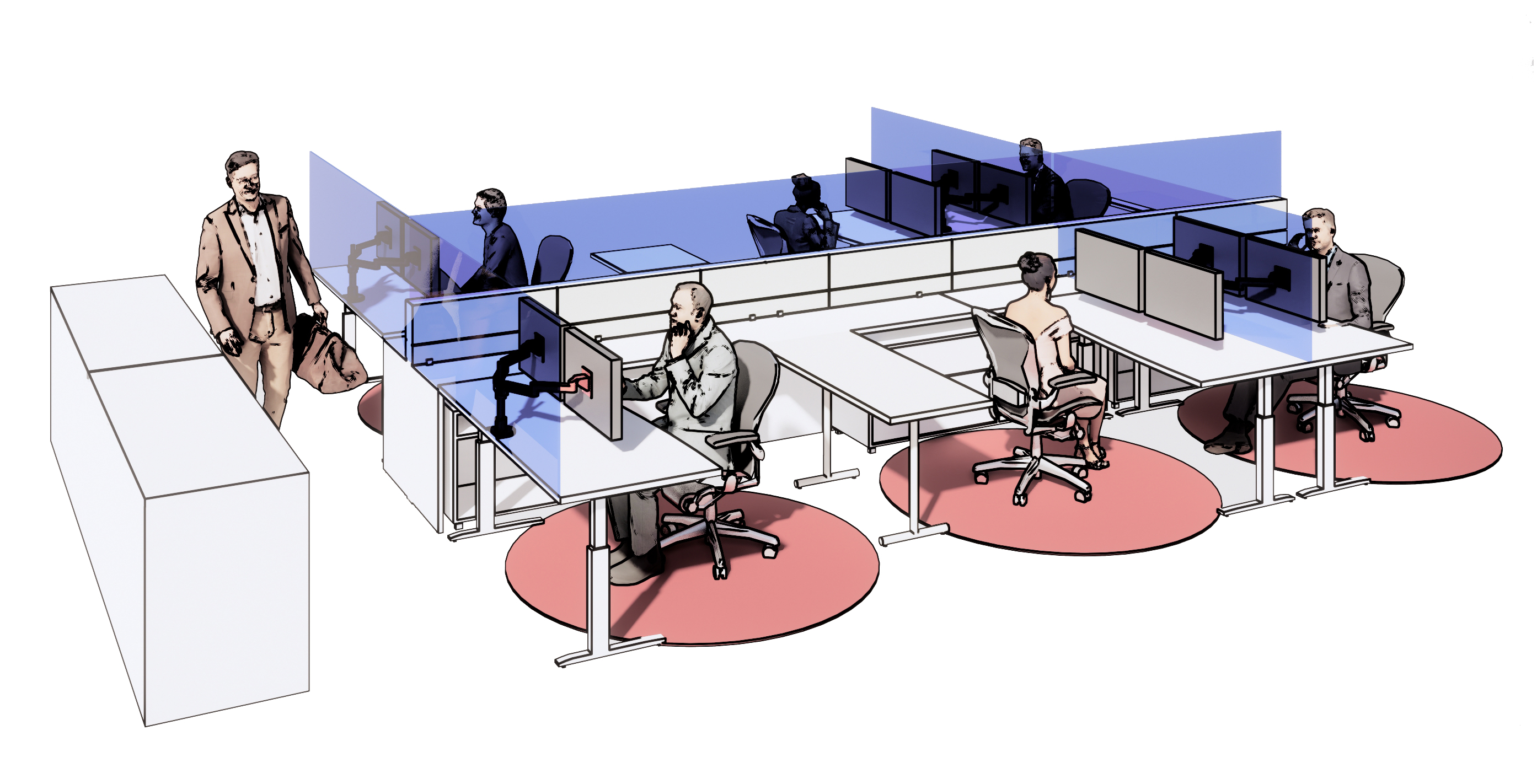 With the Building Infrastructure, The Team investigated the air handling capability for enhanced filtration, indoor relative humidity level options, and zoning and pressurization controls. And they considered modifications to the building's control systems to adjust air quality, humidification, and zoning designs.
The Team studied Finishes, Fixtures, and Furniture and developed lists of infection control cleaning protocols and products, anti-microbial films to apply to high-touch surfaces, and items that should be replaced immediately for safety concerns and/or cleaning cost effectiveness. The Team considered fixtures with hands-free technologies. For furniture, they proposed reconfiguring partitions and seating while creating a list of quick, readily available replacement furniture solutions.
For Technology Solutions, opportunities existed to build trust through communication and transparency by providing a reliable flow of real-time information to staff through smartphone apps and dashboards. The group recommended devices to measure and manage occupancy levels, indoor air quality, humidity, and CO2 levels.
The Rapid Response Team also considered Experiential Strategies, developing branded signage and messaging to reinforce goals with reconfigurable templates for physical and digital communications.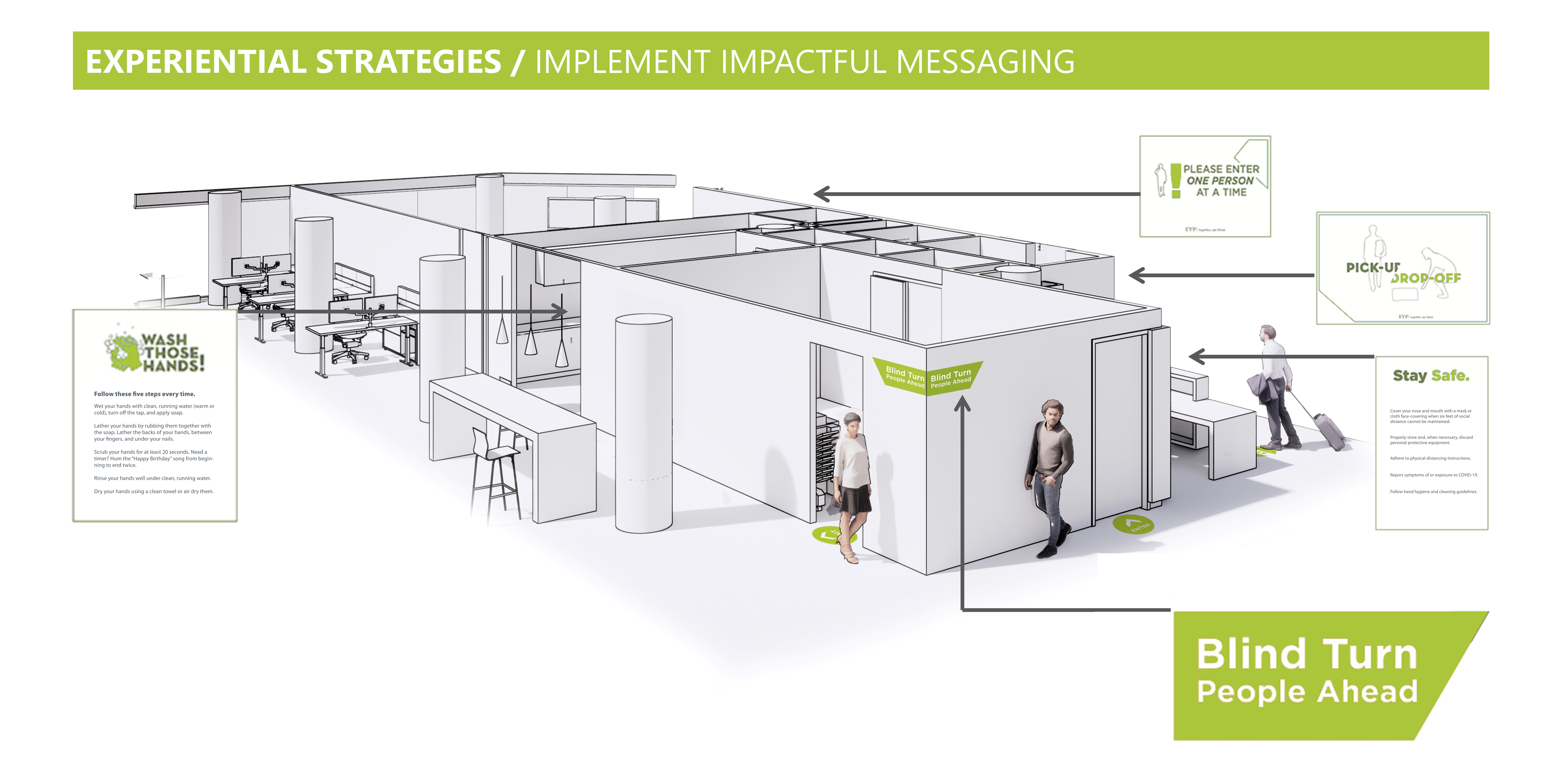 The Right Pace
Along the path, our Rapid Response Team gathered big-picture takeaways to help guide others making these critical decisions. Here are a few lessons learned:
Prioritize the kick-off meeting. Throughout the process, the team constantly returned to the original goals and asked, "What are our values? Why are we doing this? How do these ideals inform our financial choices?"
Take an integrated approach—it makes all the difference. Building operations and physical space are interconnected, so every choice has numerous consequences. Integration of expertise enabled the Team to wrestle with concepts and see approaches from different perspectives, leading to better, cost-effective solutions.
Look for value. You don't have to spend a lot to achieve your goals. There are simple solutions, like digital occupancy counters, that are relatively inexpensive and can add big value.
Leverage new resources. Vendors are starting to manufacture products, like carpet designed with six-foot patterns to encourage social distancing, that can help you adjust to changing guidelines.
The Finish Line
Next steps? We'll implement specific strategies and set up processes and technologies to monitor building and occupant performance over time. With a focus on flexibility and agility, the Rapid Response Team will continue to oversee evolving guidelines and mandates, making suggestions for short- and long-term adjustments.