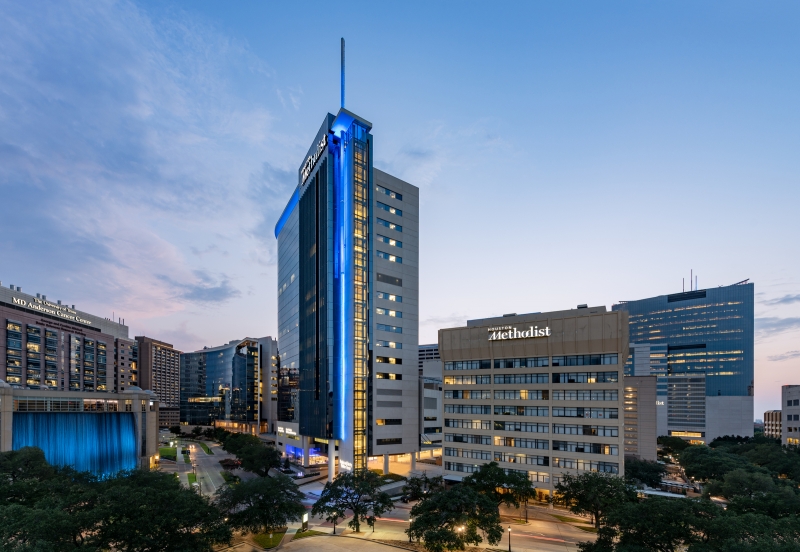 During the COVID-19 pandemic, we have been forced to reevaluate conventional ways of doing business—arguably none more so than leaders in the healthcare industry.
What lessons have we learned? How should we do things differently? How do we resume operations quickly, safely, and efficiently?
To address these and other questions, EYP and DPR Construction conducted a virtual Healthcare Design and Construction Roundtable, bringing together architects, planners, designers, construction managers, and engineers from our respective Houston, Dallas, and Austin offices. Prior to this event, we reached out to several healthcare clients to ask what topics they would like us to discuss.
"EYP and DPR started this conversation sheerly out of curiosity about how COVID might alter the design, construction, and operation of healthcare facilities going forward. When we reached out to our clients for topics of concern to them, we thought they might be too busy to respond. On the contrary, many were eager to share and potentially benefit from our roundtable observations and conclusions," said Andy Albin, managing principal, EYP Austin.
Clients' overarching concerns:
Assuring a safer environment for staff and patients, instilling consumer confidence.
Adapting and creating surge capacity quickly, with minimal cost.
Preparing for continuing and future infectious disease outbreaks.
Adjusting the care model to include more telehealth and teleworking.
More specific questions included: How do we screen patients and visitors effectively and discreetly? Do we need to expand negative pressure spaces or increase the number of isolation rooms? Do hospitals need dedicated infectious disease control units? How do we reimagine reception, patient waiting areas, and other shared spaces? Should we expand telemedicine areas? How can we incorporate more convenient, attractive PPE stations? What technologies should we consider adding?
A spirited discussion took off from there, with thoughtful and creative solutions emerging from shared experience and expertise. What follows is a sampling of the conversation (yes, you are—by proxy—in the room where it happened). 
Flow and the Front Door
It all starts with reconsidering flow, beginning with the "front door" of the hospital. Triage during a surge has proven to be people-intensive, causing strain on clinical staff. "There must be a screening process. If the front end isn't working, you compromise everyone downstream," says Mark Vaughn, national director of medical planning, senior principal, EYP Dallas.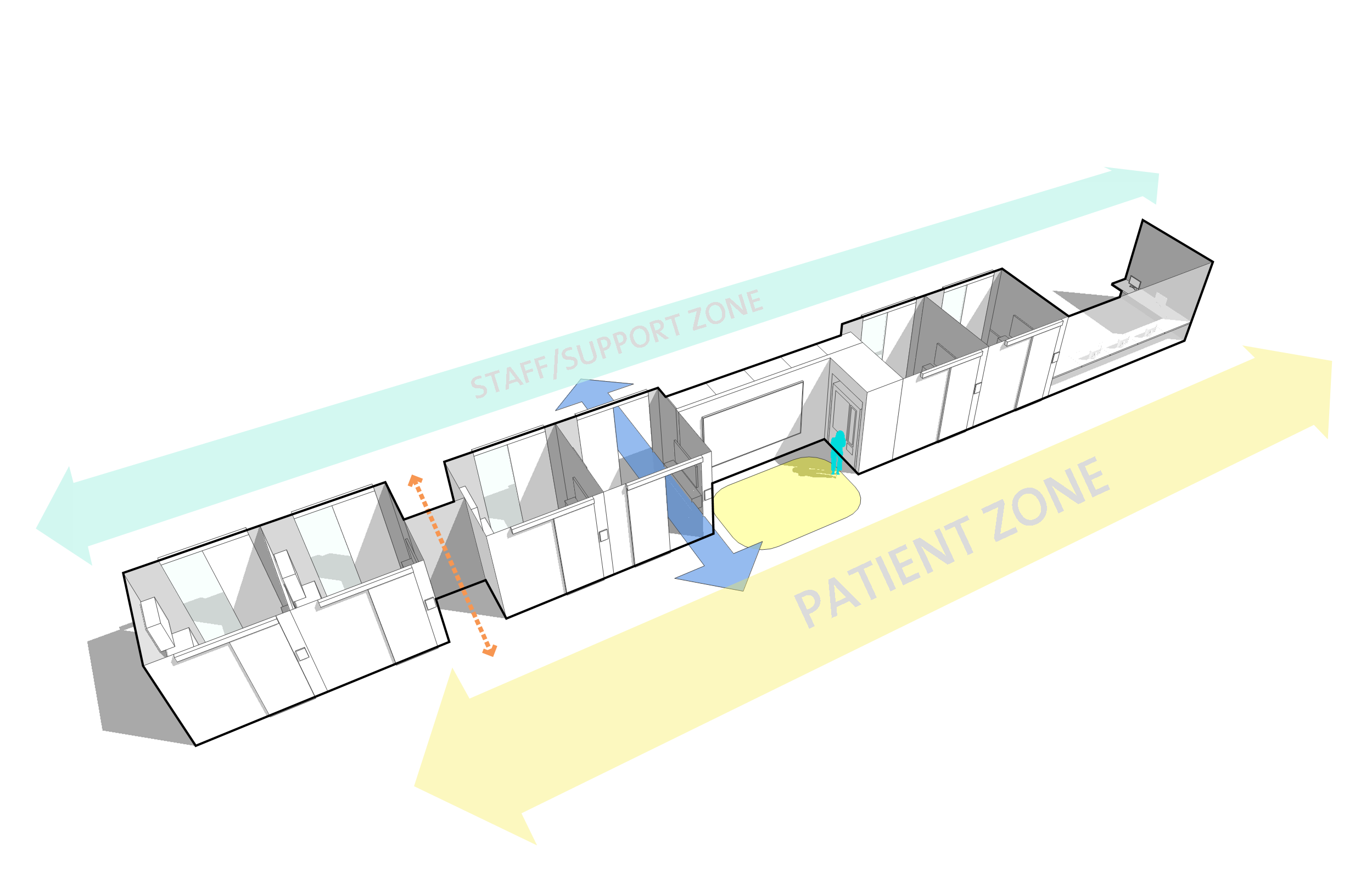 This process could include pre-screenings through self-reports, temperature checks and infrared monitoring, and pre-entry triage. Group exposure could be minimized through one-way flow, correct distancing (even in elevators), masks, digital wayfinding (to replace kiosks), real-time location systems, electronic badges for self-rooming, and video monitoring  or telehealth capacity in every room.
"Hospitals are reimagining horizontal and vertical transport throughout their facilities to include pre-screenings, digital tracking, self-rooming, and designated one-way flow," says Carl Fleming, healthcare strategist, DPR. 
Terrorist attacks and active shooter scenarios inspired a move toward single points of entry into public buildings, including hospitals. It may be time to re-examine multiple points of entry as well as hospital flow to decrease crowding and increase the ability to have separate patient and staff tracks.
Taking a cue from the airline industry, patients could be issued a "boarding pass" through an app, which could provide secure access into the building and indicate exactly where to enter and where to go. Any waiting would occur in the actual patient room. Automatic, pass-activated doors would be touchless. Patients without smartphones could be issued "paper tickets."
Internal Flex
This crisis has led to a new focus in healthcare facility design—the ability to flex quickly and efficiently.
Electronic signage and wayfinding is a solid investment, as "sign overload" is going to become an issue. Electronic messaging can be changed as necessary, even personalized.
Staff and patients should have different zones for movement around the facility, as well as COVID and non-COVID patients.
This built-in flexibility includes patient rooms and floors: acuity adaptability, reversal of air-pressurization cascades, increased fresh air intake requirements, anti-mictrobial material selections, universal and adaptable med-surg beds that can become ICU beds.
"Adaptability and acuity, these are the big future pushes: modified air-handling systems, the ability to flip a floor or a block of rooms to be negative air pressure, the option to double-up rooms while making sure there's enough space for power/gases and for vertical stacking," says Sean Ashcroft, national healthcare core market lead, DPR. 
And don't forget dealing with large patient and public space pinch points, such as elevators, stairs, and cafeterias. Elevators present a challenge for social distancing, yet climbing multiple floors would be difficult for many patients—especially in hospital towers. Parking garages could connect to all relevant floors, and/or additional elevators with smaller cabs could be added onto the sides of buildings.
Telehealth Hubs
With the embracing of telework and telehealth, there will likely be a reorganization of physical office and administrative space in healthcare facilities. What does the future hold for private offices vs. shared workspace?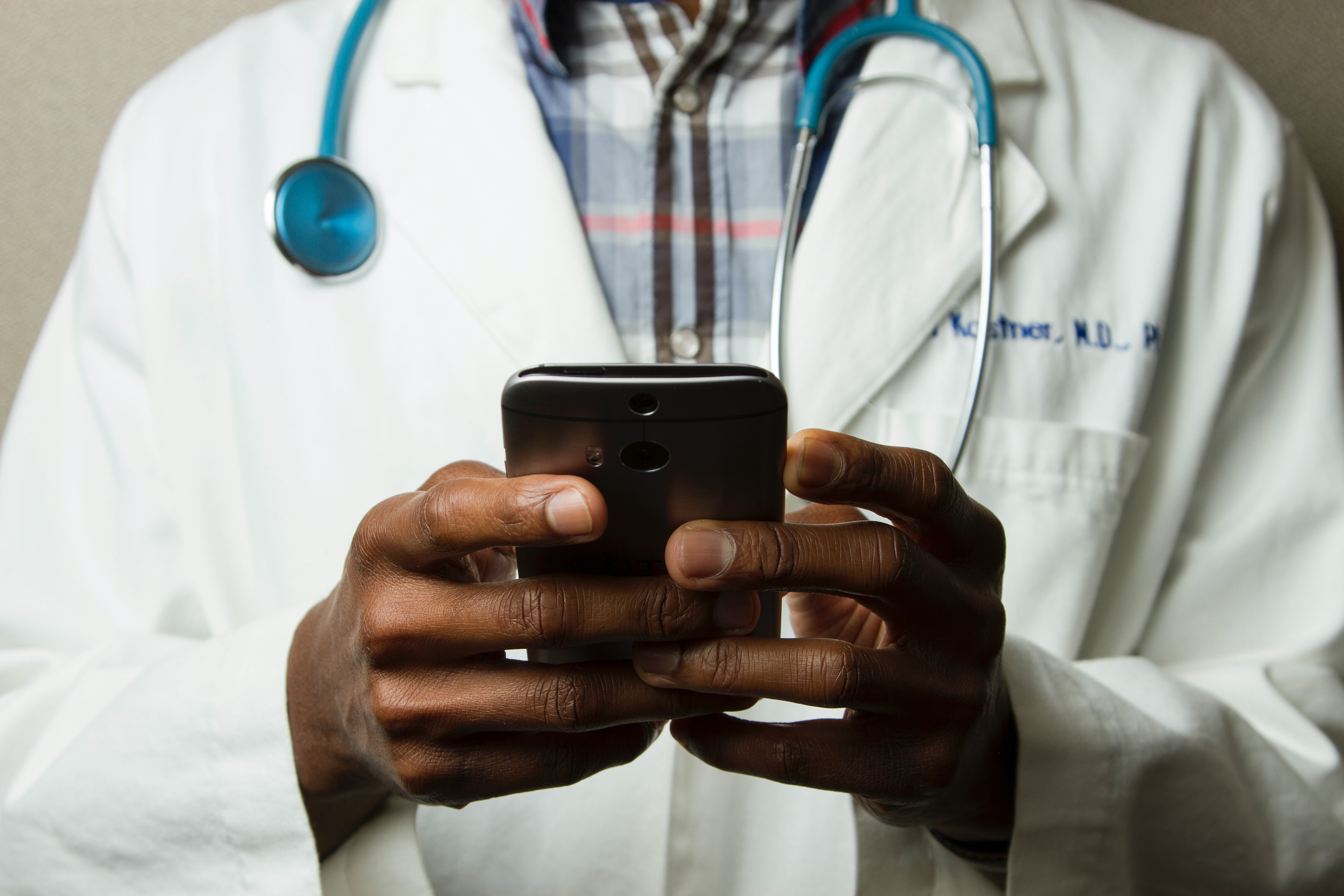 "Clients are telling us they want to create better telehealth rooms and doctors are requesting either that they have their private offices back or a permanent place to do telehealth remotely, closer to home or inside their home, that is HIPAA compliant," says Cody Cartusciello, managing principal, EYP Dallas.

Many patients and doctors alike have responded well to the virtual return of "home visits," and creative solutions for the continuation of telehealth hubs. Creating a telehealth "port" in all patient hospital rooms and clinic exam rooms would allow patients quicker access to their personal doctors or specialists when in-person visits aren't possible.
One caution: it is uncertain if current insurance reimbursement models for telemedicine will continue after the pandemic ebbs.
Automatic Disinfection and Sterilization
Improved sterilization techniques, through UVC-equipped robots and other advances, remain a popular hospital upgrade, as do touchless doors. UV has been used to sterilize and reuse Personal Protective Equipment (PPE) during the crisis as well.

Disinfection of occupied and unoccupied spaces is a growth industry with the ongoing battle to combat hospital-based infections as well as viruses.
"HVAC systems serving airborne infection spaces require improved filtration and no recirculation of return air. Designing HVAC systems that can be easily adapted by inserting HEPA filters and fully exhausting spaces enables timely conversion to handle the rapid increased demand," says Teresa Rainey, LEED fellow, EYP DC.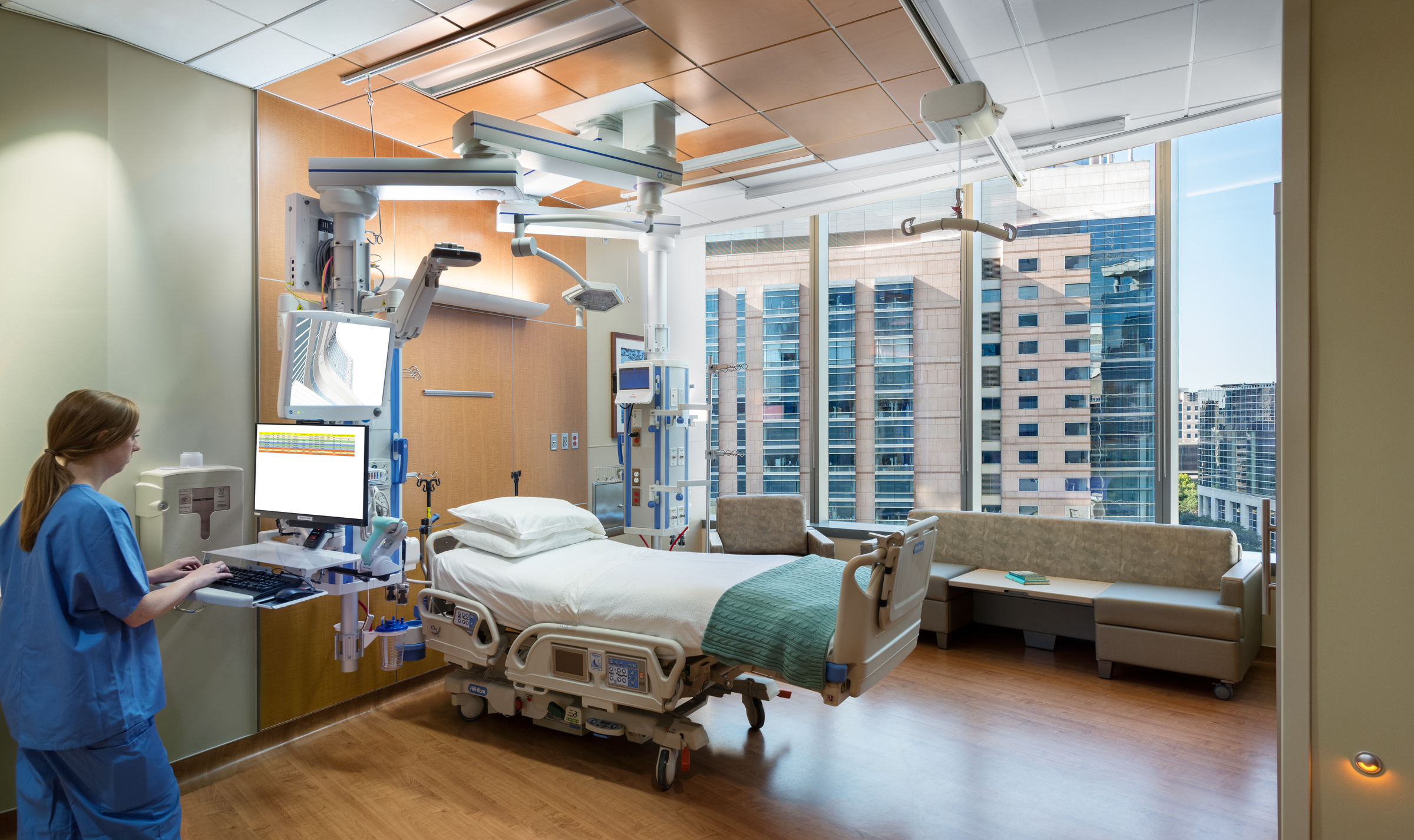 Easily cleanable furnishings and floorings have become essential, with materials that can stand up to frequent disinfection and don't harbor or hide germs. High-touch surfaces should be abrasion-resistant and have non-leaching coatings. Such advances don't always take a high-tech solution: copper and some copper alloys have a natural ability to kill harmful microbes.
Cost-effective Change
With CARES funding consumed by lost revenue from non-emergency medical procedures and the expense of additional COVID-19 staffing and equipment, future proofing must be balanced by budgetary considerations.
The trend toward universal patient rooms is sure to get a boost, and some of these should also be able to convert into negative-air-pressure isolation rooms. Ebola preparation paid off for some hospitals in this regard.
Sometimes the change can be as simple as having a window that looks into a room for easier communication and check-ins with a patient, which saves donning and doffing of PPE each time a medical team member (or visitor) enters or exits.
More expensive additions such as digital interfaces, hands-free PPE dispensing stations, and UVC disinfection robots, however, are investments toward a future that promises to require ever more flexibility.