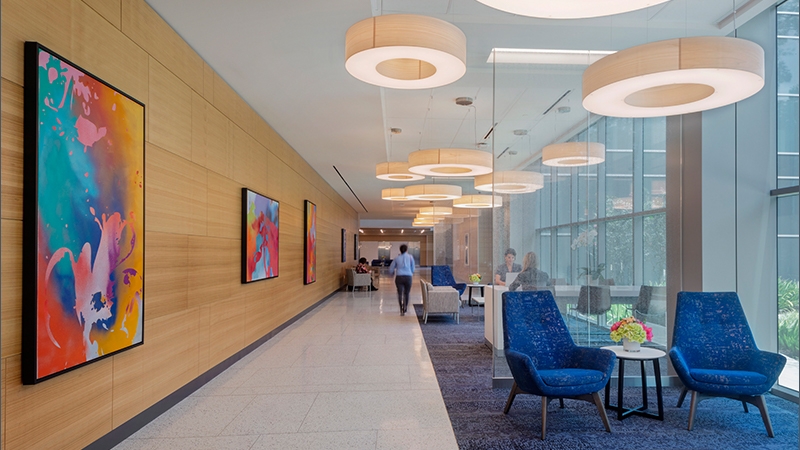 For a lot of us these days, our home office and work office are the same space: dogs, kids, and pajama pants welcome. This "work from home when possible" approach, however, is not as widespread as you might think: it's only available to about one-third of those in the U.S., as reflected in this Gallup poll.
Some workers lost their jobs as retail shops, restaurants, and entertainment venues closed. Still, others were deemed "essential" and were called upon to show up at their workplaces regardless, from grocery clerks and factory workers to healthcare workers and support staff. (Check out this graphic of occupations with the highest COVID-19 risk).
Indeed, healthcare organizations and academic medical centers have been on the front lines in more ways than one, quickly adapting to the COVID-19 pandemic as a workplace while simultaneously caring for patients stricken with the highly infectious virus and putting safeguards in place to protect staff, patients, and visitors alike. And winter looks no better, with many states showing spikes in COVID cases and flu season threatening.
Healthcare leaders understand the hazards of the global pandemic—and how workplaces and employers must respond—better than those in any other field, says Leigh Stringer, workplace design strategist, researcher, and author of The Green Workplace and The Healthy Workplace.
"They adapted quickly, changed their workflows, and sent a significant portion of their staff home to work," says Stringer, managing principal, EYP DC. "And they did so with a diverse workforce, including clinical, research, academic, and administrative staff—despite serious economic constraints. This cohort has had to be incredibly creative and forward-thinking."
EYP leaders have been checking in with their healthcare clients throughout the pandemic offering help. They quickly learned that what these leaders needed most was each other. 
"Our clients saw value in real-time benchmarking and the ability to troubleshoot very specific issues with their peers," says Stringer. "When you are on the front lines dealing with complex workplace issues, there are no post-occupancy data or longitudinal studies to draw from. You have to make impactful decisions with no road map. They saw the value of being able to compare notes with people like them in a similar role, so we made it happen."
Hosting a Healthcare Workplace Consortium
EYP invited a group of healthcare facility and workplace professionals from MD Anderson, Ohio State's Wexner Medical, Stanford Medicine, Intermountain Healthcare, UCHealth, St. Jude Children's Research Hospital, Memorial Sloan Kettering Cancer Center, UTMB Health, Cleveland Medical, and Northwell Health to get together virtually during the course of the pandemic to ask each other questions, share ideas, and benefit from each other's experiences.  
"Our conversations are very organic and meeting agendas open. We start each discussion with a simple question, 'What are you wrestling with right now?'" Stringer says. "The pandemic is impacting each organization slightly differently depending on climate, culture, size, patient mix, and facility conditions. Facilitating this group, I just try and create a space where everyone feels comfortable sharing what's on their mind–which has been useful and very therapeutic." 
Meeting monthly since July, Healthcare Workplace Consortium members share a wealth of information and even act as a support group of sorts for each other.
Commonalities were clear from the start. The pandemic has inspired healthcare organizations, like most businesses, to embrace new workplace strategies to support their mission and accommodate their employees and customers with improved flexibility, a renewed respect for work-life balance, creative innovations, and enhanced safety precautions.
Many are facing the same tough challenges and decisions: Do we continue to lease empty office space? How do we build in mental health support for our workers, who are facing additional stress at work and at home? What do waiting rooms/reception areas look like now? How do we sufficiently clean our facilities and furnishings without destroying them? How can we ensure our personal protective equipment (PPE) supply stream? And how do we maintain a cohesive workplace culture, with the staff here and at home?
Beyond collaboration and commiseration, participants help each other avoid missteps, get traction for good ideas, and make a business case for these ideas with their leadership, through real-time benchmarking.  
"For us, helping to facilitate this conversation during a time of need was very meaningful," says Roseann Pisklak, EYP, lead interior designer.
Pisklak and two other consortium panelists, Linda Gabel, senior interior design planner, Ohio State University Wexner Medical Center, and Jennifer Mannier, associate director of workplace transformation, Memorial Sloan Kettering Cancer Center, took part in a Think Tank hosted by Metropolis magazine on Nov. 12, discussing, "A Safe New Normal: Will Healthcare Workplaces Lead the Way?"
"A workplace is all about people and outcomes," Pisklak said. "We all work differently and have different needs. And now, many of us are working away from the office. We now have to embrace multiple levels of diversity, while making sure all employees feel valued and engaged. We'll soon be seeing the emergence of a hybrid design for the office that supports employee workflow and sharing of information."
Key Workplace Themes
During the Healthcare Consortium conversations, certain topics were brought up multiple times by group participants, so Stringer started tracking common themes: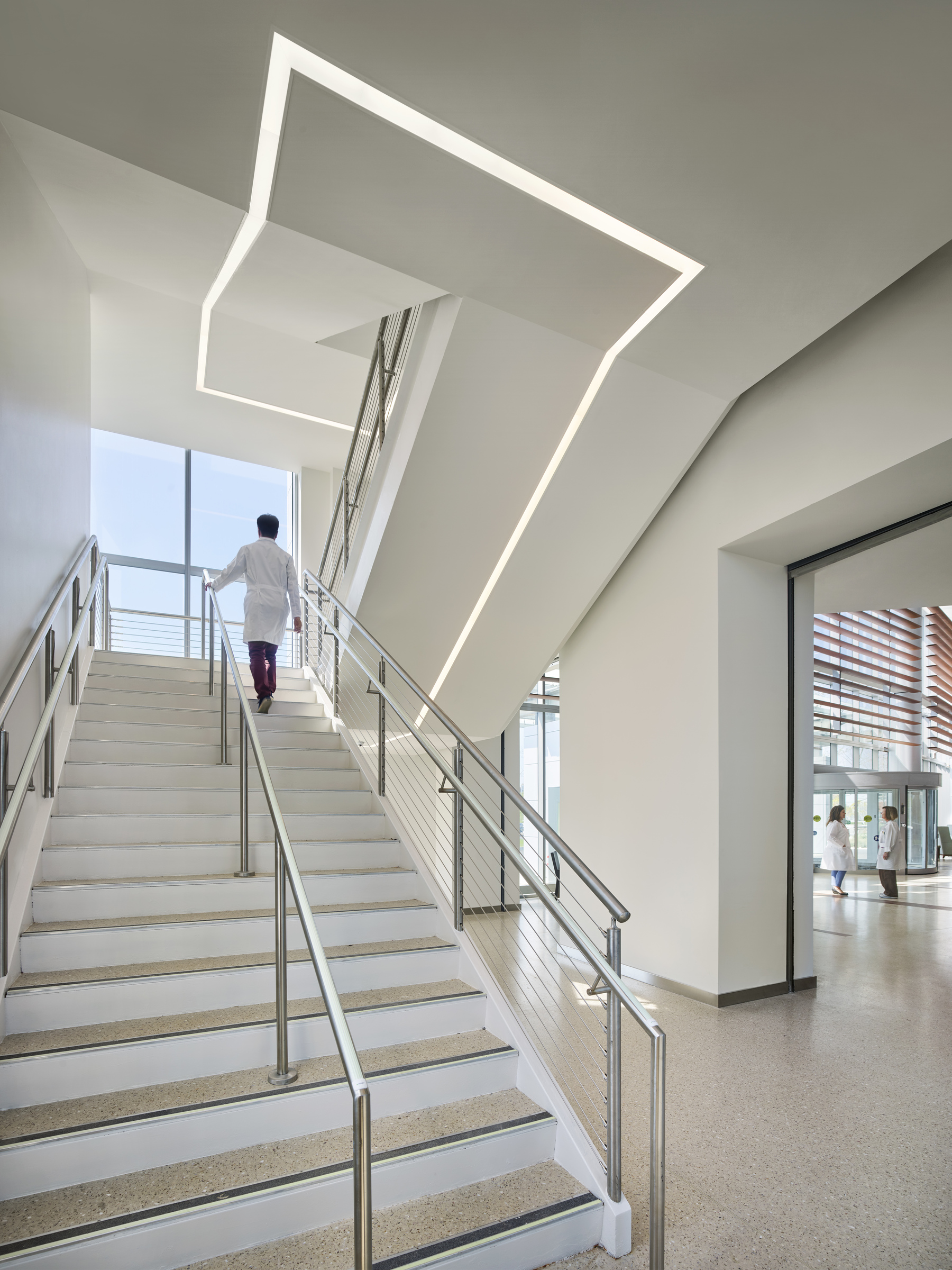 Medical centers are generally open to new ways of working. Department heads and managers learned first-hand that it is possible for large numbers of their non-patient-facing staff to productively work from home or adopt shift work in a crisis. Through surveys and conversations with leadership, consortium participants have seen a shift in perception and attitude happening on the ground. It's unclear whether the big shift home will ultimately help hospitals save money, but there are already major recruiting and retention benefits to giving staff more flexibility, particularly given all the unknowns around the impact of COVID in the future.
More is required to accommodate flexible work and telehealth. Once hospitals figure out which functions can work more flexibly and/or from home, there are a series of decisions and investments that must be made. How can we ensure employees at work and at home collaborate and team effectively? How does all this work from home impact work culture, especially for new employees? What investments in technology are required?  At what point are people willing to give up a desk or share a desk to have more flexibility?  For work-from-home employees, how are they provisioned? How do we shape guidelines and policies in a way that doesn't create a sense of "haves and have nots?"
The open office won't go away but will likely be reimagined. Most organizations said they do not see open offices going away, but the density of those offices would be much less in the future. That goes for other spaces too, like break areas in clinical environments and write-up spaces adjacent to lab space. Also, there will be more of a need to consider airflow and quality, humidity, and other environmental controls to reduce disease transmission in an open space. An emphasis on "why" you come to work (to share ideas, to break down silos, to make connections) may shape the design of spaces and how they are used in the future.
Flexibility needs to be built in, to support surges and different use patterns. Participants mentioned several strategies they have adopted already to plan for the next pandemic (or another major event) including providing beds, bench seating, or offices that can grow or shrink in occupancy. They also have "flipped" spaces—turning conference rooms into hoteling space, warehouses into PPE storage, offices into telehealth rooms, and labs into training space—to accommodate priorities. One operational strategy considered by a few participants was to move to a different chargeback model where departments share the costs of large spaces like training or conference rooms, to increase use.
Be aware that too much cleaning has its own cost. In general, hospitals default to cleaning furniture much more than needed, which wears down the product and reduces its useful life. COVID has exacerbated this problem. Most organizations are moving away from fabrics, even in administrative spaces, to avoid transmittance but also to reduce the breakdown of finishes and material. Emerging resources for those in facilities, procurement, and operations are setting new standards to reduce waste.
Caring for caregivers has evolved to care for everyone. COVID has seriously increased stress and anxiety. And not just in front-line employees who are working multiple shifts and are hands-on with patients. Support staff are working longer hours and often in shifts, and those who work from home are adjusting to remote technologies and making extra efforts to keep in touch with teammates. Staff are facing lots of unknowns – how long the pandemic will last, what will happen with their kids' schools, and whether their jobs are secure.  How do we best build in mental health support for all employees?
"These themes touch on issues that are relevant to almost every organization right now," Stringer says, "including flexibility, family issues, and the role the workplace environment plays in keeping people engaged, productive, and healthy, mentally and physically."
By sharing best practices, consortium members can help each other and also show other industries how to address workplace issues at such a complex and dynamic time.
"Many of these healthcare organizations have epidemiologists and experts in dealing with infectious diseases on staff," Stringer says. "They are exactly who we want to learn from right now."