The Albany Business Review (ABR) recognized Albany Project Designer Shivanthi Narendran as one of the Capital Region's emerging business leaders of 2020 by including her in the publication's annual "40 Under 40" listing. The listing includes just 40 individuals – all under the age of 40 – who exhibit early leadership in the community, in entrepreneurship, and in organizations ranging from corporations to businesses to nonprofits and startups.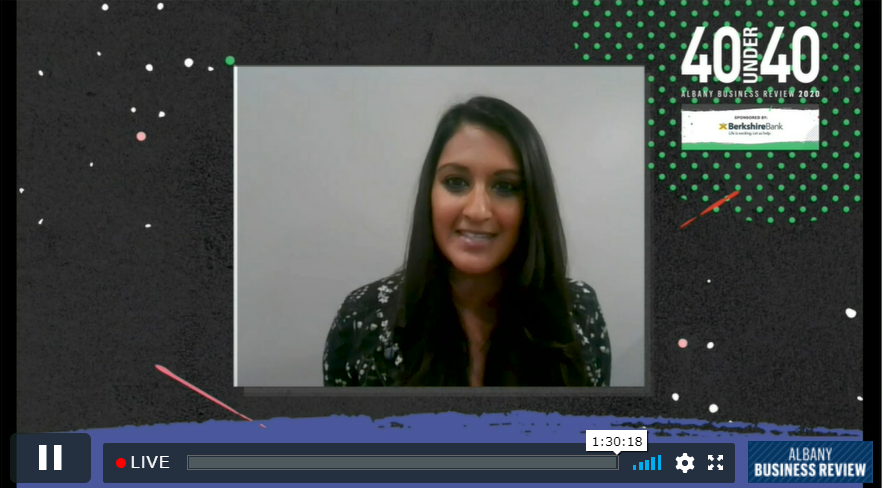 Originally scheduled for May 8, 2020, the ABR moved the celebration online during the pandemic. Individuals gathered virtually to celebrate the honorees, including a host of Albany team members whose mentorship, Shivanthi says, guided her to where she is today. 
A Leader in Design
Shivanthi joined our firm in 2014, shortly after graduating from Rensselaer Polytechnic Institute. She is the group leader of Studio Orange, an internal studio specializing in creative solutions and high-quality, interactive design visualizations for our clients. Her leadership has helped bring in local clients, including The University at Albany and SUNY Cortland. On a national scale, she has helped secure work with clients, including George Mason University and The Virginia Department of General Services.
Shivanthi was a part of the design team and a significant contributor to work recognized by AIA Eastern NY 2019 Design Awards in the Unbuilt Category for both Science Island and the University at Albany Alumni Quad. She also contributed to EYP's AIA Eastern NY 2019 Award of Merit in the Institutional Category for the Zero-Energy Capable Nanotechnology Building (ZEN), where she assisted in designing the 2nd and 4th floors.

The ability to effectively distill the essence of a client's mission into an effective long-term solution that meets the unique needs of their culture, through the built environment, makes every job an exciting challenge.

Shivanthi Narendran
Community Impact
After joining EYP, Shivanthi participated in the firm's CANstruction team. CANstruction is a nonprofit organization providing canned food to local food banks in cities by facilitating a design competition between firms in the architecture, engineering, and construction industries. In her second year, Shivanthi stepped up as a CANstruction Captain, leading the design and construction of large structures made entirely out of canned food items. Over four years, Shivanthi has helped bring nearly 25,000 cans to food pantries, and as a result, has helped to feed thousands of families in need while raising awareness of food insecurity in the Capital Region.

Shivanthi's leadership in these endeavors have resulted in the firm receiving numerous CANstruction awards, including 2015's People's Choice, Best Use of Labels, Highest Cash Donation; 2016's People's Choice, Structural Ingenuity; 2018's 2nd Place in the Hunger Heroes Category; and 2019's Juror's Favorite and local and national People's Choice awards.
In raising funds for the CANstruction structures, Shivanthi has facilitated dozens of cultural activities in the firm's Albany office, extending the competition to community activities that bring people together, celebrate each other's talents, and ultimately strengthen the Albany office's culture.
We look forward to Shivanthi's continued success in the Albany community, office, and firm as a whole.