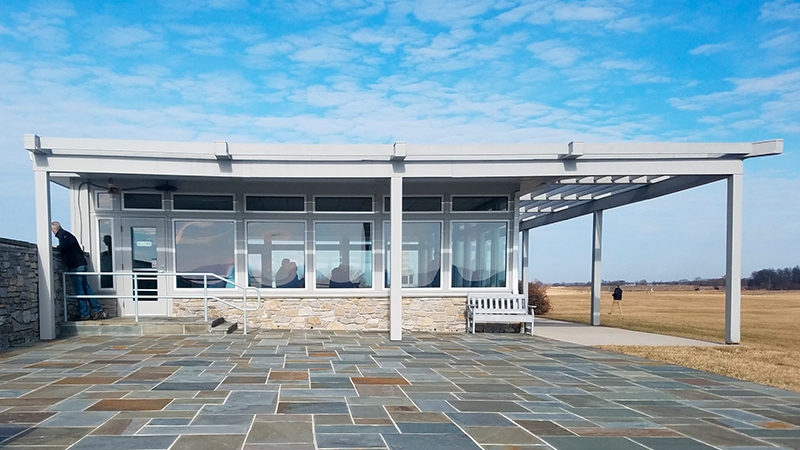 Widely considered one of the most beautiful and well-preserved battlefields, Antietam National Battlefield is a must-see for any Civil War enthusiast. Constructed in 1962, the Antietam Visitor Center improved visitors' access and experiences, but after welcoming over 350,000 history buffs each year, the center was ready for modernization.
Since 1916, the National Park Service (NPS) has been dedicated to protecting the natural and cultural resources at over 400 parks across the U.S., advocating sustainable approaches to site preservation. So, EYP's Green Lab saw Antietam as an opportunity to support this mission by creating a net-zero-ready facility. The goal is for the center to produce as much renewable energy as the total energy it uses each year.
Taking an inside-out approach, the team began by replacing the visitor center's mid-century building systems. New, all-electric Variable Refrigerant Flow HVAC systems will improve comfort levels and increase efficiency, and the specialized environmental controls will support and protect sensitive exhibit areas. Plus, new efficient LED lighting will contribute to the reduced energy footprint.
Next up? The roof. Flat roofs are a character-defining feature of the center's modern style, so the team maintained the original design while renovating the roof to improve drainage and energy efficiency with waterproofing and enhanced insulation. Then, they added a photovoltaics (PV) system. With a predicted energy use intensity (EUI) of 26.7 kBtu/SF/year, the roof-mounted PV system option has the capacity to provide enough on-site renewable energy for the building to achieve net-zero.
So, whether you are visiting the bookstore or taking in the panoramic view of the battlefield, keep an eye out for these energy-efficient upgrades. They're helping the NPS and the Antietam Visitor Center manage resources wisely.