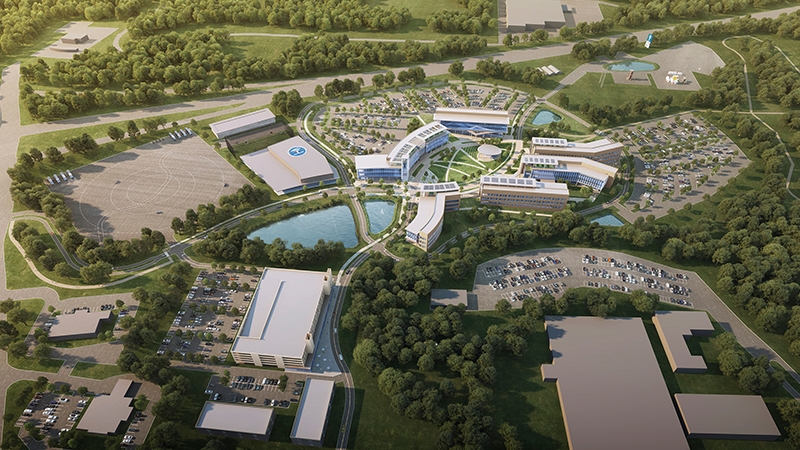 Architect Magazine recently referred to Community Colleges as Higher Education's fastest growing sector. With tight budgets and more challenges for resources than their four-year neighbors, these institutions are tasked with heavy lifts, including providing affordable instructional support to their local residents, inspiring and preparing students for transfer to four-year programs, and partnering with industry for workforce training. This widely varied mission results in a frequently changing curriculum and a diverse student population. A typical Community College enrollment includes a range of high school, reverse transfer, military veterans, and second career students.
The need for a traditional academic learning environment is balanced with the needs of "external customers" who are coming for specific workforce training and continuing education. Both objectives may compete a College's limited resources.
Some of the key curriculum trends we've seen in our work with Community Colleges are driven by changes in workforce needs. In particular, high demand fields such as healthcare and industrial technology are inspiring new program types that are often formed as hybrids between departments. Mechatronics is a recent combination of electronics and mechanical engineering that has produced a surge of training in robotics operation and maintenance. Surgical technology is another example, where advances in healthcare created a need for a new type of skilled assistants in the operating room for increasingly sophisticated equipment.
One thing that unites Community Colleges is their core mission to provide pathways to better jobs, and in turn, become a unique reflection of their community and its workforce. This concept is clearly demonstrated in Wake Technical Community College's master plan for a completely new site, called the Eastern Wake 4.0 Campus. The campus name references the fourth industrial revolution with the intelligent networking of machines and processes with information and communications technology.
Campus Vision
In 2019, Wake Tech made the strategic decision to redirect their capital improvement plan with resources that were intended to expand existing campuses and instead respond to a geographic service need in an underserved portion of Wake County. Wake Tech is North Carolina's largest Community College, serving more than 74,000 adults annually, with six campuses, three training centers, multiple community sites, and a comprehensive array of online learning options. With the creation of the Eastern Wake 4.0 site, they envision a unique focus on partnerships for innovation, with the surrounding community, local industry, and with other nearby academic institutions. The project site is closer to future industry locations and convenient to two state universities in the eastern part of the state, which will utilize this campus's facilities as an additional "beach-head" to expand their impact and establish new programs.
Physically, the new site features some noteworthy contrasts across its 105 acre expanse. It is situated along a major highway to the north, within walking distance to one nearby high school and a few miles from a second one. The opposite edge of the site is a heavily wooded wetlands conservation area, with links to a planned greenway connection to nearby downtown Wendell, and a new master-planned live/work/play community called Wendell Falls, which is driving significant growth in the area's population. As plans were finalized to close on the property in early 2020, EYP began work with the College in strategic discussions and creation of a design vision for the land use and infrastructure plan that would guide the growth of this important endeavor.
The design team conducted meetings with the Executive Steering Committee and a representative Planning Committee to explore various aspects of the campus framework, from aspirational goals to detailed performance requirements, which produced an assessment of the site's capacity and a set of directions for future development. Only the kick-off meeting was in person; all other meetings were successfully conducted virtually because of the ongoing pandemic. The mission at the outset was clear: to support equitable access and put high quality resources where the people who need them the most live. Through a highly engaged, iterative, and inclusive process, concepts were tested, advanced, and eventually evaluated for the best fit to meet these priority goals:
Provide equitable outcomes that address the diversity of all students
Champion the next generation of industry training, embracing and championing new technologies
Create a physical environment the improves learning through experiential and reality-based opportunities for students
Create a community amenity for Eastern Wake County
The College wished to capitalize on the prominent location and have its buildings visibly demonstrate Wake Tech's commitment to be future-focused on where industry is going. In addition to delivering new academic goals, the greenfield site is also an ideal chance to continue the College's firmly established sustainability program, with enhanced performance targets for energy, conservation, and wellness.
Site Program and Design
Two primary program elements are planned for the facilities at the Eastern Wake 4.0 Site. The initial buildings will support Public Safety training, with an indoor 4-D immersive "Simulation City" for law enforcement training, a driver training pad, an unmanned aircraft operation area, and a large grouping of outdoor Fire and Rescue training spaces. The other focus area for this site will be the Technology 4.0 building, which will be home to advanced industry training in Mechatronics, Microelectronics, and Automation.  In anticipation of cross-disciplinary collaboration between these programs, the campus will be built on the theme of experiential education with formal and informal learning opportunities.
This unique set of program spaces had equally unique physical requirements, including a diving pond, outdoor drone pavilion, cell phone training towers, and a 600' x 600' foot driver training pad. The design analysis determined that the ultimate capacity of the site is around 675,000 square feet of indoor space, including a small allocation of space for retail or residential use, with related parking. This equates to a projected student population of 6,700, which was used for traffic planning. 
Determining the optimal layout for the campus buildings involved a balance of functional needs, energy-efficient building orientation, environmental sensitivity, and the creation of high-quality outdoor spaces that supported the occupant experience. An early theme in the design discussion centered around creating a campus core that could serve as an activated, inviting gathering space. The overall landscape planning strategy serves as a complementary framework, working in conjunction with the buildings to be a series of nodes and circulation routes, balancing passage with pause. with a clear separation of vehicles and pedestrians.
The method for determining the final master plan layout was through a series of presentations to establish a baseline understanding of the site capabilities and the program needs, then tests of varying design options. In light of the need to conduct all meetings remotely, the team built as much transparency into the design process as possible. The guiding principles established in the initial visioning sessions served as continued criteria to evaluate planning ideas. Through our surveying, we established priorities for the planning directions and used those to guide the group to which arrangement did the best job of meeting those aims. In the end, this resulted in a very clear consensus about the plan that had the best connections between building, walkability and entrance presence.
The central core of the academic campus is composed around a helix shape which expresses a connection to nature by organizing buildings around an organic form that frames a welcoming entrance sequence for visitors and students to one side, and extends into the natural wetlands to the other. Water features, natural landscape plantings and clearly defined set of typologies for the vehicular and pedestrian network provide a framework within which the new buildings can be placed over time. Throughout the project, designers leveraged geometry to ensure that all buildings organically experience the surrounding natural habitat. Wake Tech's commitment to quality architecture and place making also inspired the design team to create buildings in concert with one another, creating both larger public spaces and more intimate public spaces, both on the central spine formed off of the helix.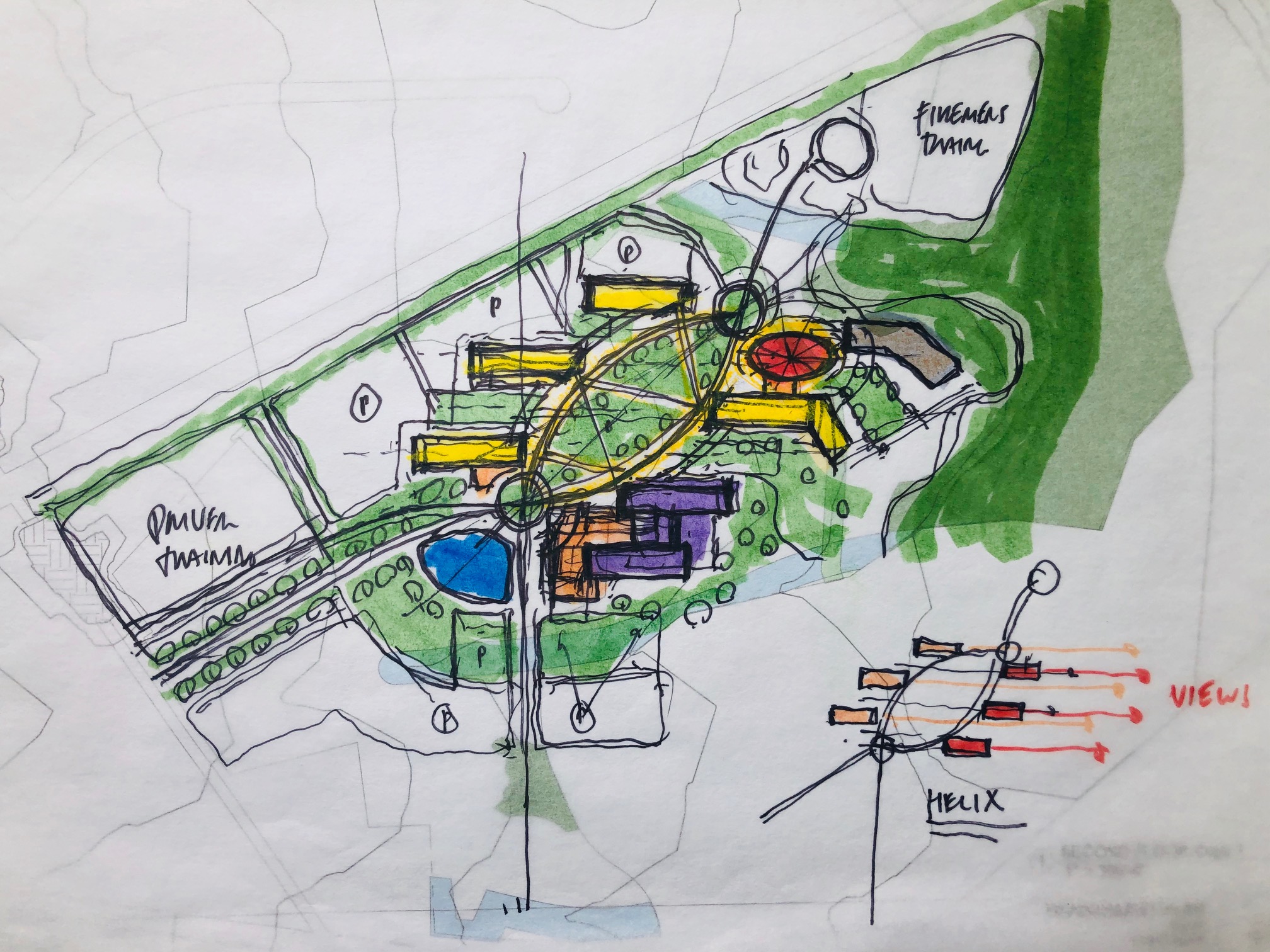 Following are the five key impact points that will guide the infrastructure and future campus design.  
Scalability – The College is beginning development of the campus immediately following the master plan. Their Capital Improvement Plan is structured to begin with a Central Utility Plant and installation of related utilities, followed by an initial building phase for the core buildings to support Public Safety, Technology 4.0, and Student Services over the new few years.  The buildings and proposed infrastructure allow for incremental build-out with initial investments in traffic, stormwater, and utility services that have logical extensions in two additional phases.
Community Connection – The strategic choice to invest in the local communities of Eastern Wake County offers an opportunity to make connections with prospective students and partnerships with local businesses. The master plan layout is sensitive to providing clear wayfinding and easy access to varying components of the site, and makes direct connections from the campus core to the nearby high school, and future Greenway. A secondary entrance and designated zone for retail and possibly residential buildings will invite greater use beyond the student population.
High Performance Design – During development of the master plan, the design team evaluated each design option to compare performance for energy efficiency, including exposures for daylight, sun exposure, and solar radiation.  In addition to consideration of the building orientation, massing and building footprints are suggested at a width that optimizes daylighting of interior spaces, affords direct views outdoors, and allows for a simple building plan module. Of three final alternatives, the selected one performs 11% better than the others, saving a projected 9,640 kWh/year.
Walkability – Wellness of the occupants extends from the interior environment to the exterior, with campus planning that considered access to nature, connections and scale between buildings, and convenient proximity to parking. The general approach is pedestrian friendly, with clear separation of cars and people.
Defined Campus Core – The Executive Steering Committee stated at the outset that this campus should be different from their others, centered around the student experience and with a very clear sense of arrival and defined center of activity. This welcoming face encourages students and visitors, and promotes a sense of belonging. The desire to increase cross-collaboration between buildings and disciplines is facilitated by the scale and enclosure of this central outdoor space, and supported by convenient passage spaces between buildings and from parking.
Future Planning Implications
The design of the Eastern Wake 4.0 campus plan is a key indicator of future planning trends that will be important to support Community Colleges as their importance in economic development and community education continues to grow.
Rigorous flexibility: Creating an environment for training and learning that easily responds to change requires a future-forward orientation.
Innovative partnerships: Colleges can help overcome resource challenges by teaming with both industry and other higher education institutions. Campus planning can support that goal through improved access and visibility.
Diverse student experience: In Community Colleges this particularly tends to get overlooked, possibly because it is so hard to define the target demographic for such a widely varied population of learners.
In the recently released announcement for the new campus, Dr. Scott Ralls, President of Wake Tech said, "We think we can make a big difference here in eastern Wake. At Wake Tech, we don't want to just be part of an economic recovery, we want to lead an economic resurgence for this region." The planning strategies that will guide this mission will be a useful template for our team as we partner with other Community Colleges in the future.