Not much is more beautiful or reassuring in a medical facility these days than the sight of a fully stocked PPE cabinet. With a surge of highly infectious patients, proper PPE means protected healthcare teams.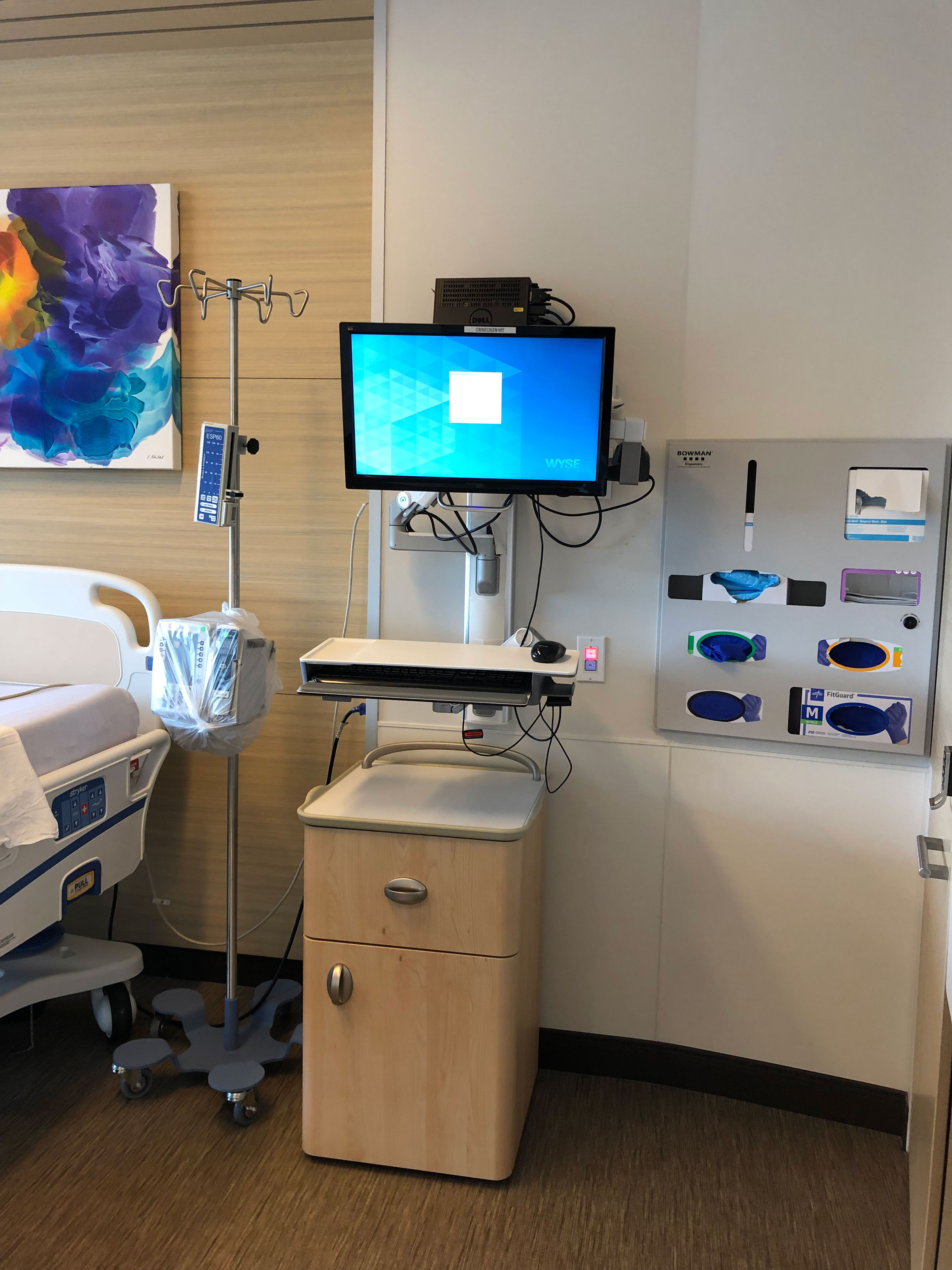 PPE, or personal protective equipment, is an acronym nearly everyone has become familiar with over the past several months of the pandemic. It includes protective clothing such as medical masks, gloves, respirators, eye protection, face shields, gowns, aprons, and booties.
Many hospitals have been challenged to have sufficient and appropriate PPE on hand to safely protect medical workers during COVID-19. For states in the middle of surges, efforts to stock sufficient PPE seemed like something out of a spy novel, involving back-alley deals, international trade-offs, bidding wars, pandemic profiteering, and church sewing clubs. 
These protective coverings are essential for medical teams and hospital staff, who can't use social distancing while caring for a surge of infectious patients during a pandemic—and who may have to do invasive procedures that put them at significant risk from bodily fluids, droplets, or aerosolized virus without such protection.
Adding up the PPE needed for every provider and visitor, each time they went into a patient room, is daunting, and the storage and disposal of the copious amount of PPE needed is sometimes a challenge.
"We started off with a photo a client sent that showed everything they use and it was a hodgepodge," says Annabella Koloskov, principal and senior medical planner, EYP Houston. "It took seeing that to understand how we could make it more organized and efficient with a customized PPE cabinet built specifically for that client's needs."
Grab and Go
Whereas PPE storage previously might have been in a centralized location or on mobile carts, it has become such a valuable commodity that hospitals are considering where PPE storage areas (yes, plural) should be during the design phase.
"As much as you can, you want to make it seamless for staff to get what they need," says Koloskov. "And we want to help our clients to think forward, since we don't know what will happen in the future."
"There's been a change in the thought process," she says. "We're hearing now from our hospital clients that they want PPE available outside of every patient room, so that personnel can grab a mask, gown, and gloves without running around looking for it."
Some hospitals are using prefab wall-hung units to supplement their regular PPE supply areas. Others are requesting built-in alcoves with deep shelves designed to fit within the floor or unit's footprint and limited wall space, that work with the staff flow.
"It's about being responsive to our clients and truly basing our design on what they are asking for, but it's also about showing them what we can do," says Miranda Morgan, senior medical planner, EYP Dallas.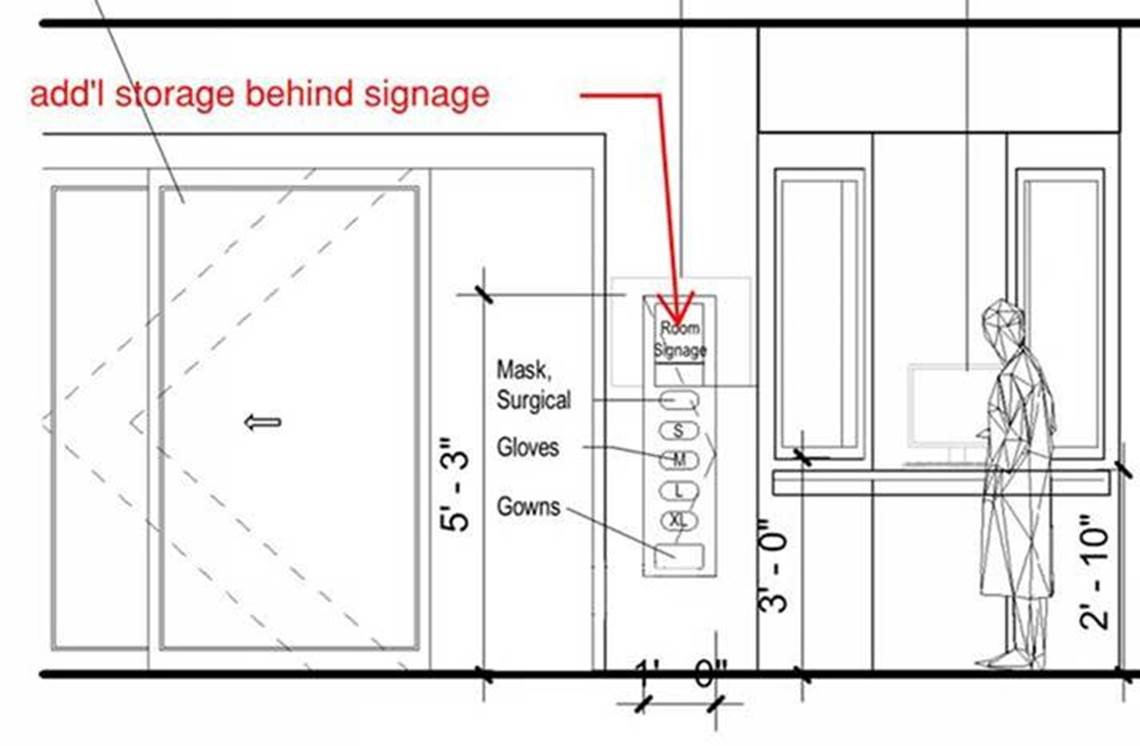 Many clients were clear that they wanted PPE storage to be touchless, which makes sense when trying to limit cross-contamination.  It also helps to have one person restock each PPE storage unit from a mobile cart, to lessen trips to and from the clean supply room. 
"It's a good idea to get buy in from the staff who will be replenishing the stock levels. These clinical nursing assistants or patient care associates can critique the design from the standpoint of ease of restocking," says Laurie Waggener, director of research and associate principal, EYP Houston. "While these are work-flow processes, they can inform design."
For example, Koloskov creatively placed a small extra storage department behind the signage on a PPE cabinet, maximizing use of space.
One Size Does Not Fit All
Hospitals are more conscious of how their staffs don and doff PPE—since the Ebola scare, and now with COVID-19, Morgan says. "Even when there's not a huge infectious disease issue, this awareness has trickled down to managing average patients who might have something infectious. Nursing and medical staff being more conscious of the possibility of spread."
Indeed, every patient interaction would benefit from the caretaker wearing the correct level of protective gear.
Consider the varying types of masks. A cloth mask helps to protect others more than the person wearing it. Even a regular surgical mask will not protect against an infectious virus like SARS-CoV-2. But a specialized mask like an N95 respirator or a PAPR (Powered Air Purifying Respirator) can help protect the person who wears it as well as others.
This need for a continuum of PPE complicates matters, as different rooms and units need different types and selections of protective gear. 
"A negative-pressure room would need N95 respirators and a large variety of PPE—every type and size, and extremely well stocked, as well as some type of anteroom for donning and doffing," says Koloskov. "We started designing alcoves that would provide storage for every component the medical team might need. Do they need the normal paper gowns, or the yellow gowns that are a bit thicker? Just masks, or also plastic face guards? We can only determine that as things progress."
Deeper shelves and built-in cabinets provide storage space behind each item for multiples. And, when such PPE stations are built-in, the millwork gives these recessed cabinets "a better feel and aesthetic," she says. "You can even incorporate signage that looks like a design element."
Take a PPE cabinet that needs to hold several different types of surgical masks and four sizes of gloves—small, medium, large, and extra-large, as well as gowns, caps, and booties—much of it disposable. That's a lot of PPE, used by each medical staff member every time they enter the room. The consolidation of equipment helps make for an uncluttered and structured environment.
"This needs to be approached with the client early on in design," says Koloskov. "If it isn't, you end up with mobile PPE carts all around the floor blocking the hallway, or PPE hung off the door on a shoe rack. For hospitals that want to have PPE at every room, which is a fairly recent phenomenon, you have to be much more thoughtful in terms of flow."
Donning and Doffing
Specialty floors, such as labor and delivery, have their own challenges for PPE storage, says Morgan, especially during a viral pandemic.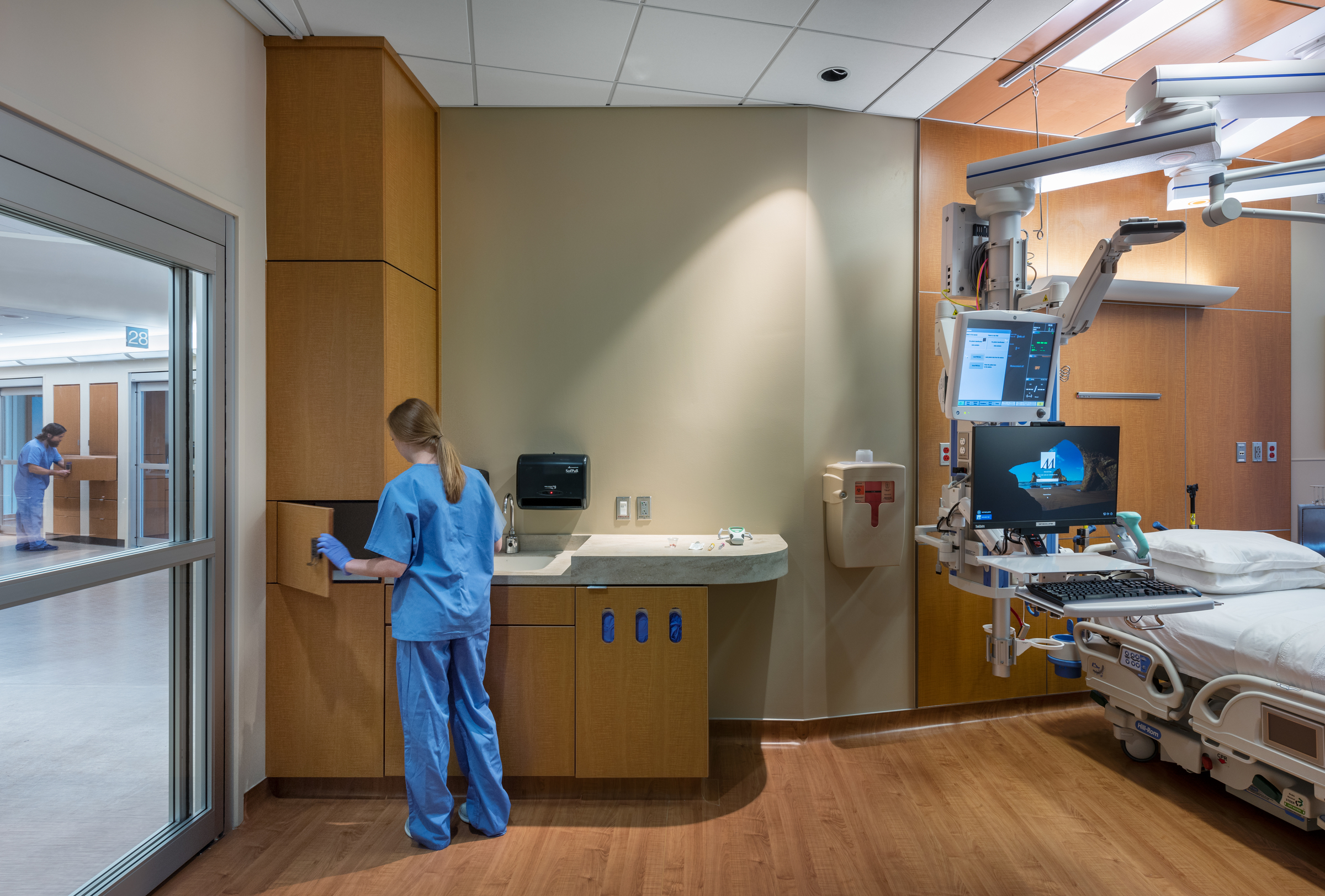 "We needed to have a variety of PPE available at every patient room, because the medical team was never sure if they were going to need to manually check the patient, or how covered they would need to be. We chose to keep PPE stocked in a standard cabinet in every L&D room— masks, gowns, and gloves."
Putting on and taking off PPE presents its own challenges for providers and visitors—and safe disposal is essential (on a facility and a personal level.)
"Has anyone tried to put on booties balancing on one foot? As we ramp up isolation rooms and PPE, they need a place to don and doff while managing the excessive waste in an efficient manner, being mindful of not contributing to visual clutter in this workplace," says Waggener. 
A great solution is to include a waste disposal bin built into the PPE storage unit itself.
Until, that is, PPE becomes too valuable and scarce to throw away at all.
"We've seen hospitals where all the PPE had names on it—staff was needing to reuse their equipment, even that which had previously been considered disposable. They were basically disinfecting masks," says Koloskov. "So we adjusted to trying to provide space in case they had to lay out PPE items to reuse/sterilize."