We know the built environment can affect the human psyche.
In behavioral health facilities, design has a tangible, quantifiable impact and can be even more critical since individuals may be in trauma, experiencing distorted thoughts and strong or muted emotions. Facility design can aggravate or lessen personal distress, leading to more receptivity to progress and recovery.
Modern behavioral facilities aim for a homelike, deinstitutionalized environment that supports autonomy and offers individuals some control over their environment, with built-in safeguards and appropriate boundaries.
Three modest redesign projects at state-run campuses were recently undertaken by EYP. All provided upgraded, therapeutic spaces in existing buildings that house full-day programming for individuals who reside on campus but are not confined to an inpatient setting. 
A proven "bundle" of design attributes (Ulrich et al., 2012) that can improve consumer mood and decrease aggression include less crowding, movable furniture, controlled acoustics, window views to nature, nature art, increased daylight exposure, and proximity and visibility of common spaces to staff stations.
Many of these attributes rely on funding, space, and sufficient staffing. But we have found that even small-scale behavioral health projects provide an opportunity to create places of discovery by attending to details that support dignity and recovery.
While safety and durability remain priorities in such facilities, components like perceived choice, spatial quality, and therapeutic atmosphere are key to these facilities' missions. Such design attributes are achievable in existing facilities through thoughtful renovation. Indeed, renovation may be a more attractive option in a tenuous fiscal climate.
Aspects of Choice
The fabric of a built environment is made of many threads. Each can influence how we feel within a space.
In a behavioral health setting, safety and security remain paramount. But clients today strive to provide buildings that feel more collegiate and civic to give individuals the sense of being part of a community as they work through their recovery process.
The layout of a building and the wayfinding provided to help navigate can alter whether one feels a sense of control within a given space. If a building consists of maze-like corridors and numerous interconnected rooms, users can feel disoriented or anxious, and their perception of safety can be diminished, increasing stress.
In an individual with a behavioral health diagnosis, these feelings can be significantly amplified. We strive for a simple plan with a clear wayfinding path to provide the client a sense of freedom and self-determination. A clear plan and path, with supporting floor finishes, assists and orients occupants, so they are aware of how to get back to the exterior. 
This simple floor plan includes a circular path along the therapy classrooms with two openings. A thickened wall design places the focus on thresholds and on the path itself, underscoring that treatment is not a linear process but a journey; an individual may cross the threshold into recovery many times.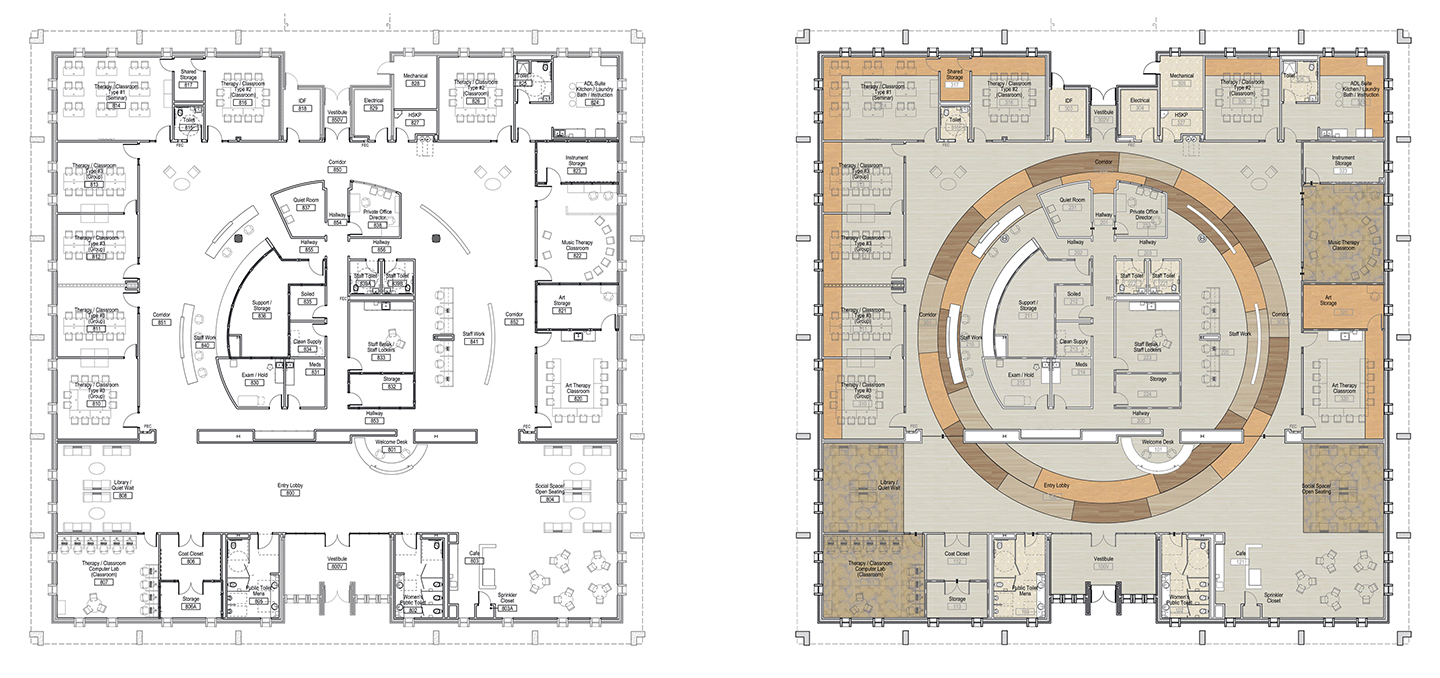 In a behavioral health setting, returning some feeling of control to the individual can foster a sense of self. We allow for areas of varying scale to give a choice of settings in which they can feel most at ease. Some users prefer wide-open areas with good visibility, and others feel safer in intimate, slightly contained quarters.
In treatment mall settings — common therapeutic areas likened to "neighborhoods" and "downtowns"— clients may visit support group meetings, classrooms, fitness centers, or other activities in supervised, centralized spaces that allow for healthy socialization. When an individual doesn't feel like being "on," they may need somewhere to retreat or a designated path to pace or pursue while their mind wanders. 

One effective and simple treatment mall design solution is classrooms oriented around a central space. In two of our clients' renovations, this central space is an existing gymnasium that has been retained and provides a place for assemblies and recreation, as well as an open space for clients wishing to step out of therapy classrooms while remaining in a safe location. A change in flooring material delineates a walking track used by clients who need a repetitive circulation path to rid anxious energy or take a focused, meditative stroll.
Sensory Stimulation
Access to nature, such as windows or skylights, can help to orient building occupants, regularize circadian rhythms, and provide a therapeutic atmosphere. If these are not feasible, even perceived access to natural light, such as cove lighting or etched glazing, can benefit a user's experience of a space.
Sensory stimulation is especially important. In the same way that hospital patients find it difficult to rest and recuperate in a loud or chaotic unit, behavioral health clients can find it difficult to be at ease in settings that arouse too many senses.
In the two renovations with gymnasiums at the center of the therapy rooms, special attention was paid to flooring and ceiling finishes to aid with the acoustics of such a large space and to dampen the cacophony of sounds that otherwise would have proven distracting or jarring.
The opportunity to move from a large lobby or gym space into a smaller classroom, consult room, or quiet room offers individuals small freedoms within the safety of the treatment mall structure. As designers, we can transform the details of spatial settings to elicit a calming and palliative atmosphere. 
Being able to regulate noise and light within a space also offers users a small sense of power over their environment, which can help to calm those who may be overstimulated or are feeling claustrophobic. 
Intentional Artwork
Carefully selected images and artwork can provide a mental and emotional escape for building occupants. Something as simple as a serene landscape can elicit feelings of calm in the viewer. We work with graphic designers and artists to provide special feature walls in behavioral health projects. These walls are often in entry lobbies or spaces where individuals may wait for their daily schedule. The feature walls allow the mind to drift or to settle from anxiety or external pressures.
On a small, state treatment mall project, the design team worked with a local artist, who had a behavioral health history himself, to create a printed wall mural of an abstract forest. The piece is intended to give the eye a place to wander in an otherwise long, low, and narrow space linking two building entries.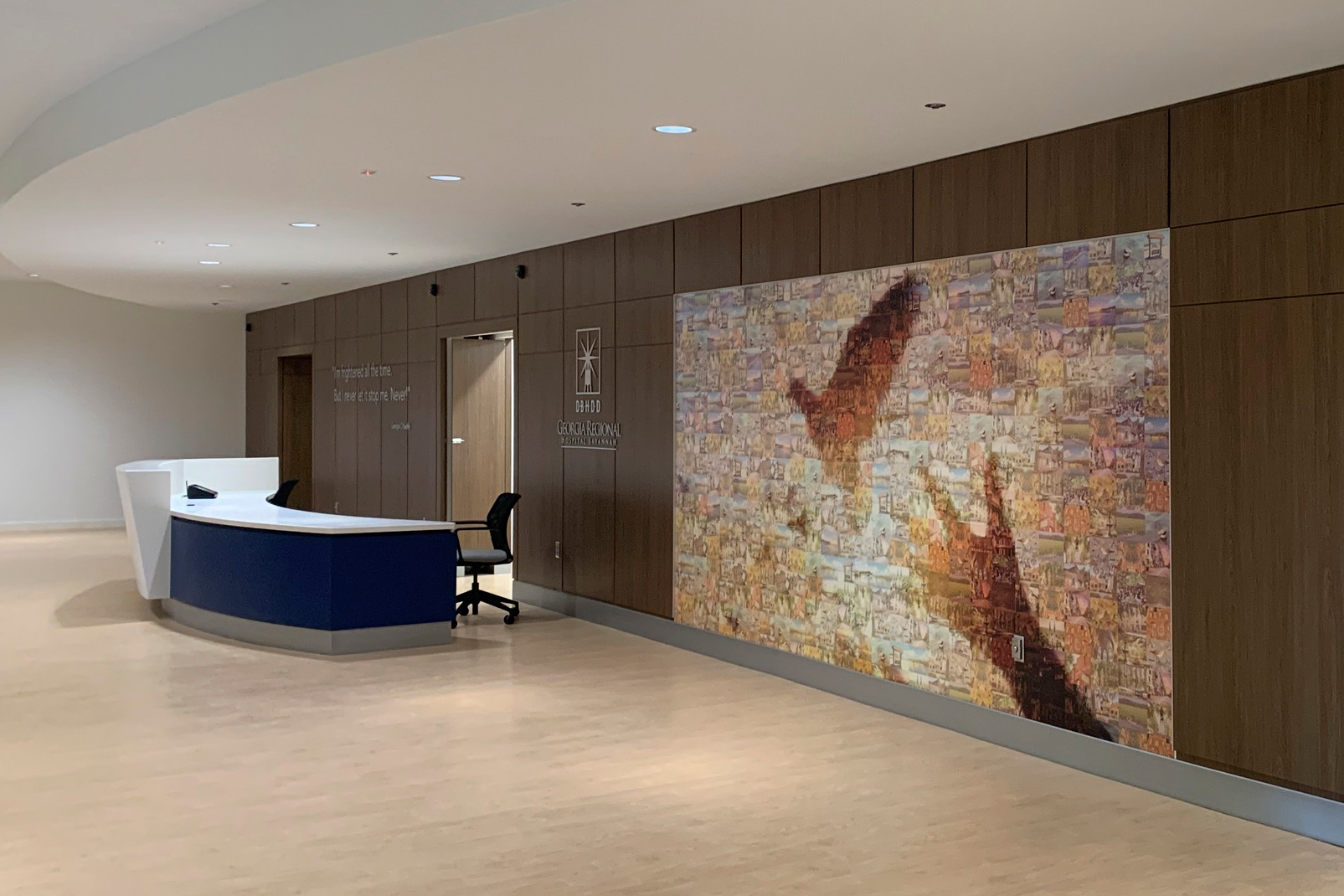 In a treatment mall renovation in Savannah, Georgia, a bird takes flight on a wall behind the daily check-in desk. Our graphics team generated the uplifting image from multiple smaller images of places and images that spoke to the building's users at this specific location. Recovery is an assemblage of pathways, people, and efforts.
For another project, we created "a beautiful mind" paneled feature wall with graphic images of and quotes from public figures whose achievements happened because of—not in spite of—their minds operating differently. The design team presented various notable public figures to the clinicians, who ultimately selected John Nash and Beethoven as visionaries to highlight.
Music therapy is a common component of treatment mall therapy, as it offers the mind a space to relax and heal. The mathematician's insight into the factors governing decision-making and chance provides a poignant commentary on the complexities of the individual brain in adapting to everyday life. The design of the feature wall panels allows for them to be updated in the future if desired.
These small design touches may seem insignificant, but they are part and parcel of a behavioral health facility's mission. The user's ability to choose to partake in movement, beauty, nature, art, and music are therapeutic tools that support recovery and provide lessons a client can carry as they rejoin the larger community.