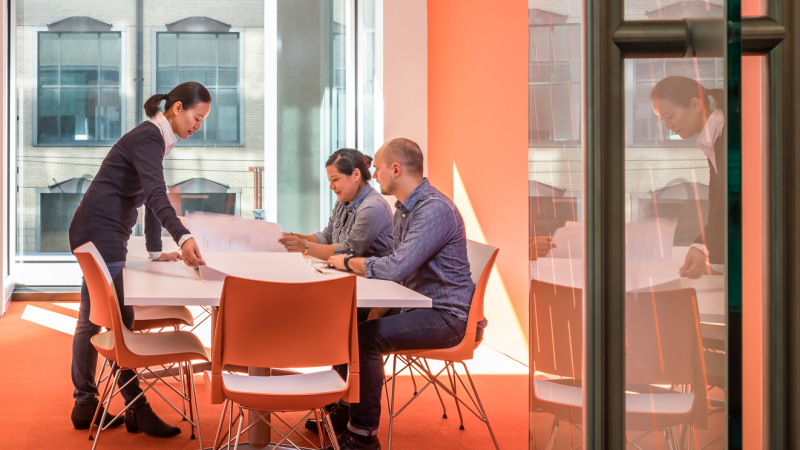 Thousands of important decisions are made during the development of a large healthcare project. A project's successful outcome is defined by many measures, and we try to establish those with our clients during the initial VISION session.
Two overarching matters foundational to a project's success are the budget and the schedule. In this Critical Conversation with Charles Griffin, senior director of health care and senior principal, EYP Houston, and Burn Sears, senior project director, principal, EYP Atlanta, we take on the nuts and bolts (and nuances) of a budget discussion with a healthcare client.
Straightforward Communication
All clients want to maximize their investment. "It comes down to aligning expectations quantitatively, regarding scope and cost, as well as qualitatively," says Sears.   
When a budget is off or insufficient, straightforward communication with the client is best. Large national firms will often have worked on comparable projects and can share baseline and projected cost estimates.
While it may seem elemental, the planning team must make sure the budget includes not only construction costs, but also medical equipment, furniture, fixtures, and equipment (FFE), signage and graphics, site work, permitting, phasing premiums, relocations, start up, commissioning, IT, professional fees, contingencies, escalation, premiums for special circumstances, etc.
Healthcare projects are complex and involve a lot of moving parts. It's essential to start with a realistic budget and an investment strategy that positions the client and the project for success.
"Agreeing on the budget and what it covers is a necessary first step before anything else can be done," Griffin says. "Being direct, honest, and open with a client sets the tone for future decisions down the road and establishes trust among all members of the team."
Specifics Matter
Sacrifices may need to be made if the scope of work is inconsistent with the funds allotted. At this point, the client can decide if they want to reduce the scale of the project or consider an increase to the budget.
"You need to have a heart-to-heart: 'Here's what you've given us. With this, we can build pages one and two but not three. So, let's discuss your priorities in more detail and develop a budget that achieves as many of your goals as we can, thinking creatively about how to get the most for your dollar,' " Sears says.
Griffin recently had such an experience, when close examination of the preliminary budget showed several oversights and omissions. "We were able to point out the important items their budget didn't cover," he says. "It was a delicate dance, but it helped us build credibility. They adjusted the budget and we moved forward."
Sometimes creative solutions can be found, such as building in flexible, multipurpose spaces or areas that can be expanded when funding becomes available.
"Some facility upgrades covered in the current project budget could support future projects as well, so it's important to think strategically," Sears says. "Let's say we upgrade a few big pieces of equipment at the central energy plant in support of a new surgical tower. We're providing better support for multiple buildings, as opposed to just thinking about project-specific payoffs."
Enlisting Allies
Budget decisions must take into consideration the building's users. What might be viewed as smart cost savings by leadership could be a "make or break" point for those who work in the space daily.
For instance, the owner may decide there is not enough funding for a staff breakroom on each floor and decide to put one on every other floor instead. But for nurses, this means walking away from their patients to take a phone call or grab a cup of coffee. "By raising the question, 'Will that solution introduce an inefficient workflow?' you can be a voice for the staff and work with the construction manager and facilities manager to find an economical solution, engaging the client as a partner in the decision."
Gaining the support of facilities managers is especially helpful on large healthcare projects.
"You have to try to make allies across the board by persuading them that you can either all win together or all lose together," Griffin says. "It takes a team of people, not just the architects. Part of our job is to help orchestrate the best decision for the project and the client."
Informed Choices
On any given healthcare project, variables will impact the project's final cost that neither the client nor the architecture and engineering firm will be able to predict with 100% certainty.
"A number of unexpected things will come into play, including challenges of escalation, the dynamics and uncertainty of the marketplace, the cost of materials and labor, even the weather," says Griffin. "That's why an appropriate contingency is critical on the construction side and the owner's side. And given the escalation we are beginning to see in materials and some labor costs, a bidding contingency strategy is also an important consideration."
The planning team can help clients view their project as part of a bigger picture and to align project goals with the larger strategic plan of the facility's healthcare system, institution, or medical campus.
Capital investment projects are considered either short-term, first-cost solutions or longer-term investments.
Sears favors the latter since a long-term view focuses on life-cycle costs and future proofing. "While budget parameters differ from institution to institution, I feel that we can deliver more value when we partner with clients and look at their capital investment through a longer lens," Sears says.
A fundamental budget safeguard, for example, is adding line-item flexibility that can come into play even as design is progressing. Then, if it comes down to fewer patient rooms or smaller common waiting areas, clients can make the call while considering all variables. "Ultimately, it's their money and their choice," Sears says. "But we can act as informed and experienced guides through the process."
Staff Considerations
Factoring in operational efficiency is another way an architect can help the client arrive at a realistic budget.
Case in point: An energy-saving, higher-performing exterior skin might be more expensive up front, but over the life of the building it could amount to a significant energy (and resource) savings.
"Clients tend to lose sight of operating costs," says Sears. "It's not only energy-related costs that add up. The true expense of a healthcare project is often in its staffing. Focusing on operational efficiency—how people move in and around buildings—is vital and it's something our healthcare design experts do routinely."
Administrators are going to want to attract top talent and there is a cost associated with that. "A well planned and designed healthcare facility is an important recruiting tool," Griffin says.
Cost Consultant
For some projects, the architecture firm might want to enlist a professional cost estimator as a consultant for third-party validation, to be sure the general contractor and sub-contractors are in alignment.
"People focused on estimating construction costs for a living also can recommend strategies for phasing, sequencing, and mobilization," says Sears. "You don't want to end up working on top of yourself as you renovate and expand a healthcare campus."
The least efficient thing to do, he says, is to design "seven little projects and knit them together. It's important to design a comprehensive project with a phasing plan that allows for a continual flow of work."
Finally, assure your client that capital improvement projects are investments that build capacity and further their brand and business goals.  
"Putting that next level on the building today is going to be much cheaper than in 2035, when you're really going to need it," says Sears. "It goes back to the flexibility issue. Strategic planning, a long-range vision, and agreeing on the right budget allow clients to grow into a successful future."
Five NEED TO KNOW items:
Make sure the budget includes not only construction costs, but all the soft costs too, including an appropriate IT budget (which is becoming a larger part of the pie).
Zero in early on areas of the project that may pose budget challenges.
Encourage the client to consider the longer-term strategic plan of their institution and how their project fits into the bigger picture.
Invest in a third-party professional estimator.
Keep in mind external factors that impact the budget, like escalation, resource scarcity, and the current cost of money (interest rates).