Architects and engineers have an opportunity to harness the power of design to develop creative solutions that address some of our most pressing — and costly — climate change needs.  
With EYP's in-house Green Lab, clients work directly with skilled building performance analysts to meet their design goals. High-performance designs ensure clients save money on operating costs while investing in long-lasting building infrastructure, benefiting clients and users alike. 
By "going beyond sustainability," Green Lab designers reimagine buildings to offset building emissions while preparing for climate change through resilient architecture. From day one to completion, they work alongside architects in projects across different markets.   
Whether it's renovating the Birch Bayh Federal Building, designing the Grinnell Humanities and Social Studies Center, or developing the Valleywise Health Medical Center, Green Lab members roll up their sleeves to impact more than climate change. 
Rethinking urban design — and incorporating resilient infrastructure 
Surrounding environments are key to designing climate-resilient architecture. 
"We approach projects by first asking, 'where is the project located, and what are the climate issues there?'" said Teresa Rainey, EYP's director of engineering. 
New urban architectural projects must consider the heat island effect and how buildings might add to carbon emissions. With more heat-absorbing infrastructure – including expansive roadways and buildings – cities experience higher temperatures and emit higher levels of CO2 as compared to their surroundings, making carbon offsets a necessary component of the design process.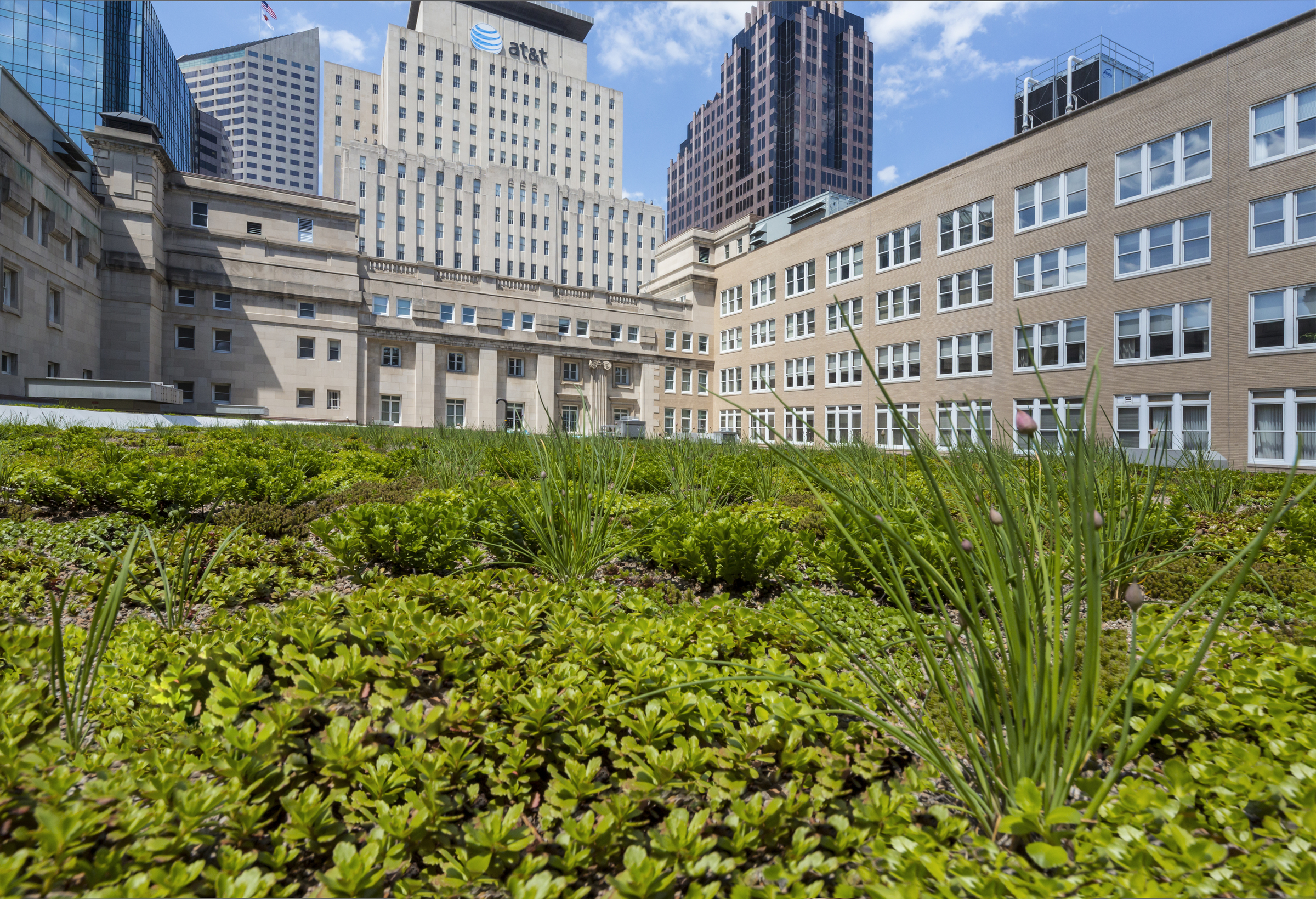 Incorporating heat island considerations into urban architecture can be easy and cost-effective for a variety of clients – even historic properties. At the historic Birch Bayh Federal Building, a green roof was installed that increased vegetation from 15% to 43% of the roof's total area, allowing the building to offset its heat island impact while creating an outdoor green space for employees to view. 
For rooftop areas without greenery, the Green Lab engineered a water system that collects rainwater and runoff to use in the building's plumbing. This design feature reduces the amount of city water used in the building, saving money and easing the burden on municipal stormwater infrastructure, which often experiences overflows.  
Saving energy – and lowering future costs 
Along with location considerations, cost is an important factor in sustainable design.  
Integrating climate resilient architecture can be seen as costly, but more efficient building designs can cultivate long-term cost savings. As temperatures rise, installing climate-conscious heating and cooling systems will become more critical.  
The Green Lab's energy savings at Grinnell College's Humanities and Social Studies Center proves how cost-effective climate considerations can be. EYP's new design catalyzes 77% in energy use savings compared to a traditional classroom building. 
"It was a win-win situation for lowering energy use and costs," said Rainey. 
Much of this reduction came from a leading-edge heat recovery chiller that uses geothermal energy to heat the building.  
By relying on chilled beams that induce a ground-coupled heat transfer, the Green Lab created a conducive energy grid adaptive to Grinnell's energy needs – eliminating steam service and the center's reliance on fossil fuels, contributing to its long-term campus sustainability goal of carbon neutrality by 2050.  
This form of "radiant cooling" can also be more comfortable for the building's occupants than an air-cooled system, demonstrating how Green Lab analysts put user experiences at the forefront of their projects. 
The center also incorporates "smart" energy designs that lower energy costs by dimming classroom lights and modulating the building's filtered air to account for high-demand usage. These energy-saving features allow the center to reduce its energy consumption year-round without sacrificing functionality. 
Putting patient care first – and reducing solar radiation 
Building Envelopes can significantly impact how much energy buildings consume, which can be influenced by how much UV light they absorb, making façade studies integral to saving energy. 
In sunny Arizona, the Green Lab designed the Valleywise Health Medical Center to provide structural shade and support for patients. 
With a site-constrained east-to-west layout, its design considered the challenge of glare control by integrating external building elements to control solar radiation and enhance patient care – while also lowering heating and cooling costs. 
As the building absorbs less sunlight, less energy is needed to cool patient rooms during Arizona's hot summers, keeping internal temperatures comfortable and operating costs low. 
Eliminating a significant component of solar heat gain in the Valleywise Health Medical Center demonstrates the versatility of incorporating sustainable design into building projects. By investing in solar radiation-blocking exteriors, the center met patient needs while also ensuring climate-resilient infrastructure. 
With Arizona set to experience hotter and drier summers in the face of climate change, having climate-conscious approaches built into the hospital's design will only become more critical in the years ahead.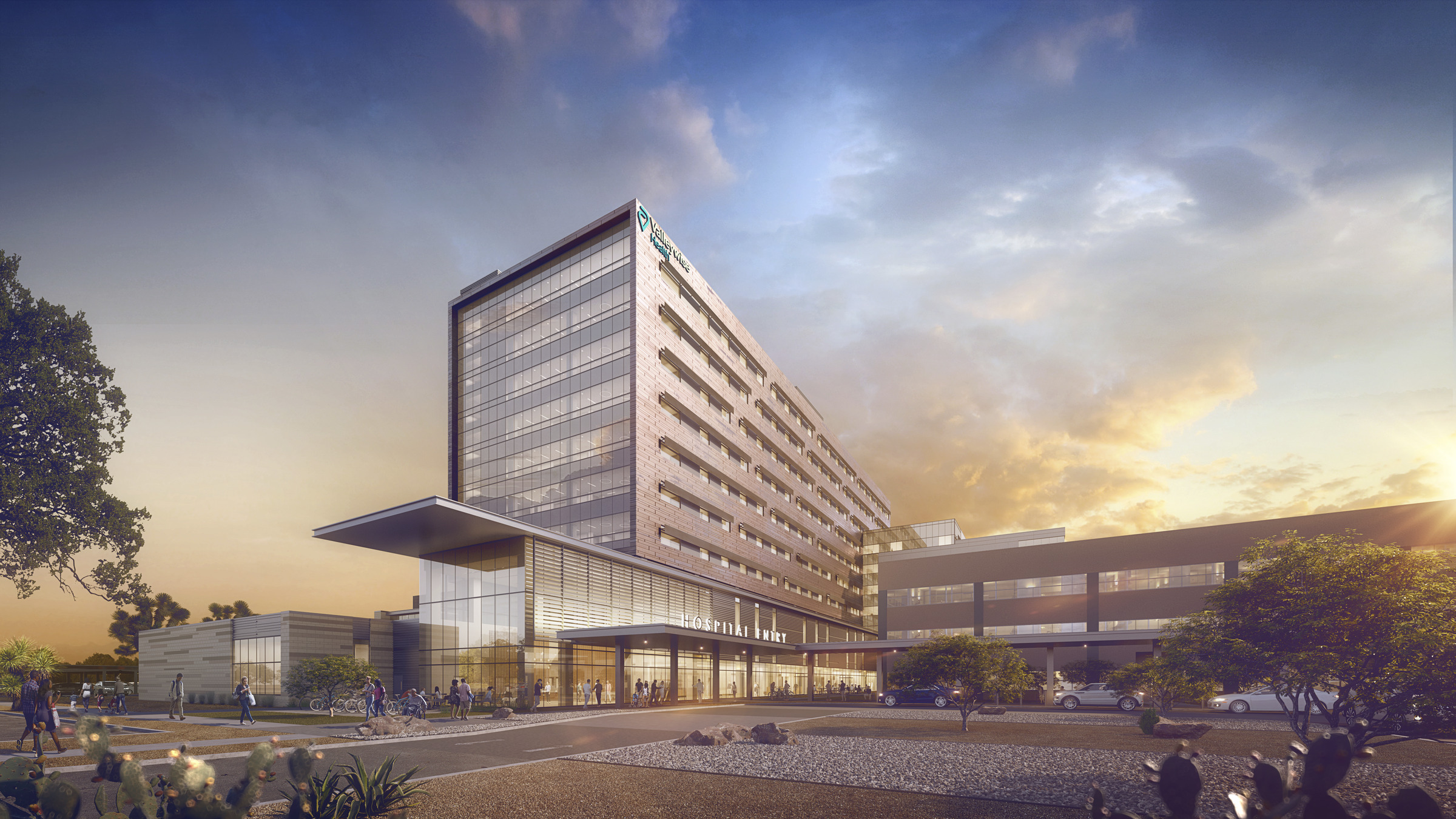 Innovative climate designs can strengthen infrastructure and improve your energy savings without compromising user experiences. EYP's Green Lab uses every tool in the book to help you get more value out of building projects – find out more about how they design beyond sustainability here.