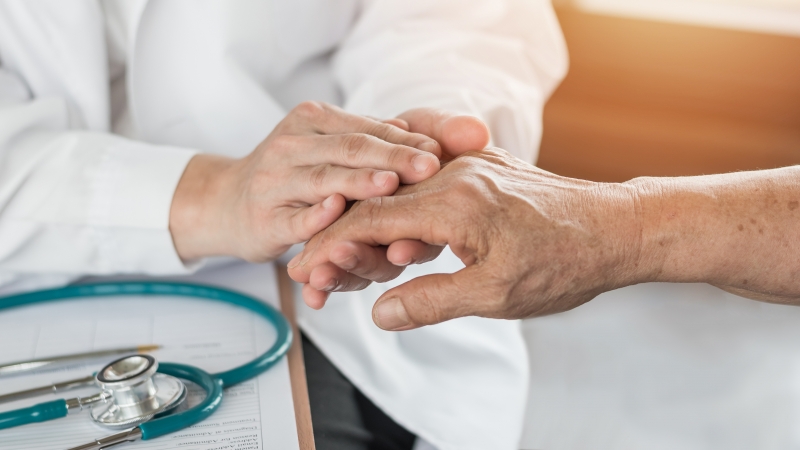 "OK boomer" may be an understatement.
Baby boomers, born between 1946 and 1964, remain a powerful, defining demographic in the U.S. The oldest turn 75 this year, and they are the driving force behind the aging of America.   
We're living longer and working longer. For healthcare systems, this means patient populations are aging – as are the staff who care for them.
At a recent meeting of the EYP Healthcare Workplace Consortium, Jane Rohde, principal and founder of JSR Associates, Inc., was invited to share her passion for enhancing life quality for aging adults.
Moderated by Leigh Stringer, managing principal, EYP DC, consortium members include healthcare facility managers, leaders, and planners from top academic medical centers and healthcare systems across the US. These virtual conversations take place monthly to discuss healthcare workplace challenges and solutions during the pandemic.  
"Participants across our consortium agreed that accommodating aging patients and staff is a major factor for planning and design right now," says Stringer. "We were thrilled to have Jane join us, to better understand the science of aging but also to understand what we as designers can do to create buildings that are safer and healthier for seniors."
Aging is Universal
Rohde urged everyone to keep in mind that inclusivity in healthcare must include aging adults in ways that enable and empower them. "We have segregated folks in lots of ways, including age and ageism, instead of bringing them together," she says. "We know people do better when they have more normalcy in their lives. We need to look at things from an intergenerational perspective."
Rohde has made a career out of advocating for the 65-plus demographic and has more than three decades of experience in senior living and healthcare consulting and design. She would like to see a long-term continuum of care – in healthcare and housing – that encompasses the amenities and services people need as they age.
And by "people who are aging," she means all of us: "As Atul Gawande says in his book Being Mortal, aging isn't a disease to cure – it's a natural process."
Change in culture requires change in action, which means designing with consideration for the age-related changes we all go through, including "physical, sensory and memory deficiencies – from less control over our bladders, to hearing loss, to slower recall."
Alzheimer's disease and related dementias (ADRD) exacerbate the normal aging process. "Operationally, nurses are not often trained for challenges like calming a person with dementia," Rohde says. "A disproportionate negative outcome in a healthcare setting is twice as likely for people with ADRD."
Individuals with dementia are four times more likely to visit an ER. Hospital stays are twice as likely, and the average stay is five times longer. Patients with dementia also have slightly higher risks of dying (7%), and higher readmission rates within 30 days.
The perception by staff of older patients may be that they are being willfully argumentative or non-cooperative. "PT therapists would mark older patients as 'non-compliant.' We have to break down these generational silos," Rohde says. "Does your institution have a geriatrician program? Holding an in-service is a good place to start. Connect staff with resources available to them."
Returning control and choice to the aging patient is a good place to start. For example, patients who have been diagnosed with slow-growth cancer may not want the most aggressive treatment.  "We need to understand the demographic," she says. "Don't look only at the diagnosis, but at the patients' age, culture, background. It's a different collaboration for different outcomes."
"Get Small to Get Big"
We must change the healthcare culture by "re-envisioning the institution and reshaping the environment," Rohde says.
Older people tend to decline as hospital patients, even when by all accounts they should be getting better. Why? Because they need a more personalized, attentive approach to their care, in conjunction with the built environment.
A specially trained, designated staff with the time to answer questions and provide reassurance can help alleviate older patients' fears and confusion. "Person-centered practices can be employed even in traditional institutional environments," she says. "We must embrace the idea of changing scales, providing communal spaces, and having locations for staff dedicated to older patients. It's a different way of thinking about the organization, even if it's just creating a special unit at an existing site. Get small to get big."
The goal is to provide more inclusivity through and inside the design of the built environment. "It's larger than accessibility, that is only part of the solution. The ADA was never designed for older adults," Rohde says. "We must do right by our elders. For example, reducing fall risk within all settings by including proper placement of grab bars."
The Four Comforts
Design for an aging population must include not only safeguards for health and welfare, but also opportunities for wellness, socializing, and thriving rather than declining. "We can create more independence by supportive design throughout the care continuum," she says, "from hospital stays to outpatient visits."
Attention should be paid to the "four comforts" to maximize independence:
Lighting
 
Acoustics
 
Safe movement/mobility
 
Thermal environment (temperature, humidity)
These four comforts can be determined by asking a few questions: Can you read the directions; can you hear me; can you safely walk to me; are you warm enough?
For instance, temperature is difficult to get right in healthcare settings: "Older adults are usually cold, while the staff are usually hot," Rohde says. "Could you provide radiant heat that supports both sets of needs?"
Other ways to make the surroundings safer include eliminating clutter, shadows, harsh glare, and thresholds. "Observe how older people use space, often getting their bearings from the edges," she says. "Keep in mind they might not be able to walk far without resting and provide seating in the middle of long corridors. The seating can't be too low, too high, or too deep, and must have arms for them to push themselves up with."
Thinking strategically about such details and viewing aging as a "proactive adventure" goes a long way. "This is on us, for them," Rohde says. "Good luck on all of your journeys of supporting your elders."
Rohde would like to recognize colleague Addie Abushousheh, PhD, an organizational and environmental gerontologist who has worked closely on the topic of inclusive design with her and other volunteers on the Facility Guidelines Institute's Health Guidelines Revision Committee. For additional information and resources visit the following websites:
www.jsrassociates.net, www.livetogethercommunity.org, www.fgiguidelines.org, and www.healthdesign.org.