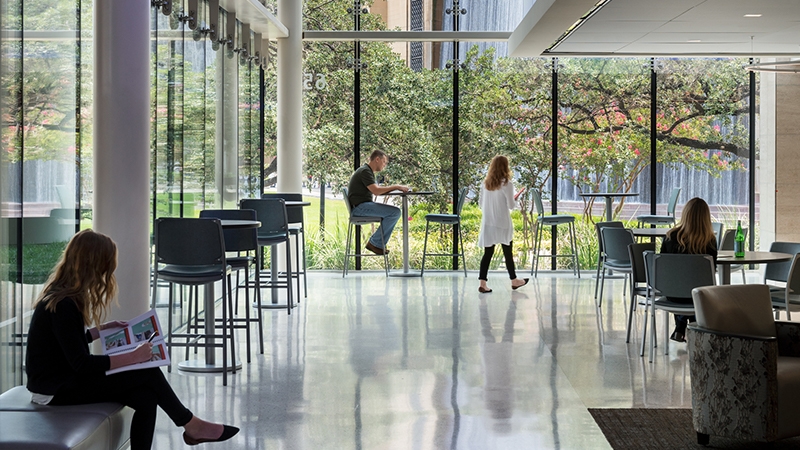 Each year, the International Federation of Interior Architects/Designers encourages interiors professionals around the globe to celebrate World Interiors Day, taking place this year on Saturday, May 29. The theme for 2021 is "Design as a Global Conversation."
This year's theme invites participants to look at how this past pandemic year has prompted clients and designers to integrate concepts of the common good, health and safety, and to incorporate modified approaches to working and communicating into their design approaches.
We sat down with a few of our designers to learn how our interiors team responds to the evolving needs of workplace design in relation to global events and issues.
Choice and Awareness in the New Phygital Workplace
Workplace culture is now "phygital": a physical and digital, mission-driven, multidimensional experience supported through the office, portals, teleconferencing, and communication platforms such as Zoom and Microsoft Teams. And interior designers play a big role in how people experience our new hybrid workplace.
Imagine this scenario – you're in a meeting with several employees meeting in the formal workplace, but you and a few other colleagues are dialing in from home or another environment. How can we ensure equity and choice for all? Those are the kinds of questions we're asking, keeping in mind how we can integrate and leverage technology in our designs to think through some of these anticipated scenarios.
Keeping employees informed and engaged by refreshing existing spaces or building new work environments that support culture and build loyalty is essential to avoid the breaking down of experience, collaboration, knowledge sharing, and quality of work.
Employees must be comfortable as they return to workplaces, and they must be reassured that they have choices in their environment. How do they feel? Is there space to spread out? Or space to connect with a large group?
As we transition from working in personal, controlled environments of comfort and safety – a couch, say, with abundant natural light and the ability to see or step easily into the outdoors – employers would be wise to replicate some of that sensibility in the new hybrid workplace.
Mindfulness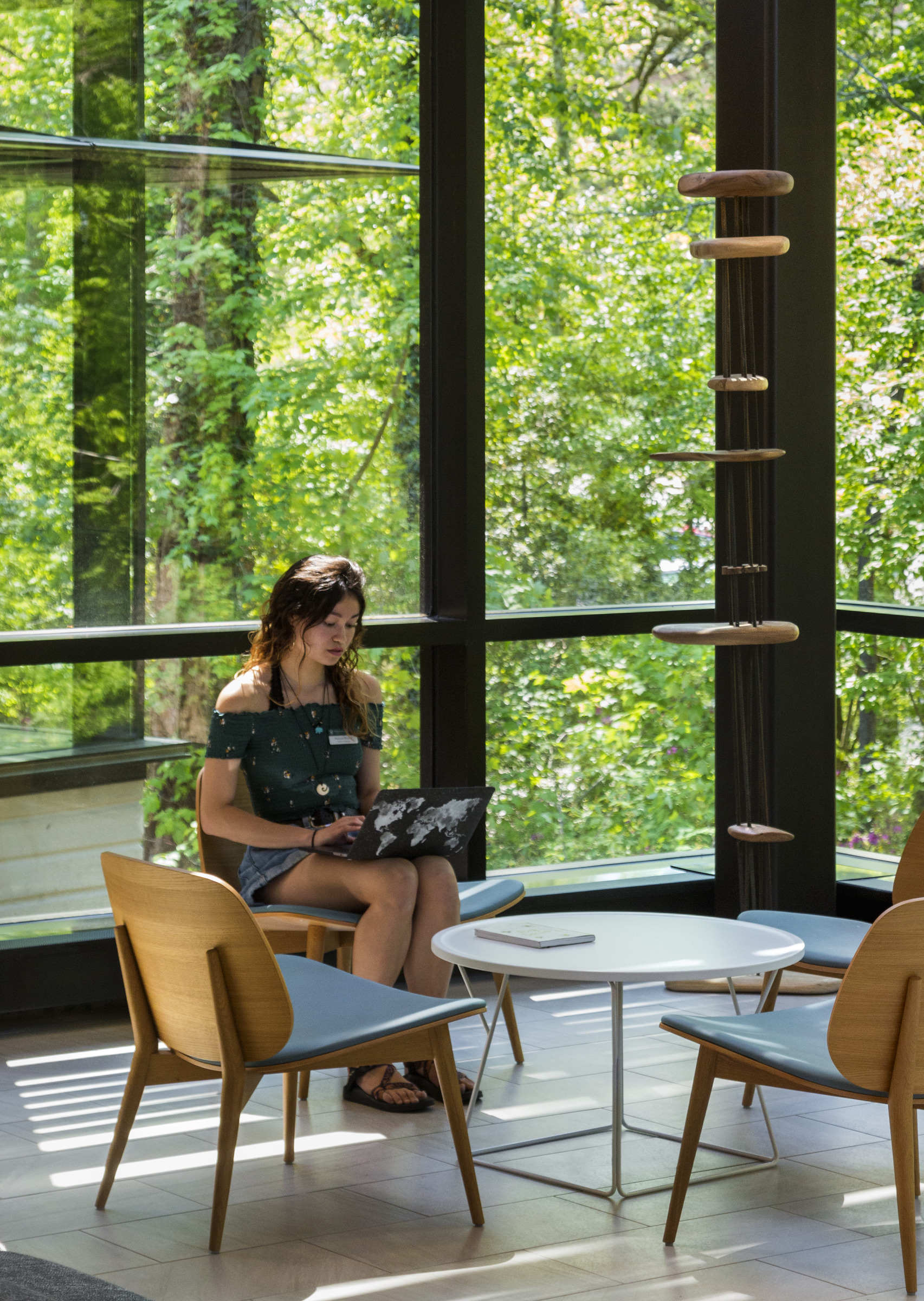 Mindfulness in interior design is awareness of how space is used and how visitors experience it.
Even in something as simple as hand sanitizing and hand washing, there's an evolving design challenge of moving away from unattractive disinfectant dispensers and toward handwashing stations that attract and resonate with people so that using hand hygiene stations become second nature.
Interior designers must be mindful of the emotional state of people as they enter a building space. What state of mind are they in? And what state do we want to help them experience once inside? The answer varies for an area like an emergency room versus a community center or office workplace.
Thoughtfulness in design – paying attention to fabric choices, materials used in furnishings, wall coverings, natural and less harsh artificial lighting – helps decrease stress, cultivates a sense of comfort, heightens alertness, and increases productivity for people in any given environment.  
The great benefit to our clients is that we're helping their clients have as positive an experience as possible in their buildings. The key to what we're designing today is to make it as flexible as possible for the needs of the future.
Radical Flexibility
As it relates to work, radical flexibility addresses two aspects: the "when" and the "where" to work. Forward-thinking organizations empower employees with the flexibility to choose their schedules. They are moving away from the traditional notion that the office is the only place to do work. Although not a new concept, the forced change brought about by the pandemic accelerated the adoption of a spatial network – office space, private individual space (mainly from home), the 'hub' (a co-working space), and travel (foreign location). The point is that you can work from almost anywhere with the right technology.
The primary purpose of the office is evolving it serving as a "connector." The workplace of the future optimizes human performance in more ways than efficiency. We are social creatures, and being together is important to drive innovative thinking and so, creating a system that facilitates bringing people together is key. The typical "9 to 5" office occupancy and the static planning model previously used to support it are in the past. The future is changing rapidly, and our built environment needs to adapt accordingly.

With the dramatic shift in work modes and heightened reliance on easy access to technology, interior design is evolving away from the traditional "me space" of individually dedicated and static set-up of workspaces and toward embracing dynamic and collaborative, "we space" that is intuitively inclusive and accommodating to all users. The workplace of the near future will be hyper-focused on supporting collaboration. Co-working and hospitality-like environments, team zones, flex zones, and areas for socializing will be the new norm.
Flex zones are treated as blank canvasses where furniture can be quickly disassembled and rearranged. Dedicated team neighborhoods accommodate workers across varying shifts by assigning space by a team rather than by individuals. Workspaces will be accessible to all employees, with personalized settings available at the swipe of an identification badge.
Another growing discussion is for the need for companies to help remote workers create work-from-home experiences that address the concern for employee health and wellbeing. Work from home is not going away, and any company that wants to be competitive must consider how to make that experience better for their employees. It won't be enough to provide amazing workspaces at a company headquarters; companies will need to engage interior designers in supporting the total hybrid experience, including, for example, an ergonomically supportive home workspace and in-home technology resources.