Three Things to Know About Behavioral Health Facilities:
1. Behavioral health facilities/mental health hospitals are evolving to feel more welcoming. "There has been a movement away from an institutional feel to one that's more consistent with the recovery model of care," Justice says. "In the past, the people in charge were afraid that would compromise the facility's ability to maintain safety and security. The beautiful thing about the research is that it's showing that's not the case. There are ways to accomplish both." Central State's new facility, for example, will have more views of nature, natural light, private and social spaces, and attractive, comfortable surroundings.
2. The previous "command and control" model of in-patient mental health treatment is changing to a more collaborative approach. The medical-patient model no longer fits for individuals receiving services at mental health facilities, either. "The whole concept of recovery is that we're partnering with you on your journey, not 'giving you' your recovery or prescribing to you what it must look like," Justice says. "The idea is, how can we create an environment that maintains a person's dignity while they get well?"
3. Diversity of illness and complexity of care at state behavioral health facilities have increased. Central State, which has civil and forensic units, serves individuals 18 to 64. In addition to people with psychiatric and mental health issues, this includes people with intellectual disabilities, early onset dementia, and physical ailments; those who have been convicted of crimes and are also mentally ill; and those with acute needs who have nowhere else to go. Some stay a few weeks or months; others, for a longer period of time. "We have individuals with traumatic brain injuries or with Stage 4 cancer, which requires managing a lot more medical complexity than before," Justice says. "We've had to rent bed lifts and train our staff to provide total patient care, including hygiene and turning." This is happening at state hospitals across the country.
A Deeper Dive
The origin of Central State Hospital in Petersburg, Virginia, dates to Confederate times. When, in 1870, the facility was taken over by the state, it was designated the "Central Lunatic Asylum," and the Commonwealth recorded that there were "123 insane persons and 100 paupers, not insane" housed there.
Justice understands the stigmatizing impact of such a history and is determined to update the image of Central State. While treatment of those experiencing mental illness has steadily improved over the decades, she is looking ahead to the facility's new building, which is well under way, as another leap forward in creating a nurturing, calming, and therapeutic environment.  
"Keep in mind, we are still in older buildings from the 1970s," she says. "You walk in now, you have giant day rooms, one big room, one TV, the phones are there, fluorescent lighting, big uncomfortable seats, concrete floors, no decorations, group bathrooms with no privacy, social bedrooms with multiple people, and a fishbowl nursing station in the middle."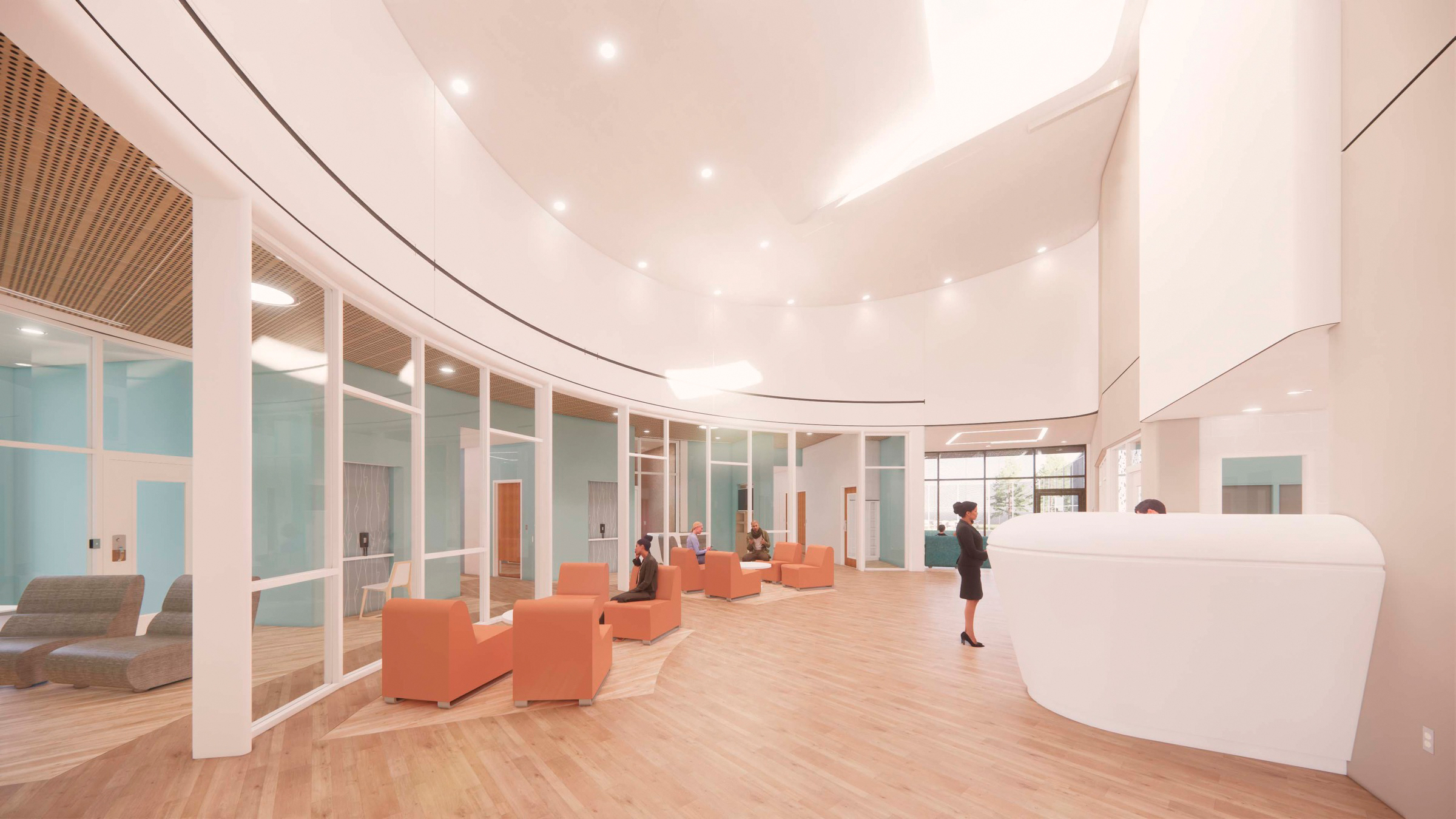 Several years ago, to prepare for the new facility before construction started, the planning team toured several modern behavioral health facilities, adopting best practices and coming up with new, creative ways to improve the care environment that are unique to Central State. "There is more natural light, and the space is broken up into different sections, which allows people with different needs to have quiet time or community time," Justice says. "We have designed spaces that accommodate everyone's needs, which limits aggression."
Another big change is that individuals have their own bedrooms. "People needing to get well don't feel comfortable in bedrooms with four to six people. Some of our largest conflicts come when people don't feel safe sleeping. When you have a mental illness that's had you up for days at a time, that's your no. 1 need, sleep." Bathrooms, while shared by a few individuals, will be easily accessible, located at the end of each hallway for both safety and privacy.  
"You will feel different just stepping into the new space," Justice says. "It promotes healing and wellness."
Follow-up studies show that redesigning behavioral health facilities in more therapeutic ways decreases lengths of stay and reduces aggression and injuries. Design has everything to do with lowering these numbers and increasing safety. It's well worth the investment.

Dr. Brandi Justice, Psy.D.
Increased Complexity
In 2014, Virginia passed what's known as the "bed-of-last-resort" legislation to make sure people in psychiatric crisis always had a place to go for treatment. "We didn't have admissions units before 'bed of last resort,' we only took individuals from private hospitals who weren't getting better or who needed longer length of care," Justice says.   
The unintended consequence of the law is that Central State now has a diverse population, some of whom don't necessarily need to be in an inpatient mental health setting. "We've seen, in all the state hospitals, an increase in the variety and complexity of people we serve, including individuals who should be treated first for their medical problems before any psychiatric treatments start," she says.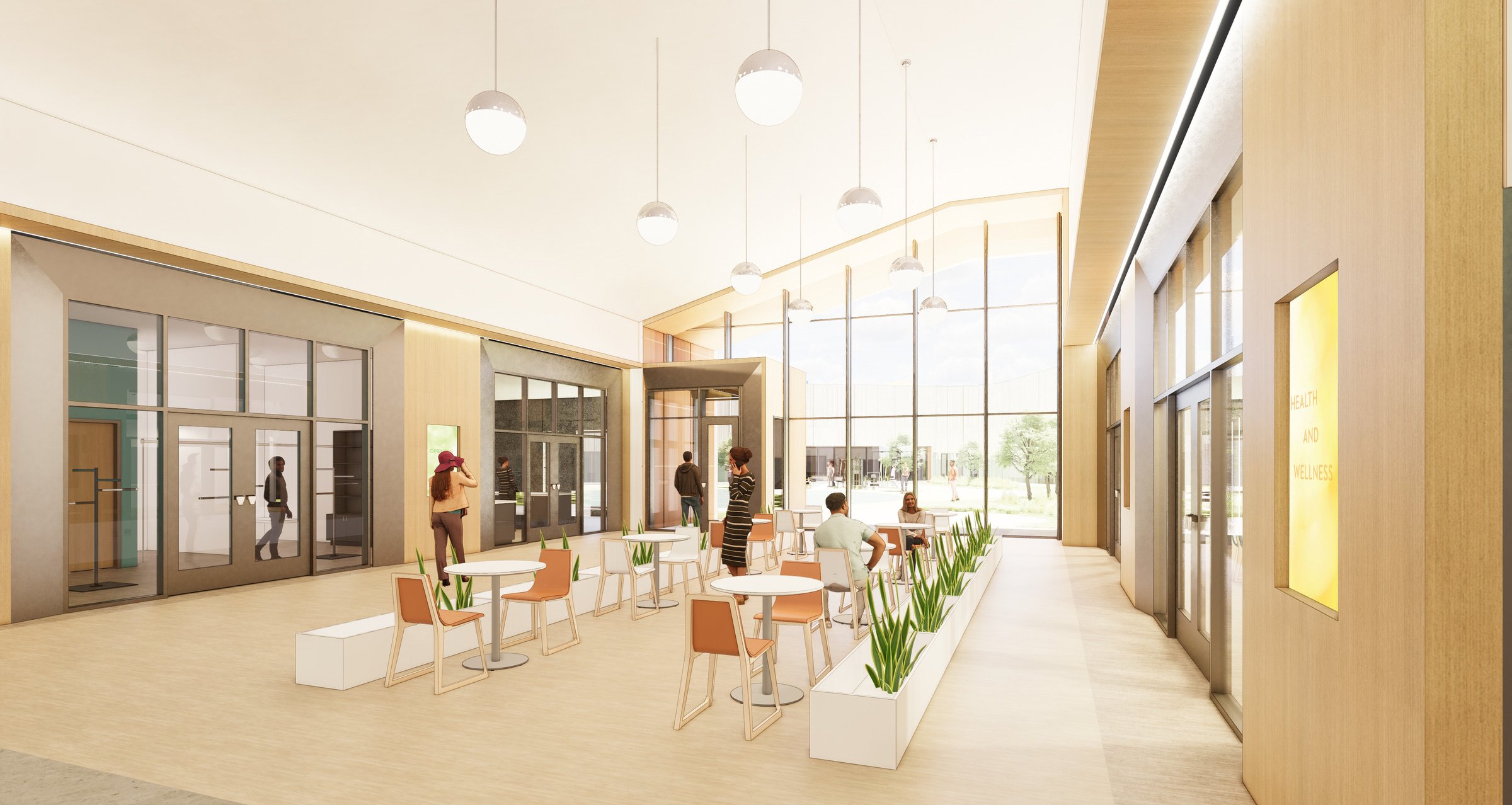 Central State started making incremental changes as they saw the problem blossoming. In 2019, the civil buildings were redesigned, and treatment is now based on a "level-of-care" model. There is an acute admissions unit, a unit for neurocognitive disorders, an intermediate level, and a long-term level of care. "It's not a perfect system but it's the best way we could find to provide the care a patient needs," Justice says. "If you've got acute patients across seven wards, you're not maximizing nursing resources. We saw our seclusion and restraint rates and our staff injuries go down." 
Pandemic Problems
COVID-19 made an already hard job even more difficult. "If you look at it from a staff perspective, they are fatigued and stressed from the fear of providing treatment during a pandemic—six months of which we had isolation units with positive patients, staff outbreaks, and critical staff shortage," Justice says. "This takes a toll. Our staff are also human beings, with loved ones they worry about, kids on virtual school, a lack of childcare."
For individuals receiving care, the isolation was heartrending. "We had to restrict visitation, and tell people, 'Your loved ones can't come visit you.' It was tough," she says.
Central State also moved to a modified treatment model during the pandemic. For inpatient psychiatric hospitals, best practices are that those who are able receive therapy and socialize at a treatment mall, a 'downtown' type area where they can go to a bank, out to eat, play music. "They get outside their living quarters, interact with others, and have a sense of being in a normal space," says Justice. 
During the pandemic, Central State couldn't use its treatment malls. "Individuals were having treatments on their unit in a dayroom, one big room, and never leaving. We had people whose mental health declined rapidly," she says. Others were ready for discharge but had nowhere to go—communal living facility wouldn't take transfers due to the risk of infection. "It was a difficult time due to the pandemic and in many ways, it still is," she says.
Community Partnerships
One of the steps Justice has taken to boost Central State's reputation and visibility is to make its mission more transparent. "Anything we can do to dispel the myth of what Central State is, we try to do it. We bring in volunteers, choruses at Christmas, enlist community volunteers," she says. "Kids used to be threatened with coming here when they were small. We want to be a place that provides resources, not just a place where that state sends people to get treatment."
Justice is also striving to build a staffing pipeline by partnering with local high schools, trade schools, and colleges to bring in student workers and interns in all five clinical departments: rehab, social work, psychology, nursing, and medicine. "For so long, we didn't have students coming in due to the stigma. Sometimes students don't think they will like behavioral health but find out they love it," she says. "Word of mouth is our biggest success. It feels good to take care of someone who says they feel better because of you."
A new program at Central State involves partnering with communities for donations. "This allows us to say, 'Here are what our patients are like. Just like you and me, they want to have a running club, but they need tennis shoes.' Outreach is really important," Justice says. "With the new facility, we will have the room to say come, this is a community space for you to have meetings. And we can provide talks on mental health or self-care or whatever topics you choose."