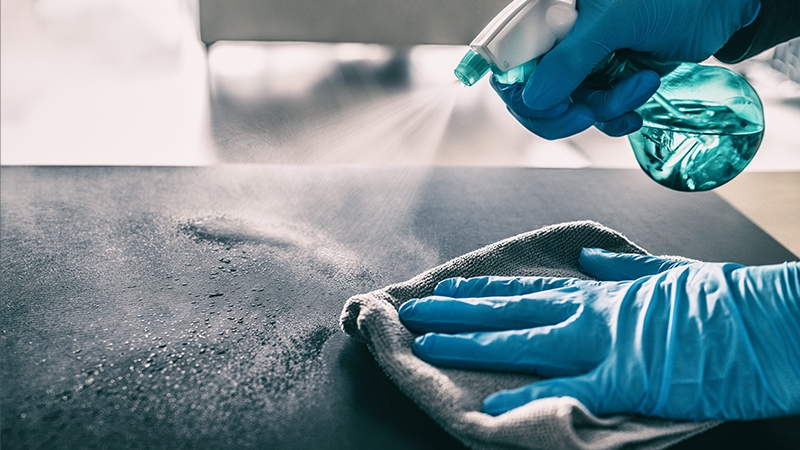 Deep, thorough, and frequent cleaning of healthcare facilities' surfaces, including furnishings and flooring, is essential, decreasing hospital-based infections as well as viruses like SARS-COV-2.
But selecting materials that can withstand such heavy-duty cleaning has long been a challenge in healthcare settings. Facility managers are finding that, during the uptick in cleaning due to the pandemic, they are experiencing fabric and finishing failures at higher rates, with furniture, flat surfaces, flooring, and accents rapidly degrading under constant cleaning and decontamination.
Planning ahead, knowledgeable interior design, and a team approach can go a long way toward making cleaning and disinfection easier and reducing the amount of waste from decimation.
Invest Wisely
Hospital hygiene is complex because it must consider the pathogen as well as the product used to remove it. Maintaining a safe and attractive hospital environment involves multiple steps, including removing visible soil and dirt as well as eliminating harmful germs through disinfection and sterilization. This poses many challenges to the time-sensitive needs regarding delivery of such protocols in acute-care hospitals.
And, especially during the pandemic, hospitals feel the need to assure visitors that patient rooms and common areas are clean and safe. Some healthcare facilities have even moved their cleaning crews to day shifts so they will be more visible to visitors (and a huge shout-out to the skilled teams that keep our hospitals clean, for their hard and courageous work during the pandemic). 
Indeed, hospitals and clinics have spent hundreds of thousands of extra dollars on cleaning and disinfecting in the past year, from investing in new UV technologies and air filtration systems to more intense and frequent traditional surface cleanings.
What can facility managers and healthcare interior design experts do to help surface cleanings be more efficient and less destructive?
Partners in Prevention
Most hospitals use a vast array of detergents and disinfecting products and equipment. Common chemicals for cleaning healthcare facilities include alcohol, chlorine, formaldehyde, glutaraldehyde, hydrogen peroxide, iodine, surfactants, phenolics, and many other compounds.
For SARS-COV-2 specifically, the virus that causes COVID-19, facilities can select disinfectants from hundreds on List N, a new compendium of products approved by the Environmental Protection Agency to kill the novel coronavirus. 
"When it comes to Infection control strategies," says Director of Healthcare Research and Expertise Laurie Waggener, EYP Houston, "we are constantly learning and must pivot and respond as new evidence-based technologies and products emerge."
To figure out the correct strategy for your facility, a multi-disciplinary team approach is best, says Laurie. "Early inclusion of Infection Prevention officers is a must," she says. "And if you are planning for a new space, an expansion or a renovation, understanding current infection prevention protocols will inform the design response."
Kristi Carpenter, senior interior designer, EYP Dallas, adds that facilities should "arrange for hands-on training for the environmental services team from the manufacturers, to get the latest approved cleaning instructions for their products, from flooring to furniture."
More tips from Waggener and Carpenter:  
Pair current Environmental Protection Agency facility cleaning protocols with guiding principles of interior materials, furniture, and upholstery.
Leverage the expertise of a Certified Healthcare Interior Designer in furniture and upholstery specifications.
Understand that not all no-touch cleaning technologies are the same, but vary greatly in efficacy and implications for materials' surfaces.
Consider the unintended consequences of specifying only hard surface materials in the name of infection transmission prevention—such as increased noise levels, loss of healing ambiance, and discomfort from standing for front-line staff.
Understand that when butting two hard surface or soft surface flooring products up against each other, they might have different cleaning chemical tolerances and maintenance needs. 
Save time and money by asking Facility Management Services and Environmental Services for their list of preferred cleaning products upfront.  
 Small things can make a big difference: Using furniture arm protectors is a must. Though more costly, a solid surface provides longer-term protection and cleanability. And furniture glides and chair rails protect the furniture as much as the finishes. "Once scratched, a furniture piece, floor, or wall is less able to be cleaned," Carpenter says.