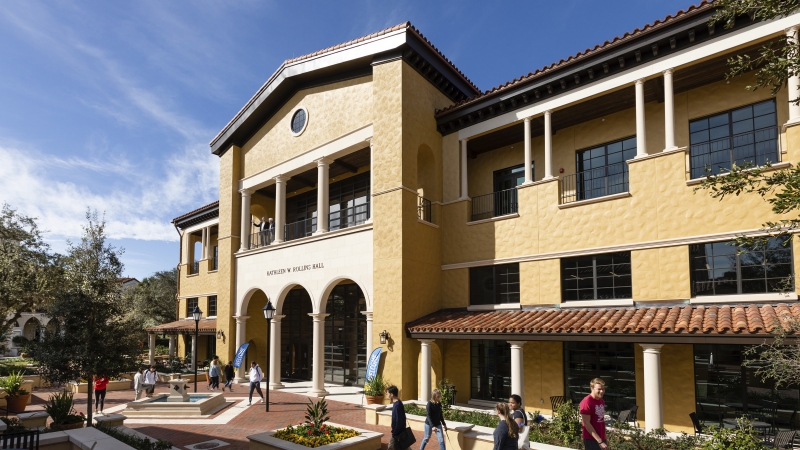 The successful modernization of Kathleen W. Rollins Hall is a shining example of how a renovated building can not only transform a campus, but also encourage and excite students about learning and engaging with their community as global citizens, community leaders, and socially responsible change makers.
Modernization of this building - originally named Mills Memorial Hall – was a target since EYP first performed a precinct study back in 2012. Back then, the facility was the centerpiece of an ecosystem of student and academic services in a whole constellation of buildings, and connections to the Campus Center and Olin Library were seen as critical. It is located on an incredibly prominent place on campus, with crossroads of pedestrian pathways and physical presence on Mills Lawn. However, once visitors walked inside the front door, they tended to be underwhelmed, as the lobby felt gloomy, very formal, and more like an administration building than a welcoming space.
Originally built in the 1950s as the campus library, the front side of the building was designed for public use, including large reading rooms with plenty of daylight. The back portion of the building held the stacks, the floors were doubled and columns were placed close together to support the weight of the book stacks. Separate stair cases connected that wing of the building and a separate service elevator.
In 2017, EYP was again engaged to partner with Rollins to imagine how the buildings studied in 2012 could become an anchor reinforcing the college's Mission. Given this charge, EYP set up a thorough process of engaging stakeholders across campus, where it was important to listen, ask probing questions, and push on how things could be done differently.
Key concepts in the planning were creating student spaces at the center, plugging in Academic and Student Services Planning and Resources, and importantly, creating anchors that social engineered reasons why students HAD to come to the building and pass through. There they could bump into opportunities that they might not otherwise have explored or been exposed to. These anchors in KW Rollins Hall are the Classrooms on the third floor.  In the first semester, there were 41 faculty teaching courses in the building with 800 students (of 2000 undergraduates) having a course in the building.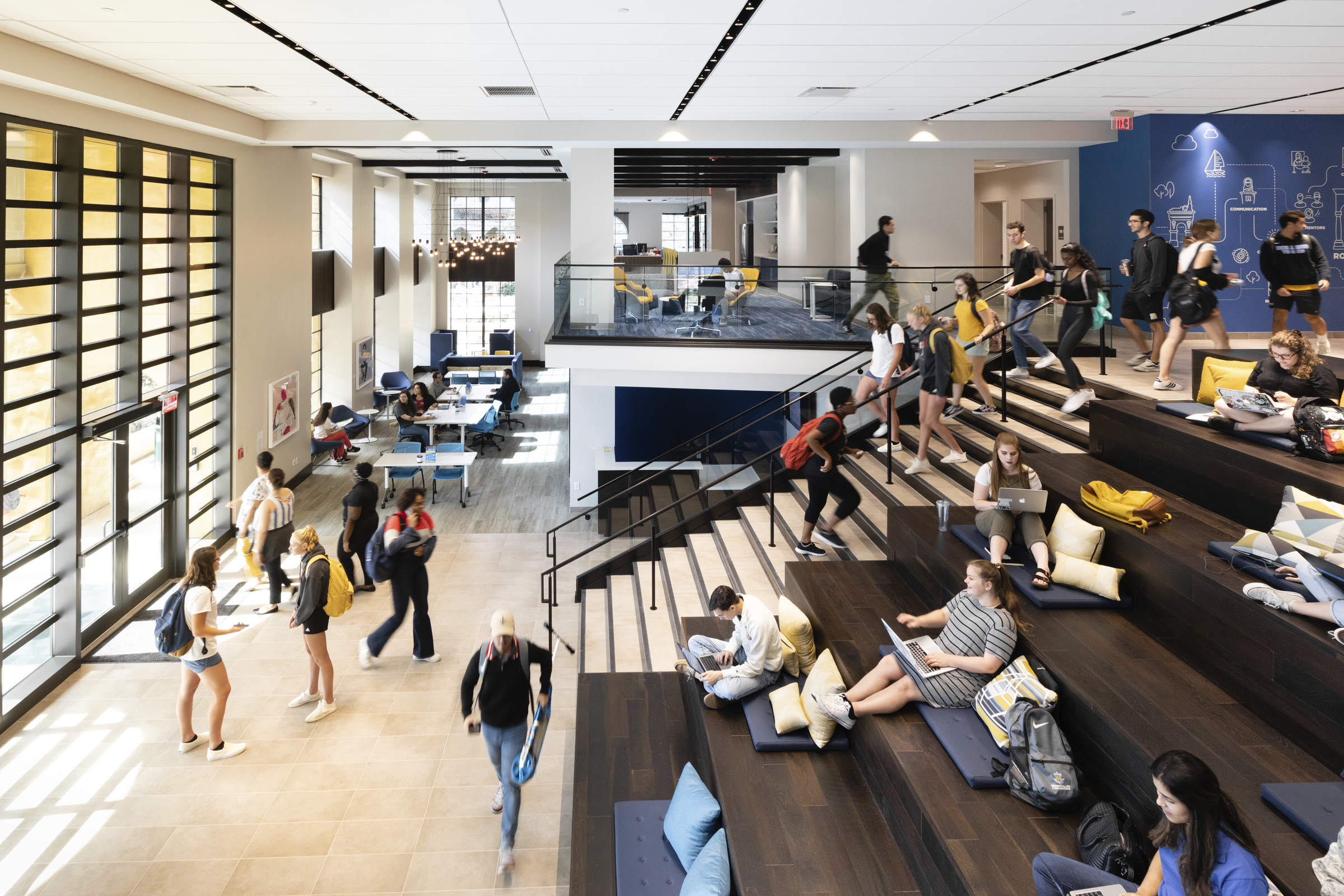 The center spine of circulation connects Mills Lawn and the Campus Center, with an occupied stair that can be a student hang out area, concert seating, and/or event space. Flanking either side are transparent views to the Social Impact Hub, Fox Den, and Career and Life Planning.  All are easy to find and create a vibe of activity that makes students want to connect and stay in the building. The data of those connections was documented in the first 40 days, yielding:
A Clear Increase in Student Engagement
One controversial aspect of the programming was minimizing the number of enclosed offices, to create a student-focused building rather than an office building. Grad students, part time staff, and administrative staff work in open areas that have secure storage for their belongings but that workspace can also be used by students in the evenings and weekends when not occupied by staff.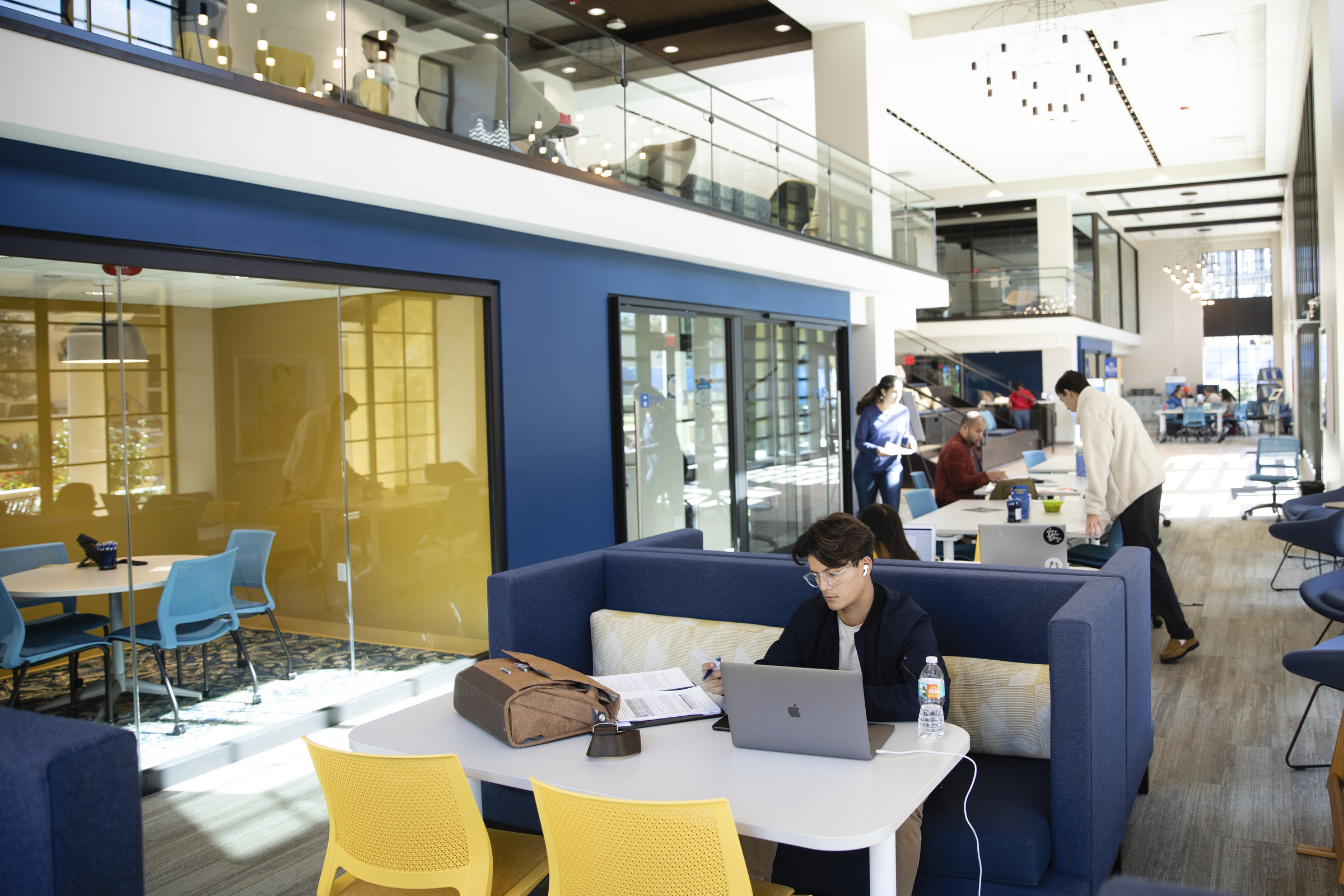 Enclosed offices were set at a standard 100 square feet, which are smaller than other offices on campus, with glass walls to create a more open feel. This promotes the extension of daylight into the heart of the building and creates a sense of welcome in each of the office wings.  There was some concern initially about security of the glass walls, but with the impact of the pandemic, the glass walls actually allow staff to work in an enclosed space while keeping a pulse on the activity in the building and continue to best serve students.
The resulting "mission-driven center" of student engagement and activity was intentionally designed to allow Rollins' students, staff, and faculty to collaborate and come together in one place to create and develop innovative ideas and projects. The transformative facility truly embodies the college's mission, while engaging students and further strengthening Rollins' outstanding educational programs.