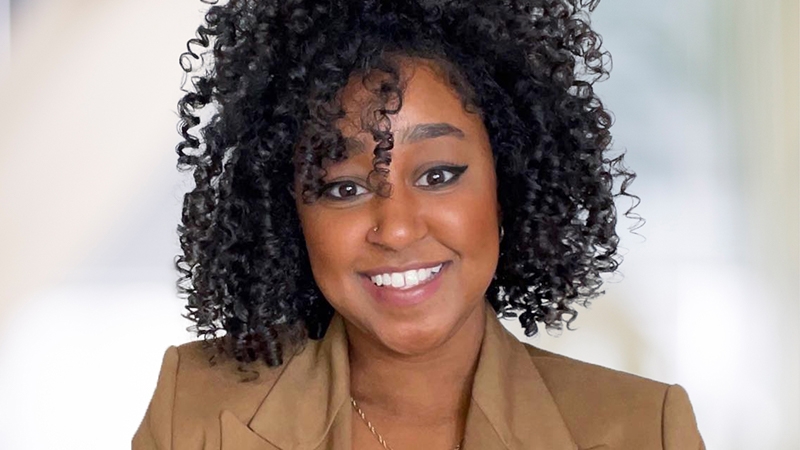 Last year, as a member of the AIA Large Firm Roundtable, EYP collaborated with the National Organization of Minority Architects (NOMA) Foundation to host our firm's first NOMA fellow. And, over the summer months of 2021, we were fortunate to host our second Research Fellow: Yasmeen Abdelaal, associated with our Washington, DC office.
NOMA is focused on helping minority architectural students get a jump start on their careers by providing them with valuable mentoring opportunities that are integral to laying the groundwork for post-grad careers.
"EYP is committed to partnering with NOMA in support of their mission to foster justice and equity in communities of color through outreach, community advocacy, professional development, and design excellence," said Moira Fitzgerald Ryan, senior HR manager and chair of EYP's Equity, Diversity & Inclusion (EDI) Committee. "We've been delighted to host Yasmeen as our second NOMA fellow."
Yasmeen graduated on May 8, 2021 from the University of the District of Columbia with a Bachelor of Science in Architecture.  Just a few weeks later she began her fellowship with EYP, and due to the pandemic her internship was virtual.
While associated with the Washington, DC office, Yasmeen carried out her internship from Egypt. The time difference added a layer of challenge, but Yasmeen and EYP colleagues worked smoothly to meet regularly and create a productive, enriching learning and working environment.
"My internship has been focused in two areas," Yasmeen explained. "My first goal for my time with EYP was to work with Planner II Behavioral Health Alison Ledwith and Senior Project Architect Eric Johnson on the Central State healthcare project. My time on the project was dedicated to learning about and contributing to the preparation of construction documents."
"The other part of my internship involved research on space needs for various hospital departments. Working with Medical Planner I ZhouZhou Su and Medical Planner I Liyang Zhang, I learned a great deal on how footprints and square footage are calculated based on each department's needs. Along the way, I learned a lot of terminology when it comes to healthcare research!"
Yasmeen also worked on the Amani Medical non-profit project with Senior Designer, Architecture Darian Walker.
"My role was to research the project site, which is in Ghana, by producing site analysis. My task also involved program massing, research on materials used in Ghana, and on new construction technology methods being used."
As during the first year of the pandemic, the EDI Committee set structure to Yasmeen's fellowship by designating additional levels of mentoring and providing as much interaction as possible. Activities included being invited to participate in design charrettes, and meetings and discussions with peer mentors –  those closest to Yasmeen's age, education, and experience; as well as identity mentors – those who exemplify Yasmeen's demographic and who have established careers in the industry. As well, Yasmeen was invited to participate in virtual social meet-ups firm-wide during her time with our firm.
"The whole experience at EYP has been worthy and great for me as a student who just graduated," said Yasmeen. "One of the things that I really loved was that I had never working in a large firm before, and I truly enjoyed the opportunity to work with bigger teams and learn from so many people with different levels of experience and areas of expertise."
Yasmeen completed her internship with EYP on Friday, August 6. She's returning from Egypt this fall to resume post-grad studies, this time at Virginia Tech where she'll pursue her Masters in Architecture.
"I really want to focus on sustainability in architecture," said Yasmeen. "Virginia Tech is highly regarded in the area of sustainability and it's the perfect place to further my studies."
As she contemplates returning to the academic arena, Yasmeen believes the NOMA fellowship at EYP has prepared her well.
"I think one of the things that's really important for students is to be exposed to the work environment. It's one thing to learn in school, but being able to apply what you've learned in a professional setting with people well-established in the field –  it's a great benefit," said Yasmeen. "It's ideal preparation as I head into my Masters' studies."
"I absolutely think the work that NOMA and firms like EYP is doing by providing these internships is so important, especially in terms of connecting students with large firms," said Yasmeen. "The benefits for minority students are significant."
Yasmeen's longer-term goals after completing her Masters include becoming a licensed architect and working and living in Italy. "I love Italian architecture and look forward to experiencing it firsthand and enjoying the culture of Italy. I've never been there, but that's one of my dreams."