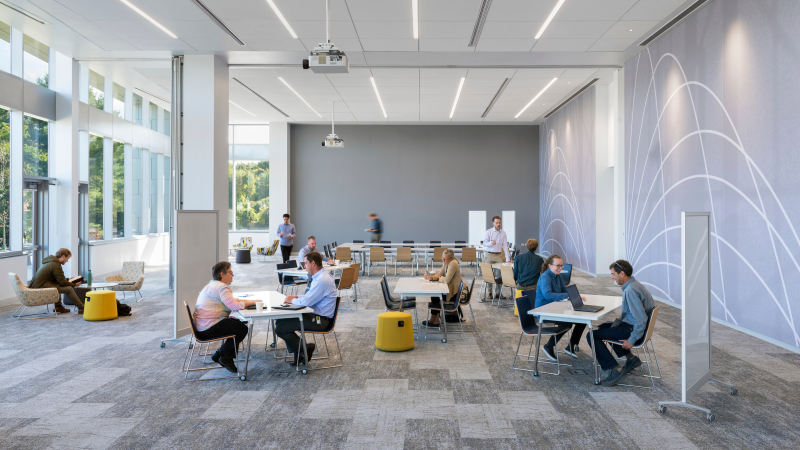 Healthcare workplaces—clinical, non-clinical offices, and shared spaces—may require updating and reconfiguring post-COVID, with particular attention to furniture. Many organizations have seen their furniture fall apart or fall short of meeting their need for flexibility and hybrid work.
Picking the right furniture involves a lot more than aesthetics and affordability. Selections need to be environmentally friendly, adjustable, cleanable, and robust. 
Over the past year, EYP's Roseann Pisklak and Leigh Stringer engaged with a large academic health sciences center in Texas to establish workplace furniture and planning standards. 
These standards are informed by benchmarking Houston Methodist, MD Anderson, Memorial Hermann, Kelsey-Seybold, HCA Healthcare, and BP Energy. They also integrated best practices from IFMA and GSA space planning guidelines and a literature review of research related to workplace productivity, health, and wellbeing. 
"Evidence-based design (EBD) is at the foundation of all we do, so we applied the same research strategies to developing workplace furniture planning standards," says Roseann Pisklak, lead interior designer, EYP Houston. "We evaluated furniture solutions across key criteria, subjective to objective, to arrive at solutions." 
A "kit of parts" was developed to support modular planning and flexibility. Ultimately, this streamlines furniture planning in a way that can be universally applied across campus, from building to building, reducing time and costs associated with planning and reconfiguration.

This guide was client-specific to a health sciences center with a large and growing campus, academic medical facilities, and multiple clinics across South Texas. But a similar planning and research strategy can apply to the planning needs of any healthcare system and campus.
"Many healthcare systems reduced their non-clinical staff on campus throughout the pandemic," says Leigh Stringer, managing principal and workplace design specialist, EYP DC. "As these functions are now returning to work, we are seeing the institutions' interior designers struggling to handle the volume of furniture requests now needed for changes and reconfigurations. Updated furniture and planning standards can help them to select and invest in the right products, rapidly and efficiently."
Informed and Tested Furniture Criteria
"We spoke with so many participants from healthcare institutions, dealerships, and manufacturers," says Roseann. "It was a learning process for our team and gave us timely knowledge and a sense of what works well and what doesn't."
Furniture dealerships shared suggestions and information about new and top-performing workplace pieces. The team asked about production, delivery, warranties, and returns. "We wanted to know who they are, how they operate, and what level of service they provide," Roseann says.
Team members went on-site to several locations, including Houston Methodist and Kelsey-Seybold, to tour spaces and speak with facilities teams to understand how they plan their budgets and assign furniture and fixtures. Institutions varied in their priorities, with some putting users first and sparing no expense, others focusing on "destination spaces," and still others emphasizing a sustainable, streamlined approach.
Mock-Ups to Engage Users and "Kick the Tires"
With the specific client's needs in mind, preliminary furniture selections are based on ranking strategies and decision drivers.
The EYP team developed a furniture selection scorecard citing research, sustainability, and industry standards that helped narrow in on furniture that met baseline criteria across seven defined furniture selection drivers: health and wellbeing, best value, appropriateness, inclusivity, flexibility, customization and choice, and unified brand.
Users are invited to try out the furniture and provide feedback on anonymous evaluation forms. ("We paid attention not only to the numeric scores but also to users' comments and observations," Roseann says).
The mock-up was critical to determining which pieces were right for the space. It clearly showed how the furniture looked, performed, and felt, which was important to the review and evaluation results. With use, the quality of a product quickly showed through. "We had one desk that fell apart!" Roseann says. "You have to see, feel, and test every item before you make a decision, or you have no idea what you're getting."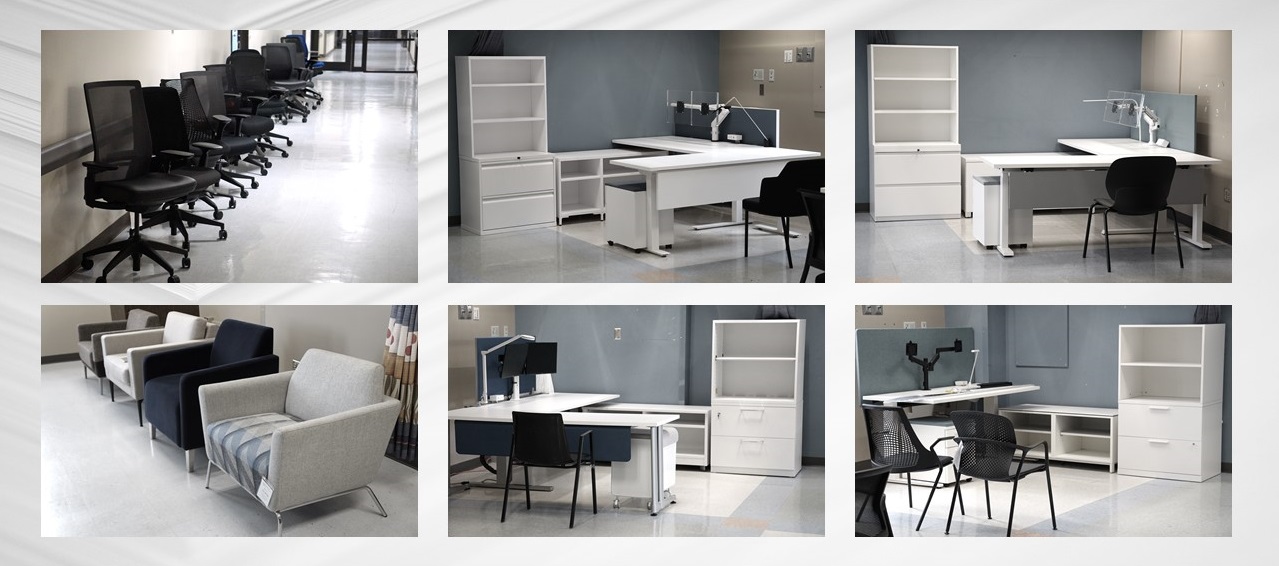 A final evaluation of the scorecard totals, mock-up evaluation results, and unit pricing showcased clear front-runners, which expedited the decision-making process with multiple stakeholders who had differing perspectives and points of view.
Key Lessons Learned
Carefully select manufacturers and dealerships. Understand who they are and how they operate. "We went to several large institutions, including government projects, and asked about their last large furniture purchase: Who did they use and why? What choices worked out? Which dealers provided a high level of service?"
 
Be environmentally minded. "There is so much depth to deciding on furniture now, with VOC levels, standards for off-gassing, LEED and other certifications. The best solution goes well beyond aesthetics and price."
 
Make sure the furniture will hold up. Durability has become even more important as cleaning frequency and intensity have escalated during the pandemic.
 
Select furniture that is universal and accessible, appropriate to diverse workstyles and physical abilities. Pay attention to weight limits, adjustable height, big and tall sizes.  
 
Consider modular planning and flexibility. Choose pieces/collections that allow reconfiguration with minimal cost. "Every time an office moves, you don't want to have to buy new furniture. Aim for interchangeable, freestanding pieces."
 
Understand the brand. Furniture isn't just a practical consideration—it visibly embodies an institution's brand identity, image, and values.
 
Be aware of the budget for office furniture per person. What is the difference between a standard office and an executive office? Are there optional layouts? Add-ons?
 
Be creative with new workspace options due to the pandemic: huddle and hoteling spaces, shared offices, even workspaces outdoors. These can offer places for fun furniture choices and arrangements.
 
Ultimately good space and furniture standards save healthcare organizations time and money while reflecting their mission of health and wellness.
"Designing with dignity and integrity is a deliberate, mindful choice, and one that is immediately apparent to those who work in and visit the space," says Roseann. "We want to give healthcare clients the tools to do this quickly and efficiently, with no false starts or wasted time and money on their end. We do the research and footwork for them."