Three Helpful Updates About Children and Autism Spectrum Disorder
1. More than 100 genes have been associated with autism through a landmark study published in 2020 in the journal Cell that analyzed the DNA of more than 35,000 people around the world—the largest genetic-sequencing study to date. "Some of these genetic differences could result in brain cells differentiating or developing connections in an atypical way," says Chung. "The difficulty with autism is it's not a single gene diagnosis, the way Trisomy 21 or Prader-Willi syndrome is. Although we use the collective term 'autism spectrum disorder (ASD)' many experts think there may be sub-diagnoses of autism that exist under the same umbrella."
2. If a parent has any concerns about their child's development, Chung recommends they talk with their pediatrician first. "The American Academy of Pediatrics pushed for developmental screening as part of a universal practice, and it is definitely increasing over time," he says. "Generally, screening for autism is recommended at 18 months and 24 months." The MCHAT, Modified Checklist for Autism in Toddlers revised, is "an excellent way for clinicians to determine which toddlers are at high risk for an ASD diagnosis and need to be referred for an evaluation with a specialist."
3. Autism centers should offer more than clinical services. Partnering with arts organizations like the Chuck Jones Center for Creativity and the Pacific Symphony has led to some beautiful moments, says Brock, from creative expression dance or drawing classes to up-close performances by professional musicians. "We couldn't do that without the space," she says. "We have an 800-square-foot classroom, not carpeted, where paint can spill and be easily cleaned up. We use blue tape to map out a concert stage. It's phenomenal for our kids and families and a great opportunity for our community partners."
A Deeper Dive
Last year, the UCI Center for Autism and Neurodevelopmental Disorders served 3,300 families, about 85% of whom had a child with autism spectrum disorder (ASD). Staff include the medical team, developmental behavioral pediatricians, nurse practitioners, child pediatric neurologists, social workers, clinical psychologists, educational psychologists, speech and language pathologists, and the behavioral intervention team.
Why the Rise?
The prevalence of autism in the US has risen steadily, sparking fears of an autism "epidemic." But the climbing numbers are more likely due to an increase in autism awareness and detection. Currently about 1 child in 54 has been diagnosed with ASD, with boys four times more likely to be on the autism spectrum. "Part of the increase is better diagnostic tools, less stigma, and children being diagnosed earlier," says Chung.  "Numbers have been increasing steadily since surveillance started."
ASD is more prevalent in developed countries than developing countries, which could be due to the resources available to make diagnoses, something in the environment, or a combination of the two.
The debate over whether vaccines cause autism has been settled for most healthcare professionals and scientists, with extensive studies and investigations showing no link and the CDC firmly declaring that "Vaccines do not cause autism."
"In my professional experience, over the past five years, there have been less parents concerned that vaccines can cause autism," says Chung. "But many parents still have general concerns about vaccines and are hesitant about their children receiving their shots on the recommended schedule. As much as possible, I try to point families to the science that shows vaccines are reliable, effective, and safe."
Helpful Therapy
Early intervention with children diagnosed with ASD seems to have paid off. Some children show vast improvement and only mild symptoms as they grow older, Chung says: "They may not even meet the full criteria as adults."
Applied Behavioral Analysis (ABA) is a method for improving social, communication, and learning skills through positive reinforcement—and reducing negative behaviors by teaching and rewarding more functional ones. For example, if a child is prone to tantrums, during ABA they would be encouraged to use their words instead of acting out physically. ABA can be used to encourage small actions, like the sharing of toys, to larger constellations of behaviors, such as seeking assistance from adults. "Some children with autism never ask for help from their parents or teachers," Brock says.
ABA and speech therapists often lean on a strategy called "communication temptations," where they structure the environment in such a way that it leads to a desired outcome. If you are working on, say, helping the child initiate an interaction, you would place their favorite toy or item inside a clear container, screw the lid on tightly, and give it to the child. "At the slightest use of eye contact, you open it," Brock says. "This can be extremely helpful for young children who struggle at making their needs known. You are slowly shaping their behaviors to encourage them to communicate their needs."
The mainstays of treatment for ASD are ABA, occupational, and speech therapy, Chung says. "These are evidence-based autism therapies that are widely available, and most insurance will cover them," he says. "In addition, many children will qualify for educational services through the public school district. However, autism spectrum disorder treatment must still be customized for every child, as each has specific strengths and challenges."
Embracing Telemedicine
When the pandemic first hit, the Center responded like most health care facilities—by shrinking and reshaping clinical operations and, wherever possible, shifting to telehealth appointments.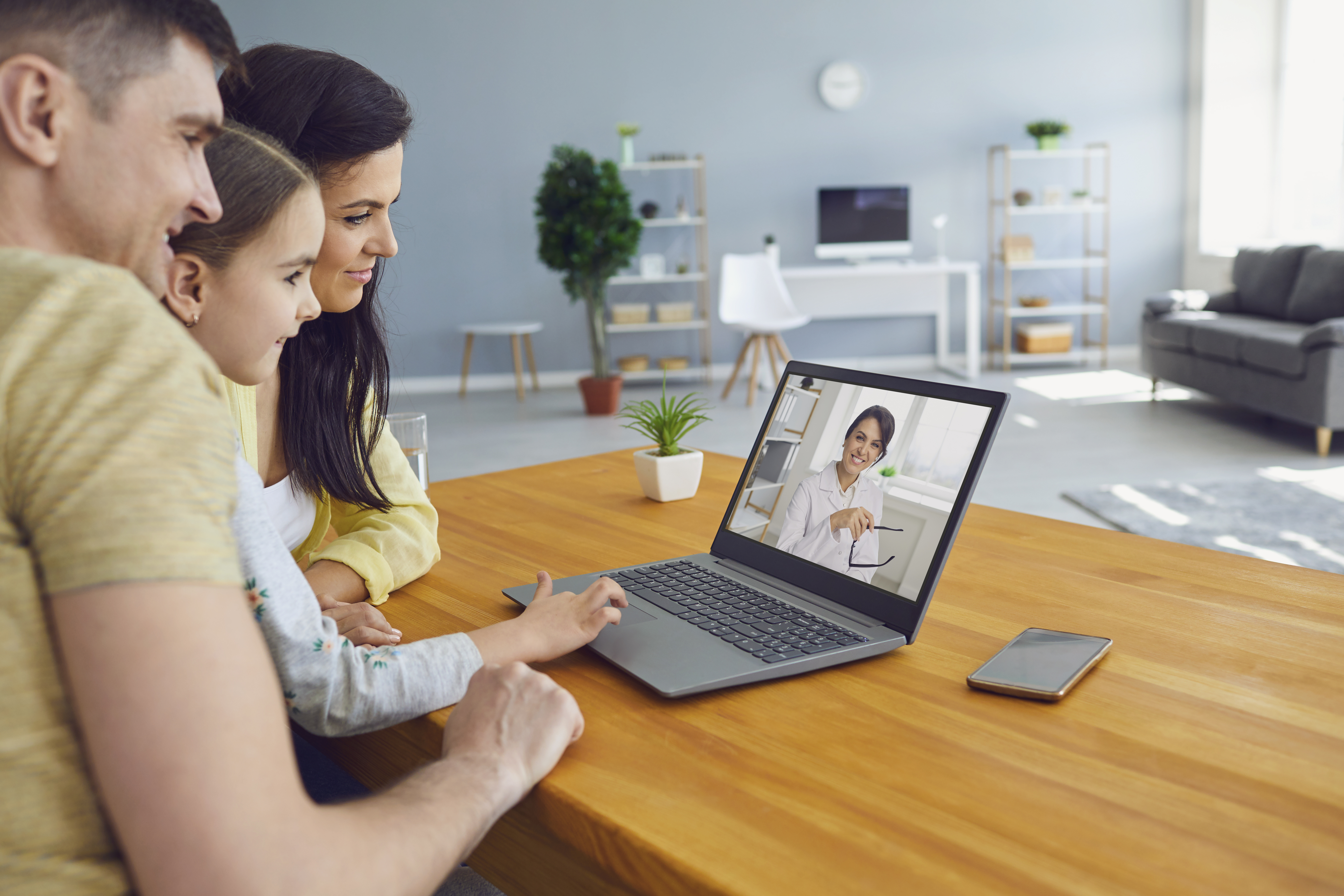 Before the pandemic, the Center saw "zero percent" of patients and families through telemedicine, so the staff experienced a huge shift. "I don't think that door is going to be shut again and that's a good thing," Chung says. "We have greater reach geographically, and certain families are better served with a telemedicine approach."
Virtual appointments have cut down on time away from school or work, time spent traveling, and transitions like getting in and out of a car.
The ABA team, which relies heavily on peer modeling, largely shifted to telehealth during COVID. "Higher-functioning patients adapted well to social skills group training and having peers join online," Brock says. "They are used to video games and playing with friends so it was an easy adaptation, and a subset will probably continue online."
Still, certain visits are best held in person, such as physical exams, vital signs checks, and growth parameters. "For example, it would be difficult to perform a physical exam looking for genetic dysmorphology or other signs of a syndromic problem over a webcam," Chung says. "And just as distance learning has been difficult for some, distance medicine has not met the needs of all of our patients and families."
New Space, New Opportunities
Because the Center is relocating in the future, the shift toward telehealth allows for better ways to use the new space. "Some roles that could remain remote open up the opportunity for another therapy room," Brock says.
Due to the colocation of departments, colleagues from pediatrics and other related specialties will be right down the hall. "I like the idea of having workstations in a group environment for our medical providers so they can connect easily between sessions," Brock says. "On the other hand, they need privacy and a place to get reports done. We're trying to find that happy balance."
For the Center's families, says Brock, "we'd like to be away from busy streets, front doors, and elevators…there is always a risk of our kids running—the elopement issue weighs heavily." Even passing a fountain or navigating a crowded lobby or bustling café can be challenging.
For a safer option, the new space will include an autism sensory garden. "Outdoor spaces allow us to teach—and our kids to practice—social skills in an environment closer to the real world, to help them generalize," Brock says. "The sensory garden will have a dedicated entrance/exit, allowing access to the outdoors in a safe, comfortable, and soothing environment."
Long-term Concern
Where do patients on the autism spectrum go when they age out? About 2 percent of adults in the US have autism spectrum disorder, and there needs to be broader and more accessible societal support systems for this population, say Brock and Chung.
"I have a number of patients who are in their 20s, but eventually they are going to get old enough that it's not a good fit to see us anymore," Chung says.  "We're working on a transitional program, figuring out how best to help our patients through education and parent support. Also, psychiatry takes over with more complex patients who require medications."
Many who are on the autism spectrum will continue to need assistance as adults, Chung says: "They may have difficulty getting into the job market or living on their own." About a third of adults with autism are employed/living independently, while two-thirds are still living at home.
Potlucks and Hallway Soccer
The Center has two social workers who support parents through difficult situations and a strong family advisory council. "These parents support one another, can address questions and concerns, and have a better reach into the community," Chung says.
Educational classes are provided for parents, as well as mindfulness classes to reduce stress. "We want them, for just a minute, to focus on themselves and to learn how to be present in the midst of whatever might be happening," Brock says.
Pre-pandemic, the Center offered sibling support groups, family days or weekends, and potluck dinners run by the family advisory committee, and hopes to return to these in-person activities when it's safe. "The whole family comes, they bring food, there's a presentation helpful for parents while the kids play hallway soccer or other supervised fun activities," Brock says. "These events are fully staffed with various support team members and volunteers, and aunts, uncles, and grandparents are all invited. We want them to be able to lean on us, to see us as more than just their clinicians."
Creative Partnerships
The Center has a strong relationship with arts organizations in the community, such as the Chuck Jones Center for Creativity. "Chuck Jones was the animation director for Bugs Bunny, the Road Runner, Wile E. Coyote, all those great cartoons," says Brock. "The emphasis is on letting go, finding your creativity. For our kids, who are so often in back-to-back therapy and school where their weaknesses are exposed, to be able to have programs about their hobbies and interests is really exciting."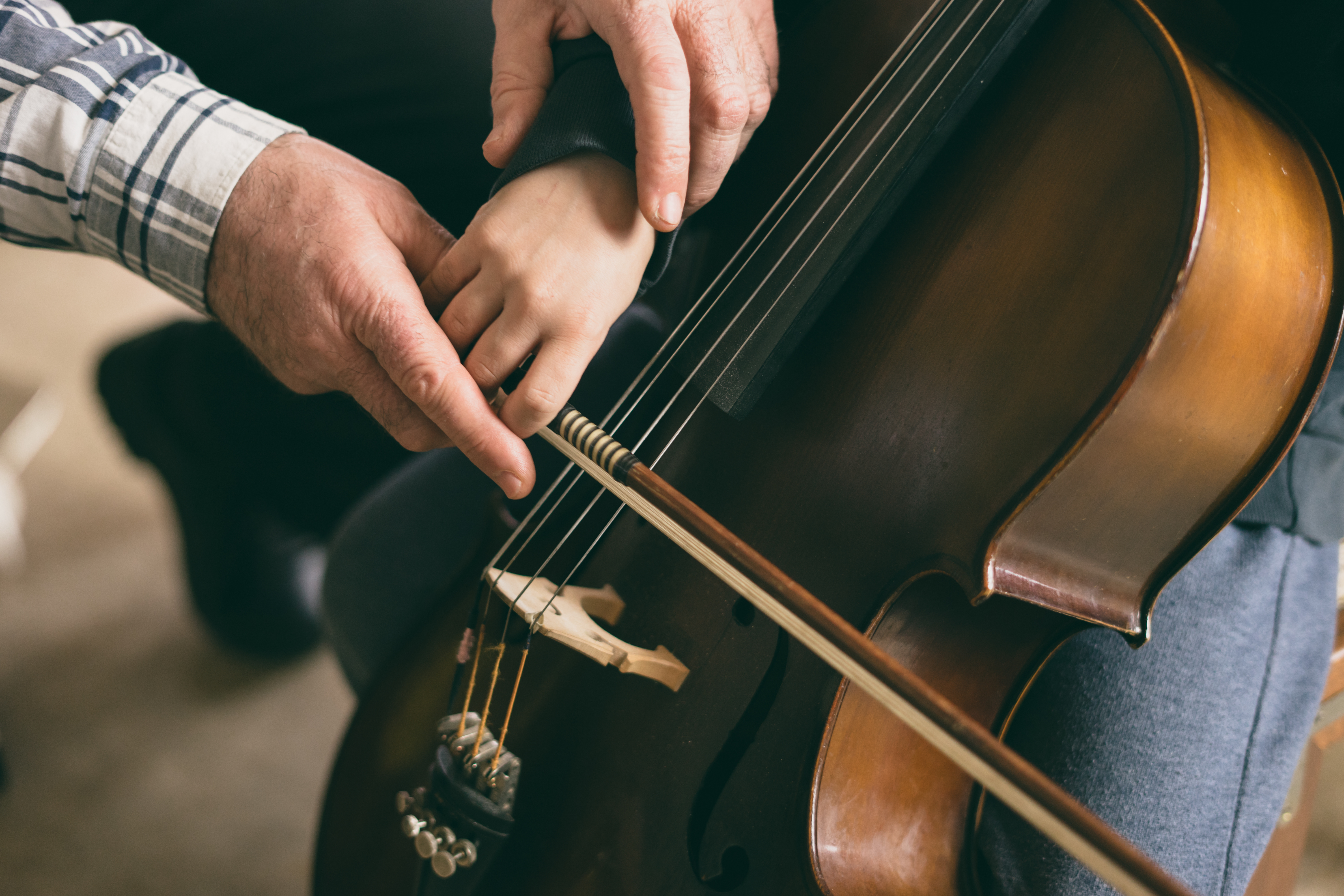 The Pacific Symphony's "Heartstrings" program provides traveling concerts for families who might not be able to attend a symphony performance. "A quintet of musicians—playing strings, horns, or percussion—perform for an hour," Brock says. "Families enjoy the outing, and the kids either dance or are glued to their seats, mesmerized by the musicians. At the end, musicians change to their practice instruments for the 'petting zoo,' and kids can get up and touch and inspect the instruments."
Reactions can be powerful: One child who attended a family concert had a diagnosis of autism as well as other significant and debilitating medical conditions. His nurse, parents, and siblings were with him. "In the middle of the performance, the cellist noticed him, came over, and put the boy's hand on the strings of the cello so he could feel the vibration," Brock says. "The boy got up and started dancing. Everybody in the room was crying."
Health Partner Insights is a continuing series where we tap the collective wisdom of our health care clients on current challenges, trends, and technologies.