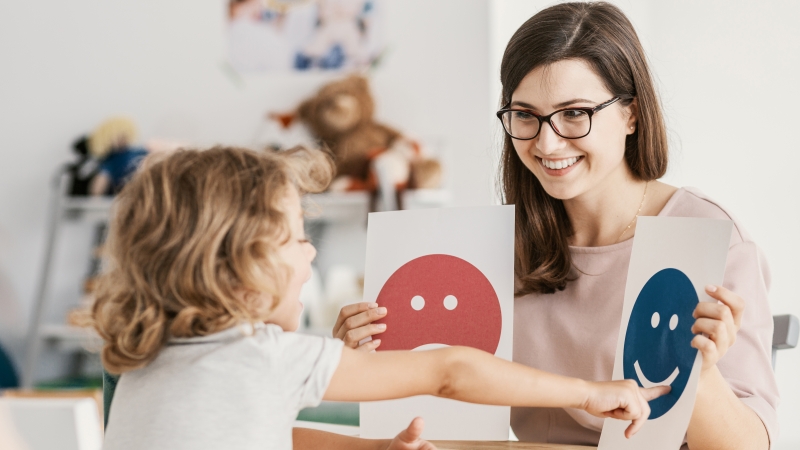 A Q&A with Dr. Kimberly Goodspeed, assistant professor of pediatrics and neurology, University of Texas Southwestern Medical Center, UTSW Center for Autism and Developmental Disabilities, Dallas
EYP's Cody Cartusciello, managing principal, Dallas, and Mark Vaughan, senior principal and national director of medical planning, sat down with pediatric neurologist Dr. Kimberly Goodspeed to discuss designing health care spaces for children and teens with autism and other developmental disabilities, and the challenges these young patients and families still face.
When we design a building, we try to think about each individual coming into the space. Can you tell us what young patients on the autism spectrum and their families would need in a clinical setting?
Dr. Goodspeed: The patients we see in clinical care are a range of kids from across the spectrum. Some have developmental disabilities, others are in wheelchairs, or are nonverbal, or are super strong and agile. So you have a combination of children--those who can climb all over furniture, or bolt and elope, those who are shy nervous, anxious or timid, and those who are agitated and have triggers that could result in intense aggressive behaviors. That is the biggest challenge to the space—to accommodate that range of patients. We think about safety a lot, safe spaces for patients and families and staff. We like to be able to give our families a bit of privacy if they need it. 
Yes, it seems important to allow opportunities and space for decompression. What can help to calm a child and what is the best way to handle it when they are triggered? 
Dr. Goodspeed: In Texas, the weather is volatile and it's very hot in the summer, so indoor space is ideal. We have designated a private space just off the waiting area that can be used as a calm-down room. If the child is having a meltdown in front of everyone in the waiting room, their parent can often also get upset or frustrated with the situation, which can escalate the child's emotions even more. It's helpful to have a space for both to feel like they aren't on display. A flexible space with minimal stimulation, perhaps with dim lights, a soft mat, bean bags, and sensory tools that can help kids to calm down is ideal. Because many of our patients are already stressed just coming to the clinic because they are out of their normal routine, the interior design should lean toward more calming, less activating elements. Transition points are often challenging for our patients and visits to our clinic are typically not part of their everyday routine. They have school, therapy, and then once every six months, a visit to my clinic. For environments where they have ongoing therapy such as applied behavioral analysis (ABA) or other supportive therapy, where we are trying to encourage development, those environments can be more stimulating.
What about the general clinic and parking areas?
Dr. Goodspeed: Our Center is on the fifth floor and that's been a big challenge for some of our families—it can be hard to find the first time, parents are often already stressed, and some of our patients don't tolerate getting on elevators. There are times when we've had to go out to the parking lot to see kids who were too agitated or fearful to get out of the car. Ideally, a clinic serving children with autism would be on the ground level of the building and have a separate entrance where families could park nearby.  We often give handicap placards so the families can park close and keep children safer because some kids may have a fight or flight response and will take off running. A safe outside area or garden would be great kids who do well in outdoor spaces. It's important to keep in mind that kids with autism can be extremely observant. Even if they don't speak, they are often watching everything and can figure out how things work very fast. We have families who have had to install multiple deadlocks on their doors to keep their children from escaping their homes without supervision. Some children have still maneuvered furniture or found hidden keys to get out.  
Are there ways the community can get involved with and support your Center?
Dr. Goodspeed: Our community outreach and collaborations are growing. For example, we have a cool project with the Dallas zoo, who have adapted an existing preschool program for our patients. The zoo already has some autism programming and is designed as a sensory friendly place for those with sensitivity and ASD. We also work closely with patient foundations to serve rare disease populations such as Fragile X Syndrome, Pitt-Hopkins Syndrome, Phelan-McDermid Syndrome, and SLC6A1-Related Disorders, to name a few.    
Do you conduct research?
Dr. Goodspeed: I do. Most recently, I was selected as the Dedman Family Scholar in Clinical Care to open a registry for patients with genetic mutations that cause neurodevelopmental disorders. This registry will be a first step in helping us to improve the clinical care we deliver to our patients with rare diseases. Many have abnormalities in sweating, sleep and circadian rhythms, and gastrointestinal issues such as diarrhea and constipation, but these medical conditions are sometimes overlooked in this population. We can test brain connectivity through technology such as electroencephalograms (EEG) and auditory or motor evoked responses to see how the nerves are talking to each other. As new treatments for neurodevelopmental disorders are being developed, the field is looking for ways to objectively measure how patients are functioning and ways to assess the severity of their symptoms. It is great to have a space that is designated for research where you can have this special equipment set up and ready to use with research participants. We also ask parents to complete many questionnaires or surveys electronically while kids are completing other research tasks, so having a quiet space to fill out paperwork or use portable electronics or iPads is also ideal.
What drew you to this field?
Dr. Goodspeed: I grew up thinking I would go into veterinary medicine; I've always loved science and medicine. Then in college, I took a psychology course and a neuroscience course and became fascinated by understanding behavior and why people do what they do: How can you understand decisions we make, in terms of brain function? Autism is such an interesting group of disorders, there are similar traits among those on the autism spectrum, but each person is still very much an individual. I became interested in the field and went to medical school, specializing in child neurology.  
Can you help us understand the population you work with, children and young adults with autism and developmental disabilities, a little more? 
Dr. Goodspeed: Well, there is still a stigma these families and patients feel. Because our kids don't necessarily look different from their peers, if they have challenging behaviors in public there is not always an immediate understanding that this is a child with special needs. Parents can also feel judged by onlookers who may be thinking "Why can't you control your child?" Along with this, there are preconceived notions of what a child with autism is like. The child may be talked down to, and parents may feel offended or saddened by interactions where their child's capabilities are underestimated. We like to say, if you've met one child with autism, you've met one child with autism, so it's so important that you communicate with the caregiver, who is an expert when it concerns their child. Autism is a lifelong disorder, but relative strengths and challenges may vary over a lifetime. Often parents have a difficult time finding appropriate placement or support for their adult children because most of the available programs are designed for children and adolescents. We want our young adults to be as independent as possible, and we encourage our families to start thinking through questions about the future when their children are 13 or 14. As soon as a family realizes this is a child who may not live independently, they start thinking about all the ramifications of that: How do we financially prepare for that? How we will fill their time after high school? Some may wish to set up a trust fund or explore a group home option, and nearly every family needs help navigating these choices. This is a role our clinic often fills for families.
Can you talk about the distinction between Asperger's Syndrome and autism spectrum disorder?
Dr. Goodspeed: Asperger's, which formerly was used to signify a higher-functioning form of autism, is no longer an official diagnosis; the term was retired in 2013 with the DSM-5. The term Autism Spectrum Disorder is now used to encompass the array of symptoms and severity we see in patients and to simplify our medical terminology. Also, new evidence has surfaced that the Austrian physician from whom the eponym was coined, Hans Asperger, was a Nazi sympathizer who sent children to concentration camps during the Holocaust, which is something we do not want to glorify in the medical community. Some children and young adults who were previously diagnosed with Asperger's, however, still identify with that diagnosis. We would now classify them clinically as having autism spectrum disorder and would use modifiers to convey that their symptoms are relatively mild.
Have you seen good outcomes through daycares that enroll children with autism spectrum disorder alongside children with typical development, and modeling programs with neurotypical peers for young adults on the autism spectrum?
Dr. Goodspeed: Daycare and peer programs are great for children with autism spectrum disorder because it gives them an opportunity to learn from their peers and other adults besides their parents. Children with developmental delays typically start receiving services from early childhood intervention (ECI) programs from birth to age 3, and then transition to early childhood special education (ECSE) programs in the public schools.  Some school districts have an autism-specific classroom, which can incorporate sensory tools and behavioral therapy and techniques to promote social-emotional learning as well as general pre-school academic skills. Being around other children and having to communicate with adults who are not as attuned to their needs as their parents can be motivating for language development. We often see that children with autism have a blossoming of language and socialization once they enter the school system. Having children with autism mixed into various classrooms can also help with addressing community stigma and allow kids without disabilities to learn how to interact with peers who think or act differently. Shared experiences help the child with autism see how their peers move through the world and serves as a model for social behaviors and communication skills.
What about patients who age out of pediatric care?
Dr. Goodspeed: When children turn 18, in the eyes of the law, they are fully independent adults who can make own decisions, so some families may need to go through a guardianship process to protect them. Guardianship can be tailored to the needs of the individual. For individuals who need more support, parents can retain full custody/guardianship as they did when they were minors. Others arrange shared-decision-making models to allow the young adult to retain some independence. One of our patients is interested in politics so he has retained his right to vote, although his parents still have a say over many other parts of his life including his finances and medical decisions. Young adults on the spectrum can be vulnerable to manipulation, so in addition to considerations around legal guardianship, we also find ways to train our young adults with autism on how to be safe in the world and protect themselves. One of our patients was preparing to go to a community college after high school, but her mom was terrified she could be deceived by someone trying to hurt her or get into an altercation with an assailant by being too rigid or concrete in her understanding of things. Children's Health has an adult transition program that helped her with some basic safety training and role-playing of adult-level scenarios…what do you do if x, y, or z happens? It helps to think through what will give these young adults tangible skills and tools for more independence.