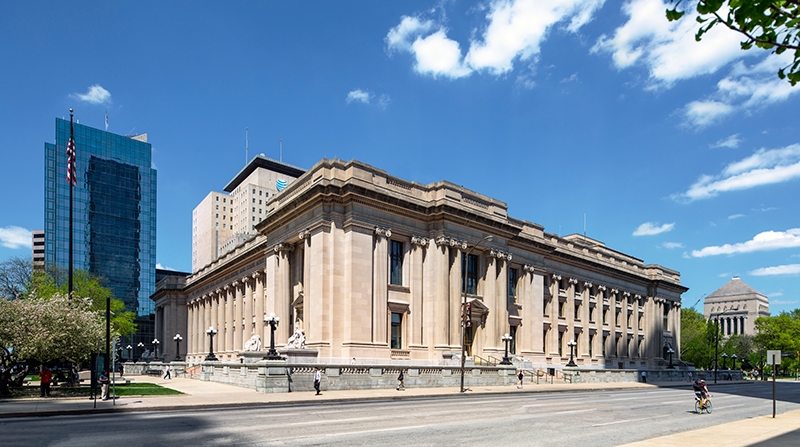 We get questions from clients all the time about phased modernizations. With this delivery type becoming more common, we're launching an ongoing Q&A series to give you the necessary background information when it comes to exploring phased modernization as a viable option for your project.  
Phased modernizations pose many specific challenges. The following questions address challenges that arise on many projects regardless of the building type or age.
Why should I consider a phased modernization?
It's not always possible to fully vacate a building before modernizing it. And, redirecting visitors to a different building during construction (swing space) may be difficult and confusing. 
Phased modernization allows you to maintain building occupancy and continuous operations with minimal disruption. This is particularly important for spaces like laboratories, courtrooms, and hospitals, where the functions are difficult to replicate elsewhere. If your building is owned by a landlord, this process also allows continuous rental income during the modernization. Finally, a phased modernization allows the capital outlay to be spread out, which can be beneficial for owner budgeting. 
When deciding if a phased approach is your best option, we recommend conducting a study that includes a cost-benefit analysis to evaluate elements like available lease space, cost of renovating that space, security issues, and the anticipated cost of inflation. While phased modernization projects often have a longer construction duration than a building renovated all at once, they also reduce or even eliminate the need to rent swing space. Depending on the building type and scope, a phased modernization may be the most cost-effective approach.
Some of my operations can't move for construction and need to operate 24/7. How do you accommodate this type of requirement?
To maintain building operations, all life safety systems, HVAC service, utilities, and means of egress must be maintained in occupied areas during construction. The phasing strategy for each building is unique and needs to consider system distribution as well as tenant requirements. Phasing plans are often developed with building services in mind; the most common is looking at the HVAC system distribution and how that may provide a logical sequence for the construction phasing.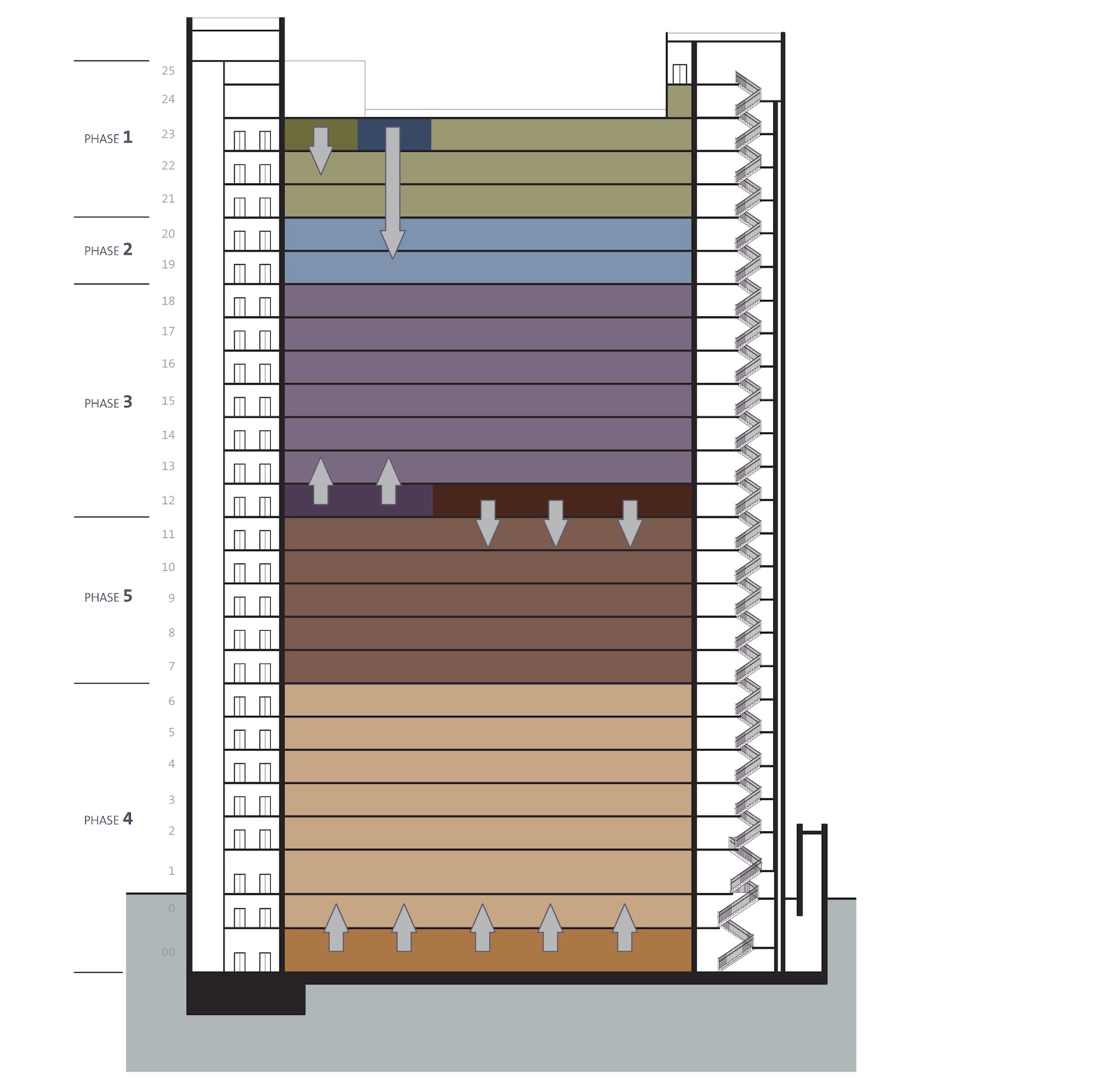 Ground floor retail or restaurants, server rooms, and security systems are all examples of elements that must remain active and can't always move . Solving this issue requires the design team to communicate clearly about what needs to remain in place and why and then work closely with the contractor to develop a logistical plan for construction. Critical issues include utility interruptions, particularly power, access to the space during construction, and how work may be done off-hours to avoid conflicts.
Another example of critical spaces that need to remain active is courtrooms. At both the Birch Bayh Federal Building and US Courthouse in Indianapolis and the Theodore Levin US Courthouse in Detroit,  the phasing strategies considered the number of courtrooms that would be active at any one time in order to meet the US Courts calendar. We worked with the tenants to identify which courtrooms would be offline and which Judge's chambers would move into swing space in each phase. From there, the courts developed a schedule that would meet the caseload requirements. Typical strategies included sharing courtrooms, scheduling work in a courtroom when the Judge was on vacation, and working remotely when feasible.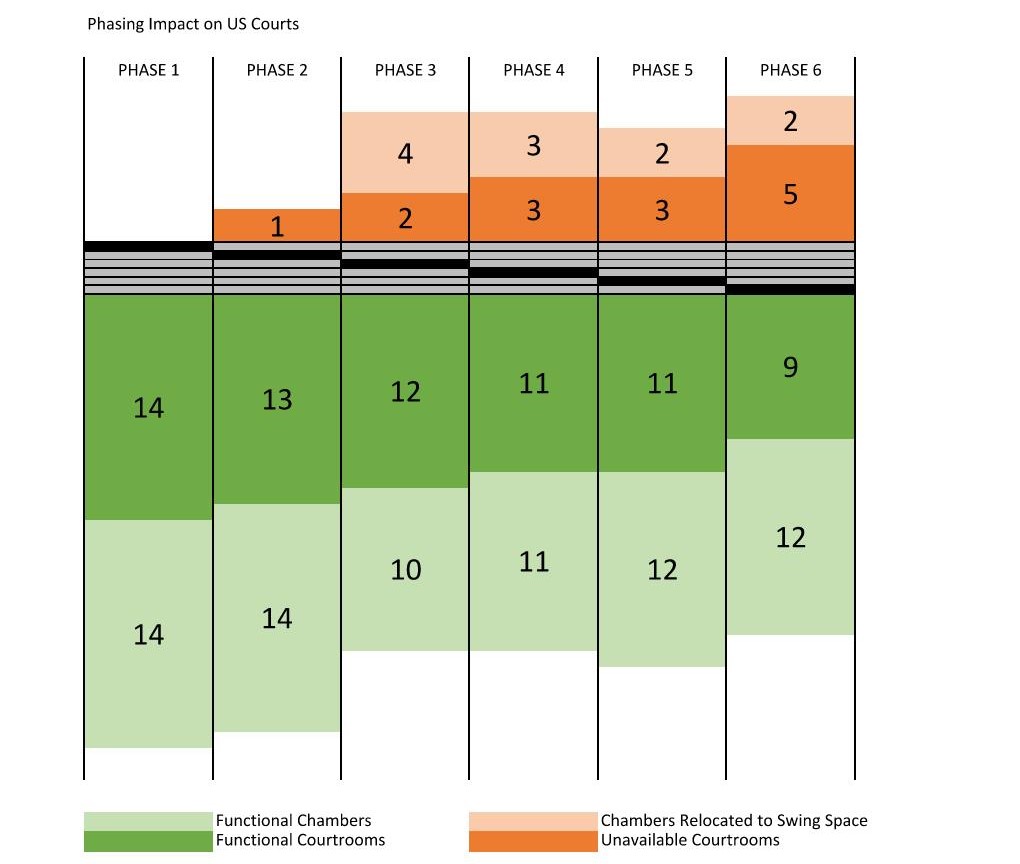 These are only a few of the many examples where complex phasing is needed for a project. If you have mission-critical space that cannot go offline, the design team evaluates the space individually to determine the best solution to keep it up and running throughout construction. 
The designers are projecting out a number of years through the end of construction. What happens if I have an unanticipated program or schedule changes that arise during construction?
There are always changes that happen during a project, but the good news is that there are several strategies used to anticipate this and minimize risk. At the heart of all these strategies is the need for every member of the team to be flexible and to work collaboratively and proactively to solve each challenge.
Modernization of the William S. Moorhead Federal Office Building is an example where the design team used an innovative approach to providing maximum client flexibility. Originally built in the 1960s, the 25-story building in downtown Pittsburgh was modernized over five years. Throughout the project, we employed a just-in-time delivery method for the design of tenant office modifications. 
Due to the long construction duration, we took every precaution possible to minimize the number of tenant modifications due to things like changes in personnel, mission, or agency growth by working with tenants only a year prior to the build-out of their space. While the base building package issued at the beginning of construction covered the systems and infrastructure for the entire building, the interior fit-out packages were issued just prior to completion of the previous phase, allowing the contractor to prepare a bid.  
Even though this procedure worked extremely well as a strategy to communicate with over 50 tenant agencies in the building, there were still times during coordination when the team was called upon to act quickly and in a unified fashion to implement last-minute modifications. This procedure also allowed the entire project team to identify critical lessons learned from prior phases and apply them to later phases.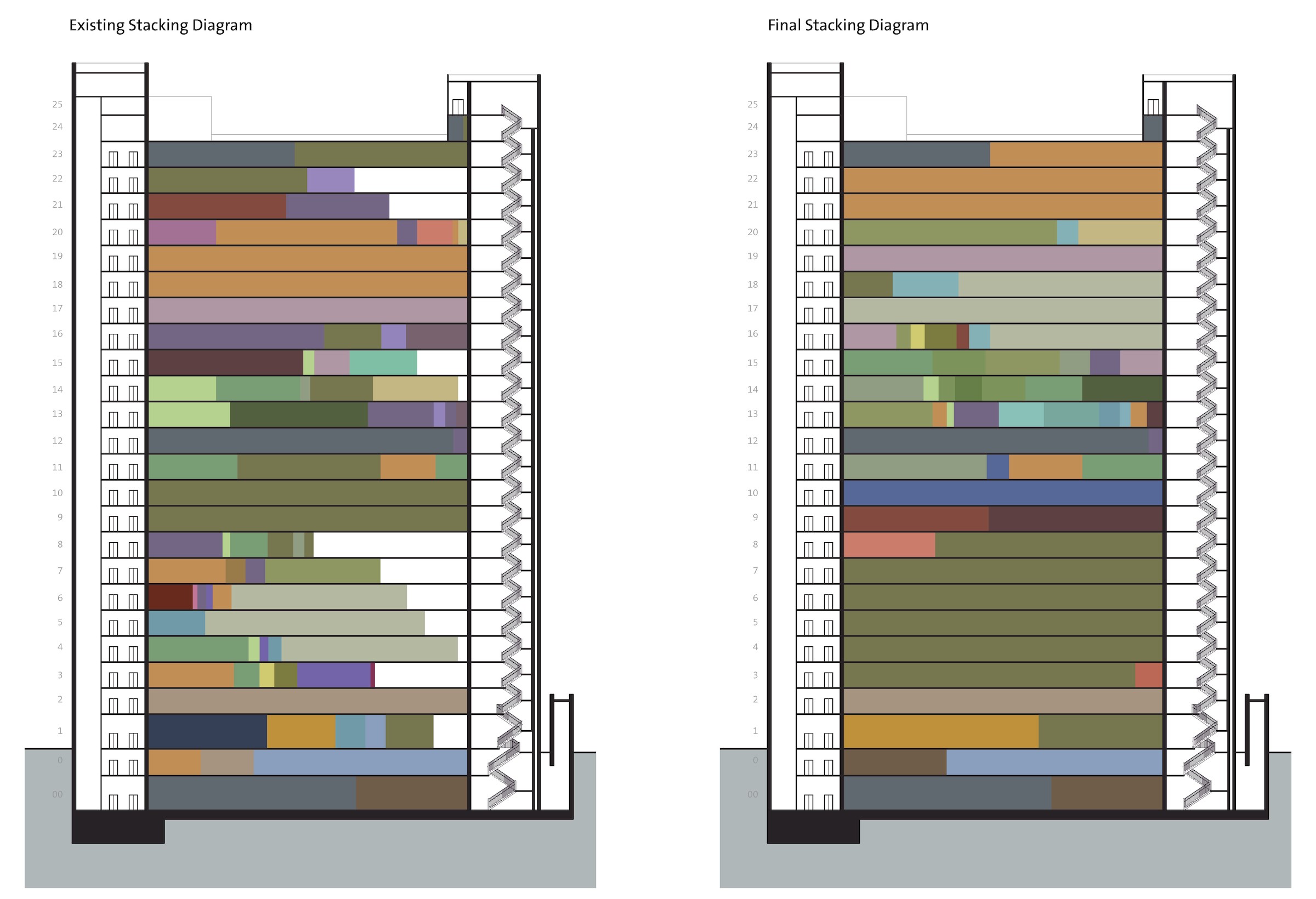 Still curious? Stay tuned for more content answering your questions about phased modernization.