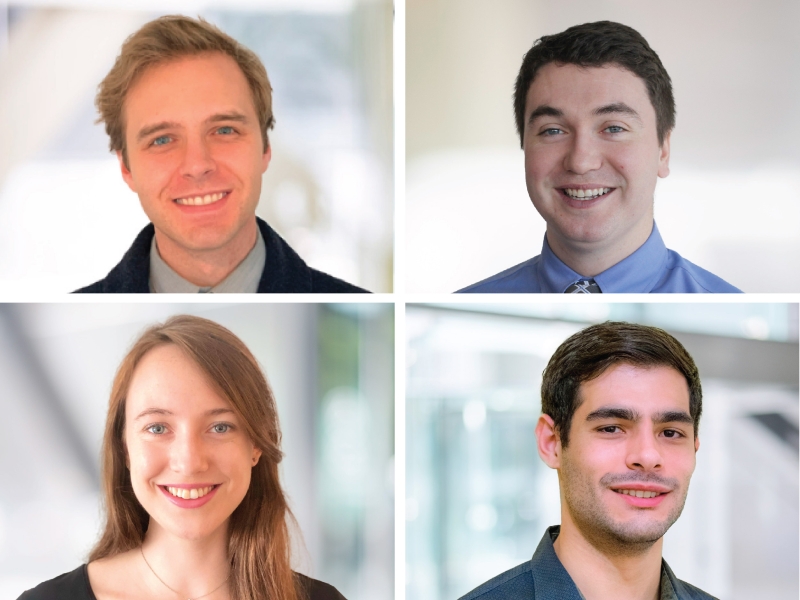 Our firm's Summer Internship Program is in full swing, providing paid internships to graduate and undergraduate students that gives them opportunities to learn and contribute through direct exposure to active projects, project pursuits, integrated design, and a variety of building types.
A key component to the program's success is the role that Intern Ambassadors play in mentoring interns throughout the summer.
Intern Ambassadors (IA) are permanent EYP staff members who connect and work with interns throughout the duration of their internship. IAs enrich the experience of the interns beyond their day-to-day project work and bring the interns together in weekly forums to allow them to meet each other and bond in the intern experience.
This year, we have four Ambassadors working with our interns. Here, they share their perspectives on their roles, how they hope to help the interns get the most out of their internships, and even what they hope to learn themselves in the process.
James Blanchard | Designer I, Architecture | Denver
I've received a lot of mentoring while working at EYP, so being an Intern Ambassador is important to me because it allows me to "pay it forward."
There are a lot of big questions when first starting an internship or a new job. If I'm not able to answer their questions directly, I can definitely connect them to the right person who can.
I have a very niche expertise in quantitative design practices and integration of new tools like pyRevit to expedite more menial tasks. The more people I can get interested in these kinds of skills and tools, the more common these kinds of tools will ultimately be in our workplace. The faster we can be in printing and drafting, the faster we will be as a company.
We're hoping to do some Revit tutorials throughout the summer which will help make the software less daunting and allow us to share what we've learned since starting our work at EYP.
As Ambassadors, we'd really love the interns to know they're not alone in their learning process. They'll be learning alongside their peers even though we're not meeting in-person. My goal is to help the interns connect, even in some small way, during their summer and help make their internship meaningful to them. I'm also looking forward to getting them motivated for research or generative design as they head back to their education at the end of the summer!
Belle Carroll | Designer I, Architecture | Houston
As an intern throughout college, I did not experience a program like the one EYP offers, but I always benefited anytime a mentor took the time to show me the ropes. The ropes of how to open Revit or how to draw a waterproofing detail -- lessons that I use everyday. So, I jumped at the opportunity to become an EYP Intern Ambassador to share what I know just like those who taught me when I was an intern.
My skill set lies in graphics (Adobe suite, Enscape), modeling (Rhino, Revit) and details (i.e., ceiling, waterproofing, wall). My experience is in Healthcare, Higher Ed, K-12, and Rehabilitation as well as installation art. I'm looking forward to sharing what I know with the interns, and hope to make their summer a well-rounded experience and facilitate cross-office camaraderie.
I am most looking forward, though, to learning from them: the different schools of thoughts and academic discourse they are still submerged in. I'm excited to meet future colleagues and hear what they are passionate about!
Matthew Dellehunt | Designer II, Architecture | Albany
I've always enjoyed the prospect of teaching and mentoring. In fact, I'm working towards the possibility of becoming a part-time professor.
Outside of work, I help my parents coach a youth travel Track & Field team with kids between the ages of seven and 16. I've learned over the years to look for what excites or drives young people. Not all the kids are on the team to improve, some just want to have fun after school. My job is to help them achieve their goals -- whether that is getting better at the sport, or just having some laughs on a fun run with friends.
I like to perceive my mentorship role as the metaphorical bumpers on the bowling lane of their professional journey. Helping and guiding them along their path to hit their theoretical 'goal pins' at the end of the lane; whatever those goals may be.
The thing I look forward to the most is seeing the growth of the interns over the summer. Mostly, as they develop confidence in themselves, but also in the knowledge and technical skills they will garner as they learn.
As a mentor, I can share some ideas on things we all struggle with every day.
Work is no different school, there are ups and downs.
Don't stress about things that are outside of your control.
People are human. Mistakes are normal. Questions are encouraged.
Self-reflection is super important. Take the time to absorb everything around you.
Everyone learns and interacts differently, so the more people I can interact with and observe how they learn/communicate with others, the better colleague I become -- and perhaps an even better potential future educator!
Martin Patsouris | Designer I, Architecture | Washington, DC
When I was asked if I wanted to participate in the Ambassador program I was thrilled at the idea of being able to connect with the interns. I had the pleasure to work with a summer intern last summer and it was enjoyable passing on knowledge I had learned over the first couple years of my career. By being an Ambassador this year, I'm hoping to get even better at mentoring others.
During my own time in college, I had interned with a couple of firms, so I had a lot of experience with adjusting to new offices and people over the summer. I'm excited to bring that experience to the internship program here at EYP and look forward to helping the interns make connections throughout their time over the summer.
I'm also looking forward to passing on some Revit knowledge and tips that I have found or have been taught over my career that have made working on projects easier and more intuitive. If I can pass some of that along, I feel like I can make a helpful impact on the interns' summer experience and growth as professionals.
Watch our blog for an upcoming feature on our summer interns