In health care these days, people expect convenience, comfort, transparency, and clinical excellence. The priority of these considerations varies depending on circumstances, especially in emergencies.
So a vital question must be asked: Is Austin ready to meet its anticipated healthcare needs as America's fastest growing major metropolitan area?
Austin is booming, with nearly 2.3 million people living in the city and its five surrounding counties as of summer 2020, according to the latest US Census, and more people moving to the state capital daily.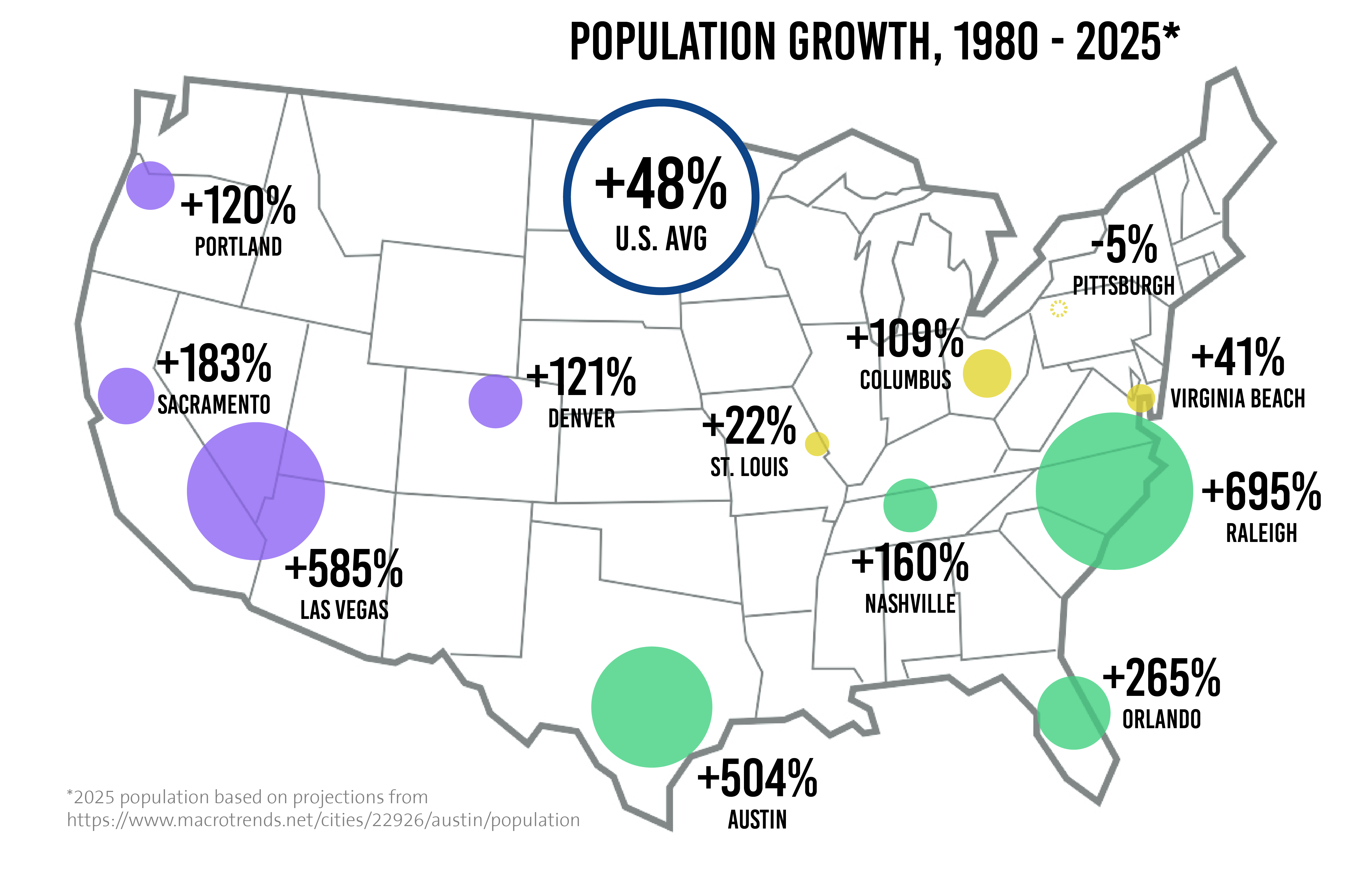 Decades ago, Austin's economy was driven by two primary factors – state government and the University of Texas. But the city began to diversify, attracting high-tech employers like Tracor, IBM, Texas Instruments, Motorola, AMD, and Applied Materials. 
Eventually, the combination of college town, seat of government, technology entrepreneurship, and hip/cool/weirdness became an irresistible combination that now attracts more than 160 people a day. Even Elon Musk moved here, declaring that Austin is "going to be the biggest boomtown that America has seen in 50 years."
Cheap land, cheap gas and ever-expanding infrastructure were the primary drivers of sprawl in Houston, Dallas and San Antonio back when they became large cities. In general, their urban cores were primarily places of employment, not necessarily desirable places to live, shop or socialize. In contrast, Austin has become a large city more recently, with copious high-rise residential architecture blurring the lines between life and work. 
Fueled by homegrown initiatives like Great Streets, Envision Austin, and improvements to Lady Bird Lake, Austin has become attractive to young people seeking warmer climes and cooler living. A recent New York Times article states that, "millennials are moving to the Sun Belt, and companies are following the millennials. Investors are following the companies." Austin is a primary beneficiary of this demographic phenomenon.
"We are not yet prepared health-wise for the population boom. Austin will redefine its healthcare environment in the next 20 years," says Anthony Haas, project executive, EYP Austin. "There has also been a generational shift. Younger residents want closer options and to know their doctor. They aren't going to drive a long way, deal with the nightmare of parking, for a place's reputation of excellence. They choose provider over facility."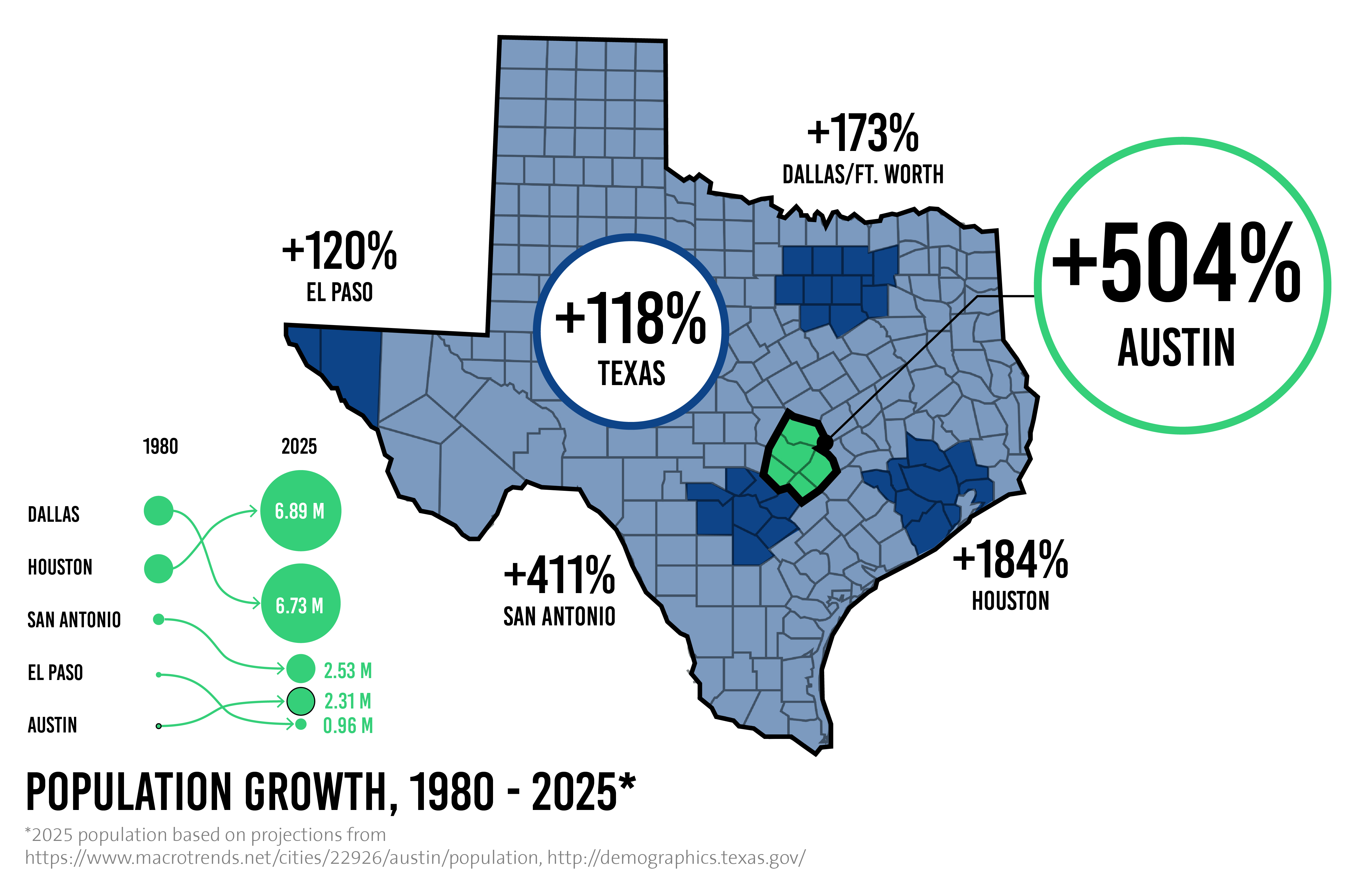 To help understand where this is headed, EYP commissioned linear A, a data analytics firm, to investigate trends and growth projections, particularly as they pertain to future healthcare needs. 
According to data from data.austintexas.gov, in 2019, the greatest amount of growth as measured in construction permits issued, occurred south of Highway 71 between IH-35 and Highway 183 around McKinney Falls State Park. The second-highest growth occurred just south of the first, extending toward Creedmoor and State Highway 45. 
The map below illustrates the percent of total construction permits by zip code in 2019. Time-lapse aerial photography shows an explosion of densely packed, single-family residential development in these areas, with plenty of room for more.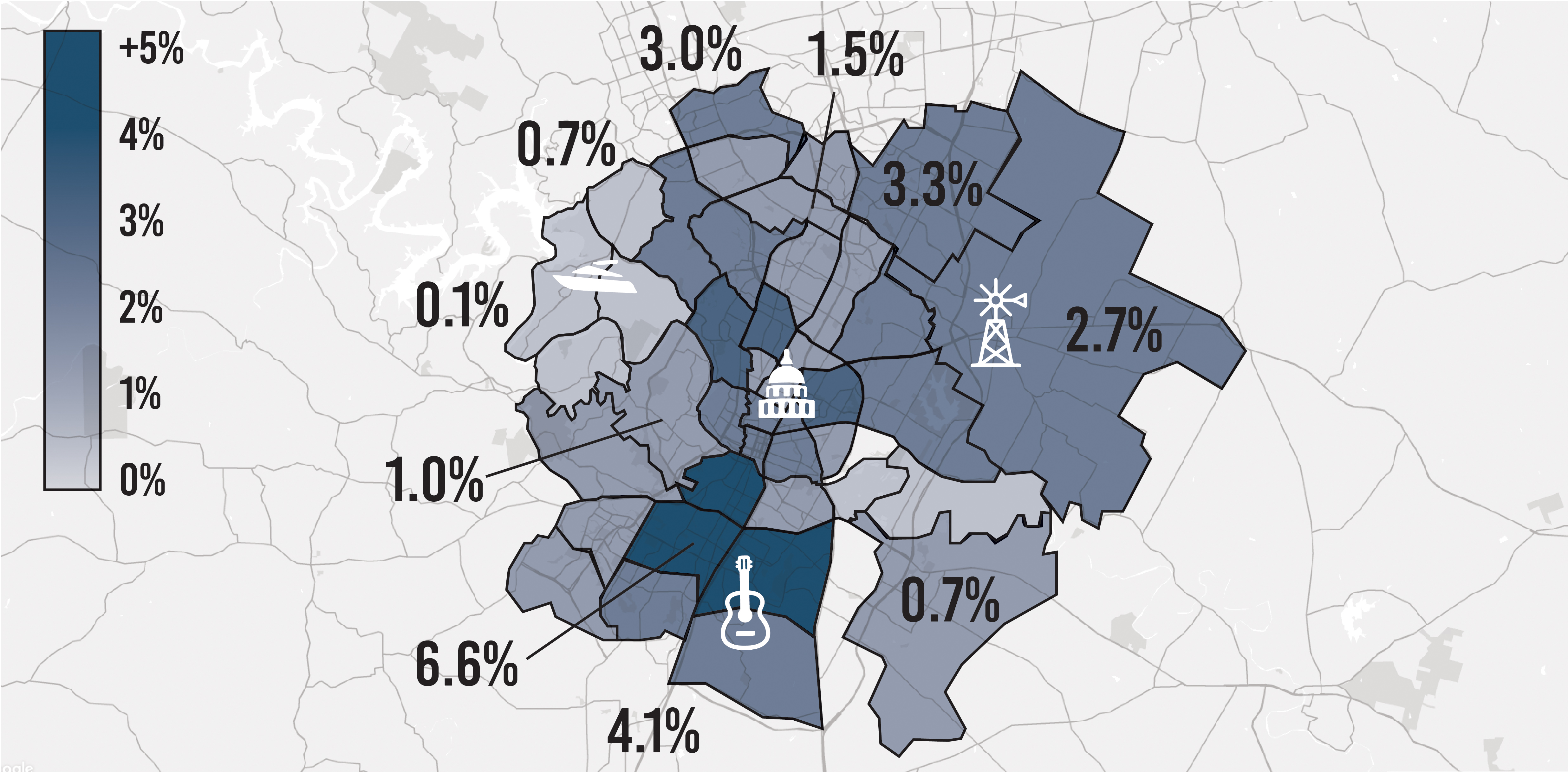 According to Austin's Chamber of Commerce, there are approximately 5,600 licensed hospital beds and 5,100 physicians who provide direct patient care.
Forecasts of continued population growth raise questions about where and how health care will be delivered going forward. But the most pressing question of all is, does Austin have adequate existing or planned health care resources to meet the need of its residents?
"The answer is critical, for all of us who live in and love this weird and wonderful city," says Andy Albin, managing principal of EYP's Austin office. "The demographics and influx of the growing population must be examined to understand what health care services are needed, where to effectively deploy health care access points, and how to best meet the needs of this growing and diverse community."
As Austin becomes a magnet for businesses and tech and people, it is paramount to align critical resources, including health care. A just and equitable community cannot make good on its promise of a better life without tending to its residents in body and soul.  
Our close-knit team at EYP's Austin office has an entrepreneurial spirit and a passion for human-centered design. Backed by EYP's 400+ design professionals throughout the country, we bring architecture, interior design, landscape, and engineering expertise to national and regional projects. We live and work in and around Austin and are deeply vested in the city's vitality and health. Won't you join us in creating the best future we can envision for our weird, wonderful city? The first step is, of course, asking the hard questions and working to address them…together.