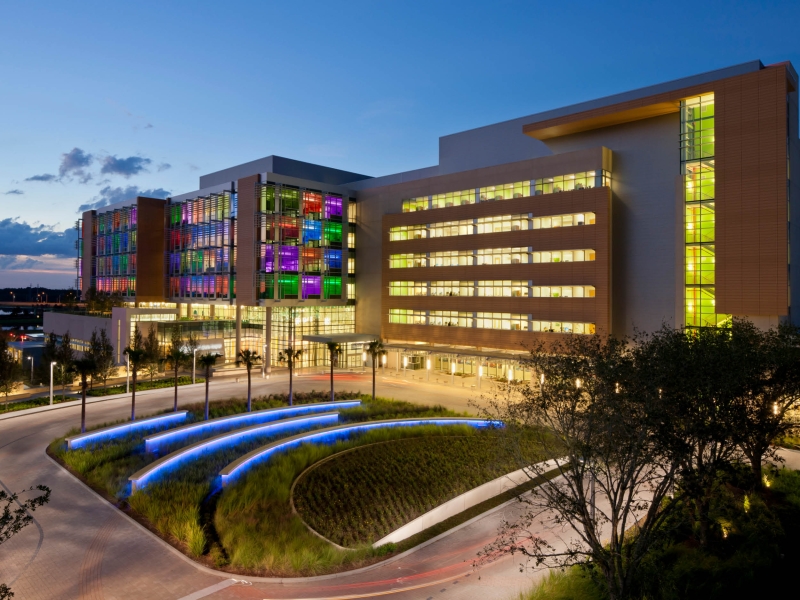 Campus master plans are common at universities to help establish a framework to guide future development and growth, but such master plans are also essential for healthcare campuses and academic medical centers. To that end, EYP, a Page company, provides master planning as a first step to clients who want to assure the highest use of their valuable resources.
"Master plans are essential to provide clients a roadmap for investment," says Terence McCabe, Page/EYP senior project director, who has been involved with master planning for multiple health systems, academic medical campuses, and hospitals.
Page/EYP firm experts got together to discuss the challenges and rewards of creating master plans for healthcare campuses: the complexity of adding to medical campuses that are landlocked, the challenge of renovating hospitals that remain fully operational during construction, and the various support services and vast infrastructure required.
"Our healthcare clients are thinking constantly about strategy: How and where should they grow? What new ways to generate revenue should they explore? How many more patient beds do they need?" says Mark Vaughan, Page/EYP national director of medical planning. "The first step for any, or all, of these decisions is a healthcare campus master plan."
Healthcare campus master plans, says Portia Ellis, Page/EYP studio design principal, "guide decisions for growth and planning not just for campus infrastructure but for the organization's vision."
Master plans can encompass the entire campus, one specific area, one building…even one question.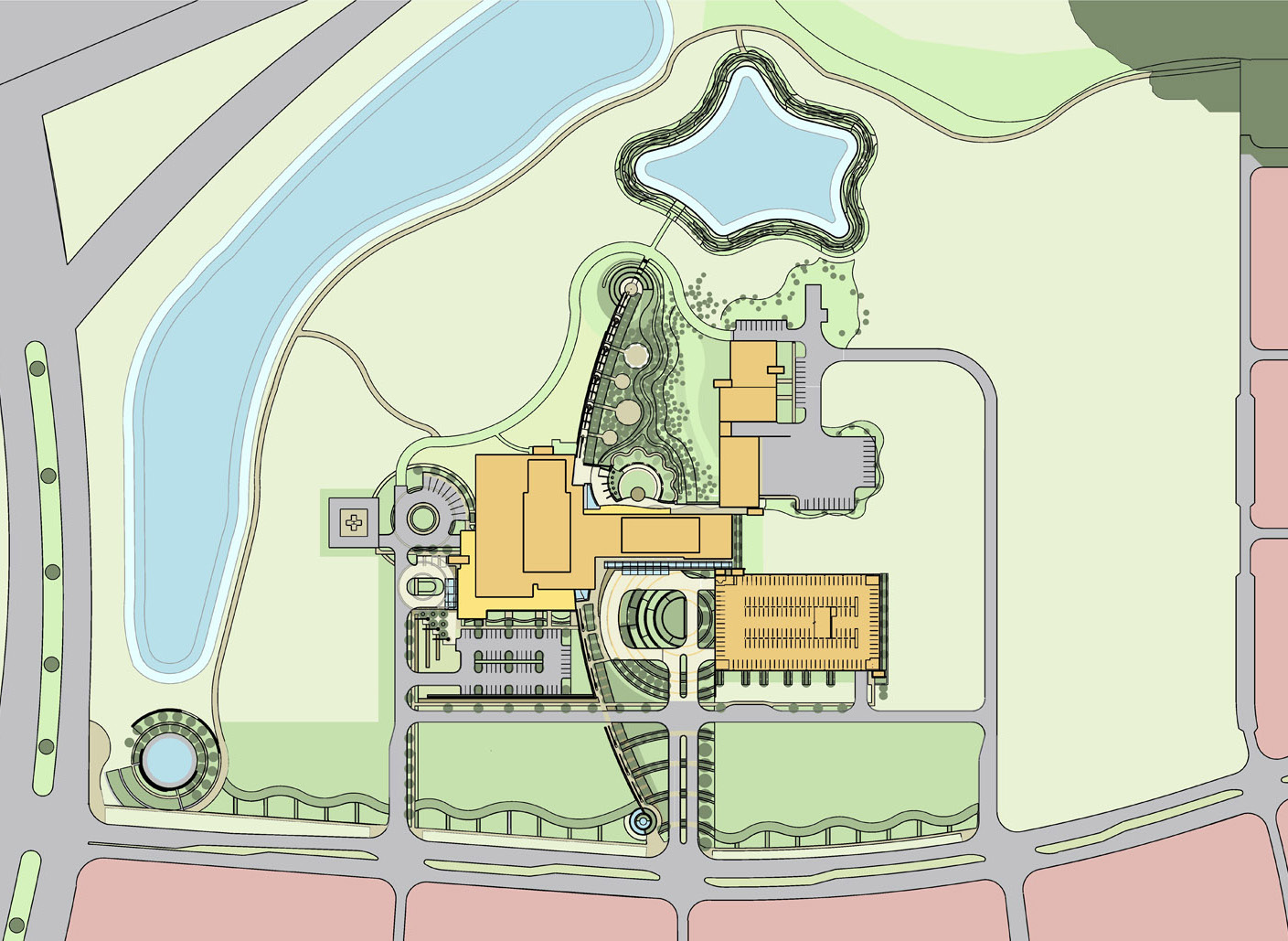 "As an example of this a la cart approach, there is a project we're working on right now with an academic medical center that needs to increase their beds on campus. They've done strategic planning, so the next step is to determine whether they have adequately sized infrastructure, support services, dietary services, materials management, etc. to support those additional beds," says Vaughan.
Existing healthcare campuses can be filled with old buildings that may have historic or sentimental significance but aren't up to modern standards for technology, patient care, or safety codes, among other concerns.
"One of the things I've been intrigued about on medical master planning, it's almost always strategy first and the built world second, but you can tell that's not historically how hospitals have been doing this," says Robert McClure, Page/EYP innovation and strategy design principal. "Yes, this is intuitive, but it rarely just happens. More often it was 'We have a need, we have to do something, here's $10 million to go build it.' "
Master planning, McClure says, allows an opportunity to "bring clarity to the way the campus is experienced through design, wayfinding, a sense of orientation, natural light."
Another challenge for older, urban healthcare campuses is that they are often landlocked, with pre-existing buildings on every patch of dirt. "If there is no space to build, part of how we approach planning is to ask the client, what needs to stay, what doesn't need to stay," McClure says. "Help us help you. We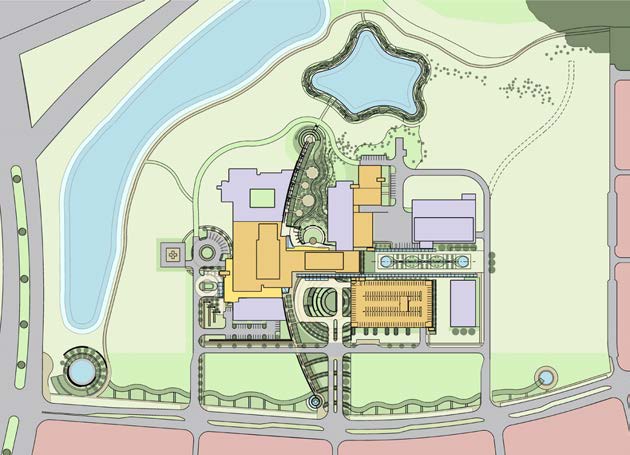 try to get a strategic goal in front of them that day: If we use and leverage these resources, it will create a pathway to a better campus experience."
Jennifer Amster, Page/EYP lead planner for higher education, says part of her job is to focus on the tripartite mission of academic medical centers, bringing healthcare strategy together with the research and training components.
"What intrigues me are the spaces in-between," she says, "and the potential they provide for great medical center planning, embracing beyond the strategy to create these intersections among researchers, clinicians, students--and the community."
Indeed, connection with community is a mission-based component for academic medical centers and healthcare systems alike.
"They need the community and the community needs them," Amster says. "We often look at the community connection in terms of the physical edges of campus, but we also ask, how does your campus become more a part of the community's system of outdoor spaces?"
A master plan can safeguard a client from organic growth that "usually occurs when a facility needs to fulfill immediate growth needs on demand," Ellis says. The results of this unplanned growth can include: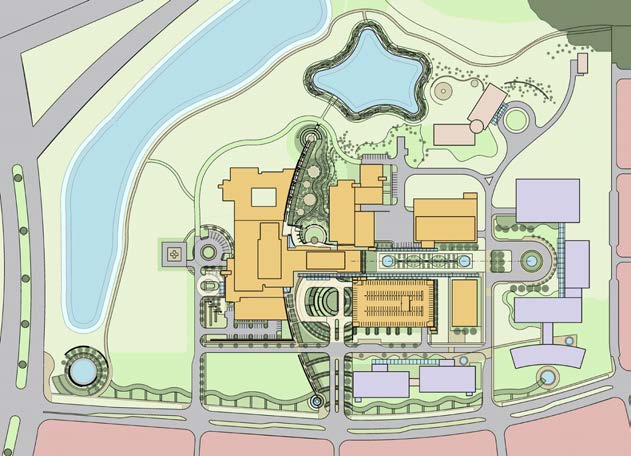 Unnecessary crossover of service and public circulation.
Poor wayfinding.
Landlocked programs, or separated programs that could have better efficiency and synergy if together.
Unnecessarily long walking distances.
Outdoor healing gardens occupy remnant spaces
"A well thought out healthcare master plan can provide a beautiful, sustainable, healing environment from day one and on to future decades," she adds.
Coping with challenges and complexities
A variety of problems can arise during the creation of a healthcare master plan, such as planning for renovations when building new would actually be more efficient and less costly.
"There are times we discover it would make more sense to replace the old hospital instead of undertaking an incremental, complicated, multi-phased renovation and expansion," says Vaughan. "Sometimes we will do feasibility studies between building new and reworking the campus."
Or the team might point out that building off (or on the outskirts) of campus might be easier than wedging another building onto the main thoroughfare.
"We compare the cost and logistics of building on a location in a very urban, dense environment vs. somewhere less crowded where they can buy more land," Vaughan says. "Parking can be quite expensive, especially underground vs. surface."
In fact, any time you build an addition to a hospital it turns into a master plan because "you can't simply add a building to a campus and not have it impact other things, such as supportive infrastructure."
To get to increased revenue, such as more surgical services, inpatient beds, or other patient services, many non-revenue generating functions are triggered. These can range from moving departments but not increasing their volume, to relocating staff and support services, to adding infrastructure.
"You can't just add a building," says Vaughan. "Everything is about flow. There are all kinds of different flow patterns: patient flow, staff flow, materiality flow, trash flow, IT/communication flow, visitor flow."
And new concerns arise over time that must be incorporated into planning, from improving sustainability to active shooter responses. "Each one like a little study in and of itself," he says.
Another challenge, says McClure, is that for larger projects, the team is often planning over multiple campuses and patient facilities, for a "holistic look at the client's portfolio."
"I feel like we've gotten pretty good at dealing with multiple stakeholders," he says. "We have to be careful, when creating such a plan, that we serve each organization in a way that lets them have their own strategic advantage but does not make the others more vulnerable. You consider ownership but also what can be shared. You build consensus so that each institution feels like their best interests are being served by a collective vision."
Master plans are most effective, adds McCabe, when all invested parties fully engage. "Clients need to understand master plans are critical to reach their vision and goals," he says, "but the success of a master plan depends a lot on them bringing the correct people to the table."
Envisioning the future
Sometimes a master plan needs to hold out a vision of what is to come to motivate clients to make the difficult choices and compromises. "Master planning helps clients make the right choice, considering cost, time, efficiency, and disruption," says Vaughan. "All the decision points."
What's critical in a lot of cases, when property is at a premium, is to help clients understand they always need to "have a mind toward an open chip for next cycle of development."
"We serve campuses that date back to the early 1900s, with buildings that are historic landmarks but some of which are not useful for inpatient care anymore," Vaughan says. "The development over time forms a pinwheel and new additions are built around that rotation. But when you run out of space, if you want to get to that next level of development, you're going to have to replace buildings that are no longer serving your mission and your patients."
In certain cities and states, the regulatory hurdles to building new are such that renovation on the existing footprint is the way to proceed.
"One client created an entire other campus so they could move staff off campus to create that empty seat," says Amster. "It was a massive building program oriented toward the promise of revenue they could generate when they came back to a new patient tower in the heart of the healthcare campus."
On a personal level, says Ellis, she enjoys the scale and scope of a comprehensive healthcare campus master plan.
"I love planning a great visitor experience from highway views to the experience of entering the front lobby," she says. "I enjoy the inclusion and placeholding of landscape and nature, solving for clear and logical vehicular and pedestrian circulation, and the positive impact a project this size has on the surrounding community."