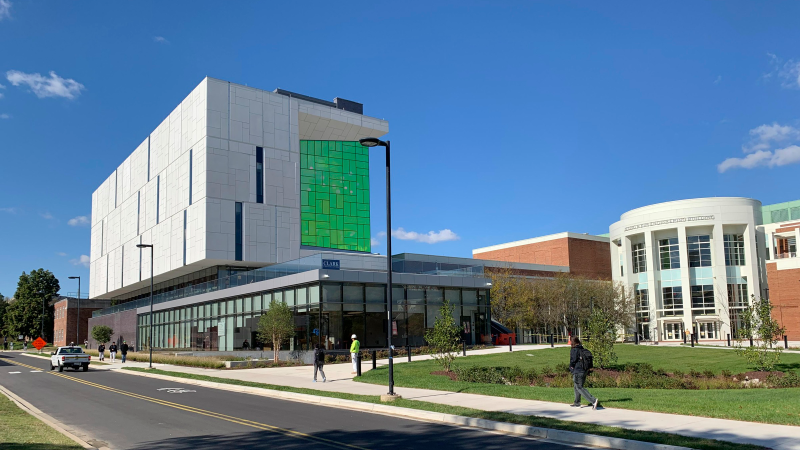 [COLLEGE PARK, MD] – On May 10, EYP celebrated the official grand opening of the E.A. Fernandez IDEA Factory at the University of Maryland's A. James Clark School of Engineering. The project took three years to construct and from the very beginning, the building was envisioned as an innovative space to expand the boundaries of entrepreneurship and world-class research, equipping students, faculty and staff to impact the grand challenges of the 21st century. Through active and participatory laboratories and experiences, the facility is "unconventional in every way."
Designed around the concept of "defying gravity," tradition is flipped with the five-story building's solid upper floors emerging above the lighter, mostly glass base. Exterior materials include dichroic glass and ironspot brick - both significant deviations from the traditional campus architectural language – that change color throughout the day depending on sunlight and weather conditions. At night, façade lighting allows the building to stand out as a beacon for the Clark School of Engineering and is a sight to behold.
Inside, the building design also sparks innovation, collaboration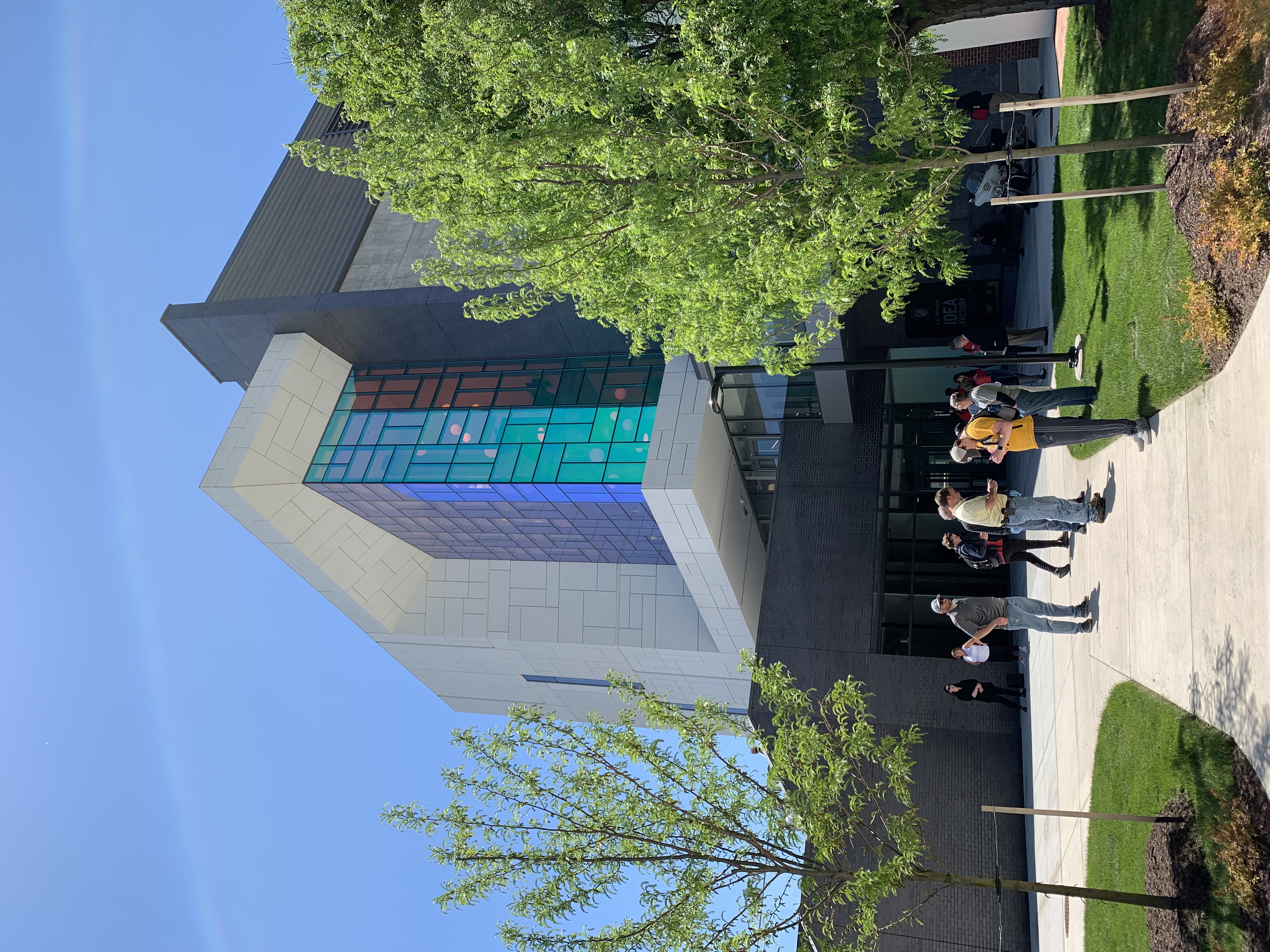 and entrepreneurship with 20+ laboratories. Rather than containing traditional academic classroom spaces, the interior is designed to be flexible – with "pods" that can shifted into all kinds of arrangements depending on the group size or project scope. Activities might include everything from classroom education to research to prototyping, sometimes all in one spot. Walls can be reconfigured in a snap, providing the University unprecedented ease in adapting to research demands.
Prominent collaborative spaces – one of the hallmarks of the IDEA Factor's design - offer bright, bold pops of color that help define space types while activating inspiration and creativity.
"We designed a building that is unconventional in every way," said Charles Kirby, Senior Principal, Academic Planning and Design. "Specialized research spaces concealed in the flexible "factory" that float above the glass base reveal the undergraduate entrepreneurial spaces that are central to the Clark Engineering school's mission."
Nicknamed the "IDEA Factory," the street level invites onlookers to peer inside and see entrepreneurship work. You'll find undergraduates sharing tools in the Rapid Prototyping Lab, preparing for design competitions in the ALEx Garage innovation workspace, or working on next generation apps in the Startup Shell, an incubator for student-run startups. The Shell already has generated more than 180 ventures, valuing $100 million and growing.
The second floor, sheathed in glass, encourages students, faculty, and staff to grab a bite lunch or dinner while exchanging thoughts that will further engineering solutions to society's challenges.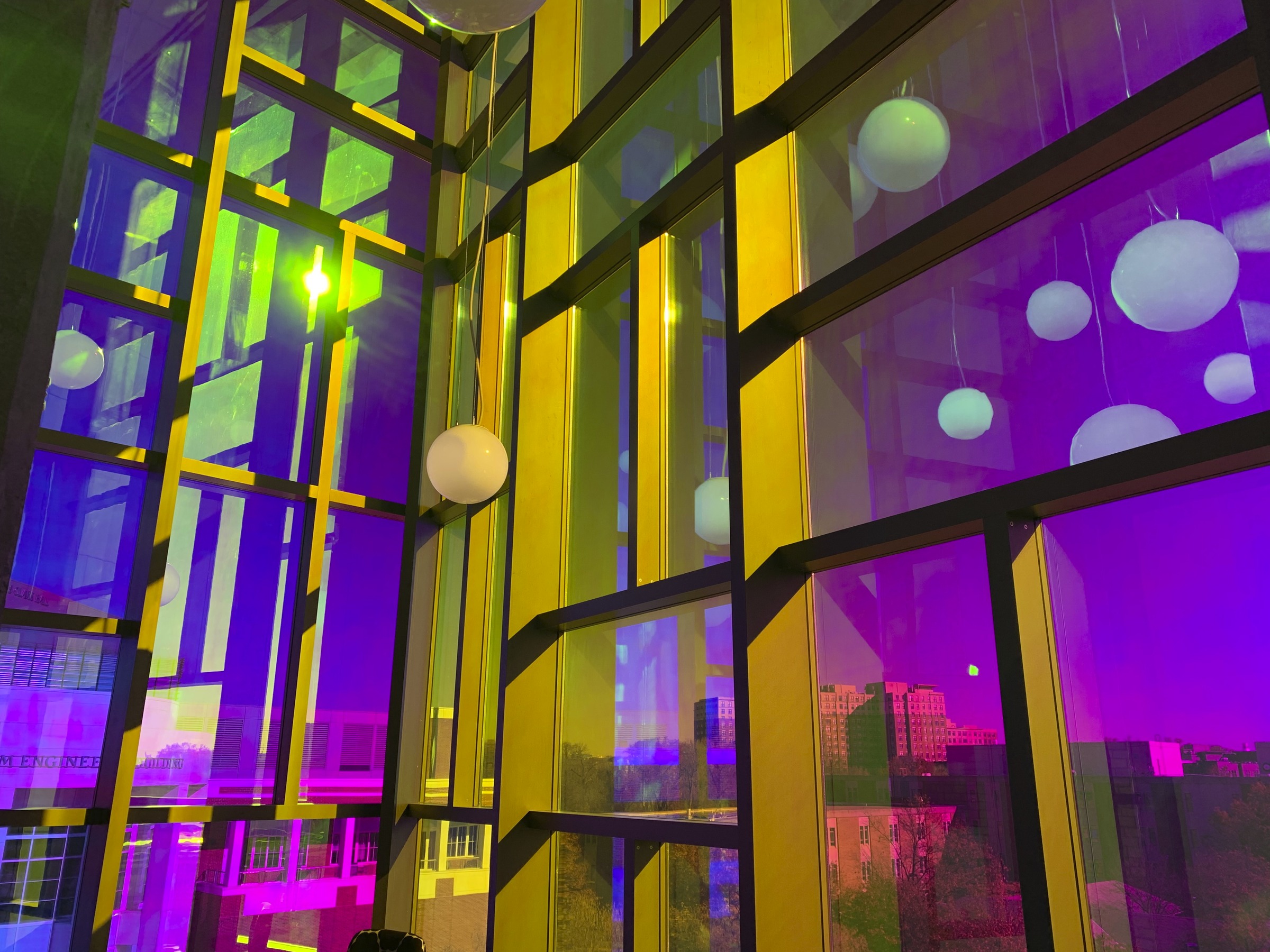 The University of Maryland's A. James Clark School of Engineering is a premier program, ranked #12 among the country's public engineering schools in U.S. News & World Report 2022 rankings of Best Undergraduate Engineering Programs. Located just a few miles from Washington, D.C., the Clark School is at the center of a constellation of high-tech companies and federal laboratories, offering students access to unique opportunities to prepare for and launch rewarding careers.
"Awakening the entrepreneurial spirit and opening students' eyes to challenges and opportunities is critical," Angel P. Bezos ('69), Emilio Fernandez's friend and business partner, says. "The IDEA Factory is specifically designed to spark students' interest in innovative new ideas, and to generate the momentum to transform those ideas into reality."
Building Facts
State-of-the-Art Laboratories, Workshops, and Collaboration Spaces
Angel P. Bezos '69 RAPID Prototyping Lab
Robotics Realization Lab
ALEx Garage (IDEA Factory Design Studio)
Quantum Technology Center Lab
Alfred Gessow Rotorcraft Center
Design-Build
60,000 GSF