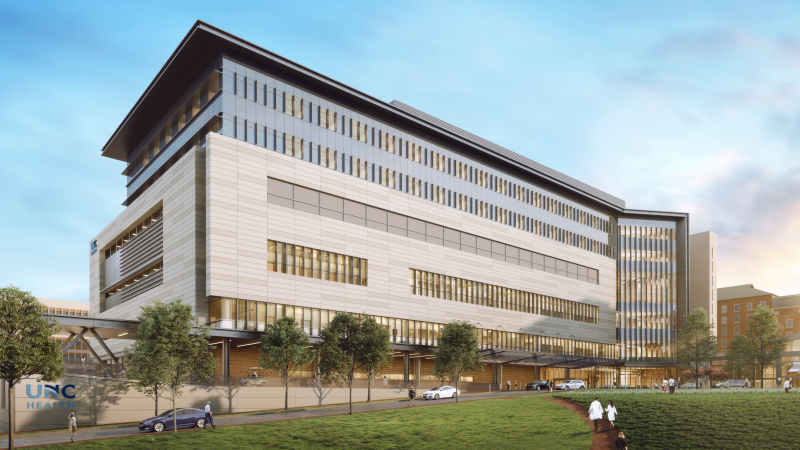 RALEIGH, North Carolina – EYP proudly participated in the traditional "topping out" ceremony for UNC Medical Center's new Surgical Tower in Chapel Hill, N.C.
The ceremony included the signing and placement of the final steel beam onto the tower's frame, therefore "topping out" the structure.
EYP designed UNC Medical Center's Surgical Tower to be a place where medical breakthroughs can happen while bridging the gap between training, research, and real-world application.
"The Surgical Tower will be a state-of-the-art building, and we enjoyed getting to see the progress that's been made on this project firsthand," said Terence McCabe, AIA, EYP's Managing Principal – North Carolina. "This facility will have a huge impact on the health and wellbeing of the community – locally, regionally, and statewide, and is the largest facility on the Medical Center campus. We're honored to play an important role."
With expected completion in 2024, the new Surgical Tower will offer enhanced space and features for UNC's surgeons and staff, including modernized operating rooms, improved space for recovering patients, and more space for families and guests. UNC Medical Center, in partnership with UNC School of Medicine, is the only state-owned teaching hospital in North Carolina.
UNC Medical Center is a well-established health care family, including UNC Hospitals and the community clinics staffed with UNC faculty physicians. Since 1952, UNC Hospitals and the faculty practice have served patients from all 100 North Carolina counties and throughout the southeast.
FEATURED IN
Commercial Construction & Renovation