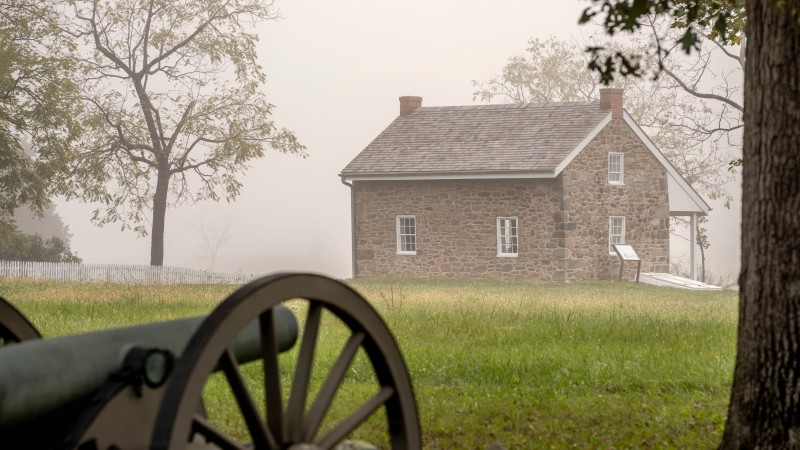 EYP today announced it was awarded a national 2022 Palladio Award from Traditional Building for its work on the historic preservation and restoration of a U.S. National Park Service property, the Warfield House, located at Gettysburg National Military Park in Pennsylvania. This award builds on EYP's long history of award-winning, historically significant preservation work.
In July 1863 during the Battle of Gettysburg, a two-room 1-½ story, stone farmhouse stood in an open field between the Confederate and Union armies. Though small in size, the home would become rich in history and a contributing structure to the battle-era cultural landscape at Gettysburg.
The stone house belonged to James Warfield, an African American blacksmith. As free people of color fearing capture, the Warfields fled as Confederate troops approached. When the battle ended, they returned home to severely damaged property.
Over the next 140 years, the house remained privately owned and was significantly altered and expanded, increasing its size and footprint and compromising historic details and materials. After obtaining ownership, the National Park Service (NPS) turned to EYP to evaluate the surviving historic building fabric and restore the exterior to its appearance on that summer day in 1863. Returning a piece of history to its period appearance when there's little documentation of the initial design proved to be a challenge.
EYP used the term "de-modernization" to explain the process of removing contemporary additions to the building and restoring its original look and feel. By literally peeling away building layers, EYP uncovered the building's architectural heritage and the surviving 19th-century construction.
Since no original drawings existed, the EYP team acted as detectives, studying the physical clues, and relying on historic photographs and documentation of similar stone farmhouses that survived in Gettysburg. EYP developed the overall design intent and critical structural detailing, and NPS and Gettysburg National Military Park Structures Preservation Branch performed the reconstruction efforts in-house with NPS staff.
Through detailed analysis and some historical sleuthing, NPS and EYP partnered to protect and preserve the Warfield House and recapture this important piece of history for future generations.
 "Working with the National Park Service on the Warfield House was an opportunity to expand the narrative of how the Civil War impacted people. It was an opportunity to utilize historic preservation to reclaim a piece of history and bring it back to life," said Matthew Chalifoux, a senior historic preservation architect with EYP.

ABOUT THE PALLADIO AWARDS
Produced by Traditional Building, Period Homes and the Traditional Building Conference, the 21st annual Palladio Awards competition recognizes 14 firms for outstanding work in traditional design – six in the commercial, institutional, and public architecture category and eight for residential work. All winners enhance the beauty and humane qualities of the built environment through creative interpretation and adaptation of classical and traditional design principles.