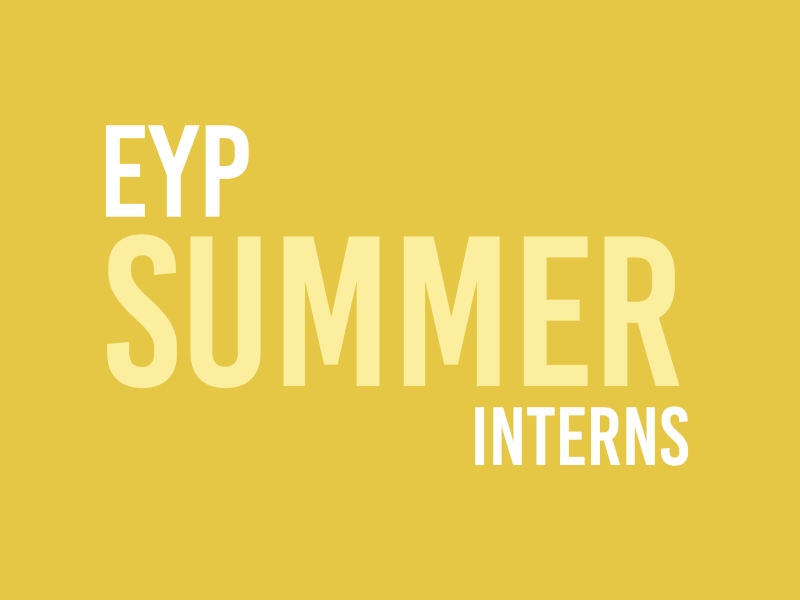 Our firm is fortunate to have a sizable group of interns working with us this summer. Our interns join us from universities across the country, pursuing a variety of studies in architecture, engineering, research, and writing. We are fortunate to have a strong, diverse group of individuals who have brought an abundance of energy and enthusiasm across all our offices.
We invited our interns to share highlights of their experience: what kinds of projects they've been working on, activities, and what — and how — they're learning.
Danny Chinchilla / Architecture / Dallas
Currently pursuing Bachelor of Science, Architecture; University of Texas at Arlington
I've enjoyed being able to learn from everyone at the office. I always enjoyed doing renderings, and it's nice to be able to learn how to become better at something you like. My team leader has been exceptionally patient and kind; always making time to listen to any question I have. And, I've learned to put myself forward, making sure that I take initiative when presented with an opportunity.
I've been working on the UTSW School of Public Health and also done some work for the Cryo Fib in the UTSW Brain and Cancer building. One of the highlights has been going out to photograph the Dallas College Dental Hygiene Center. It was my first time experiencing a space that was recently constructed.
Stephanie Broussard / Engineering / Washington, DC
Currently pursuing Bachelor of Science Mechanical Engineering Technology; Old Dominion University
I have been mainly helping out with the Hanoi project, and have really really enjoyed learning how to use Revit. I've always been interested in 3D modeling software, so this has been a great learning experience!
Kate Ehrenberg / Architecture / Raleigh
Currently pursuing Bachelor of Environmental Design, Architecture; North Carolina State University
I've assisted with a conceptual design package for a hospital located in Ghana, Africa, and am currently working on conceptual design for the DGS office tower in Richmond, VA. I've enjoyed creating a topographic site model using Revit and have been working on massing studies. I've been using the site model to create diagrams using Revit/Enscape and helping put together presentations for client meetings.
I was recently able to attend a team trip to Richmond, Virginia, where we visited a project building site and I also attended a meeting with the client. This trip was such an amazing experience!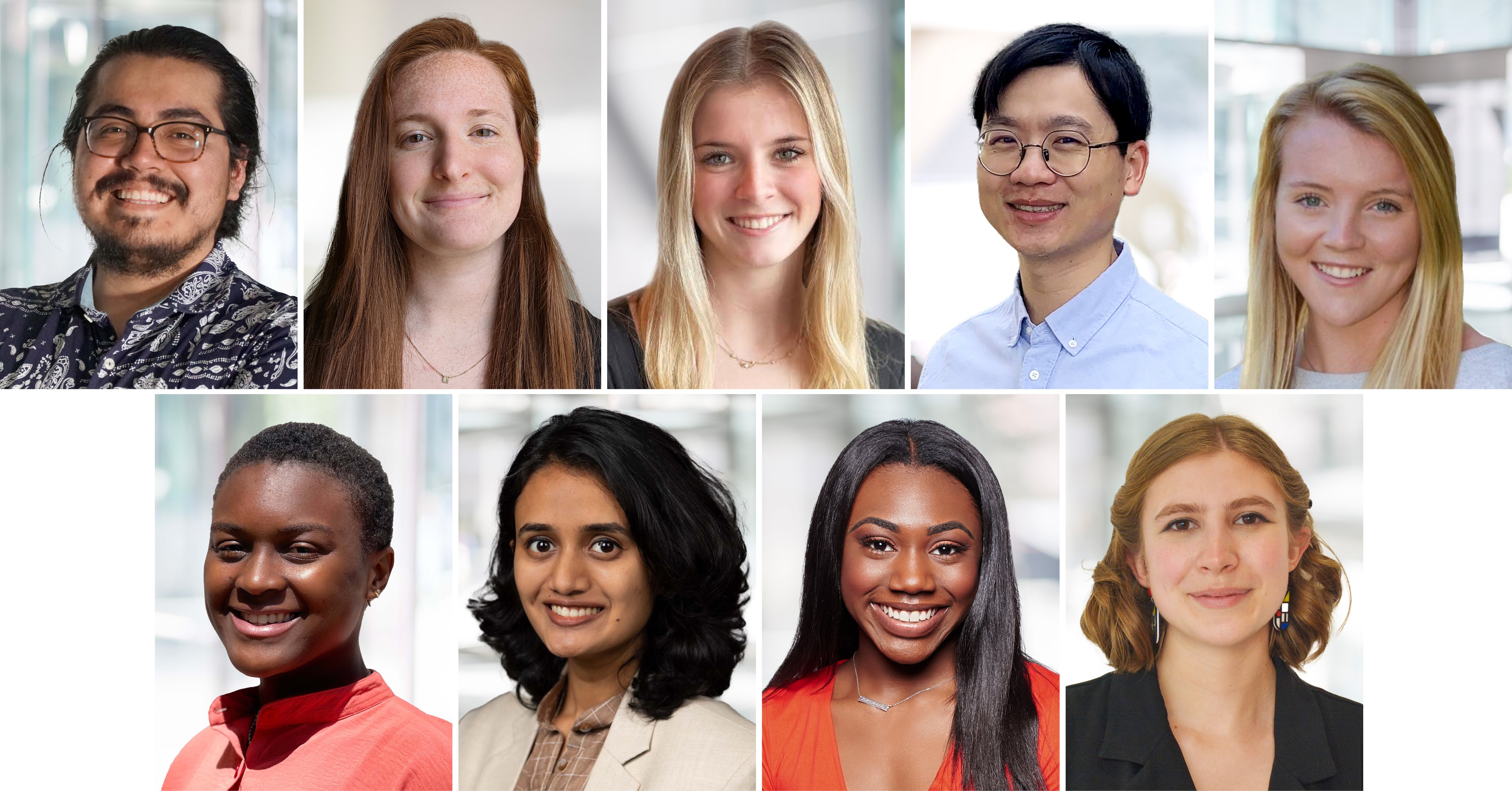 Hao Huang / Architecture / Houston
Currently pursuing Ph.D. in Architecture; Texas A&M University
I have been working on the Memorial Herman Texas Medical Center Master Plan Project under the supervision of Annabella Koloskov. I'm working on the phasing plan and test fit to make sure the stated needs can be accommodated within the campus. I've learned that It's very important to plan for expansion before building a hospital. It's common for a care provider to plan new expansions around projected market demand and capacity requirements. Many strategies can be taken into consideration in the design phase such as designing the roof with a concrete layer that can support vertical expansion.
I love how EYP has offered learning opportunities and helped summer interns develop and grow professionally. Intern Ambassadors enrich the experience of the interns beyond daily work and bring the interns together in weekly forums. A huge thank you to everyone who has helped me navigate my way through the summer internship!
Tully Mahoney / Writing and Editing / Remote
Currently pursuing Quantitative Economics degree, minor Writing; Providence College
I've been working on ghost writing blogs, assisting with social media content, and editing/writing project narrative sheets. Prior to this internship, I was never given the opportunity to conduct my own interview. I had previously only sat in on and transcribed interviews. When I joined EYP, I was given much more freedom, such as conducting my own interview in the first few weeks. Along with my freedom, I have had amazing guidance from Jennifer Hebblethwaite which has helped me fine-tune my skills and feel more confident in my professional abilities.
I enjoy working remotely but in the past have sometimes feared that being a remote worker removes you from the workplace culture and community. I was surprised to find how untrue that is at EYP. Everyone her has made me feel very welcome and truly seems to care about my success. I appreciate the company's attitude towards multiple locations but one firm; I think this belief has created a culture of strong communication, teamwork, and kindness. Aside from the many professional skills I have learned during this internship, I am coming to understand that company culture is an incredibly important aspect that will affect my overall happiness and success in my career.
Isabelle Ndoumy-Kouakou / Architecture / Houston
Currently pursuing Master of Architecture; Rice University
I am working with the MD Anderson South Campus Education Building team and have been working closely with the project Designers and Planners.
Aayushi Mody / Engineering / Atlanta
Currently pursuing Master of Science, Architecture-High Performance Building; Georgia Institute of Technology
Working with the Green Lab, I'm helping to make sure the buildings we are designing are sustainable and provide human comfort. I have worked on Yale Kirtland, Brandeis University, Alief, and GMU IDIA projects where my role has been to check the daylight quality inside spaces, calculate embodied carbon, and energy usage intensity calculation.
As an international student, this is my first experience working in the US professional world, and I must say it has been great! Everyone is welcoming and supportive. Everyone at EYP will take the time to guide me on small or big issues—and I am thankful for that.
Zaria Sumling / Interiors / Houston
Currently pursuing Bachelor of Interior Design, minor in Architecture; Texas Tech University
During my internship, I have been assisting the interiors team on projects such as Houston Methodist Centennial Tower, Houston Methodist Crain Garden Refresh, and University of Texas Health San Antonio Impatient Facility. T also have been assisting our materials library manager.
Attending weekly project presentations has been intriguing and beneficial. After recently finishing up an interior design course on interior design materials, the product presentations have helped gain a better understanding of finishes and materials that are utilized in interiors. Furthermore, product presentations have given me the opportunity to connect with sales representatives and expand on my networking skills.
I enjoy connecting with the fellow designers at EYP. Thanks to them, I have been exposed to opportunities that can help further benefit me in my design career.
Addison R. Richmond / Architecture / Washington, DC
Currently pursuing Master of Architecture; The University of Maryland, College Park
I have been involved with the George Mason University Life Sciences and Engineering Building. Early on, I was able to utilize my undergraduate degree in Interior Architecture by working with the Interiors team on Revit modeling, and render adjustments in Enscape/Photoshop. Now, I am excited to be expanding my digital modeling skills by assisting the Architecture team with the 95% complete LSEB drawings.
Even before applying to the summer internship program, working at EYP was a goal had set for myself. During my undergraduate degree, I had done a variety interior architecture freelance work, but never had the opportunity to work in the collaborative environment of a firm like EYP. Going into my master's degree, I knew that experiencing the large-scale firm dynamic was imperative. I appreciated the diversity present at EYP and knew that it was the firm for me. After starting, I was not only impressed by the wide range of perspectives/skills present but was pleasantly surprised by the willingness of staff members to share those perspectives and skills with others! Throughout my time at EYP, I have come across a variety of tasks and situations that I was not sure how to approach, but have always had someone willing to answer a message or jump on a Team's call with me. I have thoroughly enjoyed the collaborative and supportive nature of working at EYP.
I greatly appreciate the opportunities EYP has given me to feel included and voice my opinions. Even as an intern, I have been given chances to lead meetings, make comments on design concepts, and teach my co-works things I have learned along the way. No matter the team or project, everyone at EYP has done their best to make me feel involved and important!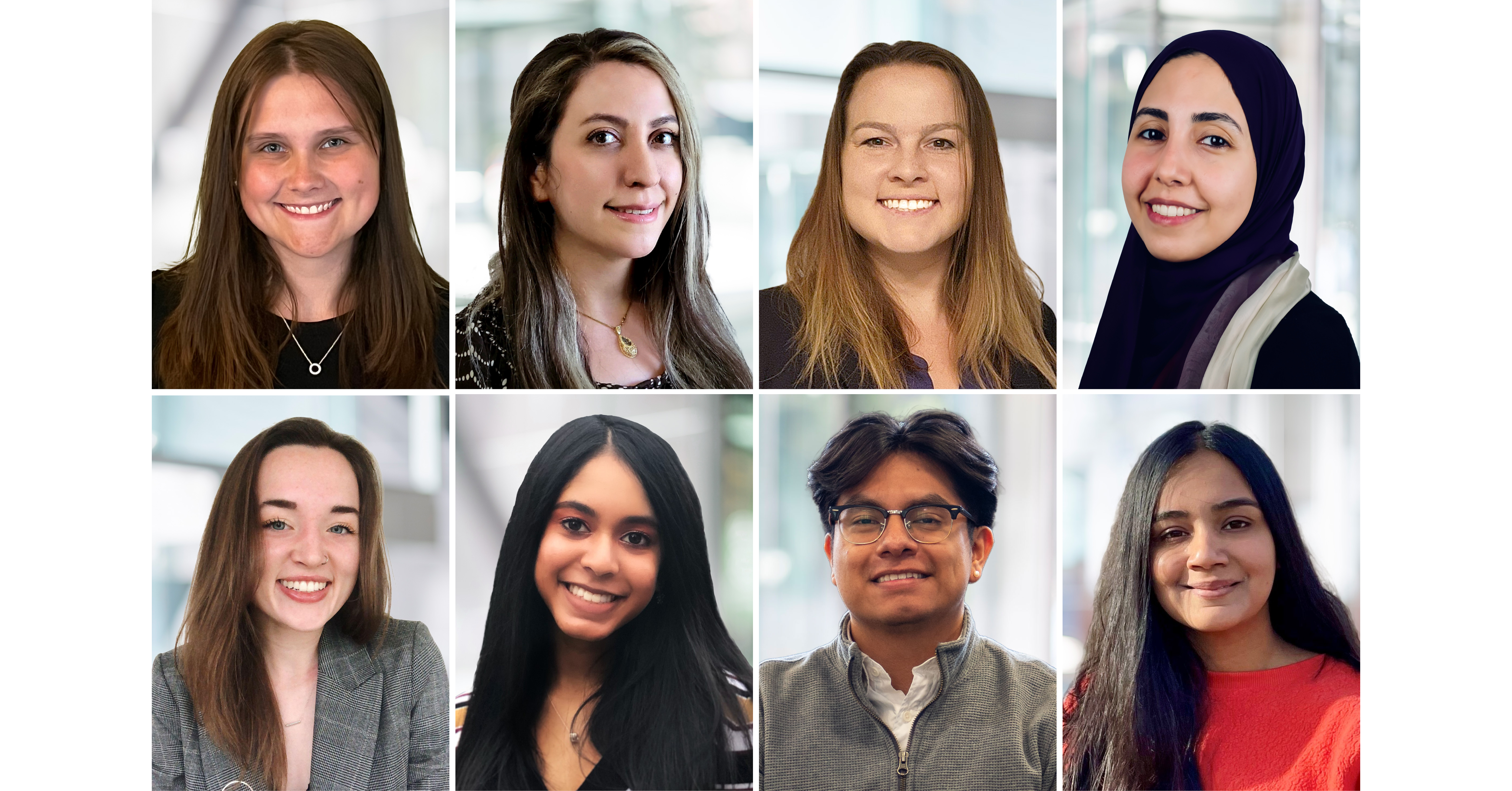 Colleen Lombard / Architecture / Boston
Currently a rising high school senior attending Boston Latin School
During my internship, I'm working with others on creating site models and project plan
Homa Pesarakli / Healthcare Research / Houston
Currently pursuing Ph.D. at Texas A&M University
I am working with the research team on post-occupancy evaluation of ICU units and assessing various no-touch decontamination technologies.
Sky Slayton / Architecture / Atlanta
Currently pursuing Master of Architecture; Florida A&M University
I've been working on the TGH Pediatric Floor Renovation project, and another project that involves building a phone booth. A surprising discovery during my internship is that even though EYP is a big firm, the office still feels like a small community. I have enjoyed getting to know everybody and learning how the office functions. I am also looking forward to an upcoming project site visit to Children's Healthcare of Atlanta Arthur M. Blank Hospital.
Taghreed Shalaby / Architecture / Houston
Currently pursuing Master of Architecture; University of Houston
I've been working with the Memorial Herman TMC Master Plan team and will also be working on the Memorial Herman Wellness Center project.
Lily Murray / Architecture / Boston
Currently pursuing Master of Architecture; Kansas State University
I've been working on several projects including the Boston Office Fitout, various Northeastern projects, and collaborating with the Boston Public Schools internship program.
Ariana Baksh / Architecture / Albany
Currently pursuing Bachelor of Architecture; RPI School of Architecture
I have recently started working on the Hodson Science & Technology Center at Hood College, which has helped me to gain more exposure to Revit. I've also been collecting research for architectural precedents that have allowed me to discover innovative and groundbreaking projects of various disciplines. As well, the Albany office is building Little Free Libraries as part of the firm's 50th year anniversary; I've been involved in planning, researching, and even site visits for the libraries in preparation for construction to start later this summer.
I have really enjoyed collaborative meetings with other coworkers in the office, because it's great to brainstorm face-to-face whether it's a more formal meeting in the conference room or a more casual conversation over lunch. Being in the office has opened me up to many different perspectives, which only makes me more encouraged in my work!
Alan Espinosa-Lopez / Architecture / Albany
Currently pursuing B. Arch; Alfred State SUNY College of Technology
I've been working with Mark Warner on Revit modeling for current pursuits. I'm enjoying learning more about the professional world of architecture and learning from other's perspectives when it comes to design. What drew me to EYP is the commitment the firm has in designing spaces for the human experience.
Tabassum Saifee / Architecture / Dallas
Currently pursuing Master in Architecture; University of Texas, Arlington, c
I am really grateful for getting an opportunity to work with an amazing team on the Houston Methodist Hospital- Centennial Tower, as well as other assignments. This internship, I have learned to coordinate and work diligently on such a big project, from communicating on daily agendas to improving my software skills. Working with the Intern Ambassadors, in particular, has definitely increased my interest in working on Healthcare projects. My office colleagues are always ready to answer my questions and help me be productive throughout the day.
Elizabeth Tran / Architecture / Boston
Currently a high school student within the Boston Public School System
I've been learning the fundamentals of architecture, landscape architecture, and engineering during my internship.